Vivian Howard of 'Chef's Life' cooking a luau-style benefit 3/18
Collab dinner includes Ed Kenney and top female chefs like Michelle Karr-Ueoka and Lee Ann Wong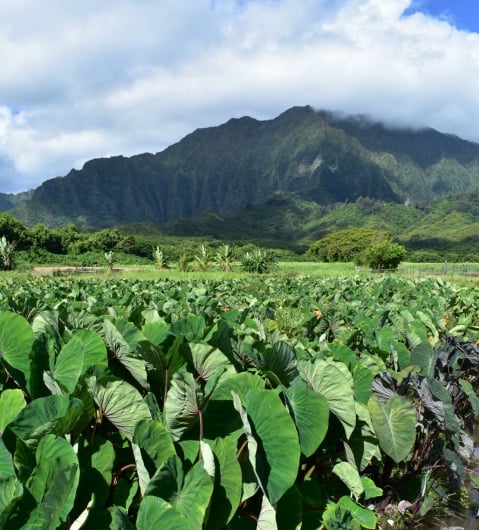 Celebrated chefs. A luau under the stars. Championing females in the food and beverage industry.
On March 18, we're in for a treat when popular PBS chefs Vivian Howard and Ed Kenney collaborate at Mari's Gardens for Roots Run Deep, a fundraiser for Les Dames d'Escoffier that will also feature an impressive roster of Hawaii's female chefs.
Both warm and humble, Howard and Kenney are known for bringing people together through food, championing farm to table cuisine in their communities, and having a gift for storytelling.
Howard, who r
uns two restaurants, Chef & A Farmer and Boiler Room, in Deep Run, North Carolina,
will put a local twist on a Southern favorite from her award-winning book,
Deep Run Roots
. Last year, she received the prestigious James Beard Award for Outstanding Personality/Host for her work with "A Chef's Life," and she is a four-time James Beard semifinalist for Best Chef in America: Southeast.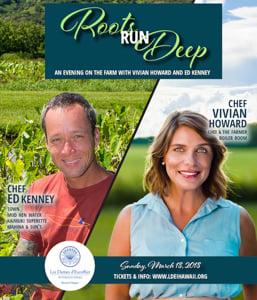 Kenney will create the evening's luau theme with kalua pig and cabbage prepared in a traditional imu. Kenney's four Honolulu restaurants include Town, Kaimuki Superette, Mud Hen Water, and Mahina and Sun's. He hosts the Emmy-winning PBS series "Family Ingredients" and is a four-time James Beard semifinalist for Best Chef in America: West.
Limited quantities of Deep Run Roots are available for pre-purchase with event tickets, to be picked up and signed by Howard at the event. Additional copies will be for sale at the event, until they run out.
Ten local Les Dames chefs will supplement the main courses with dishes focused on sustainability and hospitality.
Here's the menu:
Jackie Lau of HFM (all islands)
Smokey Chili Pepper Tomato Shot with Pipikaula
Beth Fuller of Lava Lava Beach Club (Waikoloa, Hawaii Island and Kapaa, Kauai)
Squash-Onion Smother, Squash Pickle Salad
Lee Anne Wong of Koko Head Cafe (Kaimuki, Oahu)
Ulu-Kalo Luau Stew with Coconut & Sweet Onions
Kathy Masunaga of Sweet Revenge (Oahu)
Purple Sweet Potato Maui Onion Bread with Lilikoi Butter & Party Magnet
Gida Snyder of 552 Culinary Group (Kauai)
Fried Catfish with Peanut Romesco
Ivy Nagayama Shishido and Adrian Solorzano of Sansei Seafood Restaurant & Sushi Bar (Honolulu, Oahu)
Pan-Seared Branzino with Cauliflower Puree, Ginger-Scallion Relish, Hauula Tomato Concasse & Yukari Rice
Amy Ferguson of Ferguson Catering (Hawaii Island)
Spoonbread with Sausage Ragout
Maria Short of Short n Sweet Bakery (Hilo, Hawaii Island)
Pecan Chewy Bars
Abigail Langlas of Cake Works (Honolulu, Oahu)
Peanut, Pepsi & Bourbon Float
Michelle Karr-Ueoka of MW Restaurant (Honolulu, Oahu)
Coconut Cake
Dames' specialty drinks:
Satomi Goo of The Tea Chest (all islands)
Mamaki Mojito
Cheryl To of Pacifikool (Honolulu, Oahu)
Non-alcoholic Kool Punch
Amy Bender of Kai Vodka (all islands)
Specialty drink to be determined
Chefs' signature cocktails:
To be determined
Coffee & Tea:
Marilyn Kirakos-Askari of Hawaiian Paradise Coffee (all islands)
Satomi Goo of The Tea Chest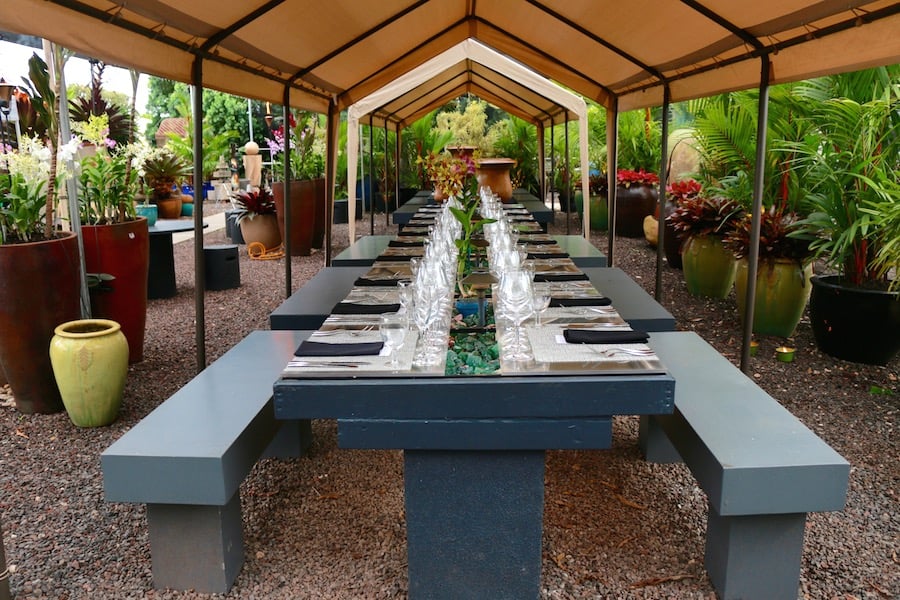 An Evening with PBS Chefs Vivian Howard & Ed Kenney Under the Stars at Mari's Gardens
Sunday, March 18, 2018
4 – 7 p.m.
Mari's Gardens
94-415 Makapipipi Street
Mililani
General admission is $150 and includes open seating and grazing stations. VIP admission is $200 and includes preferred garden seating with table service and an exclusive wine selection.