Varsity Theatre's Marquee Is Safe With Me
Writer James Charisma went dumpster diving for a piece of beloved history.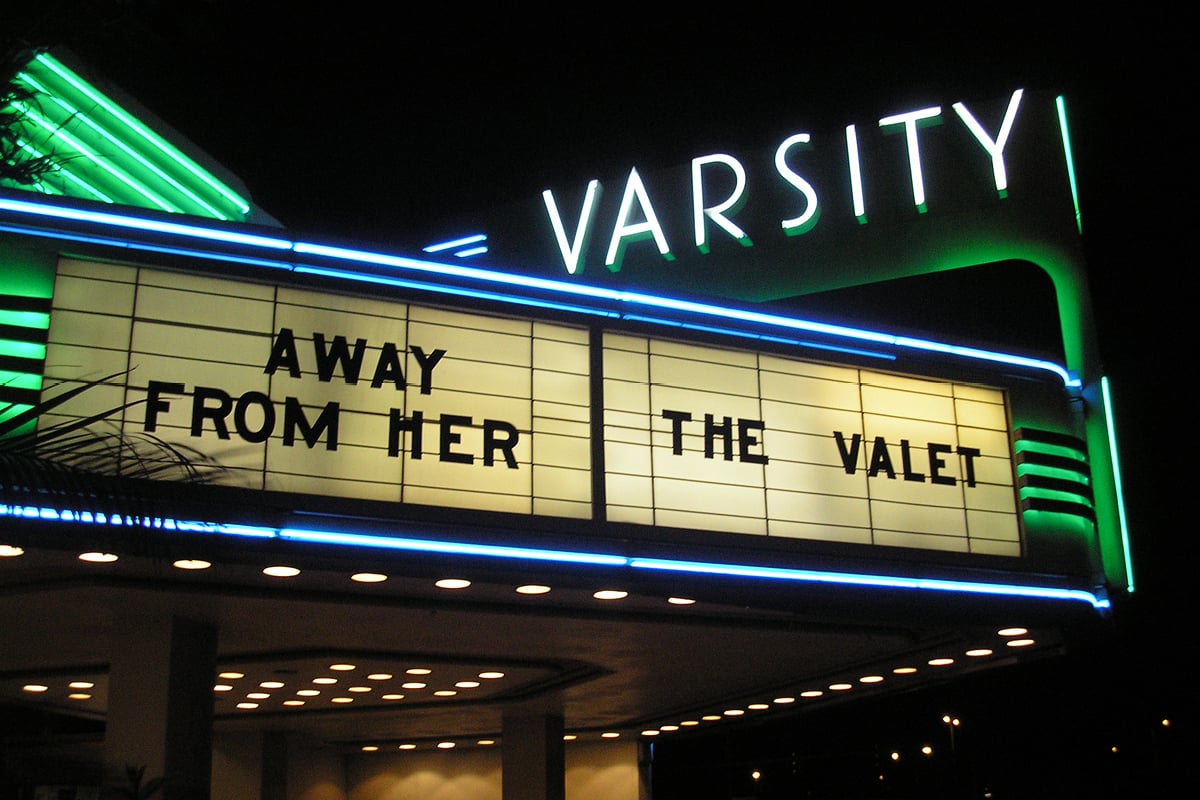 I recently reread one of my favorite HONOLULU stories, a 2010 piece titled "On the Blink," which celebrated Hawai'i's neon signs and how they were unfortunately vanishing. (HONOLULU's Robbie Dingeman explored O'ahu's most iconic signs, neon and more, earlier this year.) Whether you're a youngish admirer of these retro urban relics or someone who remembers when neon was the norm, people seem to agree: Vintage neon signs are awesome.
The story reminded me of the most important neon sign in my life—the marquee at the former Varsity Theater on University Avenue. In 2010, it was at risk of vanishing. The nearly 70-year-old art house theater closed in June 2007, and its 10,000-square-foot building was demolished the following March. But there was hope that at least a small part of the Varsity might live on: The former Varsity Bar in Puck's Alley had acquired the theater's gigantic neon marquee with the goal of installing the V-A-R-S-I-T-Y letters above its entrance. However, after more than a year of trying to figure out permits, the bar announced the sign would be too pricey to set up. Anyone willing to haul it off (plus the foot-thick concrete slab the letters were attached to) was welcome to take it. Otherwise, a junk crew would load the marquee for the dump.
I couldn't believe it. The Varsity is where I saw my first foreign film, sneaking into a screening of Run Lola Run when I was 9. It was where my mother and I watched Metropolis, Spirited Away and The Triplets of Belleville before stopping at Blimpie for pastrami sandwiches on Sunday afternoons. When my friends and I skipped school, it was often to catch flicks at the Varsity like Kinky Boots and Napoleon Dynamite (before that movie became "cool" and got picked up by Ward 16). This is where I experienced the world as a young person living in the middle of the Pacific. It was a beacon for me.
I went to the Varsity Bar the night before dump day to pay my respects. The sign was in the back lot. Someone had attempted to saw through the gigantic concrete marquee, presumably to reduce it to more manageable chunks, and sliced through one set of the letters. It was a heartbreaking sight. However, on the reverse side of the marquee, I noticed that most of the metal had been pried off and a second set of letters (the Varsity had two signs facing both directions on University Avenue) had been discarded.
A bulb went off: Run James Run! I quickly called a buddy who lived in Mānoa and he brought his truck so we could make a quick rescue. Midway through stacking the letters in the back of his truck, a guy ambled out from the bar. "Get away from my car!" he yelled, catching us red-handed. "Oh, you're taking trash," he said, seeing the two of us clutching 3-foot-tall A's and R's. Actually, he'd caught us white-handed—the paint from the letters had rubbed off on us. I had to remind my buddy not to wipe his brow until we got back to his house because his now-chalky hands were probably covered with lead paint from letters that dated back to 1938.
SEE ALSO: The Curtain Could be Going Back Up for a Kaimukī Landmark
Once I actually had the letters, that potentially hazardous paint was the same reason why I couldn't easily display them—that and the fact that much of the glass tubing inside had shattered. So 12 years later, I still have it all, stashed away. I hired a local neon company to re-glass the letter I for $100 but haven't set aside the thousand or so bucks it'll probably cost to restore the rest of the letters. And unless you've lived in Hawai'i for longer than a decade, you might not even know that the Varsity existed. It's hard to not get depressed that this sign might be all that's left of a beloved landmark.
Then I remember "On the Blink," which ended with a quote from a neon sign maker who wasn't worried about the slow disappearance of classic signs in Hawai'i because he knew future generations would find a way to keep neon alive. Holding on to the history we have, in whatever way possible, is perhaps enough for now. The Varsity is safe with me.