Tight Tacos Brings Luscious Carnitas and Foodie Cred to the Top of Wai'alae Avenue
Hand-pressed tortillas, solid proteins and fresh vibes jive with Kaimukī's evolving food scene.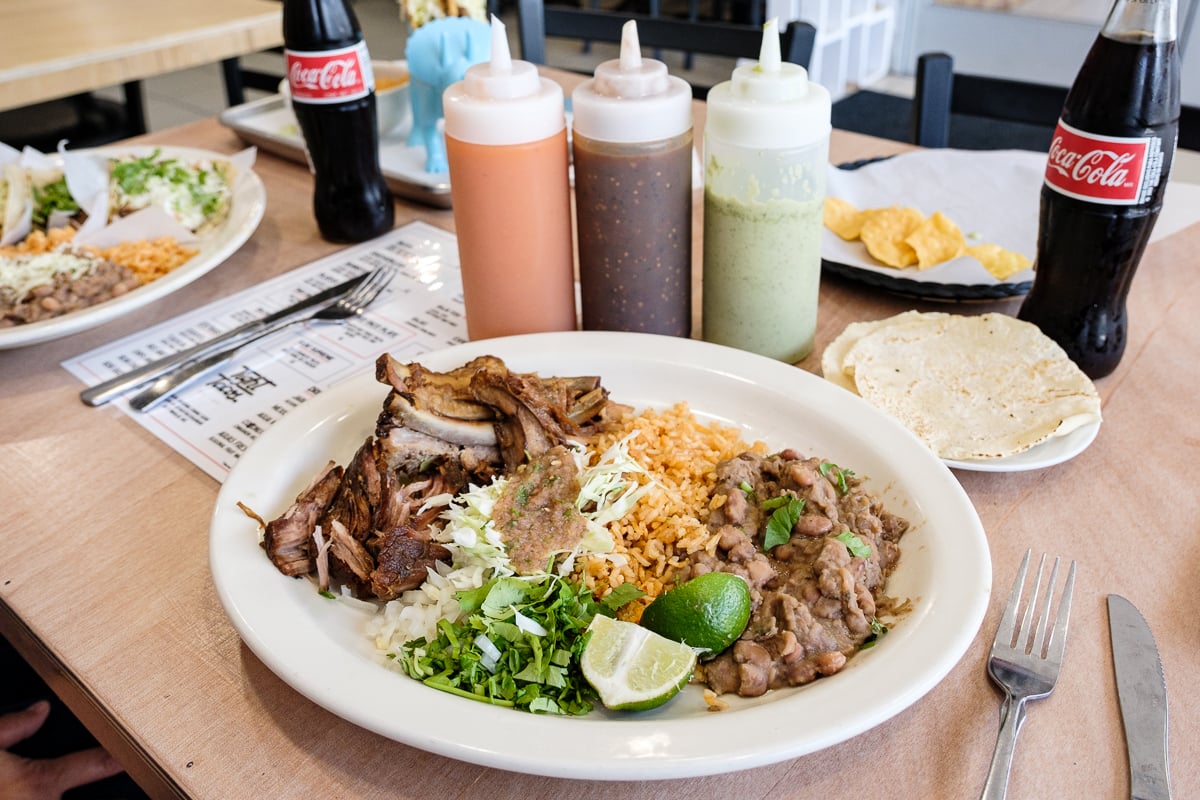 For the past week I have been dog-sitting across town in Kāhala and as much as I love the neighborhood, I've found myself eating around Kaimukī almost every night. So it was perfect for me when the owners of Tight Tacos tore the paper off the windows on Cinco de Mayo and revealed their fourth taqueria. It's next to Noods Ramen Bar (you can't make this up) in the former Azteca space, which has been vacant since last November.
The menu is exceptionally simple yet extensive. Pick your vessel of tacos ($4), burritos ($12) or quesadillas ($9), the tacos on hand-pressed corn tortillas and the others on flour tortillas. Then, choose between carne asada, carnitas pork, pollo asado, beef lengua ($1), Baja-style fish (market price), grilled shrimp and cheese ($2), or charred poblano peppers. You can even have your tacos on a plate with two ($12) or three choices ($16) and sides of Mexican rice and frijoles.
On my first visit, I grab a trio of tacos on a plate to go after work. Back home, I open the takeout clamshell to reveal three large tacos with carne asada, lengua and carnitas, all gorgeously loaded with meat. The irregular char marks on the white corn tortillas contribute more to the aesthetic than the taste, but that is not a complaint. They're soft, pliant and thin, a refreshing contrast to the rough, dry and thick tortillas you'll find common in these parts.
SEE ALSO: Roritos: The Burrito Shop that EARL Built
The lengua is tender and although lacking in salt, it has hints of smokiness that are livened up with a spritz of lime. Definitely get it in a burrito for more flavor action. The carne asada is standard, but it gets a nod for not being too dry—sloosh it with the zesty avocado-lime crema and you're in business. The main attraction is the pork carnitas, which you can tell are braised all day. The taco has a mix of moist interior and drier exterior chunks that blend to create a texture-gasm in your mouth, offset by raw onion and cilantro. Ask for the fruity orange habanero salsa to kick your palate up 10 notches.
On a second visit for Taco Tuesday, I order a Quarter Pound Carnitas ($16) plate, which is a serving of the house specialty in a "surtido" or an assortment of cuts from shoulder to bone-in ribs with fresh corn tortillas, rice and beans. I've never had carnitas served like this before, but I understand why Tight Tacos does this: They're proud of this glistening masterpiece. And lucky for bachelors like me, you don't need to drag someone's kid with you to order the Keiki Supreme ($10), a duo of crunchy tacos served in a dinosaur with rice and beans on the side. Both of these plates make revisiting Tight Tacos worth it.
Where else can you get fresh, crunchy tacos with your choice of beef, chicken or pork? And you bet they're filled with cheese, lettuce and crema, because why wouldn't they be? As for texture, those fried-to-order shells deliver a serious crunch factor—they're outrageously crunchy.
My colleague Maria Burke orders a taco plate with Baja-style fried fish (made with kajiki that day), lengua and shrimp with cheese. She might be spoiled when it comes to Mexican food, but I enjoyed my bite of the fish taco, with cabbage and crema sauce. The marlin isn't too dry, and it has a nice mild flavor that many fish tacos lack. We both agree that the main attraction is still the glistening carnitas, with our sleeper favorite being the crunchy kids' tacos.
SEE ALSO: Roll With It: Thyda's Tacos Proves that If It's Tasty, They Will Come
Opening on the corner of Wai'alae and Koko Head avenues is a homecoming of sorts for owners Reggie Ballesteros and Rizza Cosio. The Northern California natives called Honolulu home for a handful of years before packing up and moving to Portland, Oregon in 2015. Ballesteros, who previously worked under chef Lee Anne Wong, started Tight Tacos as a food cart in 2016 and garnered a cult following among taco lovers in PDX (that's serious cred if you know Portland's taco scene). The cart eventually turned into two brick-and-mortar locations, one in the Zipper Food Hall on Sandy Road and the other on Southeast Division Street.
In 2019, they moved to Maui to open a third Tight Tacos in Kahului near the airport, but their plan was always to return to O'ahu. Serendipitously, it just so happens that Ballesteros previously worked on the same block in Kaimukī. With a dearth of legit Mexican food on the island, even if influenced by California or Texas, Tight Tacos is a welcome addition to the foodie-centric hood.
Open Tuesday to Saturday from 10 a.m. to 6 p.m. 3617 Wai'alae Ave., @tighttacoskaimuki