Roritos: The Burrito Shop That EARL Built
It's a new direction in a familiar locale for Justin Parvizimotlagh and his East Coast sandwich shops.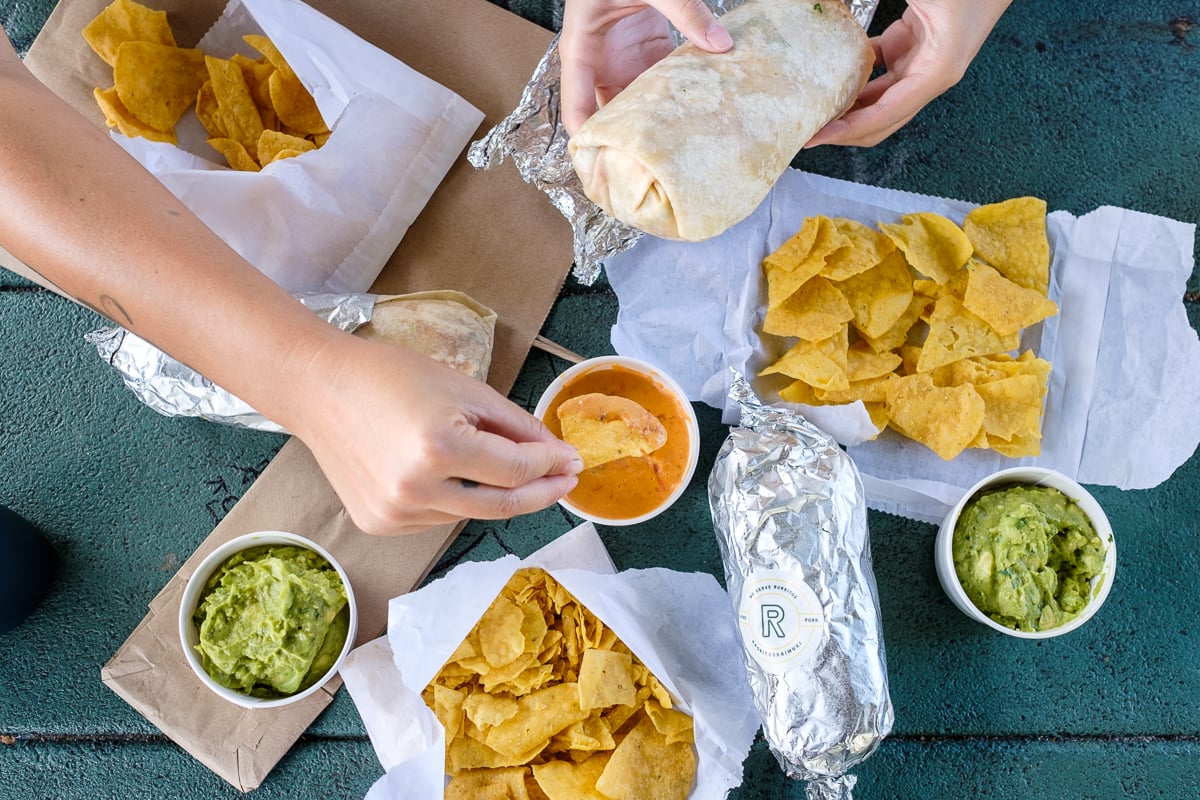 Hi. It's me again, gushing about yet another yummy handheld meal. But this time it's burritos. It's fair to say that Hawai'i isn't notorious for awesome burritos. Growing up, any burrito I had was homemade. I met the burritos that dreams are made of when I lived in San Francisco in my twenties. I ate them several times a week, always stretching them for two meals apiece. Cheap, giant, tasty burritos are a California staple.
However, I've also had great burritos in Seattle, Barcelona, Boston and yes—Hawai'i. So, when EARL, the duo of sandwich shops by Justin Parvizimotlagh known for big flavors and fun specials, announced they were opening a burrito shop in their former Kaimukī location, the stoke was real.
Just a few days after their opening, we stop in to order a bit of everything for a picnic at Kaimukī Community Park.
The menu is small, like really small, which makes ordering simple and easy. Every day they serve up four different burritos: Barbacoa (stewed beef), carnitas, chicken verde and roasted veggie ($13.25 each). After picking your protein, you also choose between black or pinto beans, red or green salsa and peppery queso cheese sauce or Monterey Jack cheese. All burritos are filled with red rice, house crema, chopped onion and cilantro. You can add guacamole and or veggies for $2. Not available on this day but bookmarked for my next visit are hash empanadas ($3).
SEE ALSO: Taste Test: We Tried Every Sandwich on the Menu at Earl Kaka'ako and Ranked Them
We get a barbacoa burrito with red salsa, pinto beans and queso; a carnitas burrito with black beans, green salsa and queso; and a chicken burrito with red salsa, pinto beans and additional veggies. We also splurge for sides of guac and queso, which I'm glad we did because all burritos come with a bag of crispy Juanita's tortilla chips, the perfect chip for dipping.
My first impression of Roritos is solid. I like the pared-down menu and humble aesthetic. I really like watching Parvizimotlagh make my burrito, making sure to lay each ingredient down end to end, finishing with a generous squirt of herby crema and rolling it up like a pro. Sealed on both ends and with a nice structure, the tortilla is supple and the barbacoa is well seasoned with lots of warm spices. The beef is in tender chunks. Breaking into one shows how long the beef has been braised, revealing a pink center. Although I wish it were shredded for easy eating, I'm glad it manages to be moist without making the whole burrito soggy. All of the components gel together nicely for bite after flavorful bite.
You won't miss the lettuce, as fresh raw onion and cilantro offset the savory rice and beans while the cheese and crema provide a layer of richness.
I like both the carnitas and the chicken, but the barbacoa is my favorite. The chicken is moist with a nice tang from the verde sauce. The carnitas is tasty, but I wish it were either shredded and a bit more juicy or crisped up. I'm dying to try the chile relleno burrito, which I'm told will make its next appearance in April. I appreciate that Parvizimotlagh pushes hard to offer specials on top of his solid menu so that fans can also enjoy creations that are more labor-intensive along with steadfast favorites.
SEE ALSO: Roll With It: Thyda's Tacos Proves that If It's Tasty, They Will Come
The chips have the perfect texture we crave to offset our burritos. Delightfully oily and crispy with a hint of salt, they make anything you dunk them in the star. Rorito's guacamole is fresh and forgoes fillers with a nice limey finish, however, I could go for another few more notches of acidity. The fresh queso, though, is like cheese sauce and pimento cheese had a baby. I love it for its sharp and super cheesy kick. Although the texture might not be for everyone, I don't mind and proceed to demolish the whole container.
The story goes that EARL Kaimukī had an employee named Rory who wanted to open a Mexican restaurant. Parvizimotlagh would joke that Rory should name it Roritos. The idea to use EARL's original location for Roritos came from Parvizimotlagh's girlfriend and business partner Britt Lau. And the burritos are, as Parvizimotlagh says, "not super classic and … not Tex Mex. Just something tasty nestled in the middle."
Roritos serves up a quality burrito with care and a trained eye for proportion and flavor. While they do come in a couple of dollars more than the average, most customizations are included in the price. While not as common around the block as a musubi, it's already clear that the local love for good burritos is huge.
Open daily from 10 a.m. to 4 p.m., 1137 11th Avenue, Kaimukī, (808) 772-4589, roritos.com, @roritoskaimuki