This new Sicilian pizza truck is roaming around Kakaako
Margherita, soppressata, sausage pies and more from a wood-fire oven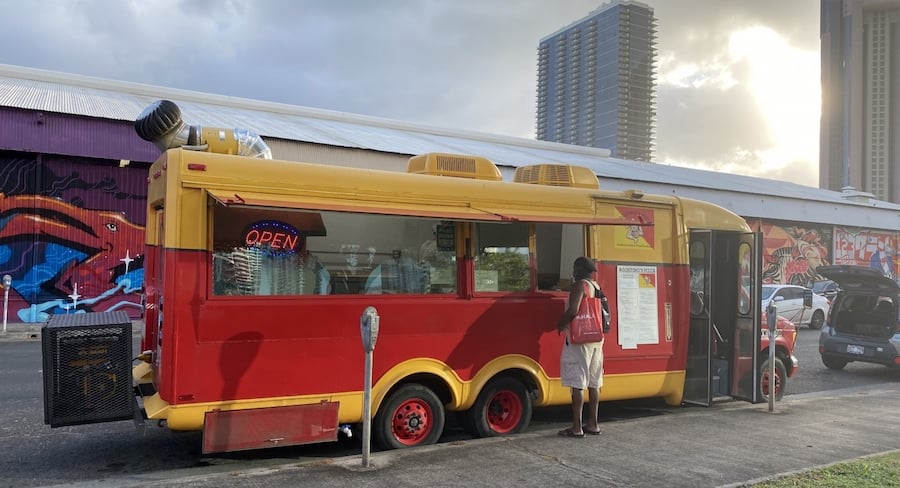 The way new eateries are sprouting up in Kakaako these days, you never know what'll roll up next. So this one was typically and totally unexpected.
When it comes to pizza, I'm typically a fan of the less-is-more approach. I'm a stickler for solid ingredients that can speak for themselves. When it comes to food trucks, I want more, and I always want them within walking distance. The last food truck boom happened when people lost their jobs and rents for brick and mortar locations became unfeasible. Sound familiar?
And now here we are, in the midst of a quarantine recession. What do I see roll up next to the Kaka'ako dog park? A red and yellow truck with a tiny sign, an unusually large oven at the back and a confident European man in a mask. I drag my dog from her play time to see a few groups of people standing around waiting for their orders. It isn't until a pizza box comes out of the small window into the hands of a very happy customer that I realize Kaka'ako just got a pizza truck.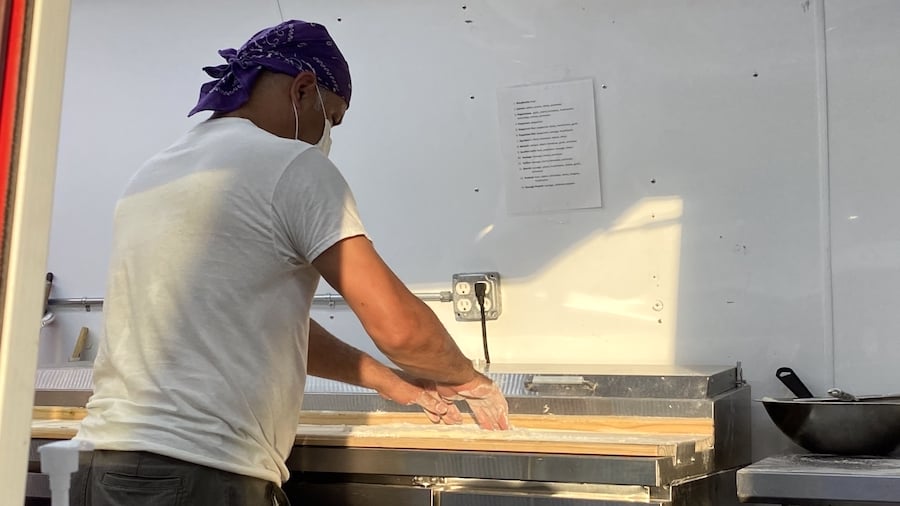 Back in 2009, there was a Sicilian man named Agostino making pizza in Wai'anae who then moved his operations and special oven to Waikīkī (which Honolulu Magazine's dining editor wrote about in 2013). Soon after that, Agostino's Pizza moved to the Mainland to launch an establishment in Austin, Texas. Lucky for us he's back with a brand-spanking-new shiny truck, ingredients from Italy (which is why he can boast new specials every week) and an exciting partnership with Olomana Brewing in Kailua.
The Goods
Prosciutto di Parma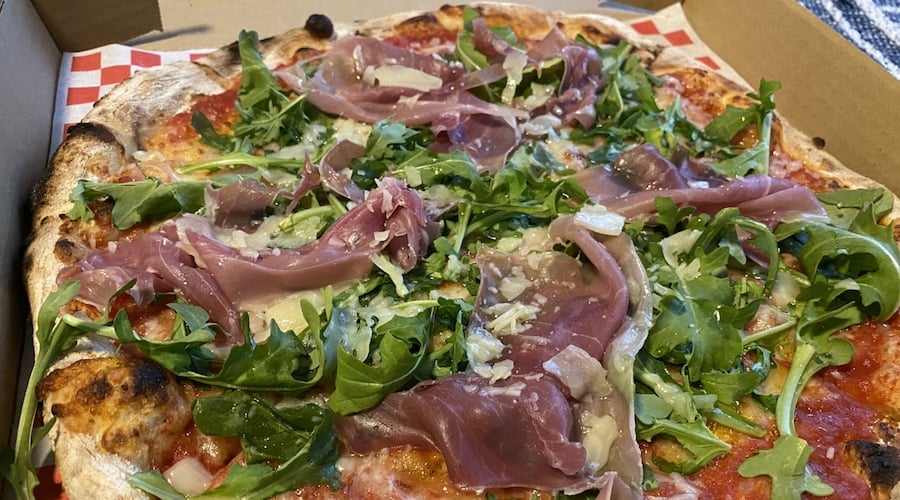 Prices: 12-inch, $15; 16-inch, $25; 18-inch, $30
The combination of Prosciutto di Parma, parmesan, arugula, mozzarella and tomato sauce is my weakness so I'm quick to judge it: The thin pizza base has a springy crust that's void of overly burnt edges. The tomato sauce is light and sweet, the bitter and crisp arugula is piled high enough and the prosciutto is soft and salty (and portioned generously). This pie was a special and may not be available regularly.
Prateria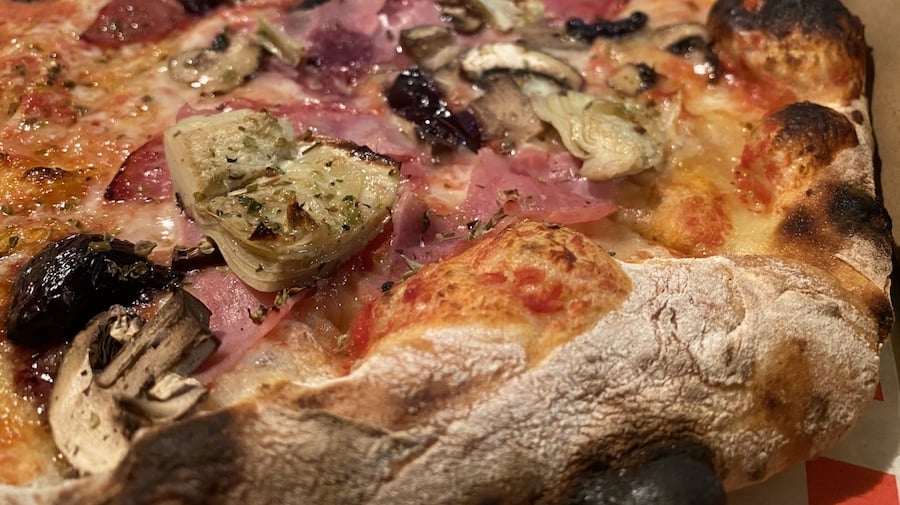 Prices: 12-inch, $13; 16-inch, $22; 18-inch, $27
The owner recommended this when I asked which of his regular items I should try next. Would I ever pick this one myself? No, because it seemed too busy. Will I from now on? Oh, hell yes. This pie was popping with flavor: marinated artichoke hearts and black olives punching with power, soft and creamy mozzarella, spicy salami, mushrooms and oregano on a tomato sauce base.
The Soppressata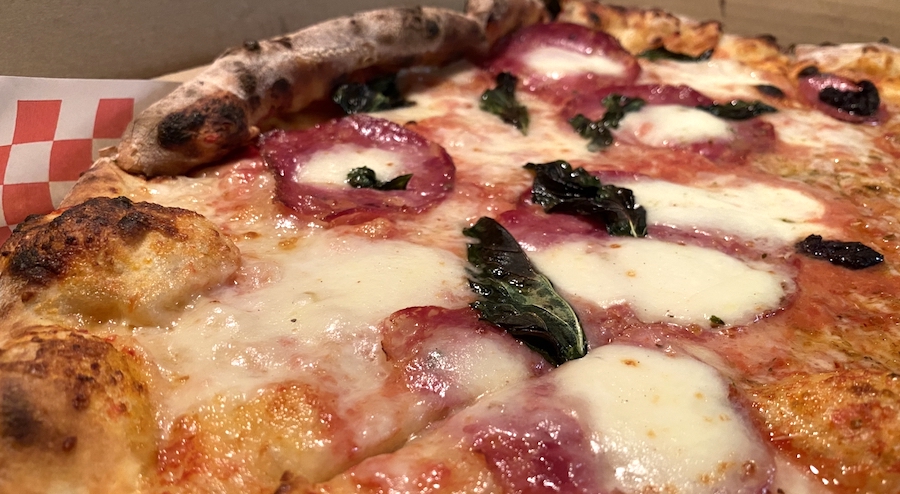 Prices: 12-inch, $15; 16-inch, $25; 18-inch, $30
Another special because Agostino received an order of soppressata (Italian dry salami). Each round slice of the slightly spicy cured meat was topped with mozzarella, while the entire tomato-based pie was sprinkled with fresh basil. If it wasn't a special, this would be my go-to.
Agostino's Pizza
940-2029
Daily except Sunday and Monday
Follow updates on Instagram @agostinos_pizza