These luxe pastry boxes are your ticket to daily happiness
The weekly offerings span sweet and savory, to pair and play off restaurant specials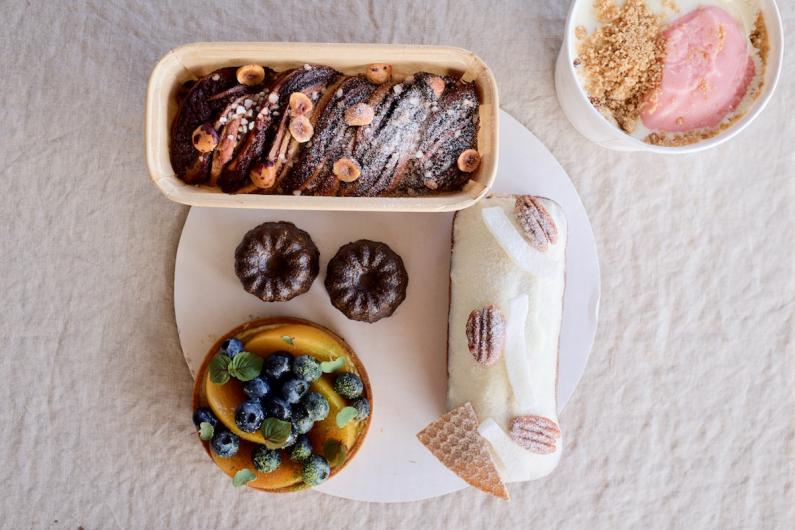 Lifting the lid on a pastry box delivers a joy that Charlie Bucket's golden ticket can't match. Each week a boxed assortment of pastries is released by MW and Senia, and in limited amounts. I've taken to checking MW's emails every Monday and Senia's Instagram every Saturday to see what's new. In the past few months, I've ordered three boxes—one from each restaurant, and a pastry box from Breadshop, alternately attacked them like a famished Charlie or parceled them out to savor over the week.
The offerings change week to week, but here's a glimpse of pastry boxes past:
MW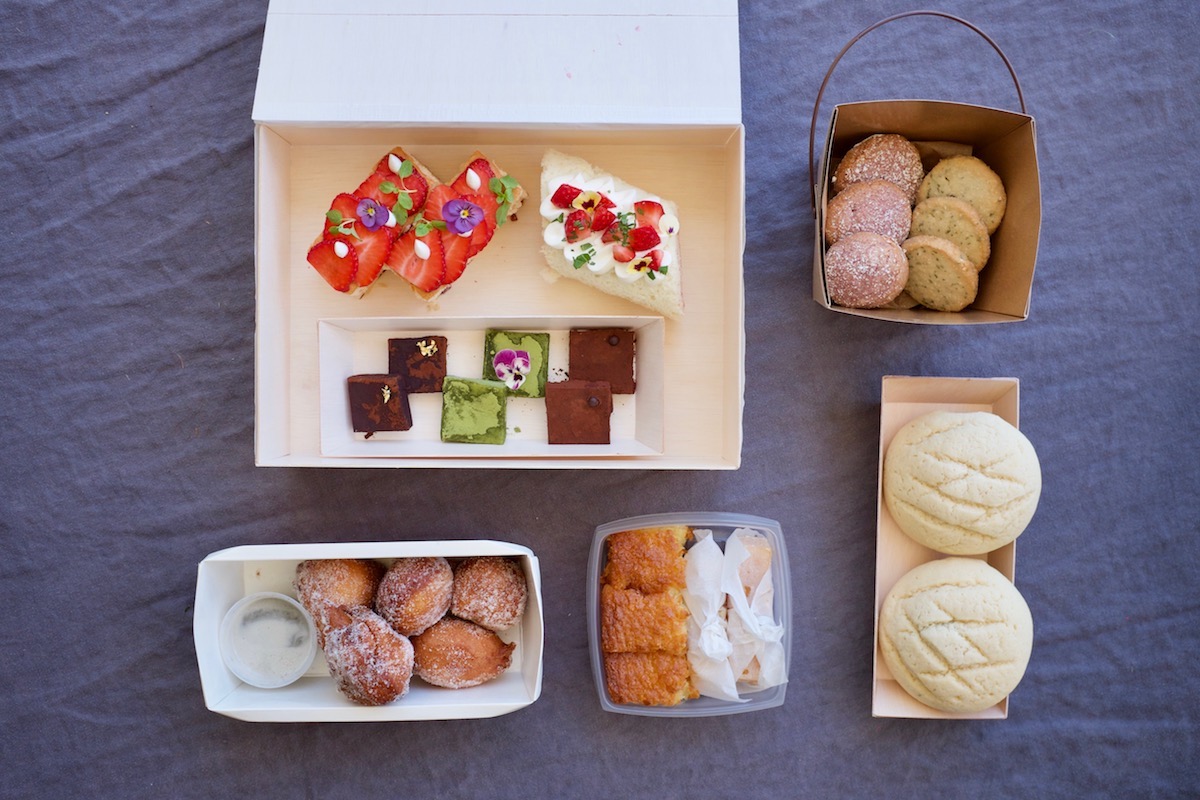 MW's takeout menu changes every weekend, based on different themes: French, Plate Lunch Favorites and Steakhouse Classics, to name just a few, and Michelle Karr-Ueoka's desserts embrace each theme. The Japanese dessert bento was exquisitely presented—a light wooden box revealed fluffy strawberry roll cake and azuki souffle cheesecake nestled with a tray of nama chocolates (Japan's version of a truffle), in flavors of hazelnut, coffee and matcha. A Chinese takeout container revealed two layers of treats: tea-scented shortbread and chewy Okinawan sweet potato cookies on the bottom, and butter mochi and liliko'i chi chi dango on top. And separately: still warm andagi with a black sesame dipping sauce. The melon pan, with its cookielike top and sweet bun filled with matcha cream, was a surprise favorite—comfort exactly when I needed it. The dessert boxes never repeat, but this assortment gives you a sense of the combination of solace and delight in each one. This box supplied sweet treats for four people over a few days—I consider it well worth the $45.
$45, preorder weekend boxes by 6 p.m. the preceding Thursday. New menus are released every Monday.
1538 Kapiolani Blvd • Ala Moana • 955-6505 ext. 2 • mwrestaurant.com
Senia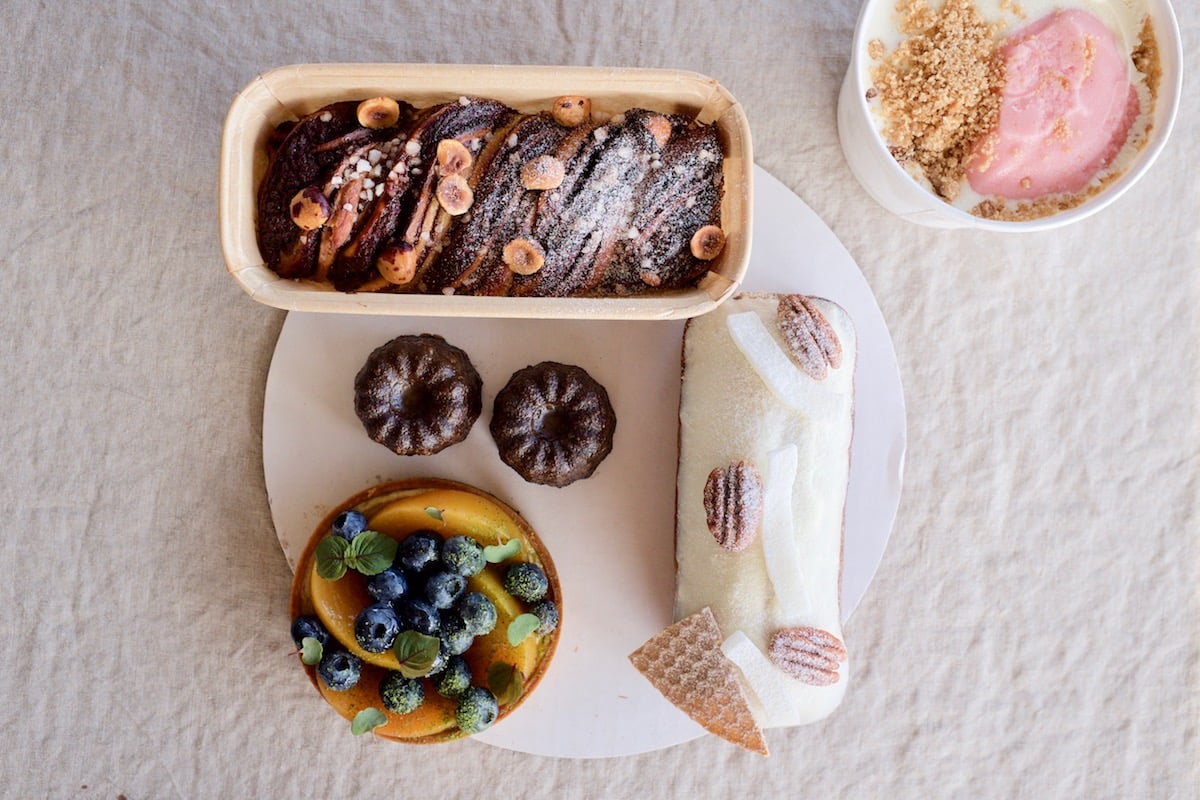 Senia's takeout menu also changes each week and Mimi Mendoza's pastry boxes include five items: usually two canelés, a tart, babka and travel cake (a cheerful, "Anne of Green Gables" sort of name for a mini pound cake) and cookies, though the week I got my box, there was a pandan, strawberry and rhubarb ice cream. Mendoza's canelé's are some of the best I've ever had: a caramelized crunchy shell encases an almost custardy interior, and since they were ube canelé the week I ordered, the centers revealed a cheerful purple. Mendoza brings sophisticated (as opposed to homey) flavors to her desserts and they are as beautifully presented as they were in the dining room. I admired the sweet corn custard tart—adorned with blueberries and perfect peaches—for a long time before I could force myself to dig into the summery flavors. The chocolate and hazelnut babka and travel cake layered with apricot jam and a marzipanlike paste kept well for a few days, as one would hope of a travel cake. I stretched them out over a week for a bit of beauty and delight each day.
$50. New menus are released on Instagram every Saturday and sell out quickly.
75 North King St. • Chinatown • 200-5412 • @restaurantsenia
Breadshop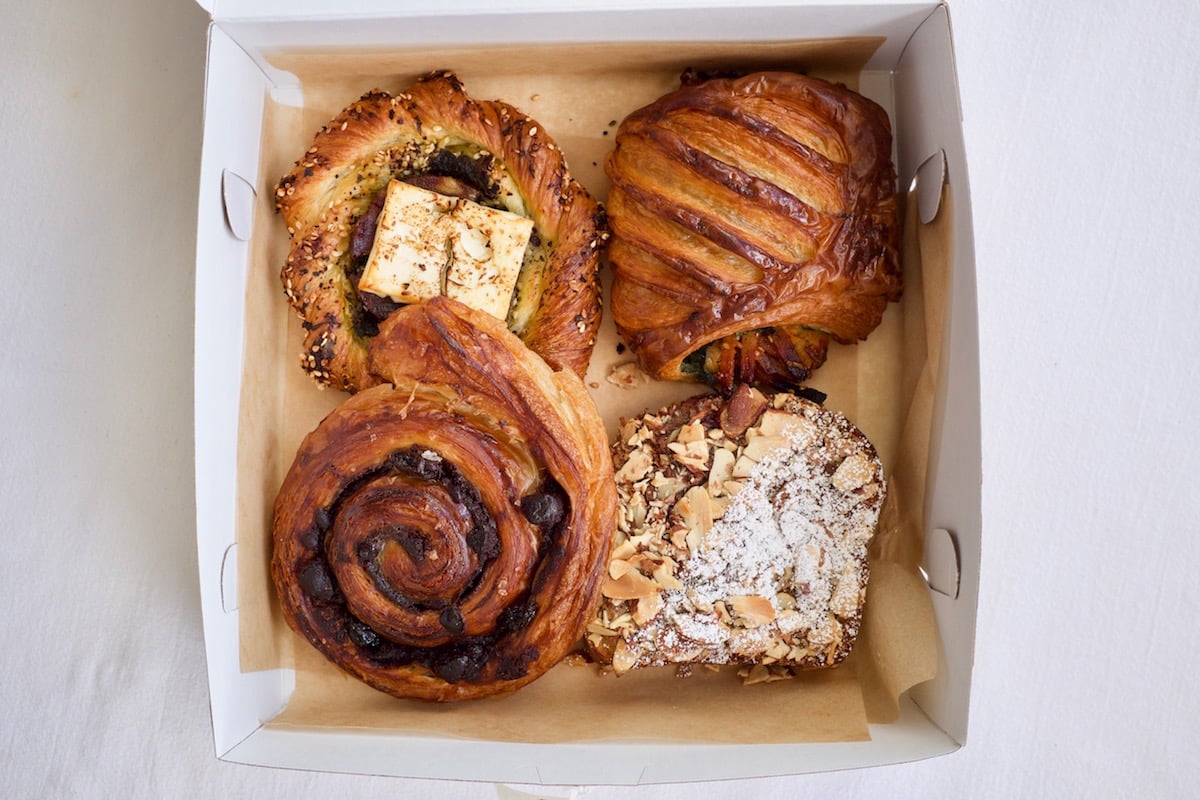 We believe in Breadshop's motto: "Real bread can bring joy and comfort. For us, it is a necessity and not a luxury." Of course, the five-piece sweet and savory boxes, from a chocolate snail pastry to taegu spinach croissant, were more luxury than staple, but the pastries kept well in the freezer and crisped up wonderfully in a warm oven, so on days when we needed a pick-me-up it was always at hand.
$21.50, preorder opens on Tuesdays for pick-ups Fri. through Sun.
4308 Waialae Ave. #104 • Kaimuki • Preorder on Tock
Editor's note: 53 by the Sea offers a rotating box by pastry chef Reid Root for $27; the assortment of four pastries changes weekly.