These Floral Cupcakes Are Worth the Drive to Wahiawā
Pua Cake Studio's gorgeous cakes and cupcakes are as delicious as they look.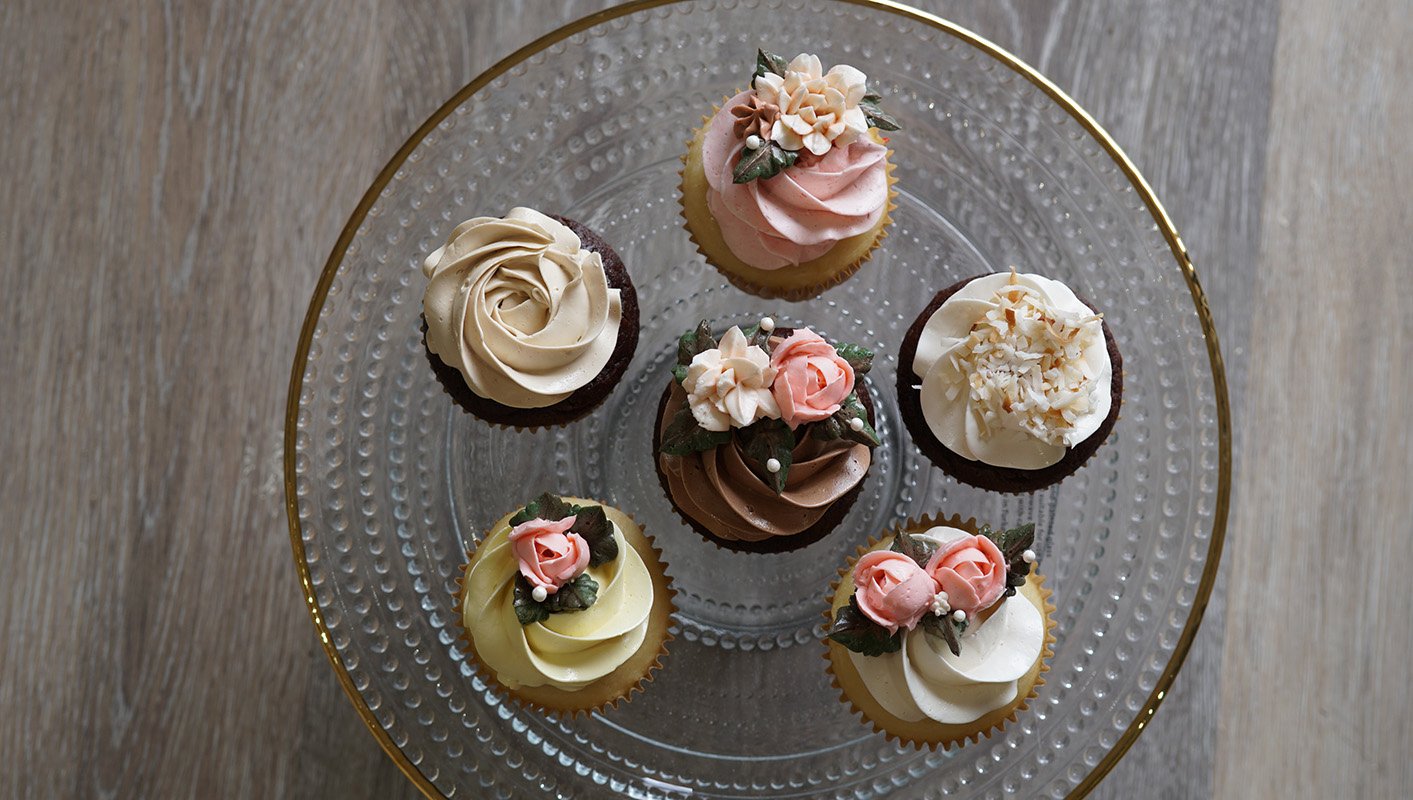 I first heard about Pua Cake Studio a couple of months ago from my dessert-obsessed friends who are always looking for the next sweet thing. The catch? It's out in Wahiawā.
For a townie like me who barely drives outside of my five-mile radius, it took a lot to convince me to drive out there. And once I got to Wahiawā town, I had to find it, because it's not visible from the street: Pua Cake Studio has the same address as Fukuya Ramen, so turn into that driveway, and you'll find the shop toward the back of the parking lot. I'm telling you this because I'm confident you'll appreciate the beautiful, buttery creations just as much, and will enjoy posting these photogenic treats even more.
SEE ALSO: Wahiawā Kilani Avenue Food Crawl
Owner Jayme Choi, who's local—a McKinley High School alumna, no less!—interned as a pastry chef in Seoul, South Korea, at STAY, Yannick Alleno's restaurant at the Signiel Lotte Hotel while teaching English. While there, she learned how to make buttercream flower cakes from a private teacher.
She returned home and has been growing her business since 2018, but finally opened the Pua Cake Studio storefront in October 2021. Many people can make buttercream decorations, but hers are amazingly lifelike, making the cakes almost too pretty to eat. Many of the cupcakes are topped with buttery roses and gardenias as well as colorful buds, leaves and ferns. Choi can also recreate a wide variety of painstakingly detailed garden and tropical flowers.
Choi prides herself on baking everything from scratch, with real butter, fresh eggs, cream and milk. She doesn't use commercial bakery ingredients to cut costs or to make her cakes shelf-stable, and believe me, you can taste the difference. Butter cake with buttercream frosting is decadent and luxurious. Even better, some cakes also have a surprise fruit curd filling, like her best-selling liliko'i or strawberry.
Cupcakes start at $3.25 apiece and she can make a variety of cakes in different sizes. Choi also offers cookie boxes for $8 and macaron sets for $13.50.
Now, before you run out and try to buy out the pastry case, I need to warn you that Pua Cake Studio isn't open every day. You can order ahead on her website for pick up Tuesdays through Sundays from 10 a.m. to 6 p.m. You can walk in on Fridays and Saturdays for spontaneous purchases during those same hours.
SEE ALSO: First Look: Beyond Pastry Studio's Pastries and Modern Take on Filipino Breads
Is it worth the drive out to Wahiawā? Absolutely. I've already gone back for more items, and even ordered a custom birthday cake that turned everyone's heads.
Choi has done some pop-ups in town and hopes to expand the brand and availability to purchase in Honolulu in the future. She also is developing special holiday themes and flavors, like the Valentine's Day boxes that she recently featured.
Open for walk-ins on Fridays and Saturdays, 10 a.m. t0 6 p.m., 71 S. Kamehameha Hwy., Wahiawā, puacakestudiohawaii.com, @puacakestudiohawaii