The History of Hawai'i From Our Files: Hawai'i's Cattle Industry
HONOLULU Magazine emerged from predecessor Paradise of the Pacific, which began in 1888, fulfilling a commission by King Kalākaua. That makes this the oldest continuously published magazine west of the Mississippi, with an enviable archive worth diving into each month. Here's a look back at July 1957.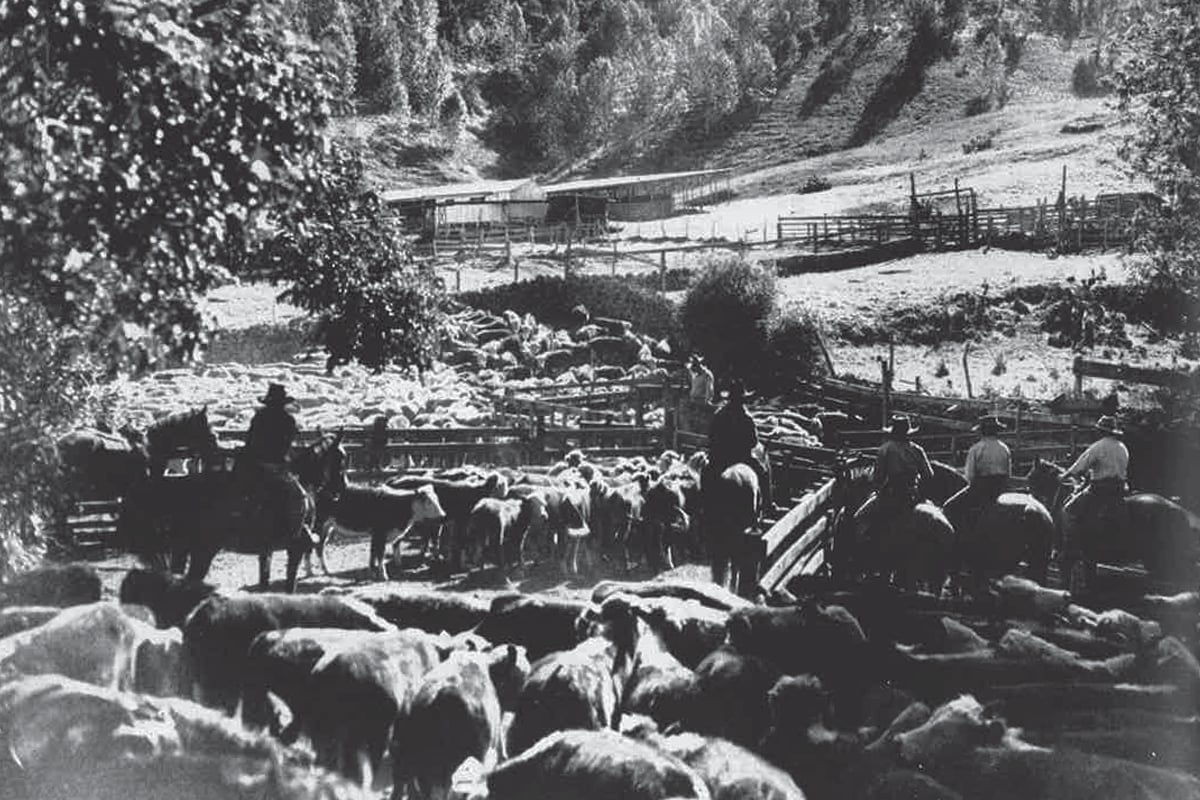 In 1793, Captain James Vancouver gave King Kamehameha I a few gifts: a bull and six cows. Kamehameha placed a kapu on killing them for 10 years so they could multiply, which they did, eventually trampling crops and harassing people.
In the early 1800s—vaqueros, cowboys from Mexico—began teaching locals how to round up the cattle, and so the storied paniolo came to be, as outlined by Paradise of the Pacific in 1957.
"Today's Hawaiian Paniolo is not a Hollywood type cowboy. He doesn't wear a pearl handled six shooter and his pony can't dance to music.
"You can recognize a paniolo by his dress—definitely Spanish influenced—he wears leather chaps and ordinary flat heeled heavy leather shoes, not the high heeled type so common in our Southwest today. He wears a flower lei around the brim of his upturned hat—his own colorful touch. He makes his lasso (lariat) from four strands of braided hide, well stretched and oiled. Bits, bridles, spurs and ornate hand tooled saddles show early Mexican design.
"With Hawaii's peculiar but wide variation of rainfall, many of the 300 or more island ranches possess both very dry and very wet land over a small area. By shifting cattle, Hawaiian cowboys can pasture cattle throughout the year. …
"As a whole, Island Beef has an excellent reputation for freshness and flavor, as a recent University of Hawaii agricultural extension service survey indicates. Sixty-three percent of island consumers prefer island beef, twenty percent have no particular preference, fourteen percent mainland beef, and three percent didn't know.
"Although it is not exactly known what gives island beef its fine flavor, it is believed that Hawaii's even climate and fine natural pastures have much to do with it."
SEE ALSO: The History of Hawai'i From Our Files: O'ahu's First Railroad
Cattle are still the state's third-most valuable agricultural commodity, although the giant ranches of the past are now carved into smaller and more restricted ones, and many ranches raise calves to send to the continent for slaughter. According to the U.S. Department of Agriculture's latest Census of Agriculture in 2017, 667 farms in the Islands sold more than 58,000 head of beef cattle, compared with more than 101,000 head sold in 1987.
Learn more about the evolution of covers in HONOLULU Magazine and Paradise of the Pacific: 125 Years of Covers, available at shop.honolulumagazine.com.
---
Find more photos from Honolulu's past every Thursday on Instagram @honolulumag.