The Best Food We Ate in Tokyo in 72 Hours
Thomas Obungen and Maria Burke's Top 6 picks from three short days in Japan.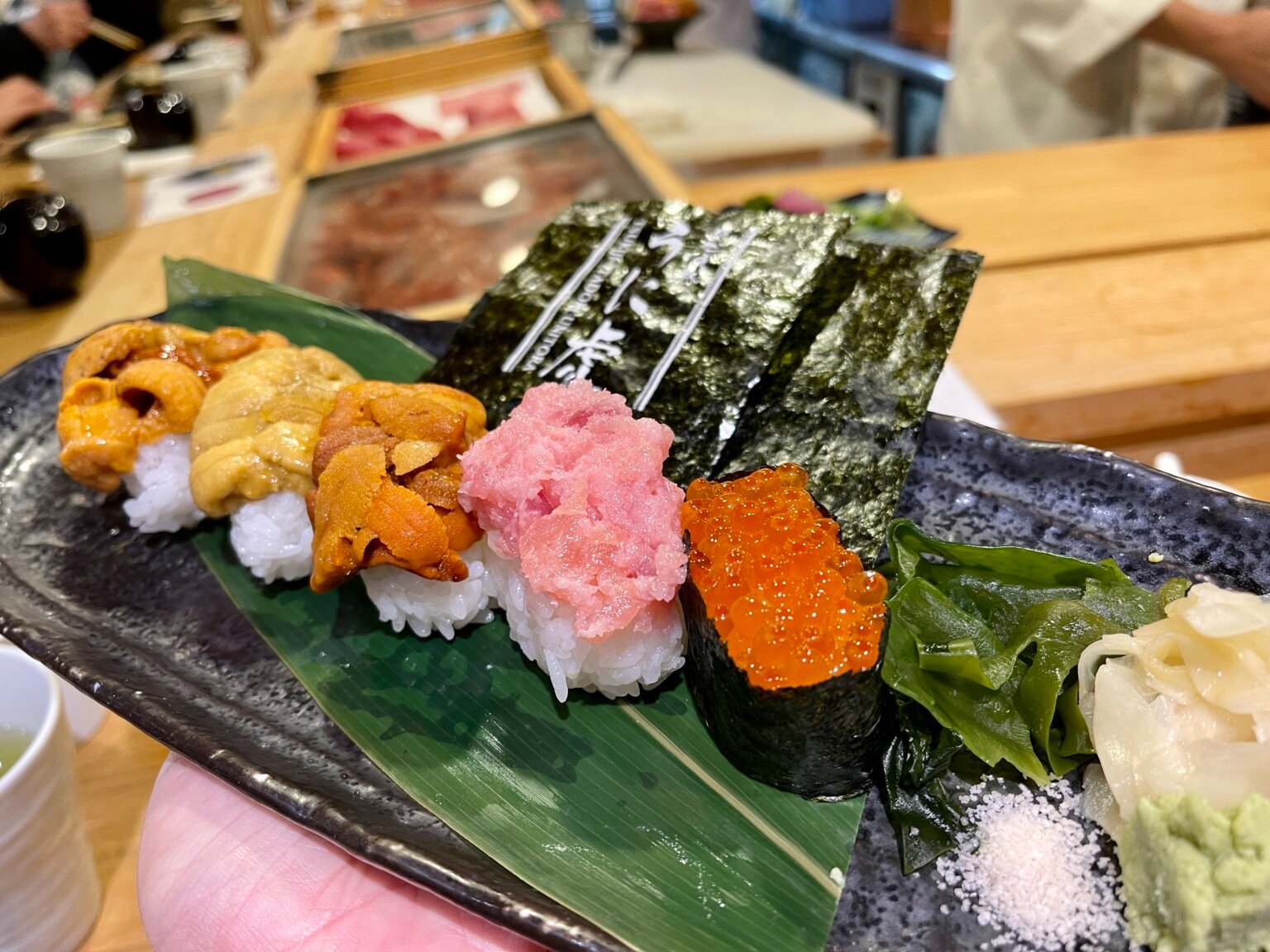 If you've ever visited Japan, chances are pretty high that since the country reopened its borders to tourism in October, you've either gone, considered going or made plans to go. We had a small window to see, eat and drink up all that Tokyo had to offer last week, when the yen was about 135 to the U.S. dollar. Here are the best things we ate in three short days.
Horumon-ni
Kitsuneya, Tsukiji Outer Market
¥950
Our first breakfast starts off on a strong note with a steaming bowl of horumon stew over rice at Kitsuneya in Tsukiji's outer market. Horumon, or cow offal, is flash-fried by the handful and simmered in a vat of hatcho miso stew that has been bubbling away for 70 years. You can tell this mother pot has birthed some of the most satisfying meals in the city. Slightly sweet with a hint of savory umami, the organ meat is tender and less gamey than you'd expect. Slivers of negi leeks cut through the rich stew with fine acidity and bring balance to the bowl. By the time we finish, the line wraps around us and down the block. Go as early as possible—the wait is definitely worth it. —Thomas Obungen
Open Monday to Saturday from 6:30 a.m. to 1:30 p.m., 4 chome 9-12, Tsukiji, Chuo-ku

---
Soba dinner course
Itasoba Kaoriya, Ebisu
¥2,650
After walking nearly 20,000 steps on Day 1, a four-course tempura soba dinner at this neighborhood restaurant is the perfect (and only) chance to rest our feet. The meal opens with seasonal appetizers including bonito tataki, sake lees cream cheese with nuts, and silken dashimaki tamago. Then comes hearty chicken sukiyaki, which debunks my thinking that all sukiyaki must be beef, and finally, trays of impossibly crisp tempura and cold buckwheat soba noodles. When we arrived, our appetites had us set on ordering multiple servings, but one tray is more than enough to recharge our batteries for the next item on our agenda: viewing the Christmas illuminations at Yebisu Garden Place, then ice cream for dessert. —TO
Open daily from 11:30 a.m. to 3:30 p.m. and 5:30 to 9:30 p.m., 4 chome 3−10, Ebisu, Shibuya-ku

---
Kakigori
Kooriya Peace, Kichijoji
¥1,200 to ¥1,600
For me, every visit to Japan inludes a pilgrimage to at least one shaved ice shop. Kooriya Peace has been on my list for years; finally I can say I made it. Tucked in a building full of eateries on the other side of Kichijoji station, this kakigori shop was made famous by the second episode of "Kantaro: The Sweet Tooth Salaryman." Mountains of snow shaved from crystal clear ice blocks form the base for layers of fruit, fresh syrup and additional toppings. We order the Christmas tree special, a play on matcha with azuki beans, orange and cheese; and the seasonal kaki or persimmon kakigori. Each is a masterpiece in its own right. The spoonfuls of whisper-thin ice lashed with fruit compote and espuma foam make us sink into our chairs with delight. This café alone is worth the trek to this trendy hood known for thrifting and other hidden gems. —TO
Open Tuesday to Saturday from 10 a.m. to 8 p.m., Sunday from 10 a.m. to 6 p.m., 1 chome 9−9, Kichijoji Minamicho, Musashino

---
SEE ALSO: Best Shave Ice on O'ahu
---
3-Variety Uni Sushi Set
Unitora Nakadori, Tsukiji Market
¥5,900
Our hearty sidewalk breakfast of horumon stew has me craving something fresh and briny. While Thomas peels off in search of menchikatsu, I tuck into a nearby Unitora and snag a solo seat. I feel like a kid in a candy store. From the menu of giant chirashi bowls, vertical tastings and more, I settle on a nigiri sushi tasting of three types of uni. Most of the 10 seats at this small counter are filled with visitors like me, so I get the vibe that this spot maybe isn't as authentic as it gets, but with varieties of uni from different parts of Hokkaido, I'm still excited. My nigiri set contains one type of bafun uni (the short, squat-looking urchin) and two types of murasaki uni (the ouchy looking ones). The rice portions are a bit robust for my taste but the uni is absolutely divine. I pick them up lobe by lobe, comparing the different balances of livery sweetness and salinity, before devouring each one. The chutoro and ikura nigiri that round out the set serve as perfect chasers. —Maria Burke
Open daily from 7 a.m. to 9 p.m., 4 chome 10−5, Chuo-ku, Tsukiji

---
Morning Menu + Side Set
Misojyu, Asakusa
¥1,010
We're headed to Kappabashi (Tokyo's kitchen district) early today, which means we're going to need fuel. Misojyu, a little corner miso shop, is about three minutes from Sensō-ji temple. The ground floor has just a few seats but a steep staircase leads to a second story with more tables. The place is packed with a mixed crowd of visitors and locals ready for a steamy bowl of soup to combat the cold. The morning menu comes with a choice of two daily miso soups, one onigiri (on this occasion we were given two each for the same price), half a boiled egg, and tea. For an extra ¥350 you can add a set of sides. I go with the sweet potato, green onion and seaweed miso soup, ume shiso and brown rice onigiri, and a side set of teriyaki chicken, shiso takuan and tofu. The soup is so deeply satisfying that I close my eyes to savor it. The onigiri are moist and delicious, the brown rice embedded with tiny anchovies. A small chunk of house-made tofu is finished with a sprinkle of flaky salt and melts in your mouth. The crunch of pickled daikon pops my eyes back open, but only momentarily. —MB
Open daily 8 a.m. to 5 p.m., 1 chome 7−5, Asakusa, Taito-ku

---
SEE ALSO: Find Modern Luxe Sushi at Kapahulu's New Omakase by Aung
---
The Japan Edition
Iyoshi Cola, Shibuya
¥550
When HONOLULU Magazine photographer Aaron Yoshino suggested that we check out a craft cola shop in Shibuya, my response was, "Say less." I love cola, and so does Thomas, so on the day that we find ourselves in Shibuya, we seek out Iyoshi Cola. The sidewalk storefront is super cute, with shelves of aromatics in glass jars. On the counter sits futuristic cola syrup dispensing machines that pump the magical mixtures into plastic bags before topping off with super-carbonated soda water. There are just two colas on the menu, plus a special flavor with milk and a hot version. We go for The Japan Edition made with ingredients from all over Japan like yuzu and kuromoji (spiced bush herb); it's finished with freshly cracked sansho pepper and a thin lemon wheel. The taste is incredible! Notes of bright citrus meld with vanilla, earthy sarsaparilla and pops of pepper. The sweet, fizzy tincture gives us super powers and we're ready for more exploring. I know Tokyo is huge, but we're coming back to Iyoshi Cola. —MB
Open daily from 1 p.m. to 7 p.m., 5 chome 29−12, Jingumae, Shibuya-ku