Tanioka's Now Has Poke Tots, Pastele Tots, Pork Belly Katsu and More
Waipahu's stalwart poke shop debuts drool-worthy new monthly specials.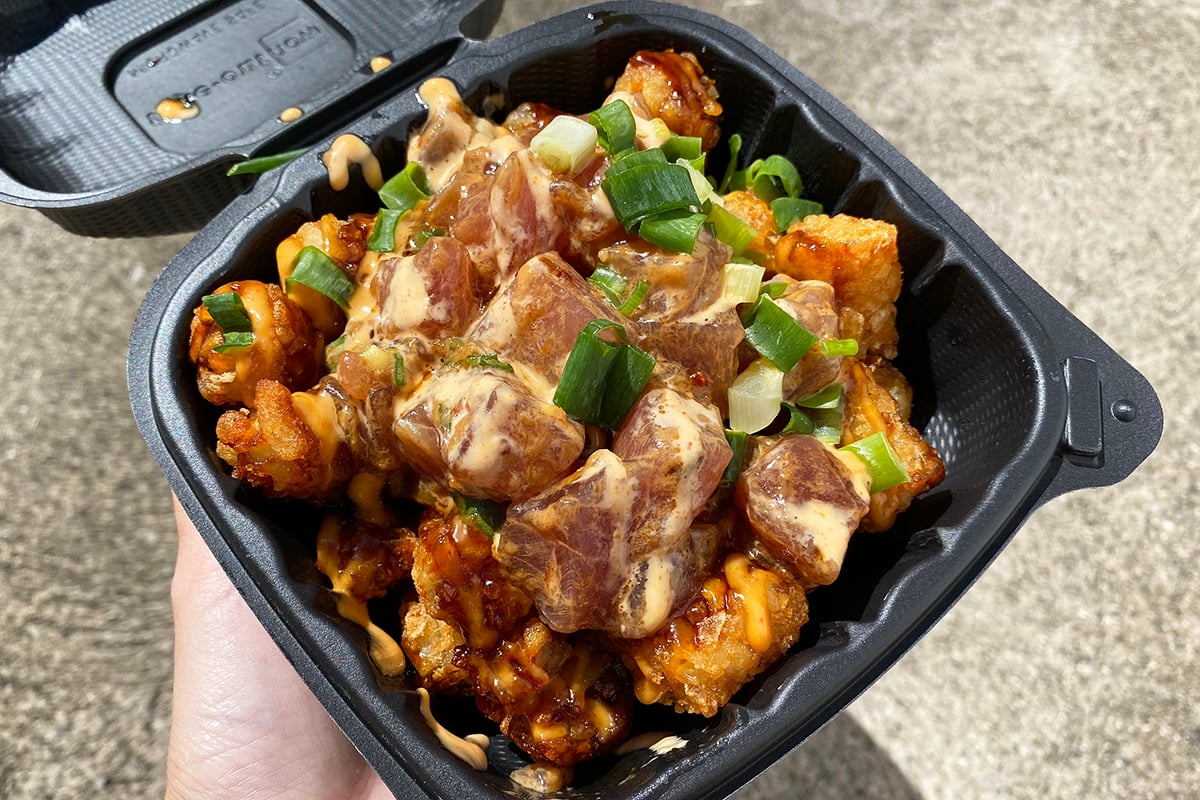 I've had poke nachos and I've had poke fries, but poke tater tots? That's different. I love tater tots—just ask any of my brunch pals. After seeing Tanioka's Seafoods and Catering's new poke tots on Instagram, I make a special trip out to Waipahu for them.
View this post on Instagram
Before leaving, I message Tanioka's asking what kind of poke is on the tots and if it is available every day. They assure me that the tots are available daily and invite me to try some of the other new menu items. My order at Tanioka's always includes 'ahi fish patties and a spicy 'ahi tempura bowl, so departing from those is tough for me.
Tanioka's tots are so new that you'll only see flyers for them at the poke counter.
The Poke Tots ($10.95) include a quarter pound of your choice of poke. Spicy 'ahi is the most popular, and my preferred poke, but Tanioka's has a huge selection. Choices range from onion limu and crunchy garlic 'ahi to spicy garlic shrimp and spicy mussel and clam poke. The latter are new additions to the case.
Tater tots are simple and comforting like fries but the fresh poke elevates them. The chilled cubes of 'ahi provide the perfect contrast to the crispy hot tots full of potatoey goodness. The Volcano Sauce adds a hint of spice and the unagi drizzle balances it with a lingering sweetness.
The Pastele Tots ($10.95) are next-level delicious with a hearty heap of Tanioka's pastele stew. These hold up well during my 20-minute drive home from Waipahu: when I open the container, the stew is still steaming, and the tots are still hot and crispy. There are chunks of pork and gooey melted cheese everywhere.
---
SEE ALSO: Fat Kid Friday: Mauka to Makai Poke Nachos
---
Tanioka's recommends another monthly special, their new Hawaiian BBQ Pork Belly Katsu ($10.95), as a pūpū since the crispy morsels are great for snacking. Like chicken katsu, these strips are crunchy on the outside, tender and juicy on the inside because of the succulent pork belly. I don't know about you, I'm not sharing these.
Tad Yamakawa, the assistant general manager, explains that Tanioka's started introducing more specials when they reopened last October after a temporary closure. With a smaller team and menu, they looked for ways to keep things fresh.
"Our executive chef Jensen Endo comes up with a lot of the ideas for the new menu items," Yamakawa says. "When we did the pop-up at Ala Moana, the menu we had was made exclusively for that location and it featured made-to-order dishes. We didn't have many made-to-order dishes here (in Waipahu), but when we did that there, we realized it worked and started incorporating that here."
"We realized made-to-order food does sell—people would rather have a hot meal sometimes instead of a bento."
The shop also started offering new holiday meal packages along with other daily and monthly specials. The specials, like the poke and pastele tots, may be incorporated into the permanent menu if customers love them.
After my food coma-inducing lunch, the pastele tots are still on my mind. My fingers are crossed that everyone else likes them as much as I do so they become a fixture alongside my other favorites.
94-903 Farrington Highway, Suite E, Waipahu, (808) 671-3779, taniokas.com, @taniokas