Fat Kid Friday: Mauka to Makai Poke Nachos
Kālua pork + poke of your choice atop crispy fried won ton chips = the best of all worlds.
Fat Kid Friday is a video series spotlighting exuberant dishes across O'ahu. Crazy, ginormous or over-the-top luxe, these are the broke-the-mouth dishes we push across the table and tell our friends, "Try this. TRY IT."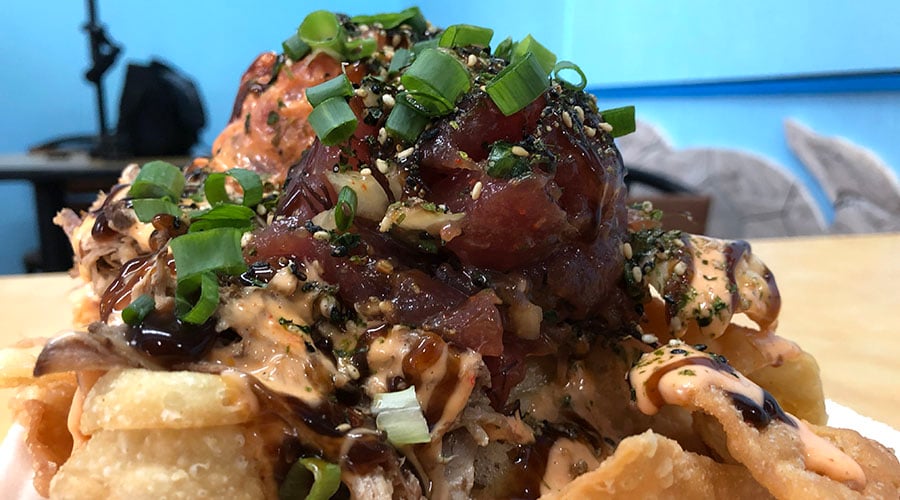 Surf and turf is a staple because you never have to choose between a hunk of meat and your favorite seafood. It's decision-making made easy.
What if we told you that a spot in Pearl City has surf and turf—in poke form?
That's the basis of Poke on Da Run's Mauka to Makai nachos ($17 regular, $10 mini), a glorious combo of land meets sea. As the friendly aunty behind the counter explains: "You get the pig—from the land, mauka—and then you get the poke from the sea, makai. So, mauka to makai nachos."
Each order comes with kālua pork and your choice of spicy 'ahi or Kamikaze poke. Or, you can choose half-half and try both pokes.
It sounds simple, but each component adds a different dimension of texture and flavor. The kālua pork is juicy and doused with signature Fireman sauce for extra kick. The spicy 'ahi boasts some serious heat, thanks to a creamy sriracha mayo. Thankfully, the Kamikaze adds sweet relief with a shoyu-oyster base. And we can't forget those addictive fried wonton chips that are delicately crispy, yet strong enough to hold the goods.
This dish is more than the sum of its parts. It's one we'll definitely be back for.
 909 Lehua Ave., Pearl City, (808) 455-4502, @poke_on_da_run_shop,

– Concept and title by Brandon Lee

– Video by Kai Kojimoto