Still at home? Here are fun DIY food & drink kits
From charcuterie and soju to pizza and pasta, these kits let you gourmet at home
Let's face it: We love our beach time, but we're still looking for ways to fill home time. Thanks to some easy DIY kits, we can be our own gourmet chef or mixologist and end up with something fresh and yummy. Just order, choose pickup or delivery if available, follow the instructions and voila! Easy peasy.
Acai bowls
Uncle Clay's House of Pure Aloha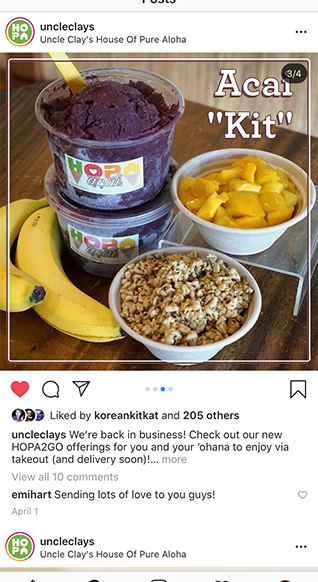 HOPA's acai kits are $24 and include two pints of acai, two bananas, diced mangoes and housemade granola. Available at the Aina Haina location only.
See also: DIY acai kits are a new thing at House of Pure Aloha
Charcuterie
Square Barrels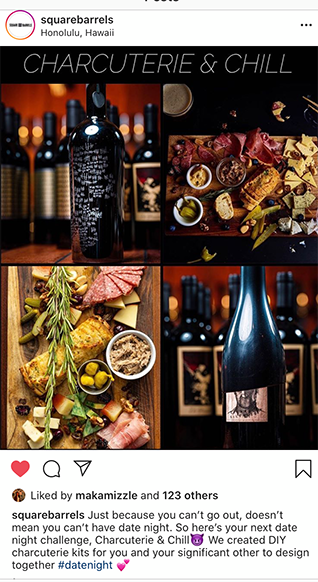 Order these $30 kits over the phone at 524-2747. If you want to participate in Square Barrels' Charcuterie & Chill challenge, purchase a bottle of wine from The Prisoner Wine Company, create a mouthwatering charcuterie board at home and snap a photo that includes your board and the wine bottle. Best photo wins a $50 gift card to Square Barrels. See the restaurant's IG for details.
Cheeseburgers
Waikiki Brewing Co.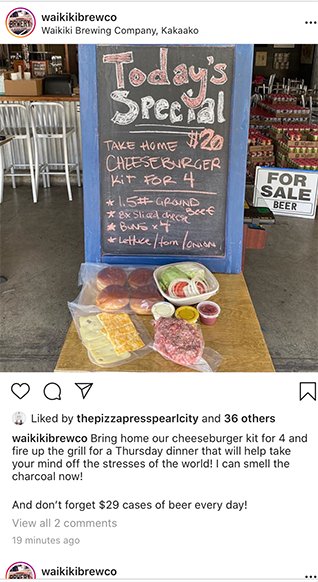 Serves four for $20: 1.5 pounds of ground beef, eight slices of cheese, four buns, lettuce, tomatoes and onions. Available at Waikiki Brewing Co. every Thursday.
Cocktails
53 By the Sea

You'll need to purchase a bottle of liquor to get an Old Fashioned, Moscow Mule, Aviation, Cosmo or margarita kit. Cocktail kits cost $12 for 4 people or $20 for 8.
Formaggio Honolulu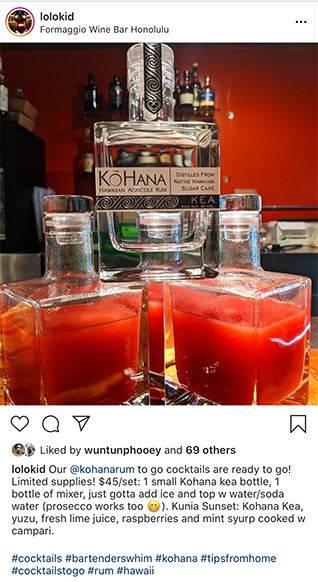 These $45 kits include one small bottle of Ko Hana rum and one bottle of mix (raspberry mint syrup, lime juice and yuzu) so you can make your own Kunia Sunset. One kit makes six cocktails.
Piggy Smalls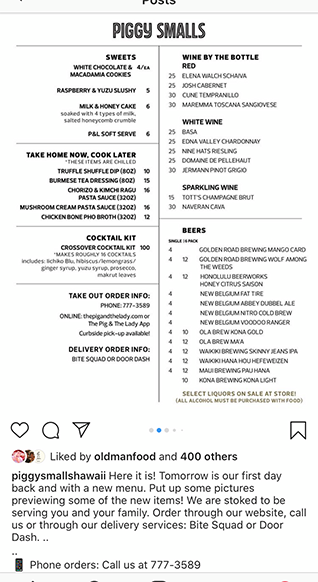 The Crossover cocktail kit costs $100 and makes about 16 cocktails. Includes Iichiko Blu, hibiscus/lemongrass/ginger syrup, yuzu syrup, prosecco and makrut leaves.
Redfish Poke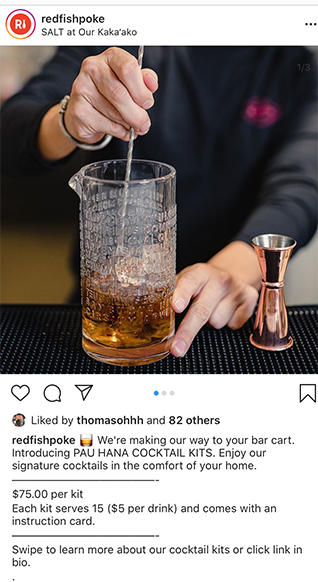 Choose from the limited-edition single barrel bourbon Old Fashioned or Redfish shiso lemonade Refresher. Pau Hana cocktail kits cost $75, serve 15 people and come with an instruction card.
Feeling fancy? Add 15 large, clear ice cubes for an additional $15.
See also: Poke and pupus: Foodland's new restaurant is a good catch
Square Barrels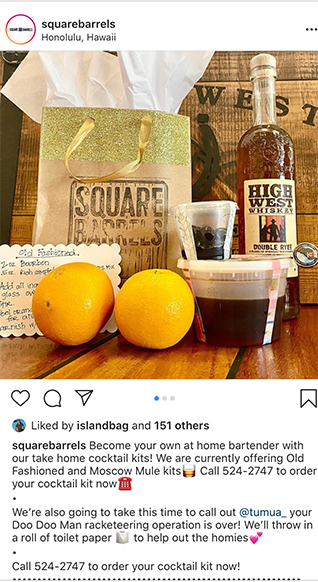 Cocktail kits vary in price: Old Fashioned is $10, Moscow Mule is $18 and Aperol Spritz is $15. You must also purchase a spirit of your choice.
Stripsteak Waikiki/The Street Food Hall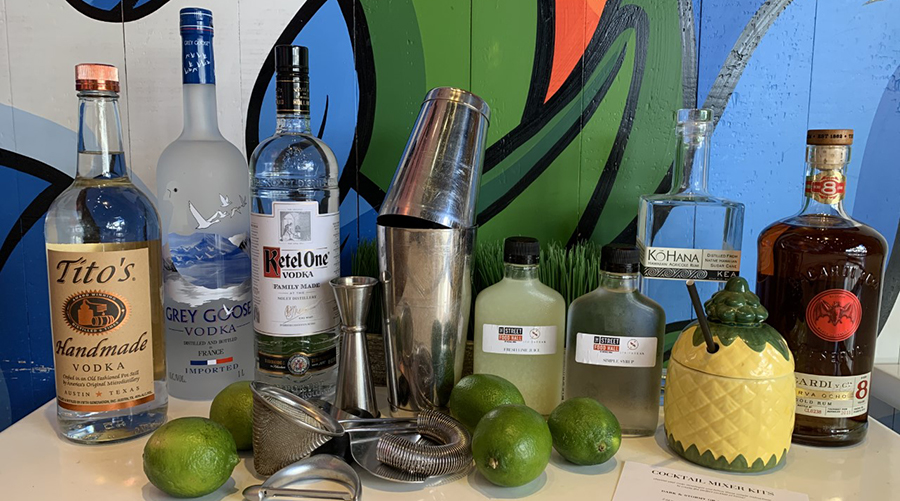 Moscow Mule Dark & Stormy and Paloma cocktail mixer kits come with your spirit of choice, with options ranging from Grey Goose and Ketel One to Barcardi Superior and Tito's. Mix ingredients to taste and pour over ice.
Note: Food purchase is required with alcohol purchases and alcohol must be opened and re-sealed. Pickup only for alcohol purchases.
Desserts
Kulu Kulu Cake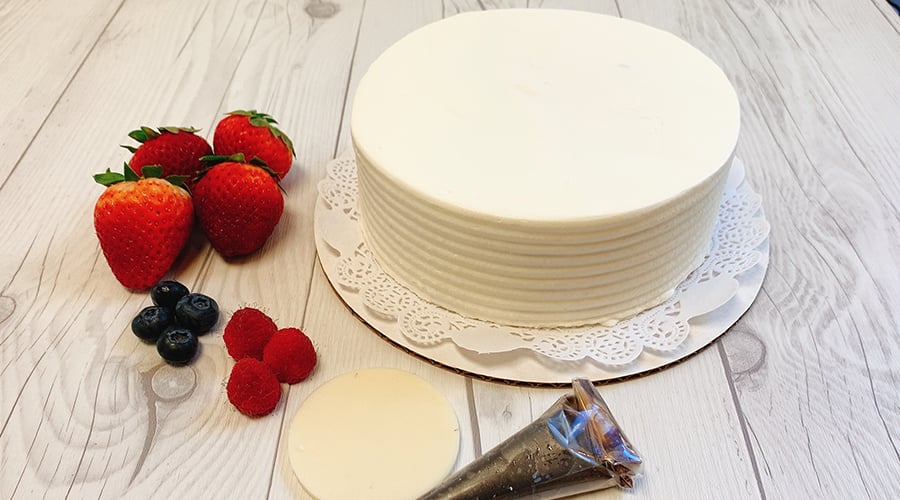 Cake decorating kits cost $29.95 and include a six-inch strawberry shortcake, fruits, message plate and a chocolate pen. Available at the Eaton Square location only. Phone or online ordering recommended.
b. Patisserie/Kona Coffee Purveyors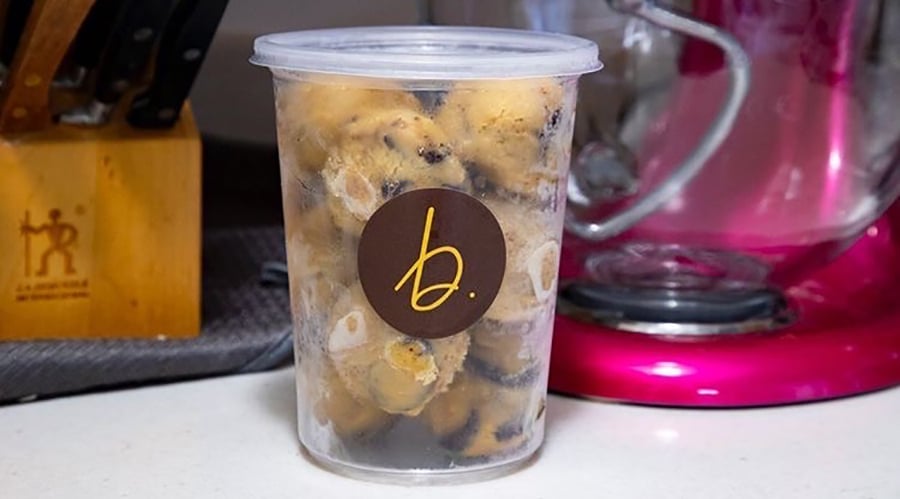 Make these ridiculously chocolaty chocolate chip cookies hot and fresh at home. Order online via exploretock.com; visit b. Patisserie's Instagram for more details. Each kit contains 10 pre-portioned dough balls.
See also: Best chocolate chip cookies: Our Top 5
Zippy's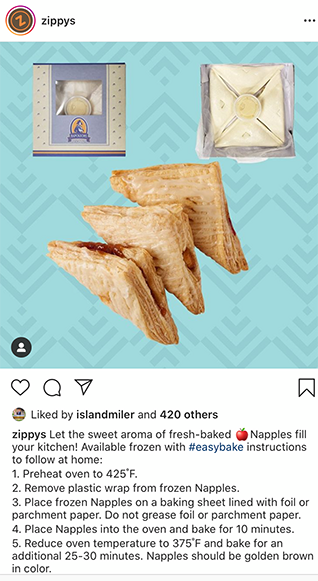 Easy-bake Apple Napples come four in a pack and cost $10.45; bake-at-home apple pies are $10.75. Items come cold or frozen and all you have to do is follow the simple baking instructions.
Miro at home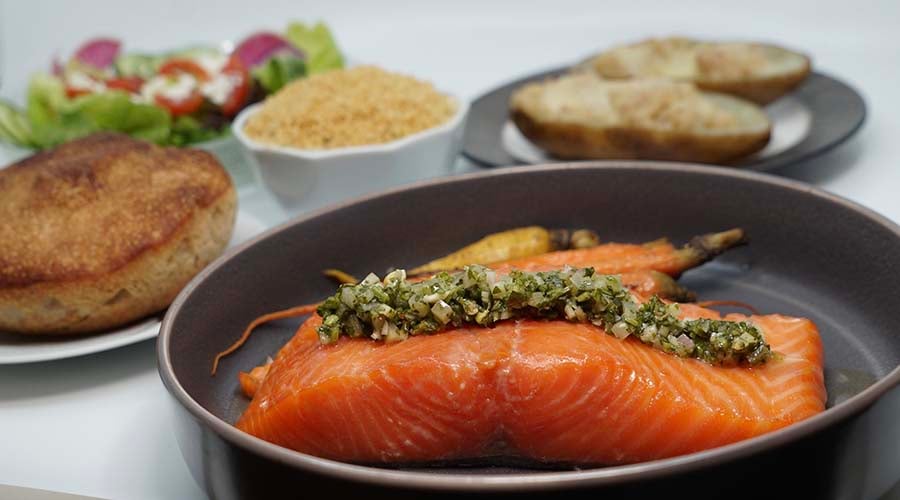 Miro Kaimuki offers weekly ready-to-prepare meals that are announced every Tuesday. For Mother's Day, it was smoked salmon with pickled fennel chimichurri, hot crab kale dip, baby carrots and twice-baked potato with Miro bread and cheesecake, $90 for two though prices vary depending on featured meal. Pickup is on Saturdays between 12 and 2 p.m. in the restaurant's parking lot (reheating the meal is necessary). To order, email info@mirokaimuki.com.
Pai Honolulu's interactive culinary kits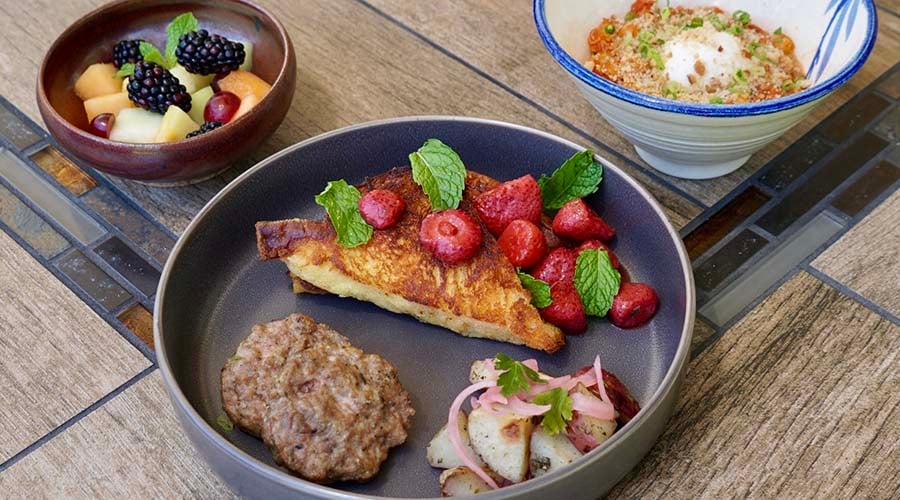 Ho'opai, the restaurant's weekly kit, come with all the ingredients needed to prepare a featured dish, along with a video demo from chef Kevin Lee. Pictured is the brunch spread featured for Mother's Day. Kits are available for two ($70), four ($140) or six ($210) people. Pick up at the Harbor Court/Queen Street driveway on Saturdays from 3 to 6 p.m. To order, visit Pai Honolulu's website.
Pasta
Mad Bene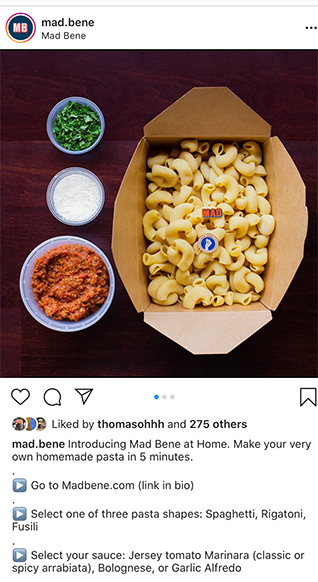 These promise a housemade pasta meal in just five minutes. Pasta kits are available for two ($20) and four ($35). Go to madbene.com, choose your pasta shape (spaghetti, fusilli or rigatoni), sauce (bolognese, garlic alfredo or Jersey tomato marinara), and any add-ons like house salad, chicken or meatballs.
Pizza
Brick Fire Oven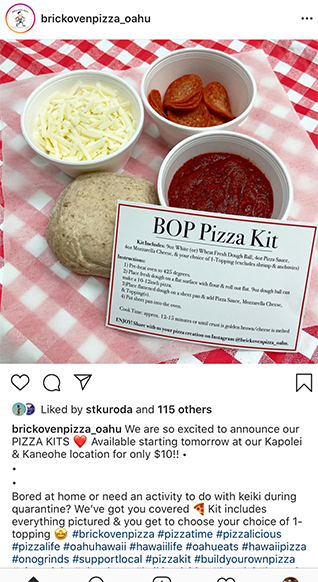 Kits cost $10 and come with a 9-oz. white or wheat fresh dough ball, four ounces of pizza sauce, four ounces of mozzarella cheese and your choice of one topping (excludes anchovies and shrimp).
Mad Bene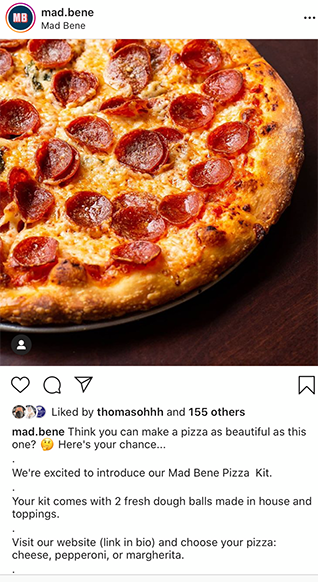 Kits cost $25 and come with two fresh house-made dough balls and toppings. Choose from cheese, pepperoni or margherita pizza. Pick up your pizza kits from Mad Bene in Kapolei from 12-8 p.m. daily; if you live in town, you can get your pizza kits on Mondays and Fridays from 4 to 7 p.m. at Cafe Duck Butt.
Proof Social Club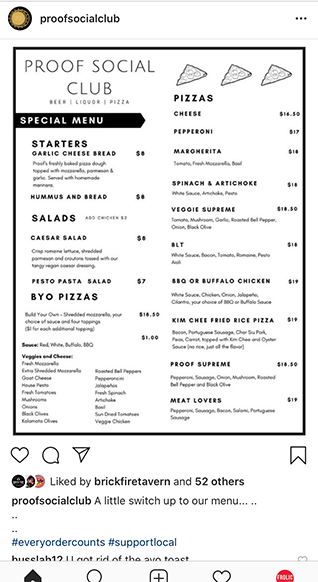 Proof's build-your-own pizza kits cost $18.50 and include shredded mozzarella, your choice of sauce and four toppings. Sauce choices include red, white, buffalo and barbecue; toppings choices range from goat cheese, house pesto and roasted bell peppers to jalapenos, sundried tomatoes and kalamata olives.
The Pizza Press Pearl City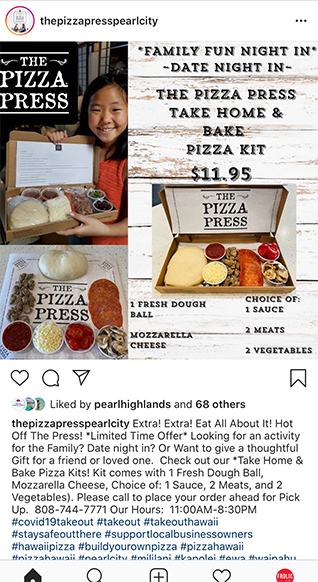 These $11.95 pizza kits are a limited-time offer and include one fresh dough ball, mozzarella cheese and your choice of one sauce, two meats and two vegetables. Call 744-7771 to order.
Ramen
Lucky Belly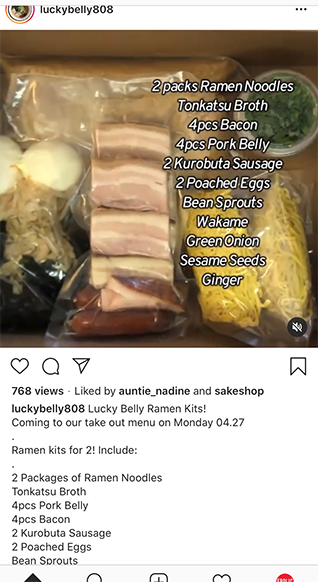 Ramen kits for two include two packages of noodles, tonkotsu broth, four pieces of pork belly, four pieces of bacon, two kurobuta sausage, two poached eggs, bean sprouts, wakame, green onions, ginger and sesame seeds. Kits are $30 for the Belly Bowl and $24 for the meatless Lucky Bowl.
Sun Noodle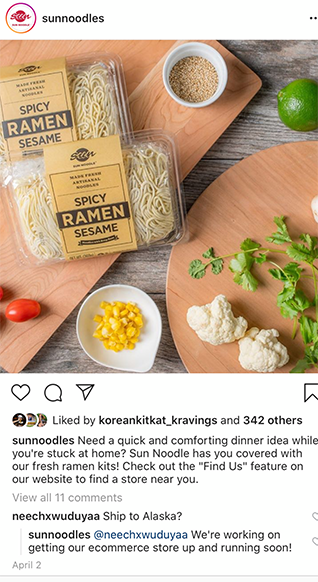 Each kit comes with two packs of fresh noodles and two packs of soup base. Sun Noodle ramen kits can be found at Don Quijote, Marukai, Times Supermarkets, Nijiya, Foodland, Costco and KTA Super Stores. A special line available at Whole Foods Markets contains no animal products. Ramen kits cost around $3.40 per package.
Wagaya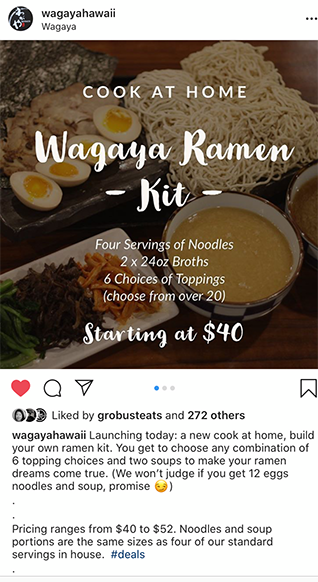 Kits start at $40 and include four servings of noodles, two servings of 24 ounces of broth and six toppings (choose from more than 20). Prices range from $40 to $52, depending on on upgrades like extra soft boiled eggs, extra noodles, char siu and spare ribs. Order via Wagaya's website or by calling 949-0670.
Soju
DB Grill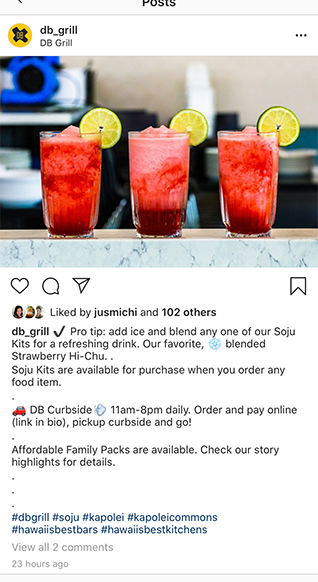 Kits range from $20 for one flavor to $60 (the four-soju carafe package) or $85 (six soju package kits). Flavors range from Strawberry Hi-Chu and lilikoi soju to Melona, taro and lychee. Available for purchase when you order any food item.
Soup
La Tour Cafe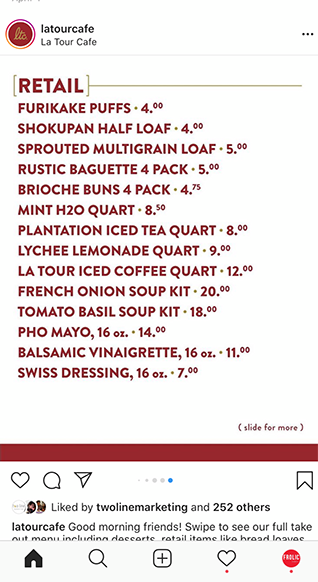 French onion and tomato basil soup kits come in quart-size containers. French onion soup kits cost $20 and come with gruyere cheese. Tomato basil soup kits cost $18. Both come with two baguettes and heating instructions.
Sushi
Goen Dining + Bar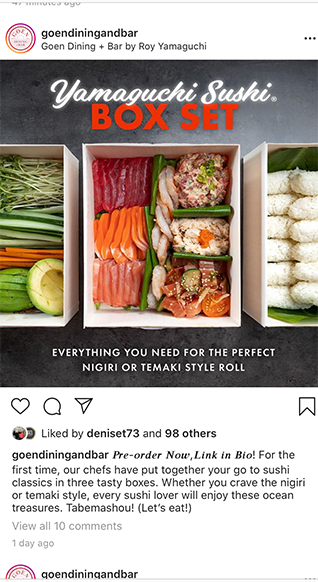 This $88 kit feeds two to three people and includes everything you need to make temaki-style rolls or nigiri sushi. The three boxes come with fresh salmon, spicy ahi, poke, tiger shrimp and bigeye ahi, plus avocado, cucumber, kaiware sprouts and molded sushi rice. An upgraded Yamaguchi Sushi Imperial Box set for three or four people is available for $120. Availabe for pickup at Goen Thursday to Sunday.
See also: Essential eats: These sushi spots are calling to you
Tacos
Quezada's Salsa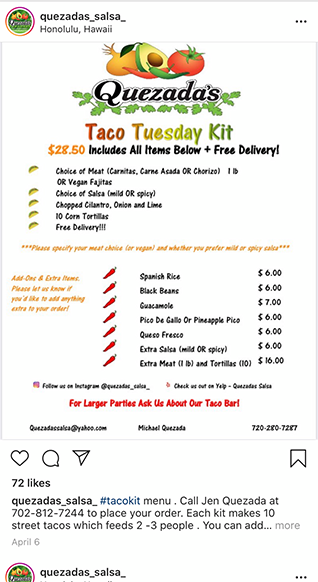 Each kit makes 10 street tacos. They're available daily and include one pound of meat (carne asada, carnitas or chorizo), choice of salsa (mild or spicy), chopped cilantro, onions and lime and 10 corn tortillas. You can add on extras like additional meat, black beans, guacamole and more for varying costs.