Something new: Flour & Barley – Brick Oven Pizza Waikiki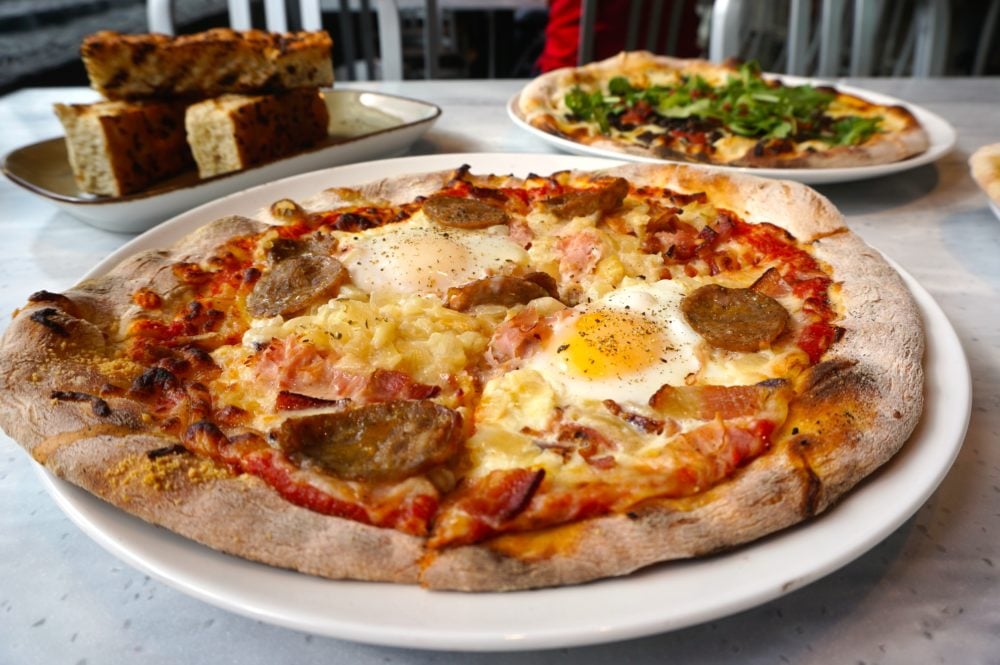 Sponsored
When was the last time you had a pizza party? You might want to plan one at Flour & Barley – Brick Oven Pizza Waikiki. The new restaurant in the International Market Place specializes in creative brick oven pizzas and Italian entrees. It also features a selection of 150-plus beers and island-inspired cocktails.
I had a chance to taste some pizzas and talk story with general manager Nick Meisner and restaurant manager Tony Hollinrake. I had to ask what their favorites were.
For Meisner, who recently moved from Las Vegas to help open the restaurant, "It's a tie between the Genovese, a chicken pesto pizza, and the Big Apple, a simple pepperoni and cheese pizza. I eat a slice of this one every day."
Hollinrake, a local boy who also runs the Bao Boys HI food truck, says, "My favorite pizza is the Farm House. It's delicious – breakfast on pizza with an egg. All of my friends and family order this one. The mushroom pizza is another favorite. The truffle oil gives it just the right flavor kick."
The key ingredient of Flour & Barley's pizzas is the "mama of every pizza," a 100-year-old sourdough starter from Sicily. The restaurant feeds this mysterious ingredient IPA beer once a week to perfect every pizza's crust. Hence the restaurant name – Flour & Barley.
Here are some menu highlights:
With a fun and inviting atmosphere, Flour & Barley opened just before Christmas and is already bustling. There's something comforting about gathering with friends and family over pizzas and pastas. Being the planner that I am, I'd recommend calling ahead to make reservations. They're able to easily accommodate large groups, and can also host private parties of up to 160.
For friends still uneasy about heading to Waikiki, remind them Flour & Barley offers a kamaaina discount of 15 percent off the regular menu. During happy hour, you can enjoy discounted beer, wine and cocktails, and select pizzas are just $8-10. Parking is free for the first hour with validation in International Market Place. Each additional hour is $2.
Flour & Barley – Brick Oven Pizza Waikiki
International Market Place – 3rd Floor
2330 Kalakaua Ave. Suite 302
892-2993
flourandbarley.com/Waikiki
Hours: 11 a.m. – 11 p.m.
Happy hour is 2-6 p.m. and 10 p.m. to closing