Something New event: Ed Morita's shochu desserts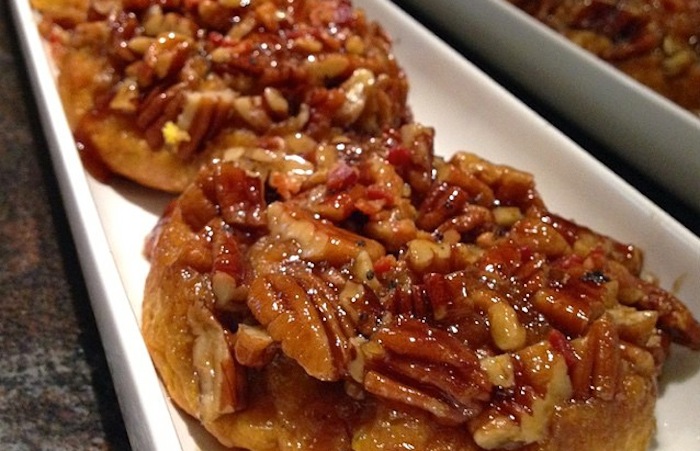 So you know that Something New is a food fest centered on nine crazy chefs challenged with nine local ingredients. Well, some are crazier than others.
Here, Frolic's own Ed Morita, pastry chef at the new Off the Wall Craft Desserts & Kitchen on King Street, lays out what you can expect from his Something New ingredient: Namihana Hawaiian Shochu, distilled from locally grown sweet potatoes on Oahu's North Shore.
More deets and ticket link right below the video. And now, here's Ed:
Something New brings together top chefs concocting new dishes using challenge ingredients from local farmers. Plus, look for new libations from Jack Daniel's, Lanikai Brewing Co. and Red Bull and clear pours from Ocean Vodka. Entertainment by Taimane Gardner, spinning by DJ Super CW.
What else is coming? Stay tuned!
Something New
Wednesday, March 25 from 6 to 8:30p
M Nightclub @ Restaurant Row
Tickets: $75 online including all food and two drinks
You'll find other sneak peeks and the complete lineup of chefs at
Ready for Something New? Frolic's own killer event
The Cow & the Lady
Lee Anne Wong's ramen bar
Chris Kajioka takes on tilapia
***
The Bank of Hawaii MyBankoh Rewards card is the official card of the Something New event. To learn more about the card visit boh.com/mybankohrewards. At the event, show your Bank of Hawaii MyBankoh Rewards Credit card at the door to receive special access to the MyBankoh Rewards Lounge and an exclusive tasting, featuring Namihana Hawaiian Shochu and an appetizer pairing.
— Sticky bun photo by Makamae Kahawai
&nbsp: