SoHa Living Has Blessed Us with a New Retail Space in Kailua Just for Kids
We've never said "oh-dat's-so-cute" so many times in one shop.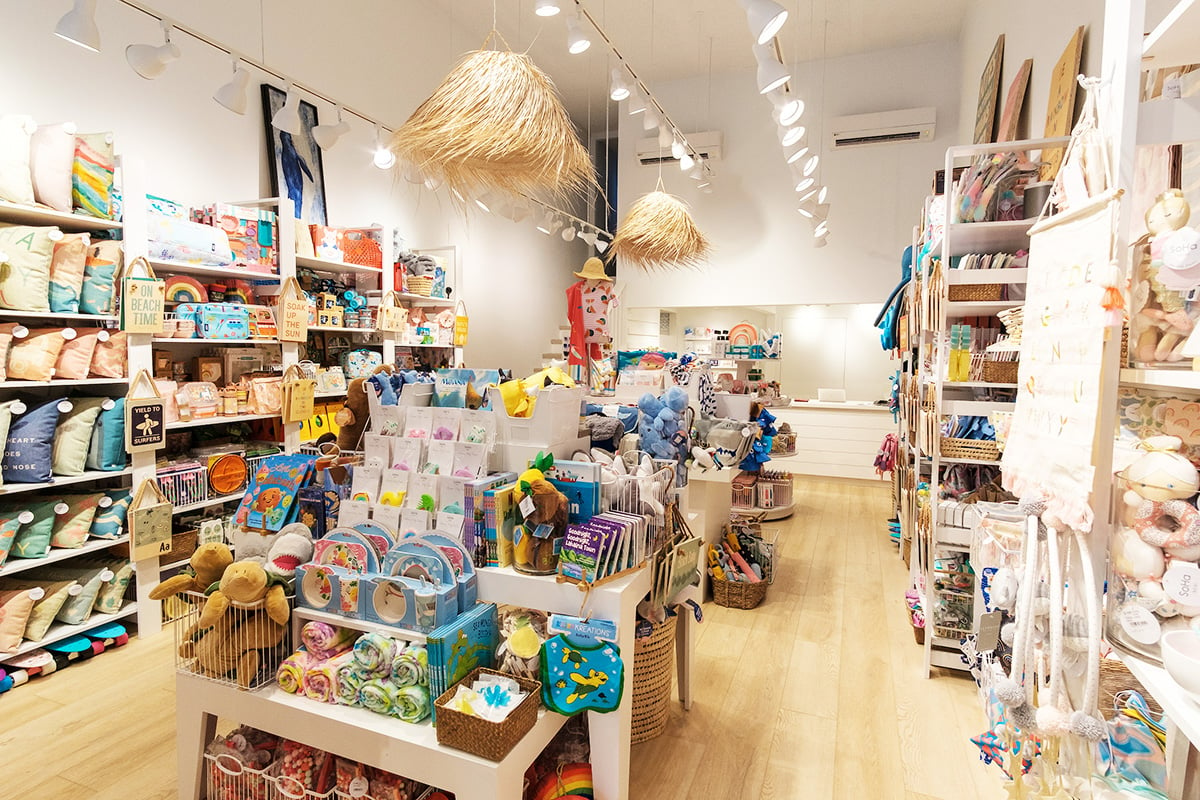 Meet Soha Keiki, a little branch of SoHa Living that caters to customers who love to splish-splash in the ocean, fancy everything rainbows and believe in magic (and magical creatures). You see it as you step into the Kailua shop—which is an ode to the owners' youthful beach-spent days.
"Growing up in Hawai'i, we spent much of our childhood net fishing the coral reef in front of our tūtū's house on Kāhala Beach. We would keep sea slugs and fish in a large tin bucket and return them back to the ocean," says co-owner Shyrah Maurer. "Our kids shop is an extension of that."
From the outside, a party of neon totes hanging in the front window draws you into the land of all things cool, cute and charming. Adorable animal sippy cups and pastel jelly bags sit on an entry table. Surrounding shelves carry tropical-themed room decor (who doesn't need a pineapple light?), baby essentials and mermaid-inspired goodies that should be a part of every girl's world.
Especially tempting for kid hands, and grown-up wallets, are SoHa's own collection of covetable keiki lines. "We place our own art on everything from pillows and totes to baby blankets and keiki-sized pareos," says Maurer's sister and SoHa co-owner Brooke Watson.
The brand recently launched its own line of stuffed animals called Hawaiian Ocean Collectibles made from 100% recycled bottles. The cuddleable and oh-so-soft menagerie includes an 'ahi, a honu and a mahimahi. Toward the back are shelves dedicated to future crafters and journalists. Buckets of pens that are cute-ified with lovable creatures, notebooks of all sizes and pompom decorations will surely spark imagination and joy. By the checkout counter, a mini candy land for your mini me is replete with artisan caramels, chocolates and lollipops. The good thing is that each one is individually wrapped, so parents can really say, "OK, just one."
The place has plenty of play-it-cool ocean accessories for toddlers and tots, and local children's books, too, next to novelty toys and puzzles for babies through preteens. Maurer and Watson's kids, although in that cool-kid age range, love the new addition to the SoHa 'ohana. "I have two boys, ages 8 and 11; they were instant customers," says Watson. Maurer adds, "Even my 15-year-old finds things she wants!"
SoHa Keiki, 600 Kailua Road, Suite 117, Kailua, (808) 466-7767, sohaliving.com, @sohakeiki