Playgrounds With Swings on O'ahu
We've got the scoop on the location of your keiki's favorite playground attraction, albeit few and far between.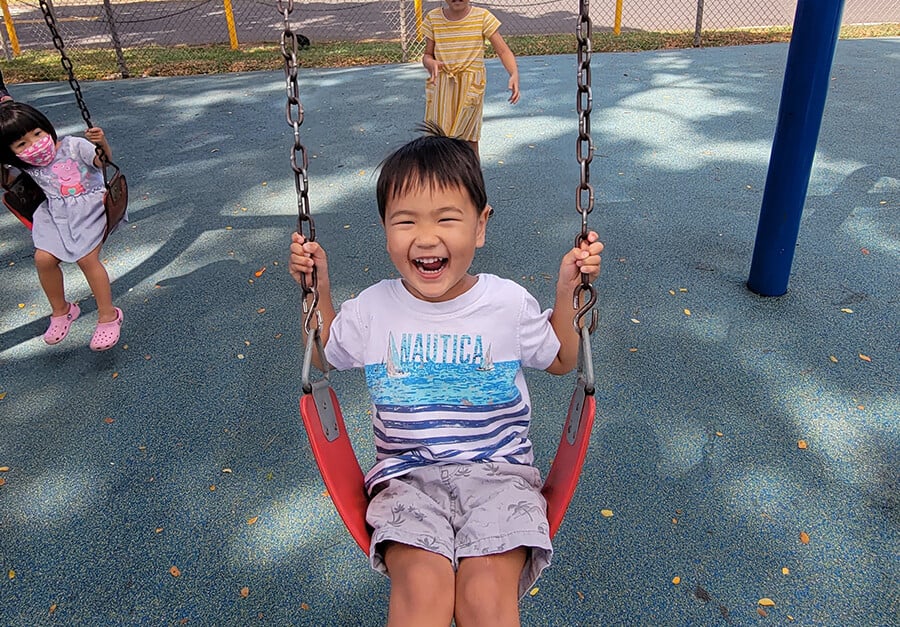 Swings are arguably the most coveted spot at the park. Yet, we continuously hear from caregivers that playgrounds with swings are hard to come by on O'ahu. So, we assume you have also noticed that most of the island's playgrounds are void of this fan-favorite attraction. Or, maybe you've even witnessed the removal of swings at your neighborhood parks over the years, whether it be because they were deemed unsafe or, perhaps, too difficult to maintain.
---
SEE ALSO:  HONOLULU Family's Playground Guides
---
The good news is that there are still a few places across the island where kids can feel like they are flying, learn to pump their legs, and live childhood to the fullest. We spoke with Punahele Crowell, Parks Grounds Improvement Supervisor with the City & County of Honolulu, to get an update. Check out our list of playgrounds with swings on O'ahu below and dive into the interactive Google Map to find the ones nearest you. If we've missed any swings in your neighborhood, feel free to message HONOLULU Family's Editor at jasminec@honolulumagazine.com, so we can add to the list for all to enjoy!
ʻĀweoweo Beach Park
68-197 Au St., Waialua
Beretania Community Park
1290 Aala St., Honolulu
Booth District Park
2331 Kaneali'i Ave., Pauoa
Cartwright Neighborhood Park
1313 Makiki St., Honolulu
Ka'elepulu Mini Park
207 Awakea Rd., Kailua
Kailua District Park
21 S Kainalu Dr., Kailua
Kaimukī Community Park
3521 Wai'alae Ave., Kaimukī
Kamanele Park
2721 Ka'aipu Ave., Mānoa
Kamehameha Community Park
1400 Kalihi St., Kalihi
Kānewai Community Park
2659 Dole St., Honolulu
Pākī Community Park
3503 Lē'ahi Ave., Waikīkī
Pōhākupu Mini Park
1329 Kailua Rd., Kailua
Wai'alae Iki Neighborhood Park
4838 Kalanianaole Hwy., Kāhala
---
SEE ALSO:  The Importance of Playground Play
---