Playground Guide: Pākī Community Park in Waikīkī
Swing to high heights at this shady park to enjoy Diamond Head views and catch a glimpse of giraffes peeking over the fence at the zoo.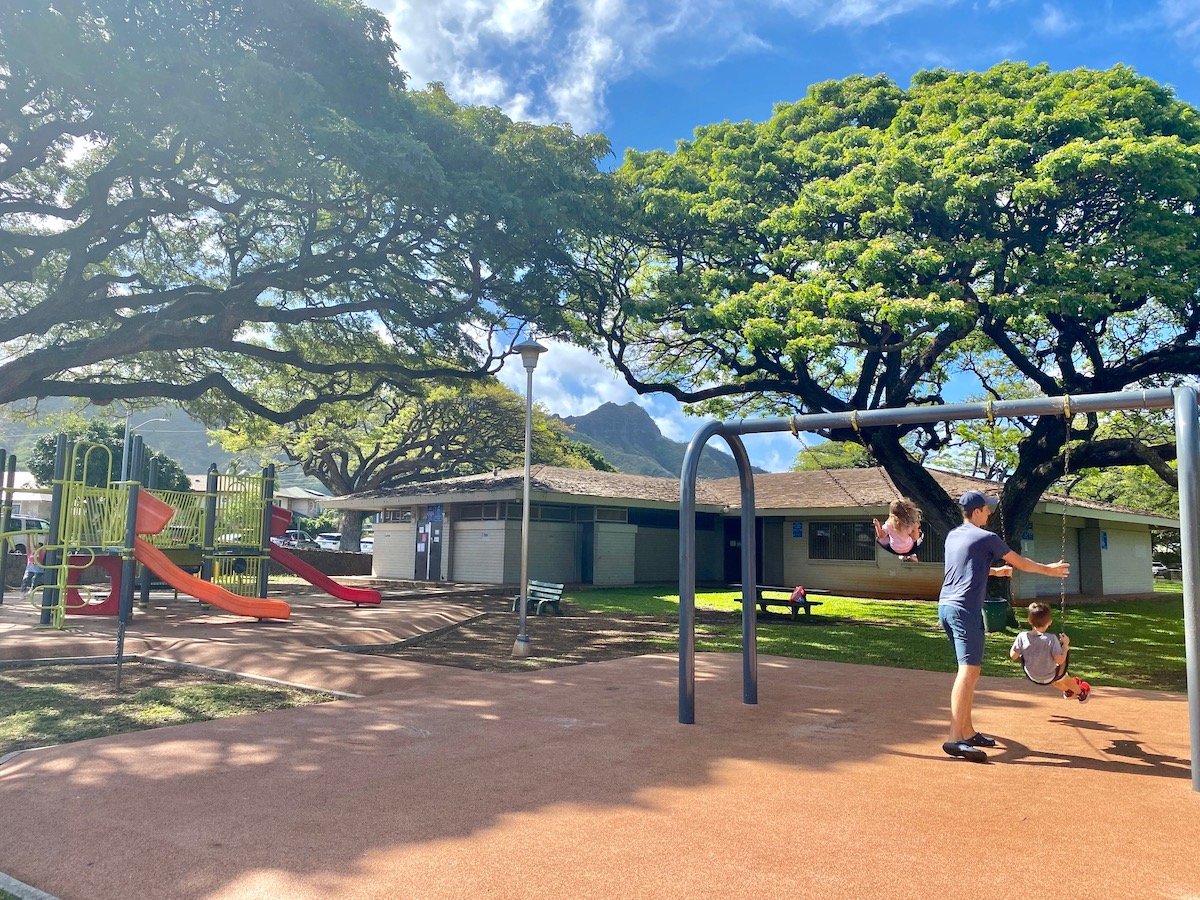 Playground Guide is a new monthly guide to our favorite playgrounds on Oʻahu.
We first visited Pākī Community Park with my son's baby playgroup when he was 2 years old. Now as a 5-year-old, he still loves this oasis for families nestled under several massive monkeypod trees at the base of Diamond Head. A favorite of parents and kids alike, you'll always find the park busy—and your child will end up meeting a new friend to play with (or you'll meet another parent with whom to vent about parenting woes). Families feel at home here, bringing picnics, kites and even hosting birthday parties with bounce houses on the large field. On our most recent visit, a dad acted as deejay with a portable speaker contributing to the lively, social vibe.
Location: 3503 Lē'ahi Ave., Honolulu 96815, honolulu.gov
SEE ALSO: Playground Guide: Booth District Park in Pauoa
What You Need to Know
Playground Equipment: Similar to other play structures on the island, this park boasts two slides, monkey bars and a couple of climbing ladders. But the highlight are the swings —four to be exact. Heads-up: These are traditional swings, not baby bucket swings.
Other Amenities: Parents can lounge on the shady benches or picnic tables adjacent to the play structure. In fact, I counted nine picnic tables in the park—plenty for snacks, lunch or outdoor crafts. There are bathrooms onsite, but you'll need to bring your own hand sanitizer or wipes (no provided hand soap or paper towels). I also spotted a water fountain to refill water bottles. The park pavilion hosts Department of Parks & Recreation classes and Summer Fun programs (registration required).
Unique Offerings: A large field, multiple picnic tables and picturesque views of Diamond Head make this park a great venue for birthday parties. Yes, bounce houses are allowed, but you'll need a permit. Located next to the Waikīkī Fire Station, fire engine sightings are also a highlight for keiki!
Best For: The playground equipment says it is designed for ages 5 to 12, but toddlers much younger love exploring the park with parental supervision. Older kids may test out the swings for a little while, and then coordinate a soccer game on the lawn with their friends.
Best Time to Visit: If you like a quieter playtime, visit on weekday mornings, but if you don't mind a crowd, the weekends are "happening." Thanks to the monkeypod trees, the play structure is always shaded, but the swing area gets sunny by mid-morning.
Parking: There is no parking lot, but there is plenty of parking along Lē'ahi Avenue or in the residential neighborhood next to the park.
My Favorite Thing About This Playground: When you swing high enough on the swings, you can peak over the fence of the Honolulu Zoo and say hi to the giraffes, which are often peering back at you.