Playground Guide: Booth District Park in Pauoa
Abundant shade, swings and a mini zip line make this O'ahu park a regular visit for our family.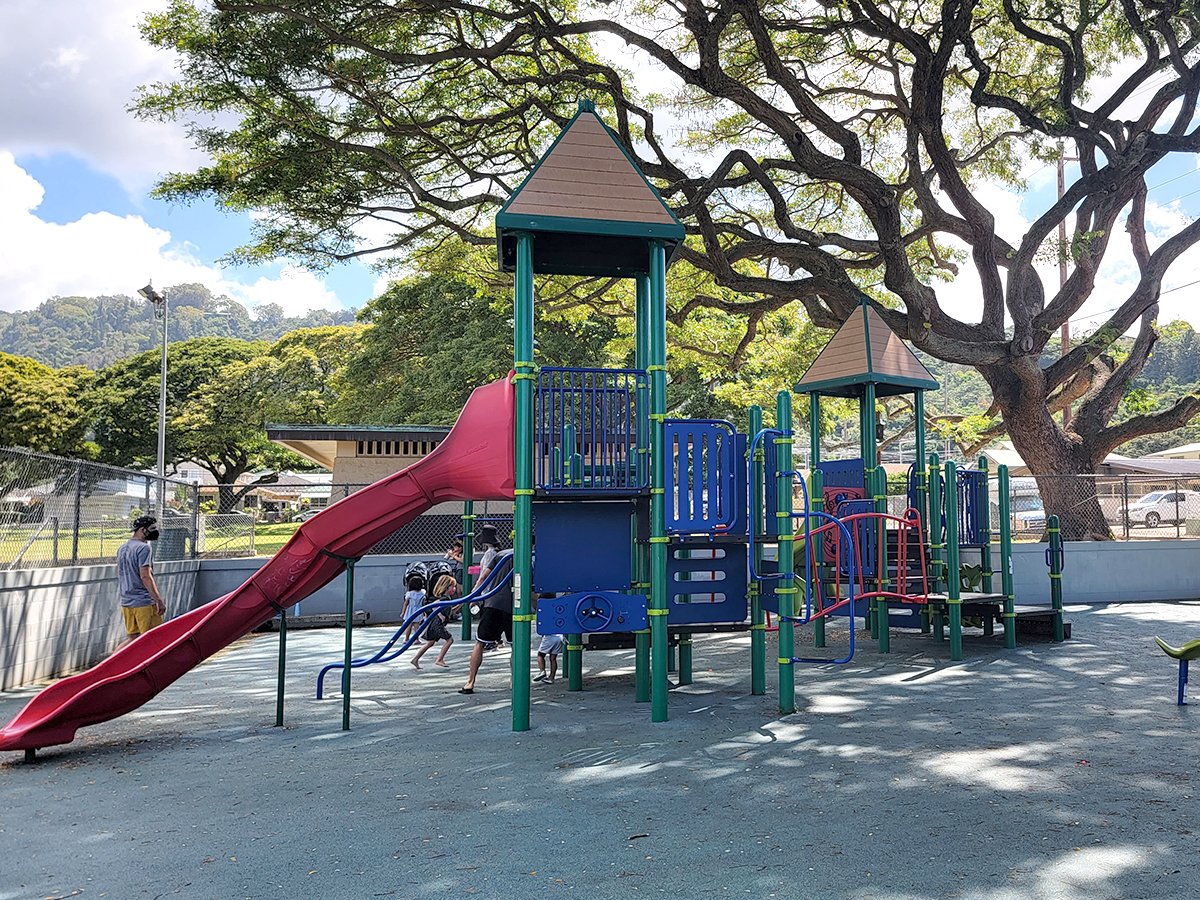 Playground Guide is a monthly guide to our favorite playgrounds on Oʻahu.
Recently, whenever I set up a playdate for the first time with a fellow mom, it's almost always at Booth District Park in Pauoa. The vibe's chill, it's free and requires minimal effort for a get-to-know-you-let's-survive-parenthood-together parent date. Tall trees with huge branches provide abundant shade for a picnic and/or coffee meet-up, stress-free residential parking and the playground area is fenced with one gate, so the neighborhood feels secure. Plus, the location in Pauoa Valley makes it a nice mid-way location for folks who live in town and us. (We're in Salt Lake.)
I found Booth Park during the pandemic shutdown, when we were on a playground exploration binge to make it to my two kids' naptimes without going crazy. At the time, the park had just been renovated. The rubber ground flooring is sponge-like and not hard, making it extra fall-absorbent. Also, in the morning, you get front-and-center views of the garbage trucks and buses driving down the road—a big hit for my 2-year-old son.
Location: 2341 Kanealiʻi Ave., Honolulu, 96813
What You Need To Know
Playground Equipment: Whenever we come here, the kids make an immediate beeline for the swings. There used to be four swings, but when we went this week, one's been taken away, presumably broken. It feels like there are only a handful of public parks with swings, so my kids get their vestibular stimulation here.
Closer to the gates, there are three green "spinning thingies" as my kids call it—saddle spinners you can sit and spin around for maximum fun (and motion sickness). (Side note: Writing this made me realize how little I knew about what playground equipment is actually called.)
---
SEE ALSO: Playground Guide: Kuli'ou'ou Neighborhood Park
---
There are two colorful playground structures—one for younger kids and the other for older ones. They're connected by a large, red horizontal ladder. The smaller playground has green wavy double slides, wheels to "drive," a series of bells you can ring and a small hideaway underneath where my kids like to pretend they're running a secret restaurant.
The second playground is exciting and more challenging but equally fun. My kids can climb up with steps, a ladder, vine climber or a wave walker climber to get to the top of the tower, which culminates with a longer red slide. There's a pull-up bar, another stand-alone steering wheel and a little zip line.
Other Amenities: We're huge fans of this park because of the shade. There are low benches, a public restroom that's fairly clean, garbage cans and a water fountain nearby. Besides the playground, there is a basketball court, a dodgeball court, pools and a community center. Across the way, there's a large grassy area that's perfect for picnics; it has six picnic tables under more tree shade.
Unique Offerings: Our kids love the mini zip line here, where they can grab the bar and push themselves off to the other end and jump off onto the deck. They need help reaching but can hang on fairly well all the way across and my oldest can jump off on her own.
Best For: The playground sign says the equipment is appropriate for ages 5 through 12.
Best Time to Visit: Weekday mornings are relatively empty but I've seen it occasionally get more crowded between 11 a.m. to noon with parent groups who love Booth District Park as much as I do and eat lunch here.
Parking: There's no parking lot here, but we've never had trouble finding residential street parking.
My Favorite Thing about this Playground: I'm a fan of how clean the playground is, the abundant shade, how friendly the other families are and how well it occupies my keiki until naptime with minimal mom effort.
---
SEE ALSO: Playground Guide: Moanalua Community Park
---