Playground Guide: Moanalua Community Park
A park underneath the freeway underpass offers shade, climbable trees and a fun swerving spindle.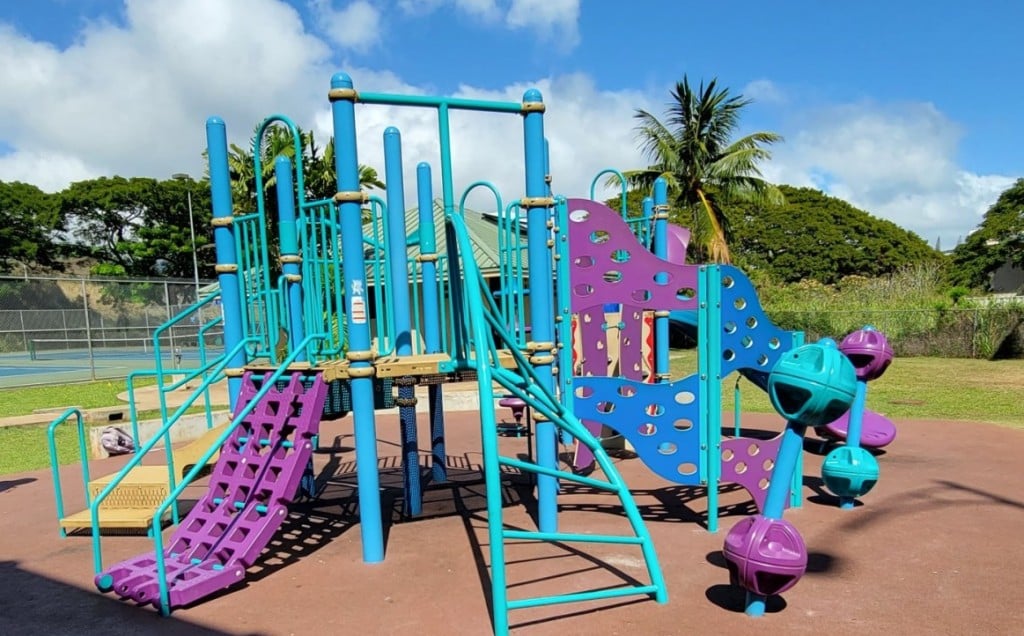 My 2-year-old son Noah and I began going to Moanalua Community Park on Mondays to wait for my daughter Anna to finish her arts and crafts class at the park's community center. I look forward to this day every week because Anna's best friend, Izzy, goes to the class too, so her mom and I get to talk, laugh and just catch up.
We first stumbled upon the park when we were trying to visit Moanalua Gardens, which has been closed since 2020. The playground itself is clean, but to be honest, the location does look a bit iffy at first: It's located under a freeway, and it's not unusual to see folks sleeping in their cars. When we get there at 3 p.m. on Mondays, there's usually one or two older men playing basketball, a group playing pickleball and a few children and families at the playground.
What we like about the park is the abundant shade—two tennis practice courts, one large tennis court and the basketball court are all underneath the freeway. The playground itself is under partial shade, and there's a giant, very climbable tree nearby, as well as three picnic tables perfect for snacking, lunching or chatting with amazing mom friends.
---
SEE ALSO: Playground Guide: Salt Lake District Park
---
What You Need to Know
Playground Equipment: The playground stands out with its bright purples and blues. It's not a large playground, but has interesting design elements that keep keiki engaged. There's a large butterfly-shaped climbing structure in the middle, a small rock climbing wall, a pod climber, a swerving spindle, and various ladders and other climbing equipment scattered throughout. The picnic area is about 20 feet from the playground—the ground is soft and comfortable and there's a small concrete ledge around the playground that's an ideal place to put down your bags and water bottles. I've also seen families bring blankets to sit in the grassy area closer to keiki.
Other Amenities: Along with the tennis and basketball courts, there's a bathroom and a dog park. We bring a basketball every time and a scooter so Noah can make use of the large space if no one is playing. There are also water fountains and garbage cans.
Unique Offerings: The swerving spindle is a big draw for most kids. There's a flat surface with a pole attached and kids can stand on it and swing around using momentum. Anna's older friends like to climb on top of the spindle and see how many times they can swing around it. (The record so far is 10 times.)
Best For: All ages
Best Time To Visit: Mornings are good, but it doesn't get too crowded even at 3 and 4 p.m.
Parking: There's a parking lot with plenty of spaces.
My Favorite Thing about this Playground: Although the playground itself is small, it does an impressive job entertaining my kids. I like the variety offered here with the dog park for animal lovers and also wide spaces for biking, skateboarding, scootering and playing.
Location: 2900 Moanalua Road, Honolulu
---
SEE ALSO: Playground Guide: Enchanted Lake Community Park in Kailua
---