Playground Guide: Nuʻuanu Valley Park in Honolulu
Breath in, breath out—this tranquil park surrounded by nature is the quiet break parents need during the middle of a busy week.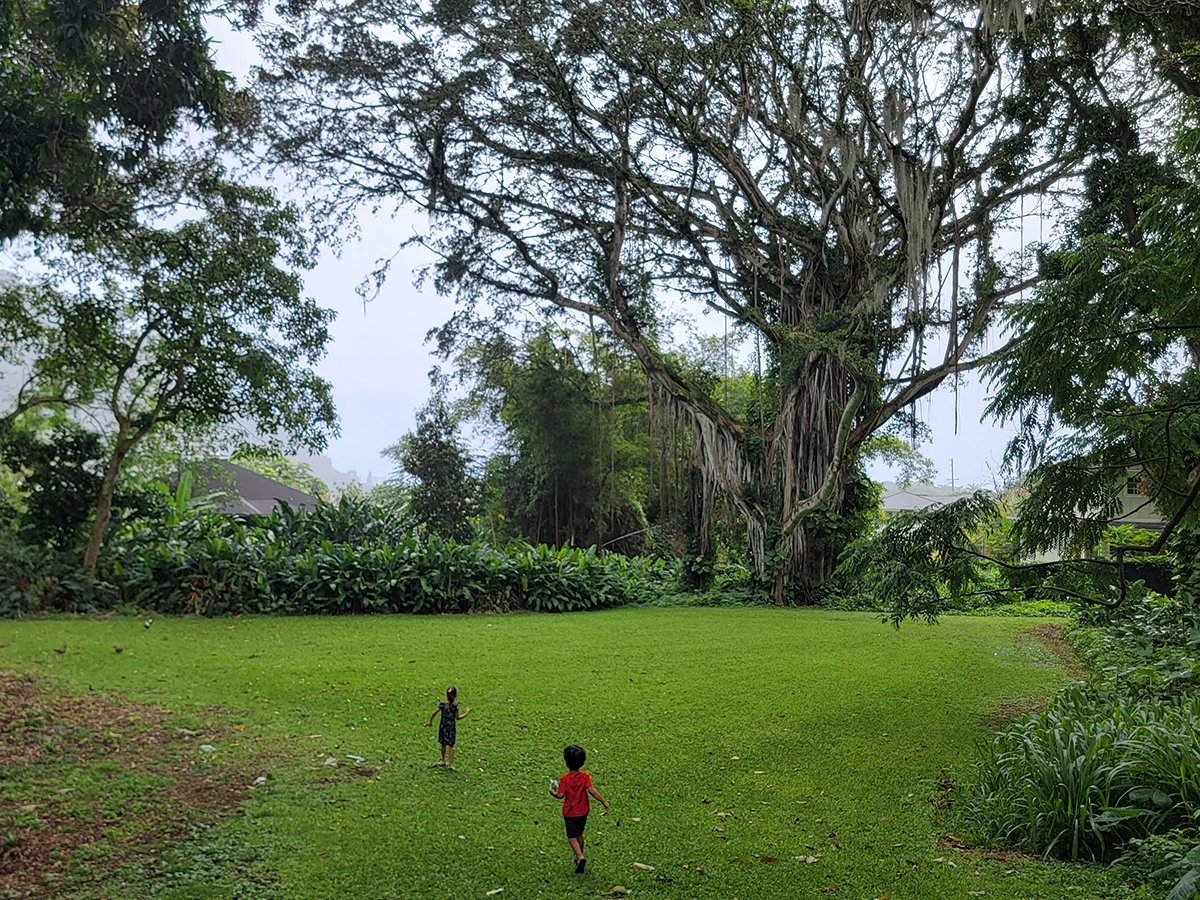 We try to get our kids outside as much as possible, especially since my rambunctious son, Noah, started skipping naps and I need him to expend his 2-year-old energy (7 p.m. bedtimes are my jam). One of the playgrounds we've discovered this year is Nu'uanu Valley Park, a lovely green oasis across from Daijingu Temple of Hawaiʻi and near the Queen Emma Summer Palace. Maybe it's the location and proximity towards these historic buildings, but the park is calm and very zen. As one of my mom friends says, "This place is healing."
---
SEE ALSO: 🤸 Playground Guide: Hale'iwa Beach Park Playground in Hale'iwa
---
A small parking lot close to the playground provides easy access, and enormous monkeypod trees give shade on the picnic tables scattered across a sprawling grassy area. If your child's in the scootering or skateboarding phase, there's a handicap ramp that has a nice zigzag slope down toward the playground that my kids love. I'm a fan of visiting this park on a weekday around 11 a.m. to meet up with other moms who need a morning of real human conversation. We share snacks, eat bentos and bemoan potty training at the six benches situated near the playground. I love how close the benches are to the playground structure because I can keep a close eye on my son, just in case he decides to jump off the ladder for the 100th time.
My 6-year-old daughter, Anna, likes to play "castle" here because the playground feels like a tower that's not easily accessible (there's no slide). Or, she and Noah will pretend to be "pirates on a ship." After spending about half an hour playing and eating a quick lunch, we always walk down past the basketball court and towards the residential homes that leads to a small hill. As you continue down, the hill leads to a tucked away field with more trees, roosters and sometimes ducks! It's beautiful here—vines, giant monstera, ferns, red ginger and all sorts of tropical plants abound. The kids like to call this place "Totoro's home" because it reminds them of the scene where May explores the forest and finds Totoro. It's a perfect place for a picnic and soaking in the nature.
Location: 2925 Pali Highway, Honolulu, HI 96817
What You Need to Know
Playground equipment: The playground honestly feels more like a climbing obstacle course – I like that it makes my kids think outside of the box and get a healthy workout! The structure itself is on the smaller side. Unlike some of our other favorite playgrounds, it's also painted in dark colors so it does feel a bit subdued.
You can get to the top by walking up the stairs, climbing a net, scaling parallel bars, a rock climbing wall or a curved ladder. On the outside wall of the stairs, there are small rocks embedded for more climbing opportunities. Underneath the playground, there's space for a small seat. Across from the stairs, there are monkeybars and a small metal pull-up bar with small handles for the little ones.
---
SEE ALSO: 🤸 Playground Guide: Pākī Community Park in Waikīkī
---
Other amenities: The bathroom is close to the playground and older kids can enjoy climbing the gigantic lower branches from the monkeypod trees. We've never encountered homeless people here, just a smattering of families, some construction workers and pet owners playing frisbee with their dog.
Unique offerings: Our kids love this one huge branch on a tree that's low enough to climb, walk and sit on. Tree climbing is hard to come by in our condo, so it's a special opportunity to sit in a tree and tell Dad, "We got to climb a tree today!" Last time we went to the park, someone had helpfully placed a large rock underneath the branch so that it's easier for kids to pull themselves up.
Best for: The playground sign says the equipment is appropriate for ages 5 through 12, but since there's no slide, it's a bit more advanced than other playgrounds I've seen.
Best time to visit: It's always calm and nice during weekday mornings and noontime.
Parking: A private parking lot that's usually never full.
My favorite thing about this playground: I'm a fan of how peaceful this playground is. With the daily routine of changing diapers, wrangling kids and cleaning the house, we all need moments of calm in our lives! It's usually uncrowded and the amount of trees and nature surrounding the park gives it a nice secluded feel, even though the highway is nearby