Playground Guide: Hale'iwa Beach Park Playground in Hale'iwa
This oceanside playground on O'ahu's North Shore gives kids room to roam and parents space to breathe.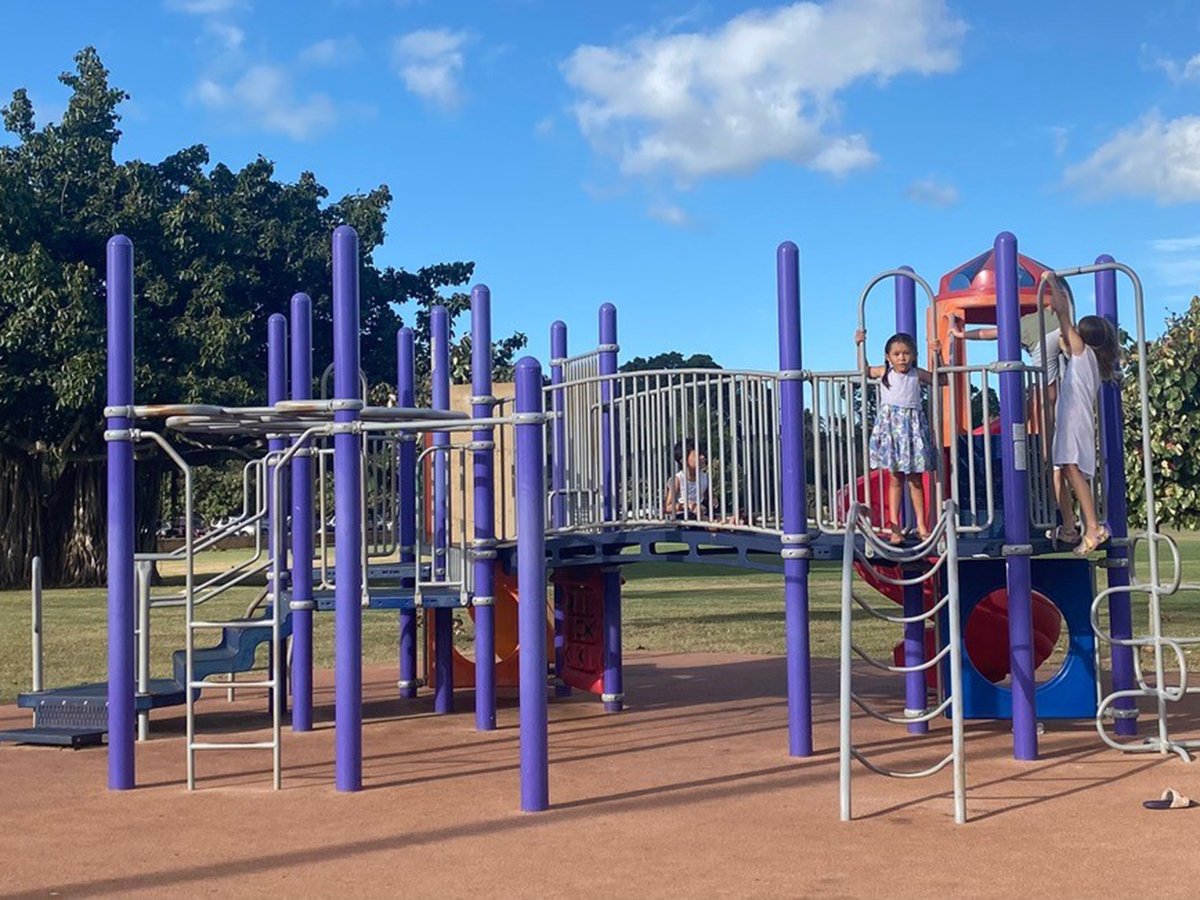 Playground Guide is a new monthly guide to our favorite playgrounds on Oʻahu.
In the middle of the grassy park at the northern end of Hale'iwa town where Kamehameha Highway runs parallel to the sea is a playground. Its components are fairly standard: It has purple posts, gray ladders, a panel of tic-tac-toe spinners and a red spiral slide. The well-used structure is really nothing to write home about, but what makes this playground remarkable is the scenery surrounding it. The spacious park has several picnic tables and big monkeypod and banyan trees that offer shade. Looking seaward, the panorama captures the boats chugging in and out of Hale'iwa harbor and the surfers catching long rollers at Pua'ena Point. You can follow the coastline, backed by the wild green cliffs of the Wai'anae Range, all the way to Ka'ena Point. The kids come just to play, but the parents might stay to gaze.
---
SEE ALSO: 🤸 Playground Guide: Pākī Community Park in Waikīkī
---
Location: 62-449 Kamehameha Highway, Haleʻiwa, HI 96712
What You Need to Know
Playground Equipment: This playground is more Mirabel than Isabela, more Anna than Elsa—no fuss, no frills. There's a bridge with guardrails (that bigger kids like to scale on the outside), a requisite ring of money bars, a popular spiral slide and the tic-tac-toe spinners that I've never seen any kid use to play tic-tac-toe. A shorter, wider slide that has a crack in it has been boarded up and is out of commission, but that doesn't seem to bother anyone. The rubber flooring offers a slight springiness underfoot (often with bare feet—this is the North Shore, after all).
Because of its easy access, this playground can get crowded by country standards, particularly after school. Visitors who stumble upon it also find it's a convenient pit stop between shopping in Hale'iwa and continuing along their circle island tour.
Other Amenities: Next to the playground are basketball courts where it's common to find a game of one-on-one or someone shooting free throws later in the day. There are restrooms located on the Pua'ena Point side of the park, where a cast of questionable characters (read: stranger danger) likes to loiter. They're far from clean, and I use them as a last resort. The park has a number of picnic tables, but they're not right next to the playground. When it's soccer season, the field on the Pua'ena side is set up for weekend matches.
Year-round exposure to the elements does come at a cost and many of the park facilities are in disrepair. Erosion forced the city to remove part of the crumbling structure that was once a covered pavilion. What's left is an unsightly stand of concrete pillars and a sidewalk full of cracks—a poor man's promenade with a million-dollar view.
Unique Offerings: It's easy to pair this playground excursion with a beach walk and tide pool exploration at Pua'ena point. In the winter, you can watch the surfers and spot whales.
Best For: This playground best suits ages 4 to 12. With multiple-length chutes and ladders, younger kids can embrace the challenge to climb, and older kids can show off the skills they've mastered. I've witnessed many a game of tag around and up and down the structure among kids of all ages. Toddlers come here, too, but may find the speed and sound of the bigger kids a little overwhelming.
Best Time to Visit: The park is less crowded in the mornings while school is in session. There is no shortage of new friends to be made in the late afternoons.
Parking: The lot adjacent to Pua'ena Point is packed when the surf is up, but there is usually plenty of parking on the south side of the park by the WWII monument.
My Favorite Thing About This Playground: There's something that's simply calming about gazing at the ocean. Instead of staring at my phone while my seven-year-old daughter is playing with friends, here I get to observe what's happening in the water. Canoes, boats, kayaks, stand-up paddlers, foilers—there's always plenty of activity. In the winter, big waves bring a dose of negative ions that rejuvenates hearts young and old, so that we all have energy to keep on playing.