La Tour Café Has Switched Its Entire ʻĀina Haina Menu to Plant-Based
Meat-, dairy- and egg-free menu items at Planted by La Tour Café include burgers, banh mi sandwiches and yes—macarons.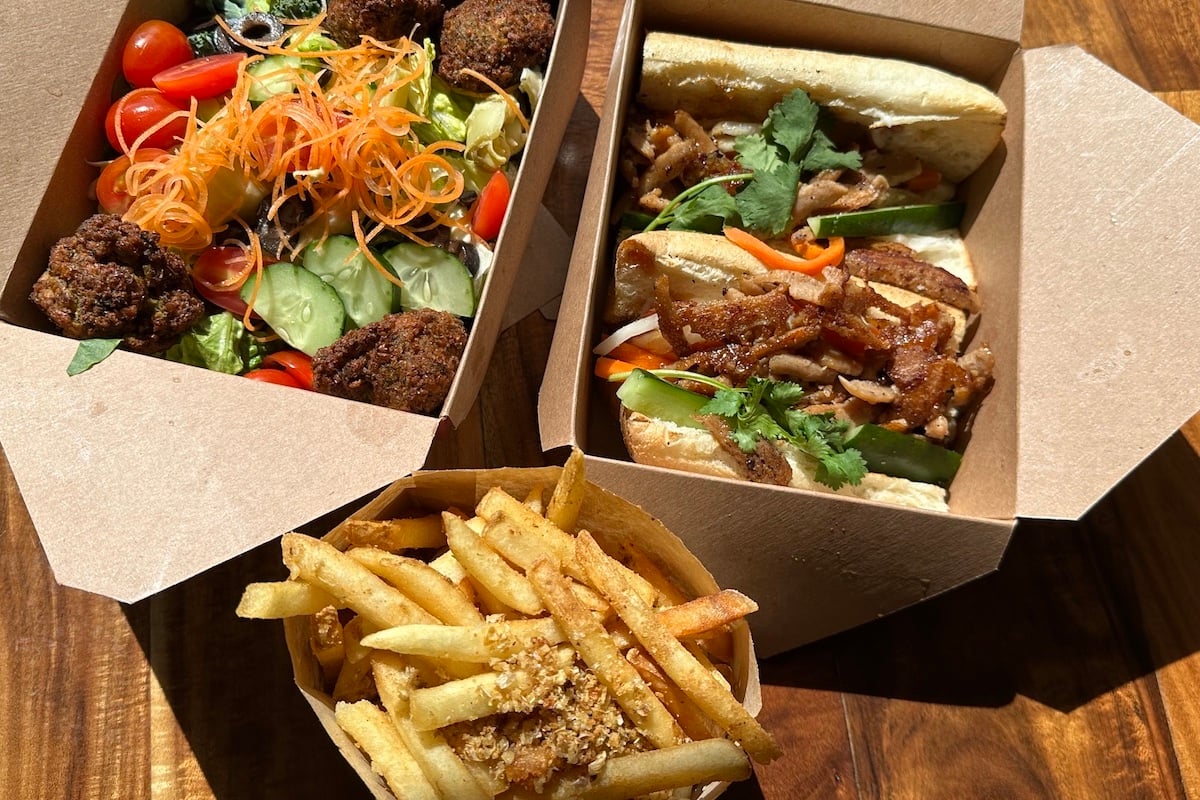 There's bold news on the eating scene: La Tour Café in ʻĀina Haina revamped its menu late last year and has gone completely plant-based. Now known as Planted by La Tour Cafe, the restaurant in ʻĀina Haina Shopping Center offers dairy-free, egg-free, meatless versions of menu items from savory banh mi sandwiches to crisp and cloud-like macarons. Its motto, "sprouted from the bottom, now we're here," totally reflects the cafe's practice of sourcing local and fresh as much as possible.
An offshoot of the family-owned, locally operated Ba-Le Sandwich Shop chain, La Tour Café is a small chain of casual modern bistro fare with some French influences. While its other locations have kept their regular menus, it's fun and gratifying to see new versions of many of their snacks, salads, sandwiches and burgers—and at the same prices or for about a dollar more. Plus, all the dishes are served in eco-friendly packaging. So whether you're giving up meat for Lent or just want to try out La Tour dishes in plant-based form, Planted is a must try.
---
SEE ALSO: Zippy's Lent Menu Has Indulgent Meatless Weekend Specials
---
Sandwiches and burgers
Planted uses La Tour Bakehouse baguettes, buns and bread in its sandwiches and burgers, and you can certainly tell. The Caramelized *Prk Banh Mi ($13.49) is stuffed between a perfectly crunchy-on-the-outside, fluffy-soft-on-the-inside baguette. The pork alternative is soft, juicy and doused in a classic balance of banh mi sweet and savory sauces. Also available are the *Meetball Sub ($13.40) with garlic arrabiata sauce; the Mushroom Dip ($15.20), the cafe's take on a French dip, featuring ali'i, button and maitake mushrooms and an umami jus for dipping; and the LTC Planted Teri Burger ($13.49), with a "planted-yaki" marinated Impossible burger.
Snacks
No French-Vietnamese inspired bistro would be complete without pommes frites, better known as French fries. The garlic pommes frites ($6.25), topped with flakes of roasted and fried garlic, have the perfect crunch and are good on their own and even better with a sandwich or burger. The snacks menu also offers bowls of miso-mushroom umami broth, a plant-based version of La Tour's roasted tomato basil soup, and other options like a grilled cheese sandwich ($5.99) with plant-based cream, American and provolone cheeses; and plant-based chick'n tenders ($10.99).
---
SEE ALSO: Old-School Diners We Love: Jack's Restaurant in 'Āina Haina
---
Green Patch
Usually when I eat out, I don't order salads because I feel like they're often an afterthought and aren't as exciting as the rest of the menu. That's not the case with Planted's falafel salad ($12.99). The carrots, grape tomatoes, cucumbers and leafy greens are vibrant and fresh. The falafel is crunchy on the outside and light on the inside. Mixed with artichokes and olives, the tangy, savory and sweet salad almost doesn't need anything else, but I wouldn't skip a drizzle of the lemon tahini dressing. The Green Patch section of the menu also includes a plant-based version of La Tour's chicken salad ($13.60) with pickled lychee, crispy lotus root and ginger dressing; and a house salad and Caesar salad.
Macarons
You can't leave a La Tour without one or two macarons. The chain's bakers spent a year and a half developing an egg-free, plant-based recipe, according to Planted's Instagram. All of La Tour's rainbow-like lineup of macarons are sold here, including popular local fruit flavors like mango, guava and liliko'i. Plant-based macarons are indicated with a leaf icon and when sampled side by side, reveal nearly no difference in taste or texture. They're equally as delicious as the egg-based macarons. And P.S. Planted has kouign amanns, and they're plant-based, too.
820 West Hind Dr., (808) 373-5174, @planted.hi