Plant-Based Spam Musubi: Try 'Um Before You Knock 'Um
A tale of two faux meat musubi in Honolulu that we'd order again. And again.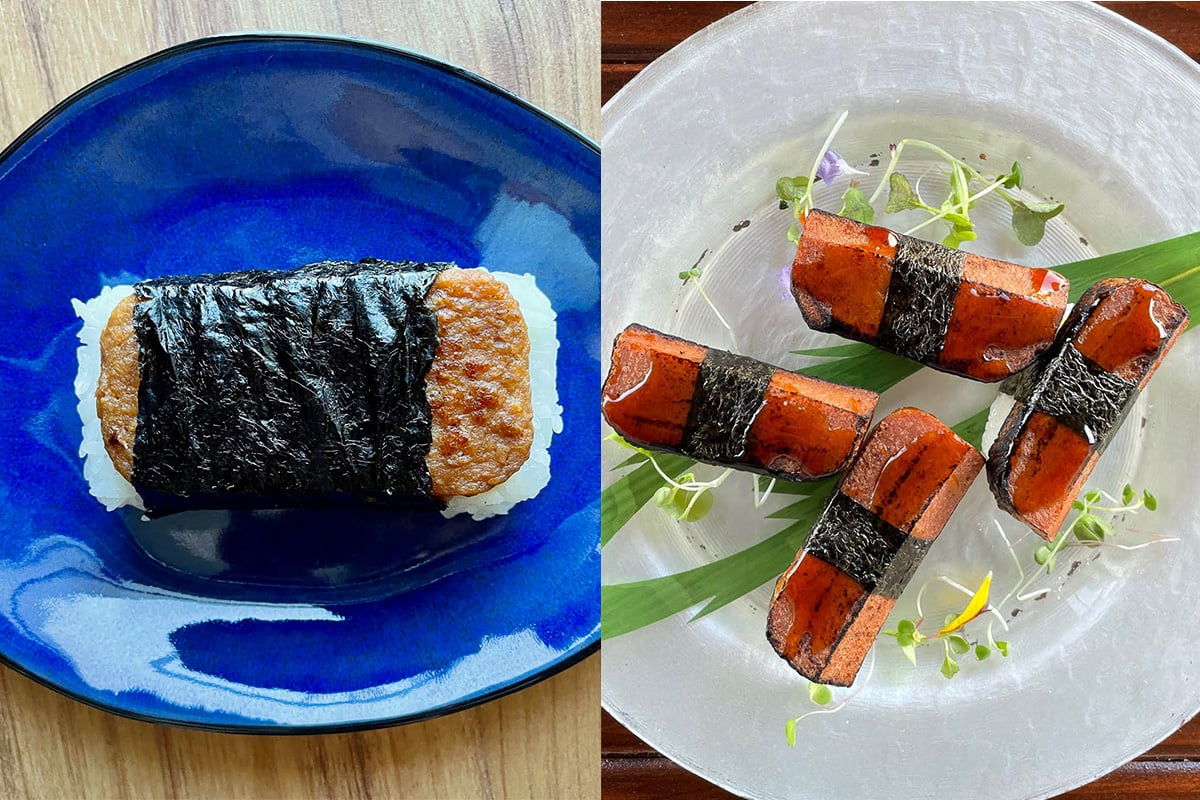 Plant-based and Spam: two terms you thought you'd never see together. Yet here we are in 2022 with not one, but two plant-based Spam musubi. One is bougie, from Tane Vegan Izakaya, and the other basic, from L&L Hawaiian Barbecue. Both takes have me surprised and perplexed, yet satisfied.
Forget any expectations of the salty-juicy bite that only real Spam can deliver. These faux-meat options hit different but in a good way. Both use Omni Foods OmniPork luncheon meat, which debuted on the American market last year. The plant-based meat alternative comprises wheat gluten, non-GMO soy, beet juice and potato starch, among other ingredients. Of course, these imposters could fool some with their rounded, blocky shape and meaty texture. However, looks can only take you so far when it's the taste that counts.
---
SEE ALSO: At Mō'ili'ili's Tane Vegan Izakaya, a Fiery Tale of Suspense
---
Off the bat, Tane knocks it out of the park with a fabulous presentation ($7 for two pieces). The nigiri-style mini-musubi features slender cuts of OmniPork atop beds of pillowy short-grain rice held together with a delicate nori strip. A glistening house-made soy glaze daubed on top is the je ne sais quoi that entices you to try—even if you're a hard-core Spam-ivore.
The first bite hits you with a smoky umami-ness. Tane takes an extra step to heighten the meatiness of the OmniPork by smoking it with kiawe wood. The secret soy glaze adds a sweeter-than-salty layer to the bite like an old-school shoyu-sugar, and it even registers notes of tart li hing mui. Vinegared sushi rice adds another dimension of tang, and altogether, this musubi is a pleasurable, umami-licious package.
---
SEE ALSO: Best Fancy-Kine Spam Musubi: Our Top 5
---
But does it taste like a Spam musubi? Not really. The OmniPork is a tad drier than the real deal and lacks the crispiness of a slice that's fresh out of the pan. It also lacks a salty finish, but it's a good and satisfying luxe take on the humble snack.
L&L makes a clearer nod to the O.G. with a virtually indistinguishable take ($4.14 each). Impressively, their musubi are made to order, not in bulk as you might expect. It warms my hands as I unwrap it to find it brushed with a simple teriyaki sauce. Since the salt is muted, I would have been happy with half the rice it usually comes with.
Because it sticks to the basics, L&L's plant-based musubi tastes closer to Spam than Tane's bean curd nigiri. Whether you like it or not, Spam's iconic luncheon meat flavor is absent. However, our photographer notes it compares better to the taste of Tulip brand luncheon meat. He also adds that he would eat it again and I would, too!
Tane Vegan Izakaya, 2065 S. Beretania St., (808) 888-7678, tanevegan.com, @tanevegan; L&L Hawaiian Barbecue, available at Ward Village, Airport Trade Center, Paradise Palms at UH Mānoa, Waimānalo, and Ke'eaumoku Walmart, hawaiianbarbecue.com, @llhawaiianbbq