Palama Supermarket Is Leveling Up Its Korean Sushi Roll Game
The local chain has all kinds of exciting new stuff rolled up inside rice and nori.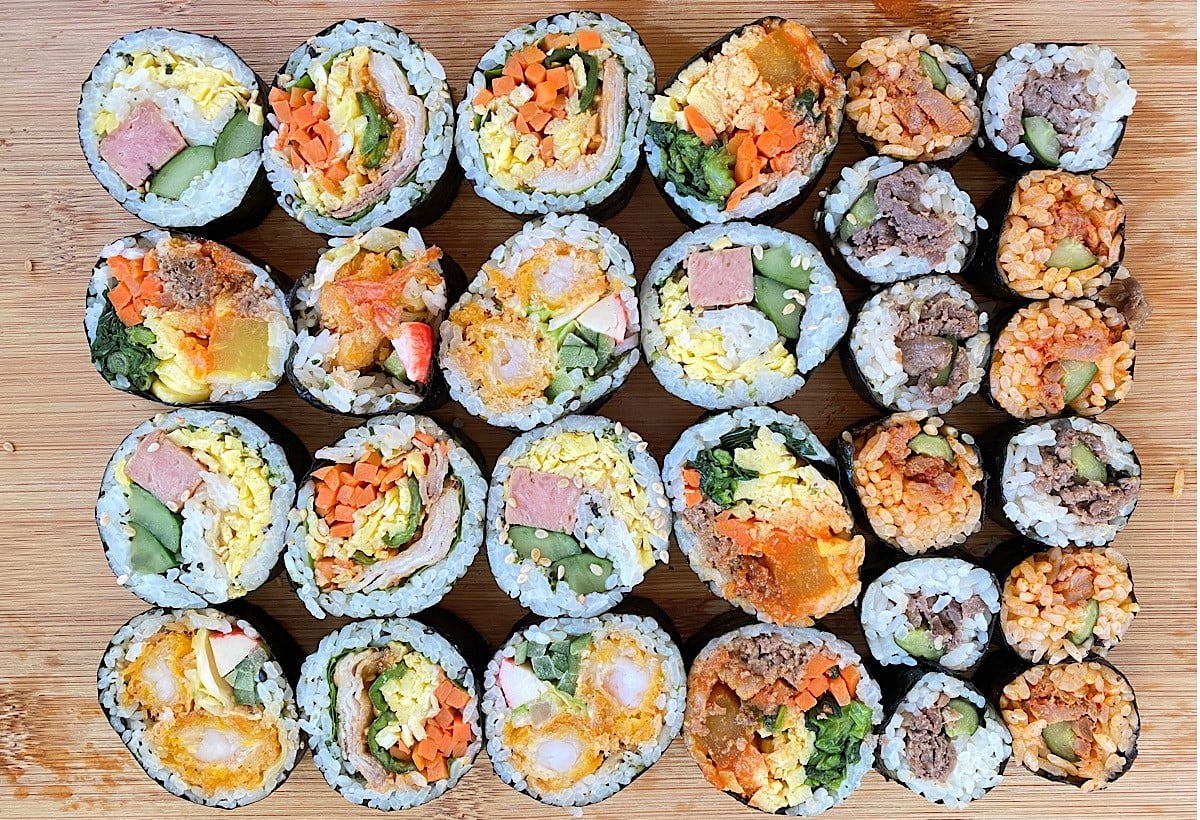 Ah, the story of Korean sushi rolls in Honolulu. If only it were as varied and interesting as kim bap itself: vibrant mosaics of cooked carrots, choi sum and takuan; anchoring notes of fried egg, garlicky beef, fish cake, tuna or gobo burdock root—sometimes a strip of American cheese—and all the ensuing ricochets in one exciting bite. More than Japanese makizushi, more than Spam musubi, kim bap is a party in your mouth. Sadly, its story in the Korean markets and street eateries of Honolulu has remained staid and unchanged—until lately.
---
SEE ALSO: Seoul delicious: Korean sushi shop rolls up in downtown
---
Recent forays to Palama Supermarket have revealed thrilling displays on the packaged foods table. New kim bap rolls are stuffed with shrimp tempura, chicken katsu, even Spam (hello, it's about time!). There are rice-less keto-friendly sushi rolls, and one that elevates the basic ingredients of kim bap, which are largely the same as the basics of bibimbap, with the seasoned gochujang sauce that ties together all the elements of a bibimbap crusty rice bowl and gives it its kick. And it turns out Spicy Bibimbap ($4.50) is one of my favorite new kim bap rolls, along with the shrimp tempura roll. The cashier swears by the chicken katsu roll and I'm totally taking her word on that.
View this post on Instagram
Palama's new Korean sushi rolls come in traditional full sizes for $5.50 or $6 and simpler mini rolls, which run $5 for a pack of four. Here are the varieties:
Chicken katsu
Shrimp tempura
Pork belly (includes a crunchy, punchy slip of raw bell pepper)
Tuna
Keto (tuna and tofu)
Kim chee (this one wraps the spicy stuff in a sesame leaf to keep the juices from bleeding into the rice; I haven't seen it but would nab it if I did)
Gobo and beef
Spicy bibimbap
Taegu (mini rolls)
Bulgogi (mini)
Mumallengi/dried radish (mini)
So why has Palama suddenly pulled ahead of the pack? It turns out the local chain's co-founder Hae Joo Lim has a culinary background and visits South Korea several times a year to check out the latest food trends. Her latest project: folded kim bap, not unlike the Spam pork-tamago (egg) ones at Waikīkī's Potama. Palama marketing manager Kate Heejin Chang says Lim is looking for a way to keep the nori from going soggy. I'm staying tuned for this.
Multiple locations, palamamarket.com, @palamasupermarket