Our Seven Favorite Finds at Foodland Farms Pearl City
(Sponsored) A grocery store where everyone knows your name.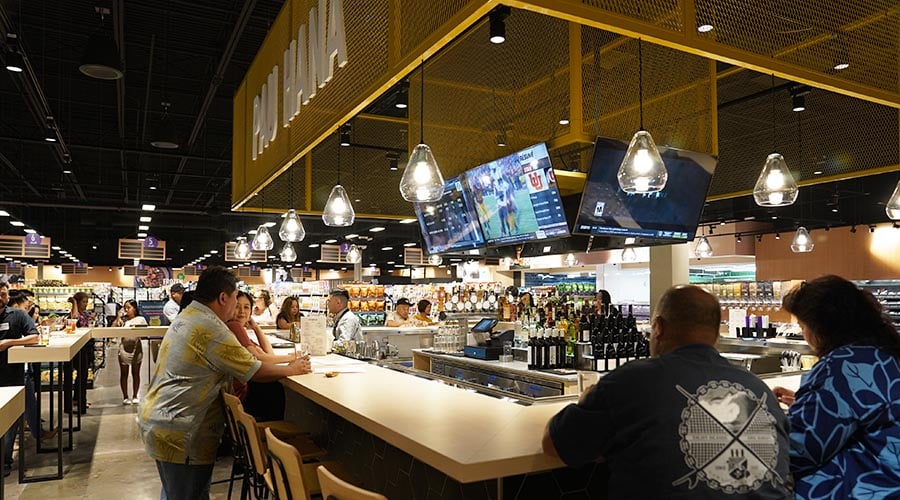 F
oodland is doubling down on their Foodland Farms format. The new Pearl City store and soon-to-come Kapolei location are designed to serve the culture and needs of each community. And in Pearl City, everything from the okazuya to the delicious pupu does just that.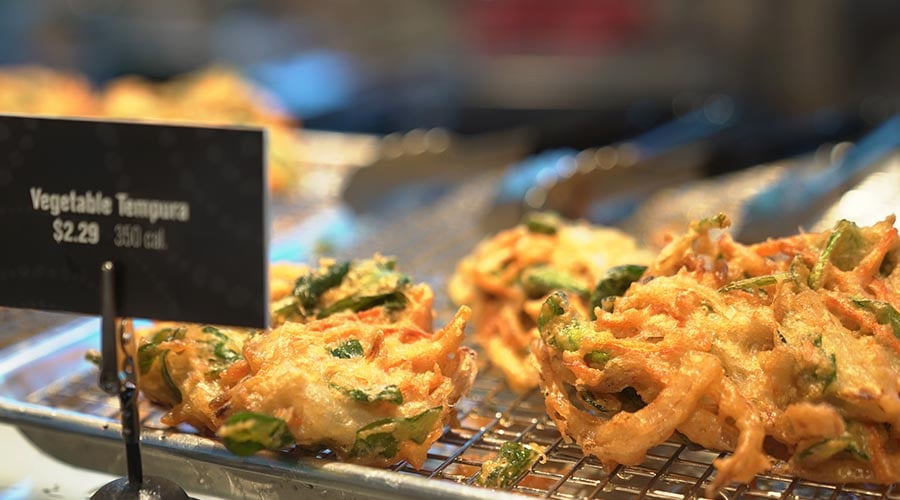 Aside from Minnesota Vikings fans, I don't know of many folks that have embraced the color purple quite like the people of Pearl City. The color is everywhere starting with the wall that welcomes you. The tote bags and even purple-hued Class Reunion cocktail available at the bar shows the Pearl City Charger spirit is alive and well. The fun drink features Empress 1908 gin, Carpano Biango and Stolichnaya Elit vodka. Though I'm not usually a fan of gimmicks, this cocktail holds its own. We also liked the Bumper to Bumper Bloody Maria, a nod to the endless rush-hour traffic on the H1, which is garnished with pipikaula, fried tofu and fishcake. A nice end-of-the-night option is the Monkey Bar, a whimsical tribute to the old Pearl City Tavern. The rye whiskey-based drink comes with a little side of banana chips. The craft beer menu includes local breweries Beer Lab HI, Kohola Brewery, Maui Brewing Co., Waikiki Brewing Co., Kona Brewing Co. and Paradise Ciders. The bar area here is much bigger than the Ala Moana location so it makes for a great pau hana place with friends.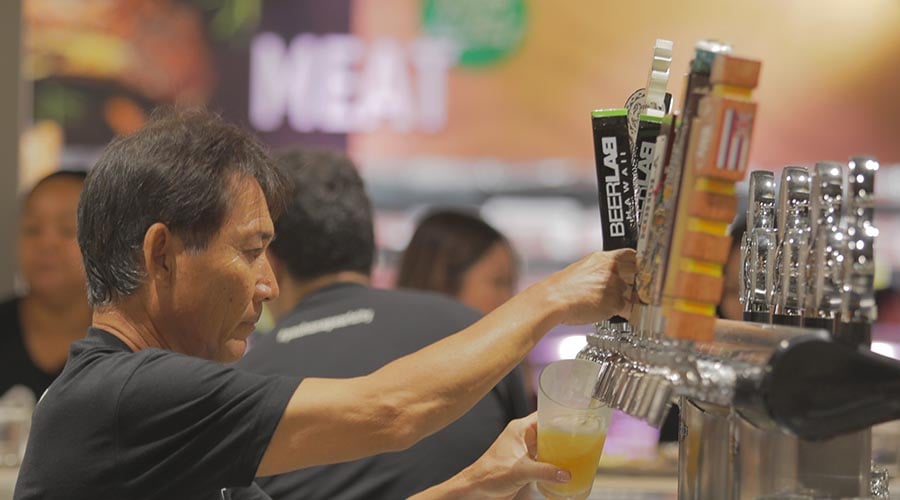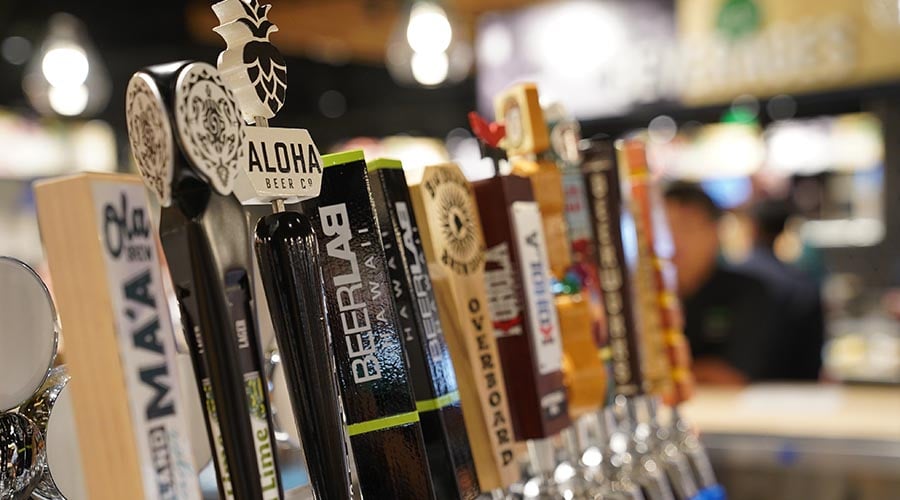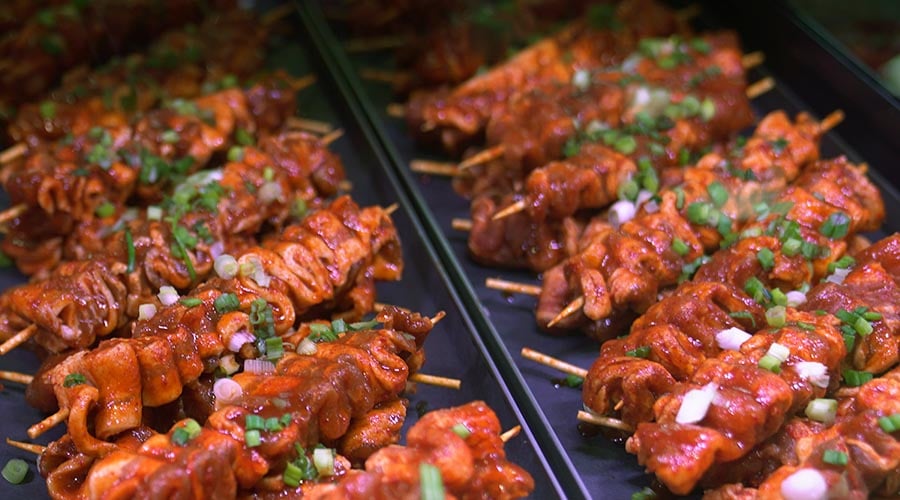 Walking through the store, you'll notice elevated touches similar to the Ala Moana location including beautiful artisan breads, Foodland's popular Calabash Kits, and meats and seafood that are seasoned and ready to cook at home. I was probably most excited about seeing plenty of local seafood, such as a beautiful whole ehu, ready to hit the steamer. I can hear the peanut oil sizzling now. The fresh oysters, which are packed in trays of six, are perfect for sharing (or keeping for yourself, if you love oysters as much as I do). Game of Thrones fans will rejoice at the King of the North oysters, located right next to the famous Kumamoto oysters. The staff at the seafood counter will even shuck them for you to take home.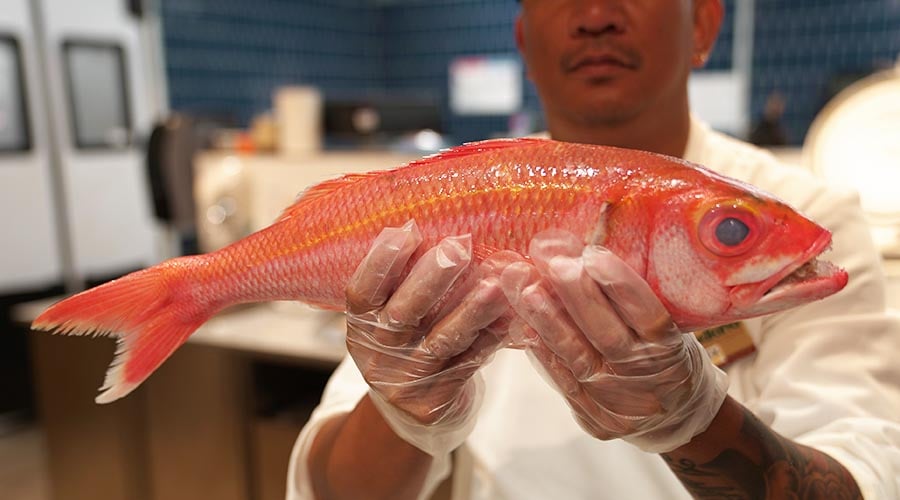 ---
SEE ALSO: New Foodland Farms Pearl City is OMG
---
But what we are most excited about in this new store are the new ready-to-eat menu items.
When was the last time you even THOUGHT you could get something from an okazuya after 12 p.m.? Most places sell out well before noon, but when that craving for a corned beef hash patty or tempura hits, it hits hard. The okazuya at the Pearl City Foodland Farms is unique to this location and is open until 7 p.m. The lines were long during opening week, but it moved quickly and the workers were efficient, so don't despair. Our favorites were the nori chicken which was generous in portion, flavorful, and juicy, and the vegetable tempura which reminded me of tempura I used to get at one of my favorite spots in Kalihi. I also spotted someone making Spam musubi right behind the counter, so you know those are fresh.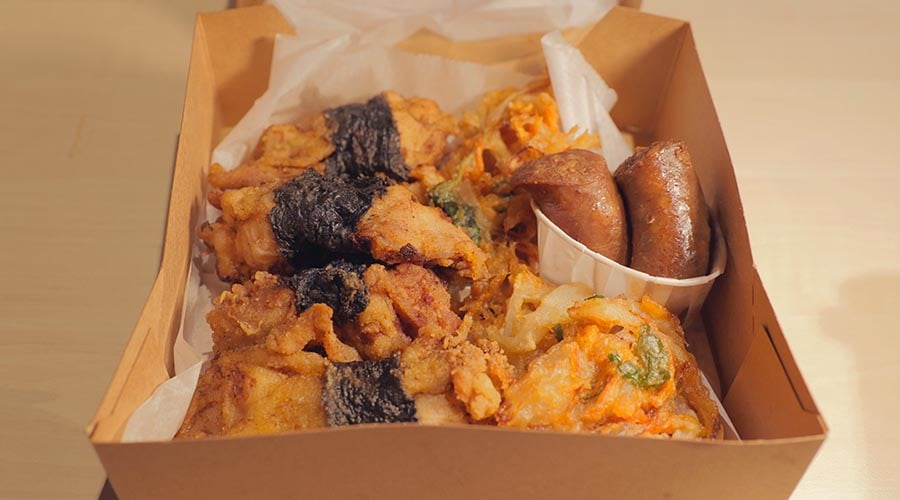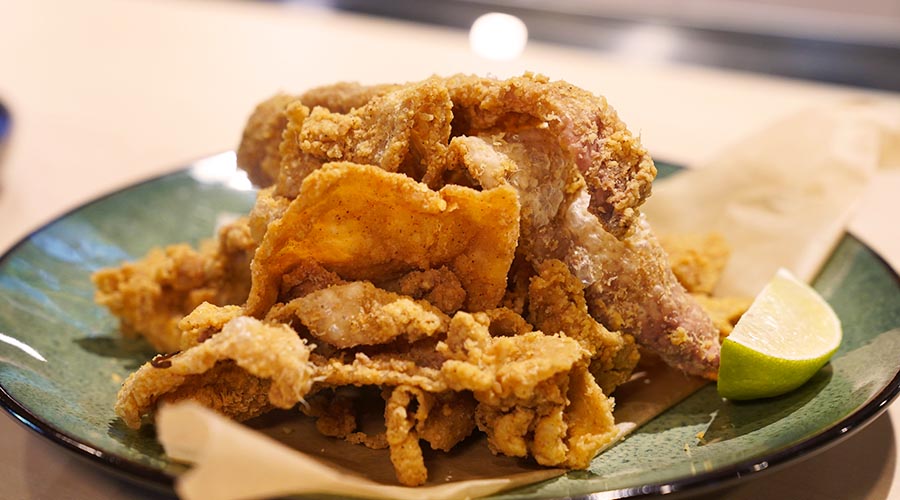 What's the best part of eating fried chicken? The crispy skin of course. Foodland Farms sells fried chicken skins seasoned with salt, pepper, and garlic. I'd be OK if these are the last things I eat before I die. They're that good.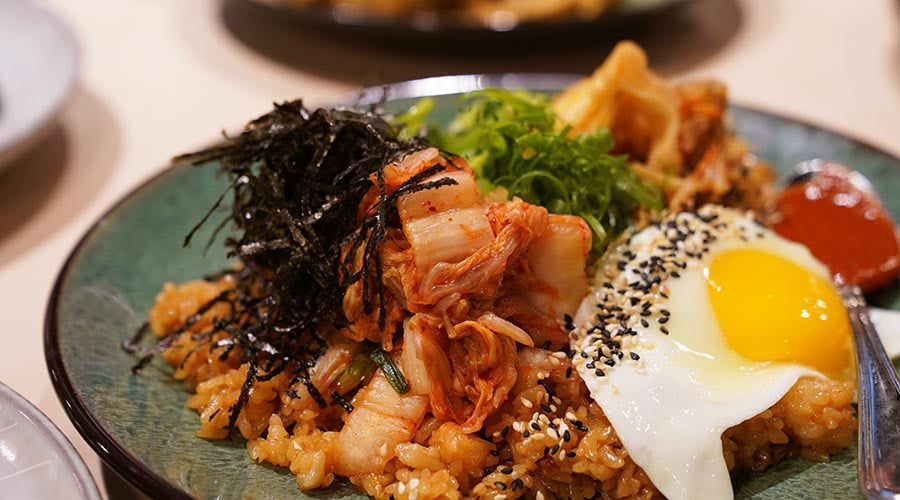 The bi bim bap fried rice was a nice play on the traditional Korean mixed-rice dish. The gochujang comes on a big spoon so you can customize your heat level, just like you would in a traditional stone pot bi bim bap. We used the whole spoonful and didn't regret it one bit.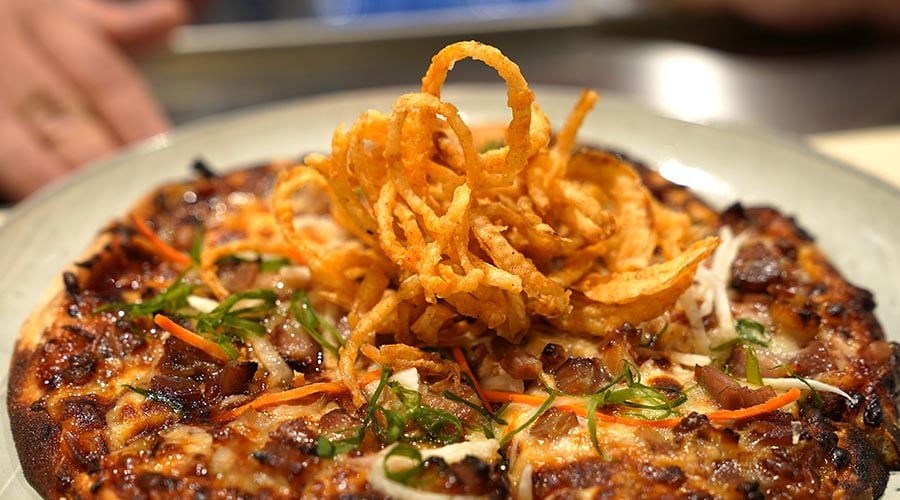 I honestly never tasted smoke meat until I was in college, and when I did, I fell in love. We fell in love with the smoke meat pizza, complete with fried onions and a guava sauce on top. The consistent reaction from everyone after the first bite was "hooooobrahhhhhhh."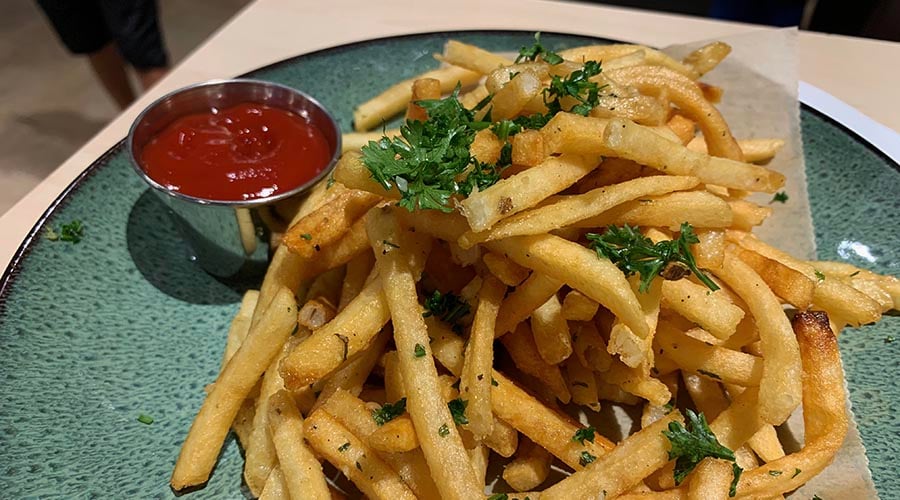 Just about every bar offers garlic fries, but often the garlic is raw and has a sharp bite to it. It seems that this garlic was cooked because it had a mellower presence. The fries were extra crispy and didn't get soggy from the garlic oil. Don't tell anyone, but I finished the whole plate.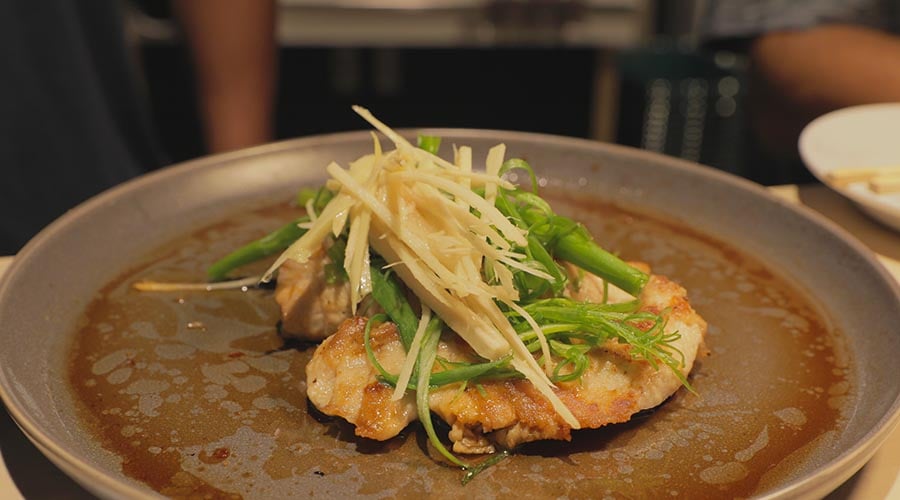 Perhaps the biggest hit with our group was the ahi belly. I was expecting something deep fried, but here the fish is steamed Chinese-style, garnished with green onions, ginger and Chinese parsley for a much more delicate, tender and nicely balanced bite. I'm going consider doing this next time I see ahi belly in the market.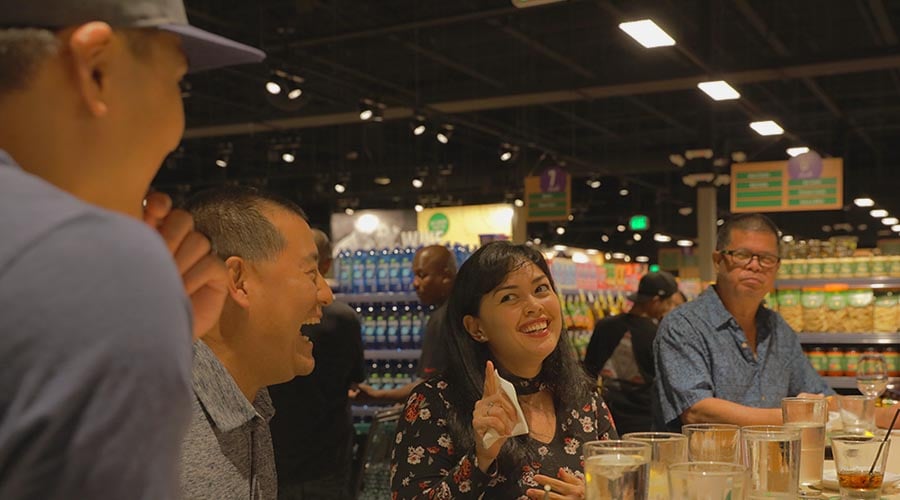 For me, Foodland Farms has become not just a place to shop for groceries, but a destination. It's a place to talk story with friends, grind on some killer pupu, cheer on the 'Bows on the giant TVs in the bar and feel more at home than you expect. I'll even drive H1, westbound, at 5 p.m. on a Friday for that chicken skin.