Our go-to: Poke bowls
Whether it's spicy, Hawaiian-style or wasabi masago, these are the poke Frolickers crave the most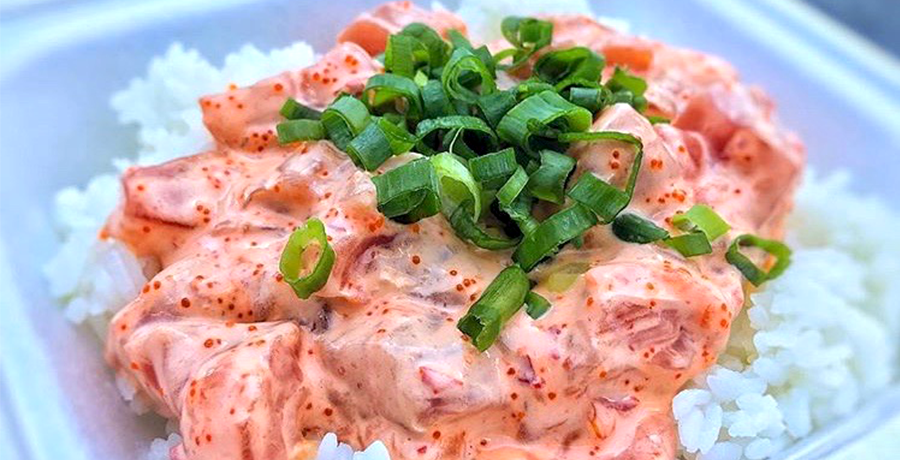 Poke is raw seafood that's cubed and gently mixed together with different seasonings and toppings. Available everywhere from your neighborhood grocery store to high-end restaurants, it's a uniquely Hawaii dish — and everyone has their favorite version. These are the Frolic team's go-to poke bowls.
Onion limu ahi poke bowl, Tanioka's, $8.95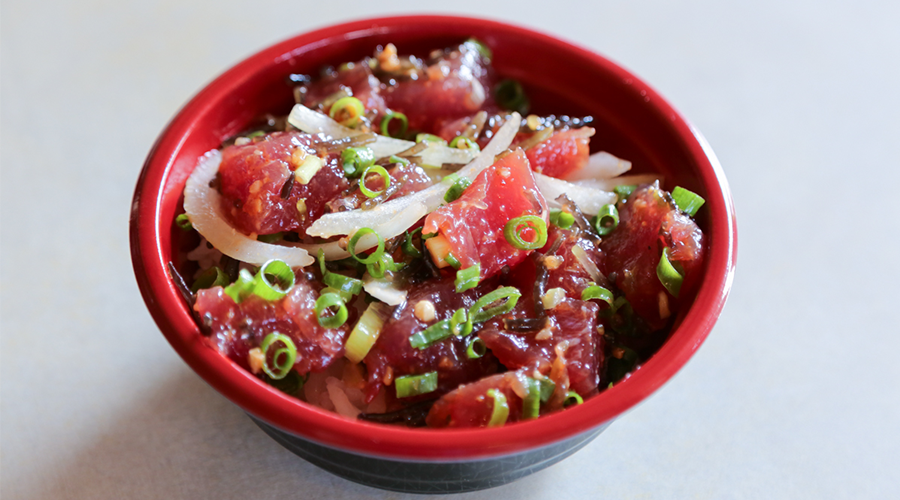 For people like me who grew up in central Oahu, Tanioka's has always been a go-to for nostalgic local foods like poke and fried chicken. Their onion limu ahi poke is simply the best when it comes to Hawaiian-style poke. The white onions provide a nice biting contrast with the saltiness of the limu. Both provide a needed crunch that goes so well with the shop's signature sushi rice. Tanioka's is known for their quality fish, well-portioned cubes of ahi and consistent seasoning of their extensive poke offerings. I also pick up a couple mochiko chicken musubis to eat on the ride home. — Grant Chuggy Bear Shindo
94-903 Farrington Hwy • Waipahu • 671-3779 • taniokas.com
Ahi limu or aku poke bowl, Tamashiro Market, price varies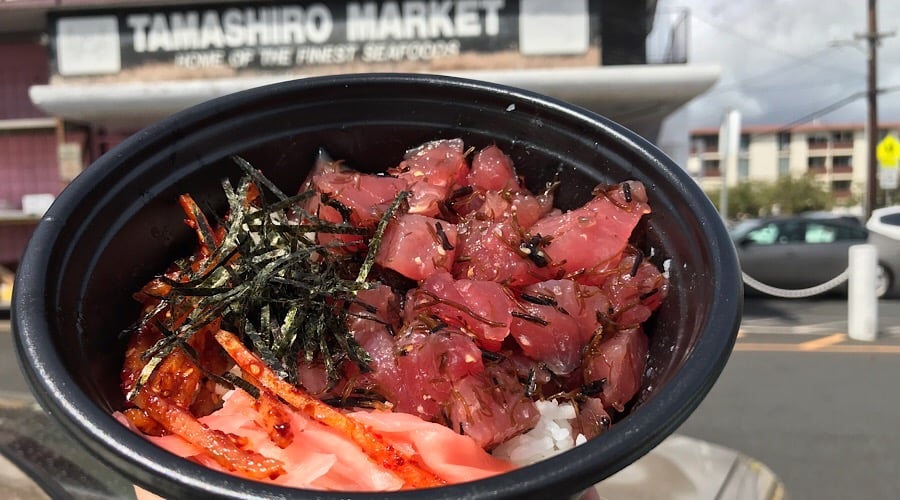 I have always loved that Tamashiro doesn't sacrifice on quality or freshness. As many other places have been using previously frozen ahi, Tamashiro remains committed to using fish fresh from the auction block. Their flavors are spot on and don't mask flavor of the fresh fish. — Jason Chin
802 N King St • Kalihi • 841-8047 • tamashiromarket.com
Meat and poke bowl, Alicia's Market, $11.95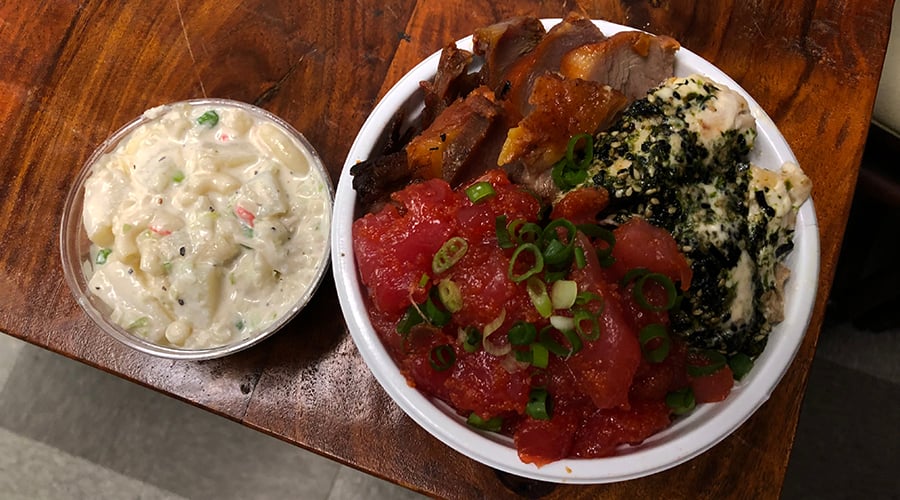 Poke bowls are $10.95 at Alicia's, but with choices this good, I have to take my bowl to the next level. The meat-and-poke bowl combo ($11.95) delivers the best of both worlds. Of all the poke flavors, my fave is Alicia's signature wasabi masago ahi poke, which is consistently fresh with a subtle, lingering heat. I used to get Alicia's signature roast pork in this combo, but it won't be available until they reopen in their old spot later this year. So my new go-to is tasty char siu, which is delightfully thick, tender and flavorful.
All poke bowls come with regular white rice, and if you're feeling really extra, you can add a second meat choice like baked furikake salmon for $3.75 a quarter-pound and $14.95 a pound. And if you want something super meaty, go for the popular roast beef-and-poke bowl combo for $12.95. — Kelli Shiroma
267 Mokauea St. • Kalihi • 841-1921 • aliciasmarket.com
Spicy mayo ahi poke bowl, Maguro Brothers, $6.50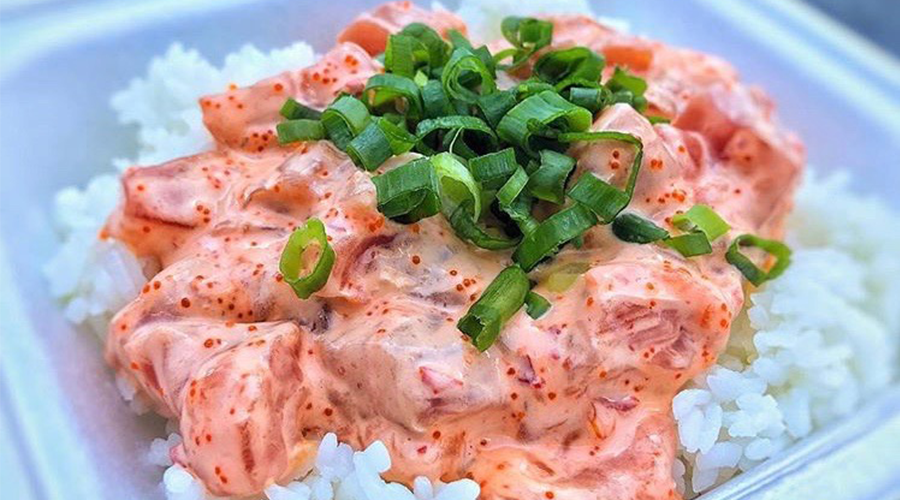 Tucked away in a small corner among Chinatown's bustling street markets, Maguro Brothers is a hidden poke gem. I always heard that they had the best poke on Oahu. When I had my first bite, I instantly knew why. Melt-in-your-mouth ahi covered in just the right amount of creamy, spicy mayo sauce with tiny masago and topped with green onions is everything I look for in poke. It's simple yet flavorful. The poke bowls come in three sizes: small, regular and extra-large. You can watch them cut the fish right in front of you when you're waiting for your order, so you know you're getting the freshest of fresh. — Amanda Valiente
Kekaulike Market • Chinatown • 259-7100 • www.facebook.com/magurobrothershawaii
Ginger-scallion and king crab poke bowl, Fort Ruger Market, $13.95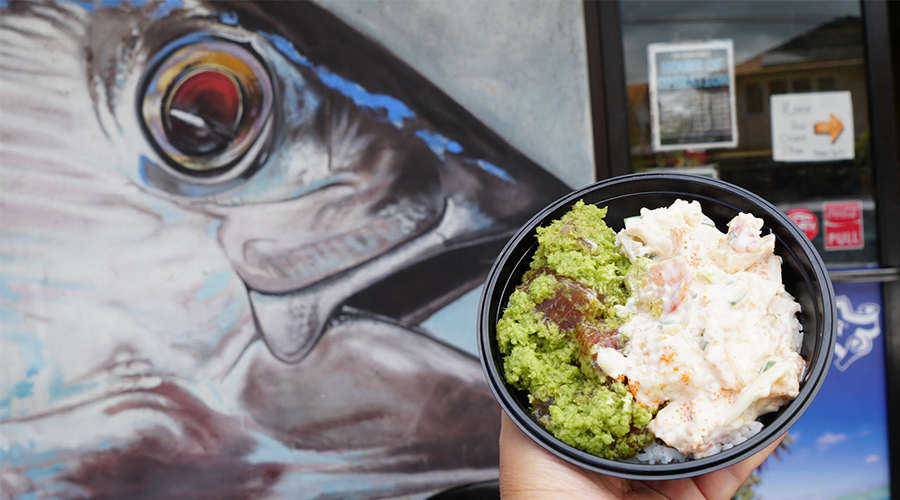 I JUST rediscovered the poke bowls at Fort Ruger Market, and they have updated their poke choices to keep up with the times. This isn't a traditional bowl by any means, but I like it because it's a little different. All the poke places are doing poke with ginger-scallion topping (like ginger chicken, one of my favorite things), and Fort Ruger Market's is a little thicker, like pesto, so it doesn't drip. I often get it with another ahi poke but on this day I ordered it with their king crab poke because it was there. Delicious! And I love that they have murals out front for the extra instagrammability! (Is that even a word?) — Melissa Chang
3585 Alohea Ave • Kaimuki • 737-4531 • www.facebook.com/RugerMarket/
DIY poke bowl, Pokeway, $11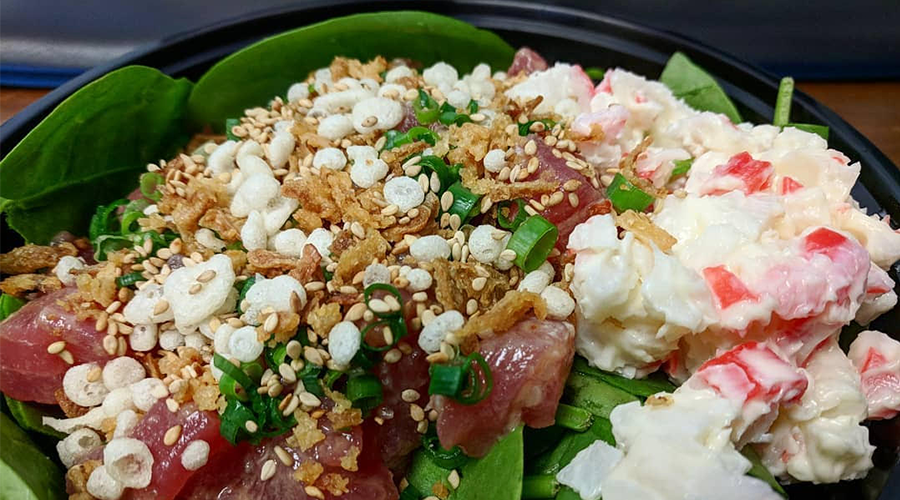 Let's be honest, it's not like poke is hard to find here. You can even find it at Target! That being said, my go-to poke speaks to my need for something quick, convenient and delicious. My go-to is POKEWAY in Downtown Honolulu. Not going to lie, if you don't work or live near Downtown it's not very convenient. Luckily, I do work in Downtown and I find myself at Pokeway at least once a week.
A build-your-own poke shop, Pokeway boasts a nice selection of proteins like ahi, salmon, hamachi and shrimp with sauces like spicy Korean, sesame and wasabi aioli. Choose a base of rice, multi-grain rice, salad or baby spinach, then top it off with garnishes including crispy onions, tempura flakes, crab salad and more. I get two scoops ahi on baby spinach with shoyu sauce, extra crab salad, crispy onion and tempura flakes. If you find yourself Downtown on a weekday between 10 a.m. and 3 p.m., check them out. Maybe you'll find me eating my go-to poke bowl. — Eric Baranda
1132 Bishop St. Ste 143 • Downtown • 206-1006 • www.facebook.com/hawaiiansaladbar/