Our Go-To Eats: Hawai'i Foods of Summer
Grilled kalbi, fresh lychee ice cream, mango all kine ways—these are the Frolic team's flavors of summer.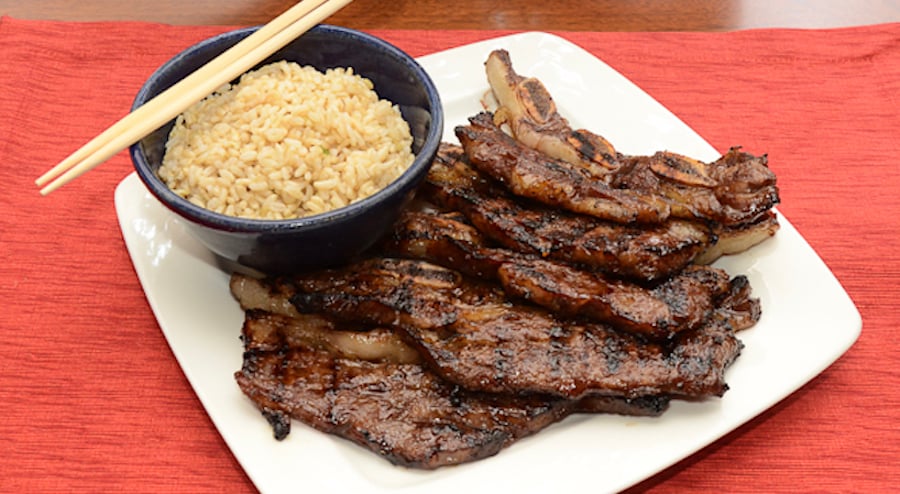 Kids may be heading back to school, but days of muggy heat mean we're still in the grip of summer. Which got us thinking: What foods represent summer to you? Here's a roundup from the Frolic team—everything from restaurant dishes to fruits off aunty's tree to favorite recipes.
Mango all kine ways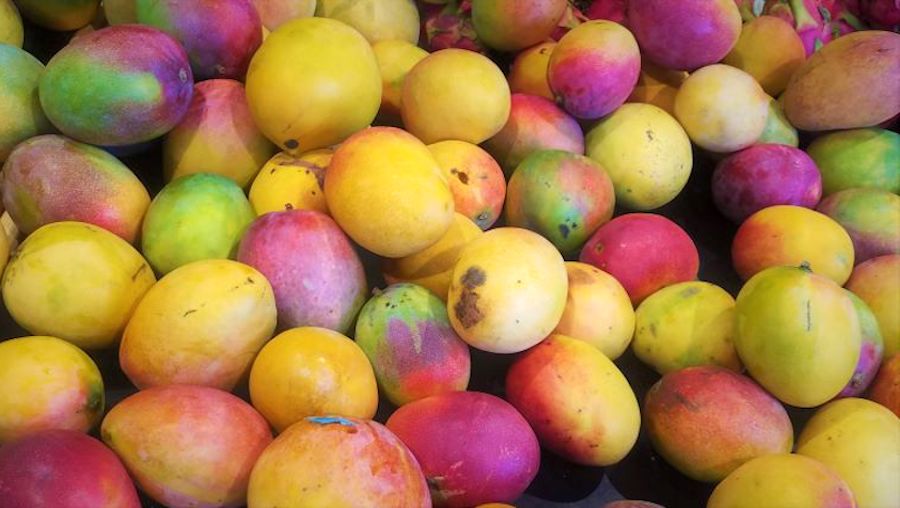 Throughout my youth I always knew summer was upon us when my aunty from Pearl City would drop off mangoes from her back yard. What made these mangoes special was not only were they of the Pirie variety, which meant a small seed and maximum flavor. These were great, big, larger-than-life mangoes that seemed to grow only on her tree. It wasn't until I was older that I realized my aunt consistently pruned the tree, which meant fewer mangoes that grew much bigger because of the lack of competion for sunlight and nutrients. Most times I would eat them ripe, but when I couldn't wait I ate them slightly green with my favorite shoyu.
Even today, I smile like a kid when I get that call from my aunt that it's time to pick up the summer mangoes. — Gregg Hoshida
Pickled mango
A sure sign that it's summer is getting pickled mango from my aunty on Maui. She uses a recipe from Best of Our Favorite Recipes 1946-1996, Island of Maui. I'm lucky enough to get a delivery from family members who travel back and forth. It's the perfect balance of sweet, tart and salty. — Jason Chin  
Green mango, spicy-sweet
In Vietnam one year during the dry season, a friend produced from her bag a green mango and a tiny red chili. In my kitchen she peeled and shaved the mango, then minced the chili and mixed it with sugar and fish sauce. I still salivate when I remember the crunches of sour green strips against the sugar crystals melting in the salty amber, and the bursts of fire that made my tongue sweat. — Mari Taketa
Thai street food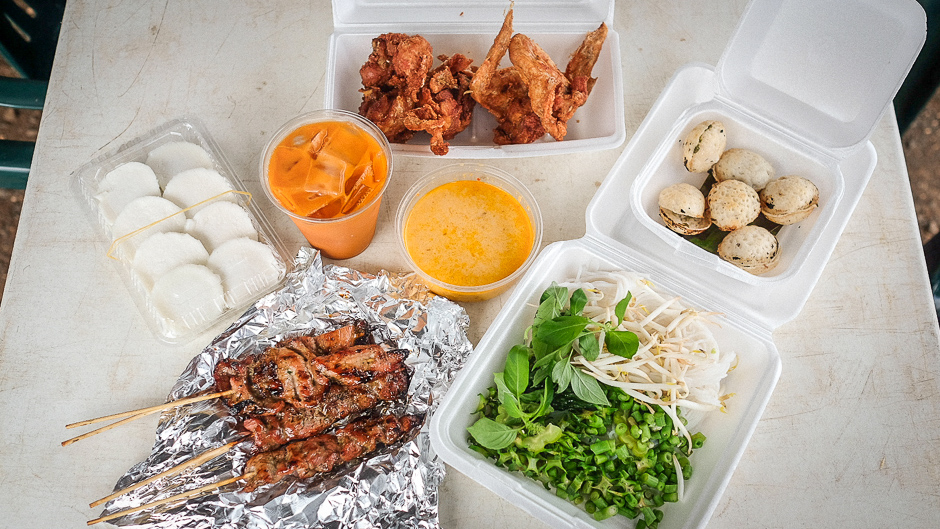 Although it's only in recent years I've come to know the Thai street food market that sprouts out of the rocky landscape of Wat Pearl City, this is my signal that summer has truly arrived. On Sundays from July to October, the Buddhist temple comes to life with people of all faiths who line up for a smorgasbord of Thai and Laotian delicacies you'll hardly find on a restaurant menu. Fried chicken wings are a crowd-pleaser but it's the khanom krok, coconutty rice pancakes grilled over an open flame, and evil curries and stews that create a connect-the-dots map of regional Thai flavors that you want. The sweltering heat doesn't keep me away from a bowl of boat noodles, either – I'm willing to sweat for the crispy pork cracklins and unctuous slow-simmered broth, as long as Thai iced tea is close at hand.
I find the balance of chaos and peace on these balmy Sunday afternoons oddly comforting. – Thomas Obungen
---
See also: Pearl City's hidden Thai stree food oasis only appears on Sundays
---
Grilled kalbi
Summer is grilling season and kalbi is a local favorite that shows up at picnics and potlucks. Through years of research, asking friends, and experimentation, I've found that the key to a great Kalbi (or LA galbi to Koreans), is the use of Korean pear in the marinade. The enzymes help with tenderizing and it brings some sweetness to the marinade. It's tough to find Korean pear during the summer, so kiwi, papaya, or other pears can be an appropriate substitute.
Jason's Kalbi Marinade
Ingredients
1/4 cup shoyu
1/4 cup brown sugar
1/4 cup sake
1 t black pepper
1 T sesame oil
1 round onion, chopped
<1 Korean pear, peeled, seeded, and chopped
8-10 cloves garlic, peeled
1/2" knob of ginger, peeled, chopped
Directions
Blend the pear, onion, garlic and ginger until it's a smooth, creamy texture. If you don't have a blender, it's OK to chop everything as fine as you can. Mix in the rest of the ingredients and marinate your meat for at least a day. This should be enough marinade for about 4 pounds of short ribs. Grill until nicely browned on each side and eat while glistening hot.
Watermelon two ways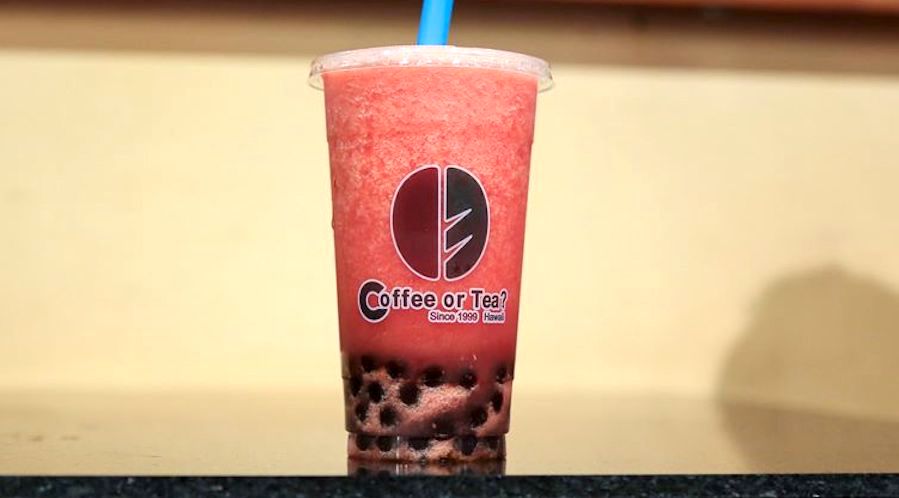 Each summer I look forward to the seasonal watermelon juice at Coffee or Tea? Cool, refreshing and just sweet enough, this blended drink is pureed fresh watermelon with a little bit of sweetener and good base of boba. This year I've probably had at least two dozen so far and I plan to get them as long as they're in season. — Grant Shindo 
Summer means ice-cold watermelon to me. From keiki days to now, I look forward to that first refreshing, sweet bite that signals that summer has arrived. Every summer, Foodland runs an ad for a free or heavily discounted Sugarland Farms local watermelon. I always save my Makai points for it. If we time it right, we can crack open a juicy one while camping at Malaekahana State Park — it's always the perfect end to a perfect summer day. – Grace Ryu
Mul naengmyun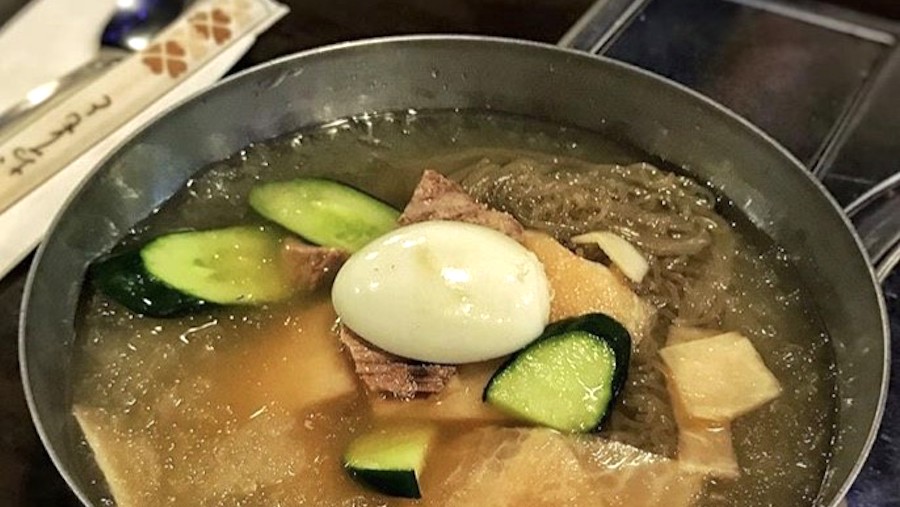 My love for naengmyun started in the summer of 2017. I was traveling around Korea, dripping in sweat and in need of something icy. Korean cold noodles always came to my rescue. Now, whenever the hot, humid heat of summer rolls in, memories of Korea flood my mind and make me hungry for naengmyun. Although I'm not in Korea anymore, my favorite places hit up for naengmyun is Sadie's BBQ Inn and Mikawon. — Amanda Valiente
Lychee and lychee ice cream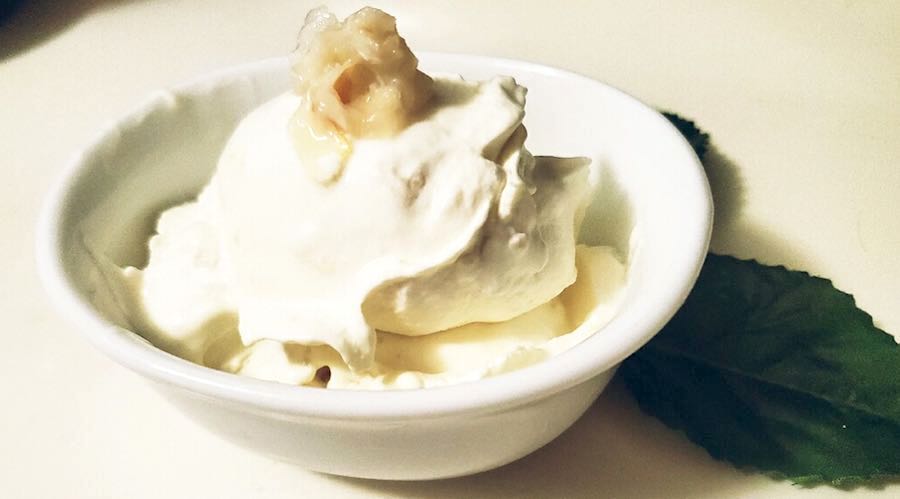 Every summer me and my faddah used to pick lychee. I get fond memories of him telling me which branch for cut. When I would start cutting da wrong one he would yell, "Not that branch! Da oddah branch!" And he'd point at da specific branch. In my head I would be tinking, Brah, get like 10,000 branches. How I supposed to know which one? Lol. Our Frolic editor said she wanted one lychee recipe, like stuff we made with all our leftover lychee, cuz she said it's hard to give away so much right, so typically you'd make da leftover lychee into something. I told her, I thought da solution wuz for just make more friends. Den no more leftover, right? Anyhow, she nevah like my answer. Luckily I get one poet friend Ashley Nakanishi, author of Blood, Sweat and Breastmilk, and by happenstance she contacted me asking if I would trade my new book for some homemade ice cream. Lol. Turns out she get one ice cream side business called Sprig & Mortar. This is her awesome lychee ice cream recipe. Try 'em for yourself by visiting @sprig.mortar on IG. So funny how I needed this and it appeared. #mahalouniverse — Lee Tonouchi 
Sprig & Mortar's Lychee Ice Cream
Recipe is for 1 pint
Ingredients
4 cups heavy whipping cream
1 can condensed milk
Pinch of salt
1 lb. lychee (around 10-12 fruits), pureed
Directions
In a large mixing bowl, beat whipping cream until it forms peaks. Fold in salt, condensed milk and lychee. Store in airtight container overnight.
Avocados and guacamole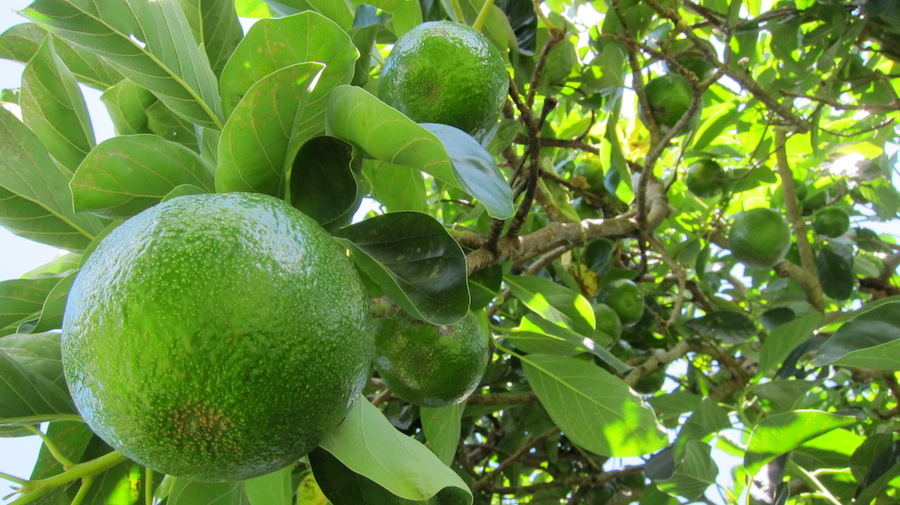 Most days, working from home, I stare out the window at the avocado tree in the back yard. I may be slightly obsessed (or does everyone count all the fruits?) I watch mynahs fly thru the leaves, I remember the rope swing my grandfather hung from the biggest branch, and every year, at the peak of summer's heat, I harvest the creamy fruits that still taste best sprinkled with brown sugar, the way my grandfather fed them to us when we were small. — Mari Taketa 
---
Mari's Should-Be-World-Famous Guacamole
Ingredients
Avocados
Salsa (any kind, but make sure it's tomato-based and has some liquid)
Limes
Green onions
Cilantro
Salt
Sriracha (this has chilies, garlic, sugar, vinegar and altogether a much more rounded flavor than Tabasco or chili water)
Directions
Notice my recipe has no measurements. I use none — but do a lot of tasting and adjusting seasonings. This means you'll be stirring guacamole frequently, so if you mash too much up front, you will end up with no avocado chunks in your guacamole.
Peel and seed avocados and throw in a bowl. If you're using my avocados or similarly large ones, add about 1 heaping tablespoon of salsa per avocado (I mean the kind you eat soup with, NOT a measuring tablespoon). Add a few pinches of salt. Go around the bowl a couple of times with the Sriracha. Depending on the size of your limes, start by squeezing in the juice of half a juicy lime per 2 medium to large avocados.
Minimally mash, then roughly stir everything together with the biggest fork you have. Taste. Adjust levels of salsa, lime juice, salt or Sriracha. Mix and taste again. Stop as soon as you think, wow!
Note: It's OK if you accidentally overseason a little bit here. You can make up for it by adding a lot of greens, or a little more avocado. I sometimes reserve half an avocado in case I need to mild out the flavor after seasoning.
Now, grab a bunch of cilantro, chop, and throw in. Grab some green onion — more than you think you'll need — and chop finely, from root to tip. GREEN ONION IS THE KEY. This fresh, edgy flavor will permeate the guacamole, but people won't recognize that. They'll all think it's the cilantro. Mix all in and taste again. Your tastebuds should say yummy.
Note 2: This is excellent on steak and grilled or roasted chicken as well.
Note 3: When I'm too lazy to go through all this, I just cut open an avocado and pour in some Herdez Guacamole Salsa.