New Year's Eve meals and treats for takeout or dine-in on Oahu
Whether you're dining in or taking out, it's not too late to make plans for New Year's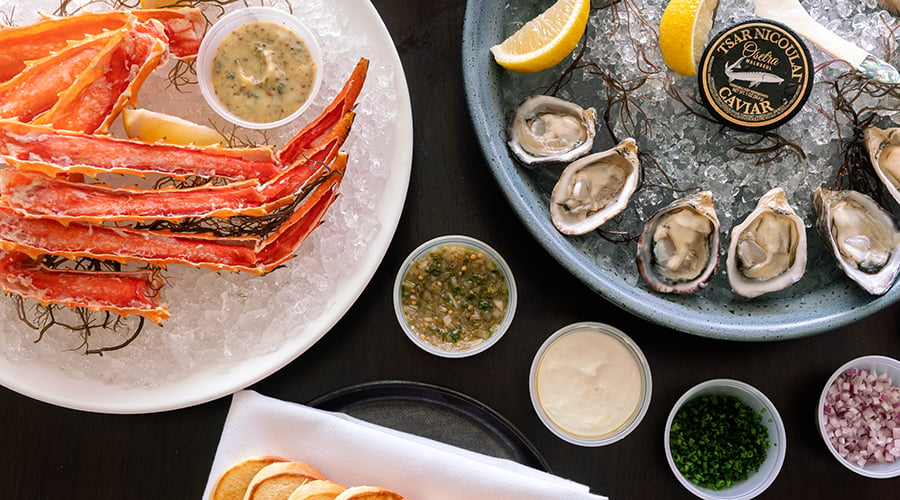 Thank goodness it's still not too late to start planning your New Year's feast. I scoured social media and bugged my contacts for special holiday menus and treats. Whether you plan to dine in or take out, your options to ring in 2021 abound.
12th Ave Grill
Takeout: 12th Ave Grill is offering the following holiday specials:
Seafood charcuterie board, $49: Starter designed to feed five to sixpeople. Includes Hawaiian big eye ahi prosciutto, Ono bresaola, Broadbill ham and smoked ahi spread all made in-house. Available for pick-up starting Dec. 18 online preordering is recommended
Housemade meat and cheese board, $49: Norcina sausage, smoked duck prosciutto, liver pate, housemade burrata and assorted pickles and olives. Available for pick-up starting Dec. 18 but online preordering is recommended due to limited supplies
New Year's Eve dinner for two, $140: Organic green salad; grass-fed Kauai beef wellington featuring Small Kine Farms cremini and truffle duxelles wrapped in buttery puff pastry with truffle demi-glace; oven-roasted cold water lobster tail wrapped in basil and prosciutto with lemon aioli, pommes duchess, asparagus bundle, champagne panna cotta with strawberry coulis and candied strawberries for dessert
New Year's Eve dinner for two is available for pick up on Dec. 30 or 31. Order online and check the website for more info.
53 By the Sea
Takeout: 53's New Year's Eve Takeout Package costs $225 and includes:
Shrimp cocktail
Lobster tails
King Crab legs
King Crab salad
Big Island abalone
Assorted sashimi (New Zealand King Salmon, ahi and hamachi)
Wagyu tataki
Prosciutto
Foie gras mousse
Desserts: Tiramisu trifle, lilikoi-mango verrine, champagne macarons, raspberry pate de fruit, lemon shortbread and brown butter financier
Other specials include Alae salt crusted prime rib and seafood dynamite crusted monchong. Preorder online for pickup on Dec. 31 from 12 to 6 p.m. ​
Basalt
Dine-in: The following New Year's Eve specials are available from Dec. 31, 2020 to Jan. 7, 2021:
Breakfast
Smoked salmon latkes, $15: Three soft scrambled eggs, smoked Scandinavian salmon, red onion, Ho Farm family cherry tomato and chives on a potato pancake, served with creme fraiche and crispy capers
Cookies and cream waffle, $14: Oreo cookie crumbs, whipped cream, maple syrup
Grilled New York steak, $27: 10 ounce New York steak, seasoned JoJo potatoes, pickled red cabbage and endive, black truffle aioli
Dinner, available Dec. 31 only from 5 to 8:45 p.m.
Crab salad, $18: Jumbo lump crab, Big Island heart of palm remoulade, asparagus, romanesco, herbed avocado dressing
Sea and land, $58: Two cold water lobster tail halves, brandy glacage, garlic herb basted filet of beef, cabernet mushroom reduction, basil pommes puree
Poached pear and champagne gelee, $12: Pear mousse, chestnut cream, blackberry balsamic reduction
Prix fixe, $75: All three dinner specials
Dine-in specials available while supplies last. Call 923-5689 for reservations.
Big City Diner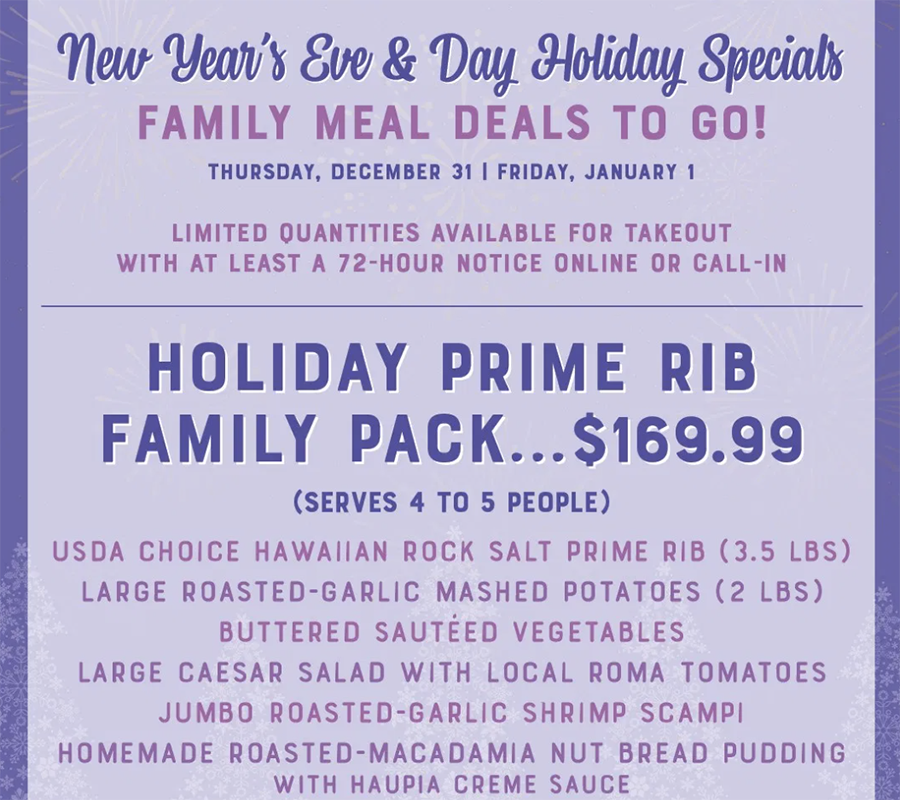 Takeout: Big City Diner features New Year's Eve and New Year's Day specials that are only available Dec. 31, 2020 and Jan. 1, 2021. They serve 4 to 5 people.
3.5 pounds USDA Choice Hawaiian rock salt prime rib
2 pounds large roasted garlic mashed potatoes
Buttered sauteed vegetables
Large Caesar salad with local roma tomatoes
Jumbo roasted garlic shrimp scampi
Homemade roasted macadamia nut bread pudding with haupia creme sauce
Limited quantities available for takeout with at least 72-hour notice online or call-in. Visit Big City Diner's website for more info.
Cattle Company Steakhouse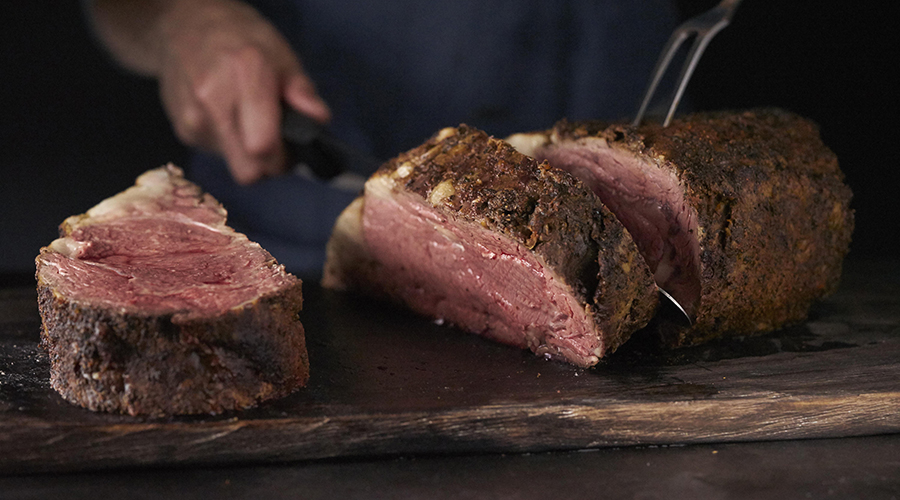 Takeout: Cattle Company Steakhouse is offering​ New Year's Eve to go. It costs $101 and serves 2 people:
Two 6-ounce filet mignons
Two lobster tails
One appetizer to share
Four classic sidekicks
One dessert to share
Molasses bread
Two prosecco splits
This takeout special is only available on Dec. 31. Order online for curbside pickup or takeout.
New Year's Eve individual meals, $38.99:
Choice of 8-ounce prime rib or 6-ounce filet mignon
Served with lobster tail and all the fixings
Order online for takeout or curbside pickup.
Chocolate + Vanilla Bakery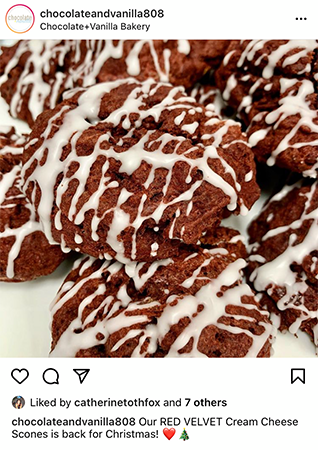 Takeout: Red velvet cream cheese scones are back for December. They're $3.25 each or $19 for six scones.
Cloud Nine Cafe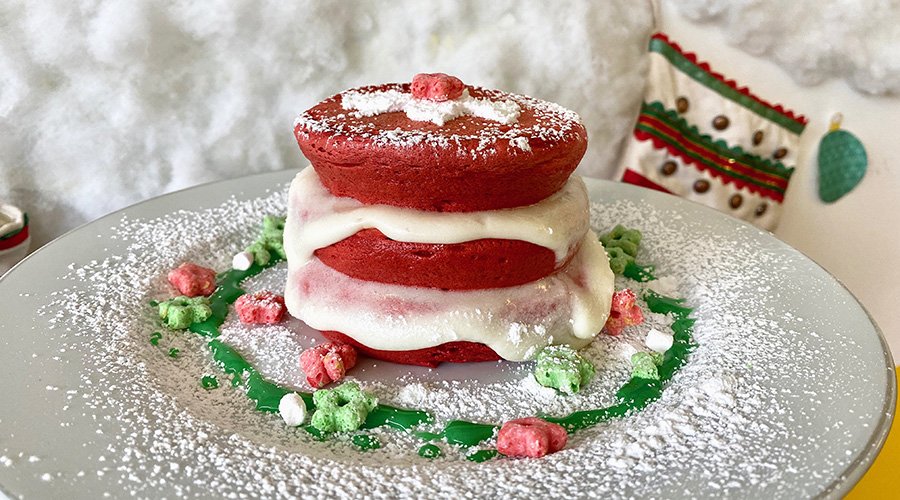 Dine-in and takeout: From Dec. 14 to 30, Cloud Nine Cafe will have seasonal red velvet souffle pancakes for $13.99. They're served with cream cheese icing and cereal. Call 739-9988.
Dean & DeLuca Hawaii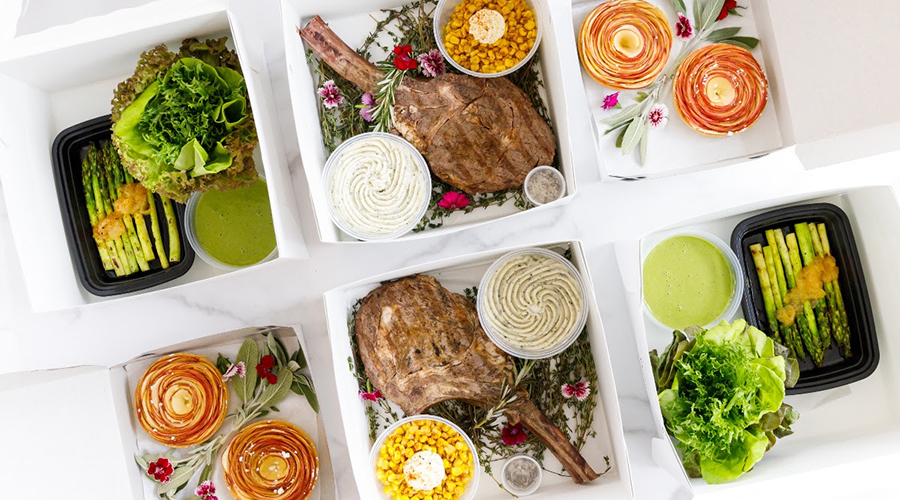 Takeout: Dean & DeLuca's Hoomaha holiday meal kit is available for $80 to feed two or $160 to feed four:
Charred rosemary tomahawk
Local potato puree with winter truffle and herbs
Big Island meyer lemon asparagus
Local Farm Ohana garden bouquet
Lilikoi green goddess
Kahuku sweet corn with sage butter
Apple rose tartlet
This meal kit can be ordered now through Jan. 2, 2021. To pre-order email order@deandeluca-hawaii.com or order online. Orders must be received by 5 p.m. for pick-up the next day. Pick-up is from 4 to 6 p.m. at Ritz-Carlton Waikiki Beach.
Feast by Jon Matsubara
Takeout: Get your feast on with Feast. Chef Jon Matsubara has a New Year's Eve menu available. It costs $450:
Romaine lettuce and thick-cut bacon wedge, Parmesan, avocado, bacon and Ichiban dressing
Chirashi set: Maguro ahi, kona kampachi, ama ebi, Maine diver scallop, Ora King salmon toro, house sake ikura, sushi rice
Signature lobster rolls and lobster bisque lobster with umami mayo, sweet roll and lemon
Steamed local fksh with aromatic soy, ginger scallion and Chinese parsley
Butter poached Kunoa ribeye steak with garlic and rosemary
Dessert sampler: Mango and passionfruit cheesecake, decadent chocolate torte with fresh berries and brown butter garam crumble
Pre-order online for pick up Dec. 31 between 4 and 6 p.m.
Fete
Takeout: Fete has several takeout specials for the holidays. These family packs are designed to feed 4:
Koji-brined roasted Ludovico chicken for 4, $210:
Koji brined Ludovico chicken stuffed with mushroom Duxelle with foie jus
Sides: Basil Caesar, local haricorts verts, brown butter tarragon vinaigrette, toasted almonds, mashed potatoes gratin, herb butter, Parmigiano-Reggiano, Pecorino Romano, gremolata
Dessert: Dorie Greenspan's chocolate cake with Manoa chocolate, creme fraiche and hibiscus syrup
Kauai Ranch ribeye roast for 4, $254
Horseradish soubise
Sides: Basil Caesar, local haricorts verts, brown butter tarragon vinaigrette, toasted almonds, mashed potatoes gratin, herb butter, Parmigiano-Reggiano, Pecorino Romano, gremolata
Dessert: Dorie Greenspan's chocolate cake with Manoa chocolate, creme fraiche and hibiscus syrup
Order online for pickup on New Year's Eve between 2 and 5 p.m.
Fig & Ginger Honolulu
Takeout: Fig & Ginger is featuring the following specials for New Year's Eve:
F&G Caviar box with bottle of J Lassalle Champagne, $165
F&G Caviar box a la carte, $90
For the caviar box and champagne, call 593-BRIX to order and pickup at 999 Waimanu St. on Dec. 31 from 10:30 to 11:30 a.m. For the caviar box a la carte, order online for pickup on New Year's Eve.
HB Baking
Takeout: HB Baking has a seasonal New Year's ice cream pie:
Strawberry and black sesame ice cream on senbei crust, topped with kinako crumble and mochi
Order via DM on Instagram. All treats are available for pickup at Keiki 2 Keiki on Dec. 30 from 12 to 5 p.m. or on Dec. 31 in Moanalua from 10 a.m. to 2 p.m.
Honolulu Cookie Co.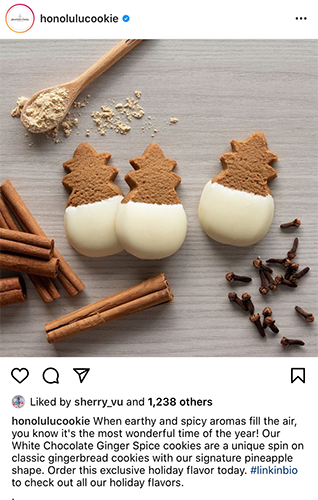 Takeout: Seasonal flavors at Honolulu Cookie Company include peppermint macadamia, dark chocolate peppermint macadamia, white chocolate pumpkin and white chocolate ginger spice. Mele gift boxes, gift tins and pineapple-shaped boxes with the seasonal flavors are also available.
Hot Pot Heaven Kapolei
Takeout: This New Year's dinner is available for $120 and feeds 4 to 6 people. It includes:
Choice of 2 broths
2 pounds snow crab legs
1 pound scallops
1/2 pound ribeye
1/2 pound pork belly
4 vegetables or mushrooms
4 miscellaneous
4 housemade dipping sauces
Pre-order from now to Dec. 30. Call 379-2935 or 387-3559. Place your order by Dec. 30 to get free housemade pork and shrimp spring roll and mochi ball or one pound of shrimp.
Hy's Steak House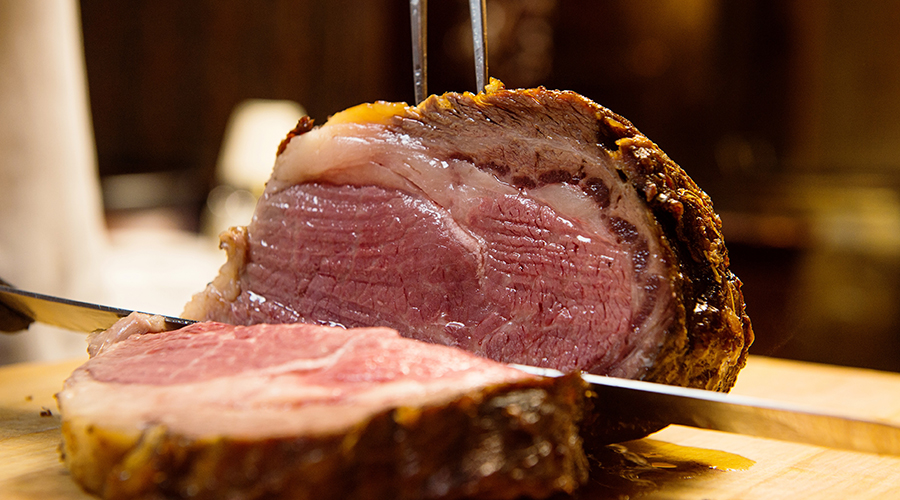 Takeout: Hy's Steak House is featuring a holiday ohana prime rib feast designed to feed five for $398. The roasted prime is prepared rare with instructions to bring it to the perfect temperature for your family. It includes:
Hy's famous cheese biscuits
Chilled shrimp cocktail with lemon and cocktail sauce
Mixed greens salad with pomegranate seeds, parmesan, candied almonds and honey mustard vinaigrette
Slow-roasted prime rib
Honey citrus rosemary glazed ham
Au jus and horseradish cream
Mashed potatoes
Truffle mac 'n cheese
Sauteed vegetable du jour, sundried tomato pesto
Eggnog cheesecake with seasonal berries and cinnamon-spiced whipped cream
Add-ons like a 32-ounce uncooked Tomahawk and Alaskan King Crab chilled crab legs are available. Order online.
Ichiriki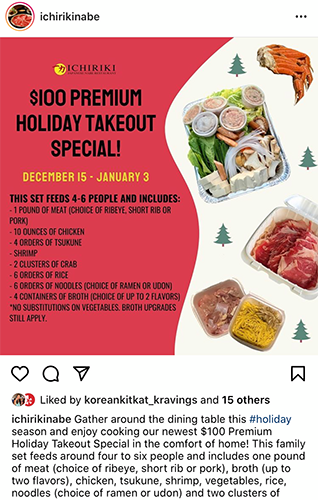 Takeout: Ichiriki's premium holiday takeout is available now to Jan. 3, 2021. The set feeds 4 to 6 people and costs $100. It includes:
1 pound of meat; choice of ribeye, short rib or pork
10 ounces of chicken
4 orders of tsukune
Shrimp
2 clusters of crab
6 orders of rice
6 orders of noodles (choice of ramen or udon)
4 containers of broth (choice of up to 2 flavors)
No substitutions on vegetables and broth upgrades still apply. Call your nearest Ichiriki location for more details.
Istanbul Hawaii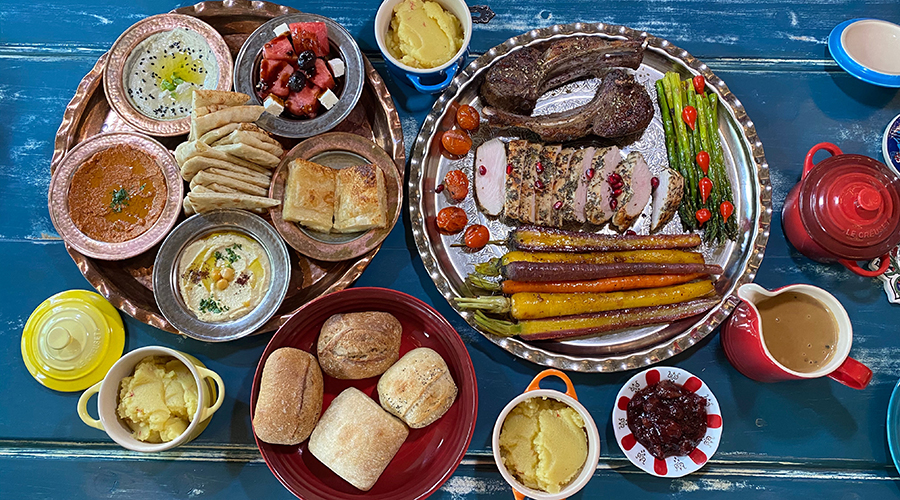 Takeout: Istanbul Hawaii is will have a holiday feast for two ($75 per person) available on New Year's Eve:
Mezze platter with hummus, muhammara, water borek, smoked babaganush, peynir and karpuz and pita bread
Dinner rolls and brown butter
Choice of entree: pirzola, turkey, onaga, cauliflower shawarma or Imam Bayildi, served with glazed Kahumanu carrots, charred tomatoes, brown butter saffron mashed potatoes, turkey gravy with black peppercorns and housemade cranberry sauce
Dessert for two is a pumpkin pecan baklava with creme fraiche dondurma or vanilla bean ice cream
Customers must pre-order online at least three days before they want to pick it up. Pick up must be made before 5 p.m. on the designated day.
J & S Lumpia Spot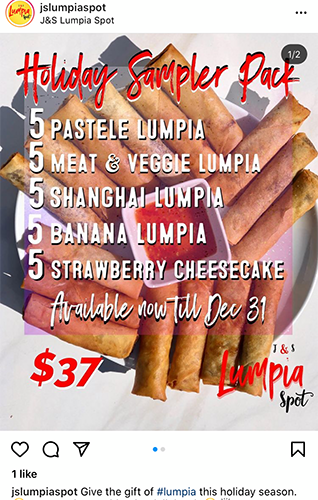 Takeout: J&S Lumpia's holiday sampler pack ($37) includes:
Five pieces of each lumpia: pastele, meat and veggie, Shanghai, banana and strawberry cheesecake
Available now through Dec. 31. Call or text 400-1855 to order.
Jolene's Market
Takeout: Family dinner packs cost $158 and are designed to feed 6 to 8 people:
Choice of a 19-pound roasted turkey with stuffing or 6 pounds 18-hour smoked brisket with barbecue sauce
Mashed potatoes and gravy
Char siu fried rice
24 steamed bao buns
12 pieces fried gau gee and hot mustard
Oriental salad with dressing and wontons
Call 540-1000 to pre-order for pickup on Dec. 31 between 10 a.m. and 4 p.m.
Kuhio Grille Kaimuki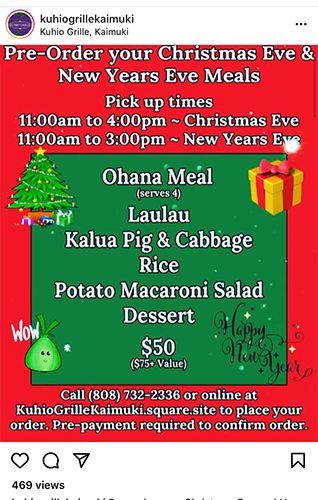 Takeout: Ohana meals that serve 4 are available for takeout on New Year's Eve. They cost $50 and include:
Lau lau
Kalua pig and cabbage
Rice
Potato macaronic salad
Dessert
Call 732-2336 or order online. Pickup times are on Dec. 31 from 11 a.m. to 3 p.m.
Kulu Kulu Cakes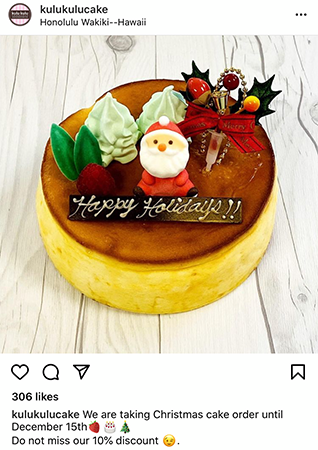 Takeout: Kulu Kulu Cake will have three seasonal treats through December:
Santa's Mixed Berry Cake⁠
Snowman's Raspberry Rare Cheesecake⁠
Reindeer's Caramel Coffee Cake⁠
Prices vary depending on cake size. Kulu Kulu Cake is taking preorders until Dec. 15. Pick-up is Dec. 18 through 25 at Eaton Square and Royal Hawaiian Center locations. Pre-order your cake for 10% off the listed price.
La Tour Cafe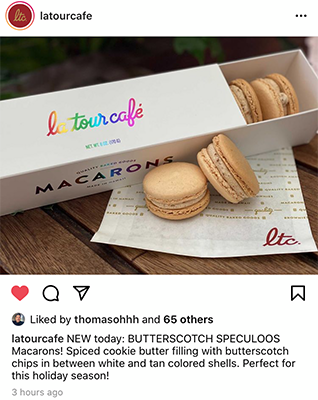 Takeout: La Tour Cafe's macaron flavor of the month is Butterscotch Speculoos. These macarons feature a spiced cookie butter filling with butterscotch chips and cost $2.20.
La Vie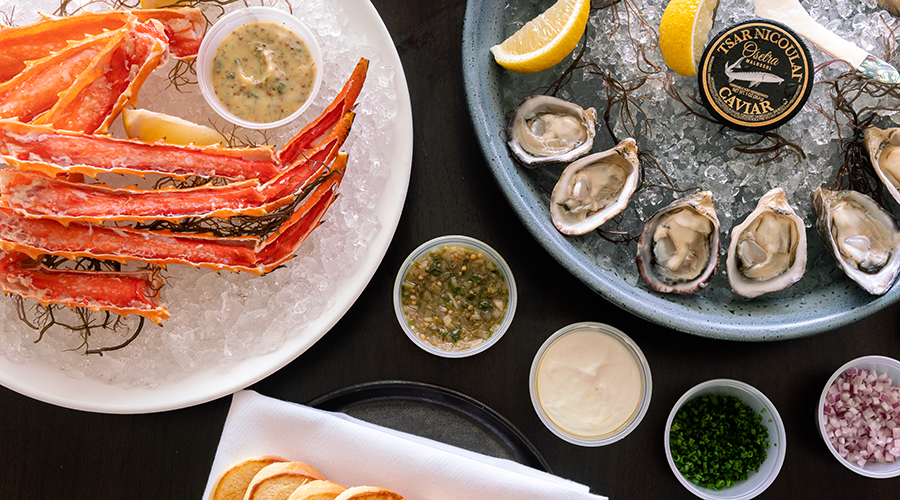 Dine-in: La Vie will also have a special menu for New Year's Eve, available on Dec. 31 only. This five-course pre-fixe is $195 per person:
First course: Caramelized foie gras with royal tokaji gelee, green grape and toasted almond
Second course: Butter poached snapper with langoustine, spinach and sauce Americaine
Third course: A5 Miyazaki wagyu with rutabaga, hakurei turnip, au poivre Japonais
Fourth course: Truffled cheese tarte with tete de moine, Manoa honey and shaved truffles
Fifth course: Salted caramel bonbon with Manoa chocolate, cognac and winter truffles
Seatings are from 4 to 8 p.m.. Call 729-9729 for reservations.
Takeout: La Vie has a separate takeout option for the holidays:
Celebration package, $175, includes:
One ounce of Tsar Nicoulai Osetra Caviar
One dozen pre-shucked Kusshi oysters
Half bottle of Billecart-Salmon, Brut Rose
Petite loaf of brioche
Traditional caviar accompaniments, including creme fraiche, chive, red onion, boiled egg white and boiled egg yolk
Cornichon mignonette
Lemon wedges
Upgrades to the Celebration Package are available.
Leonard's Bakery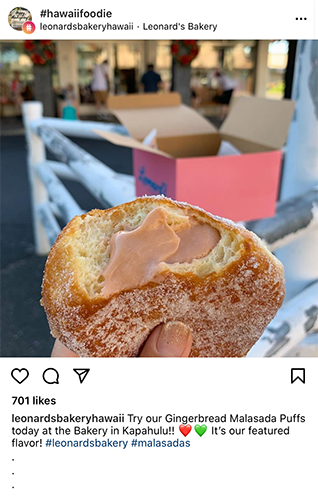 Takeout: Gingerbread malassadas ($1.65 each) are the featured flavor of the month.
Mahiai Table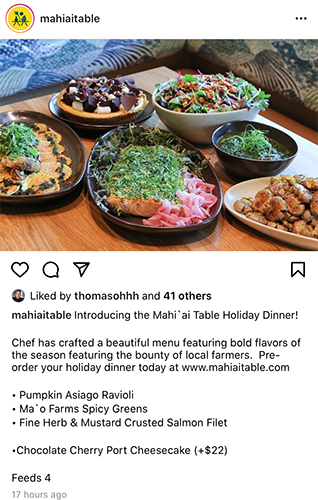 Takeout: Mahiai Table's holiday dinner feeds four ($140):
MA'O Farms spicy greens, port-soaked cranberries, mac nut brittle, calamansi vinaigrette
Pumpkin asiago ravioli: cauliflower puree, roasted MA'O Farms baby turnip, charred kale oil
Fine herb and mustard crusted salmon filet: smashed baby potatoes with fresh herbs, cream of luau leaf, togarashi agrodolce
Chocolate cherry port cheesecake ($22 supplement)
Order online.
Merriman's Honolulu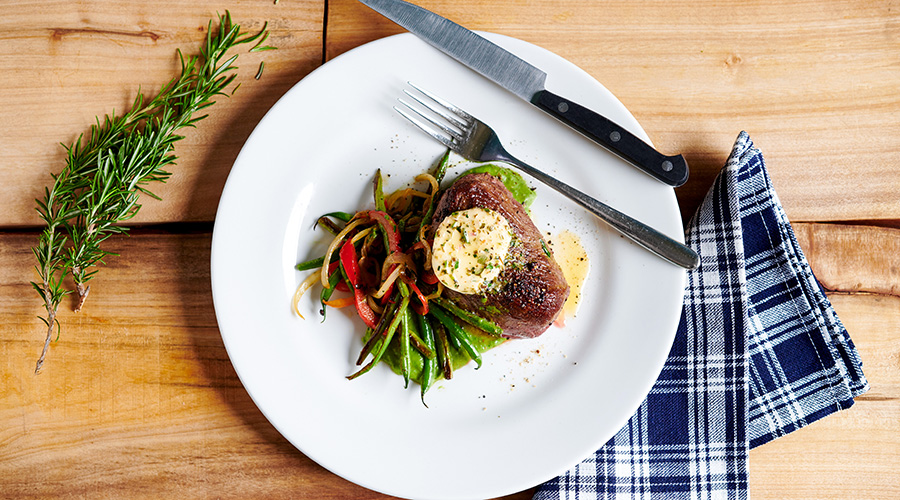 Dine-in: Merriman's Honolulu is featuring prix fixe dinners on New Year's Eve from 11 a.m. to 8 p.m. $89 per person, $32 for keiki ages 12 and under
Amuse bouche: Hamakua mushroom bisque with buttermilk biscuits and fresh-churned butter
Appetizer: Choice of duck confit panzanella with MA'O Farms kale, stracciatella, Hau'ula tomatoes and torn basil; Maine lobster and Dungeness stuffed mushrooms with Small Kine Farms mushrooms, MA'O Farms ruby streak and lemon tarragon hollandaise ($10 supplement); Troll caught ono ceviche; Kabocha pumpkin ravioli with Pt. Reyes blue cheese; and Hirabara Greens
Main course: Choice of house dry-aged USDA prime roasted striploin, pecan-crusted wild caught salmon, vegetable wellington, double cut grass fed lamb chops ($25 supplement), daily sustainable fish and butter-poached Keahole lobster ($25 supplement)
Dessert duo: Choice of Waialua chocolate, caramel and hazelnut torte, local honey baklava and papaya pavlova
Call 215-0022 or go online for reservations.
Mother Bake Shop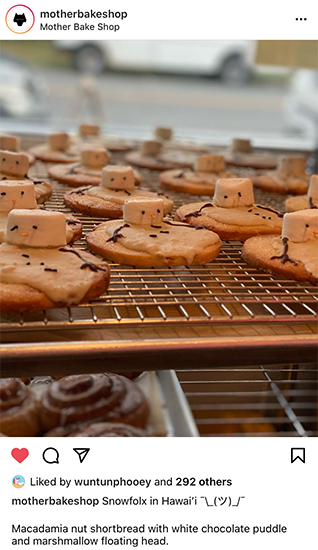 Takeout: Snowfolx cookies ($4.50 each), macadamia nut shortbread cookie with a white chocolate puddle and a marshmallow floating head, are available daily. ​
O'Kims Korean Kitchen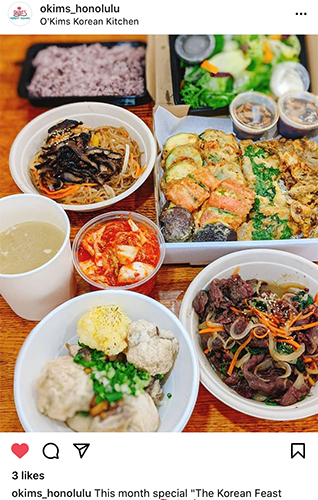 Takeout and delivery: The Korean Feast box is part of O'Kim's December specials. It costs $79.95 and is designed to feed 4 to 5 people. It includes japchae, bulgogi, combination jun, chicken ginseng soup, green salad, purple rice and 1 pound of kim chee.
Call 537-3787 to order.
Old Spaghetti Factory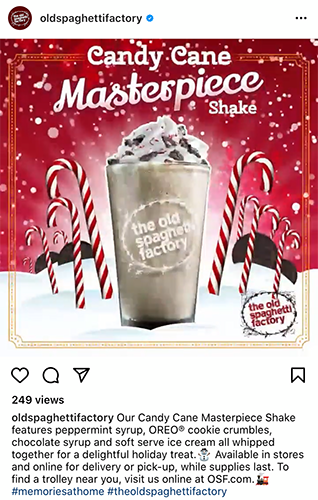 Dine-in and takeout: This seasonal Candy Cane Masterpiece Shake is available until Dec. 31. It costs $5.49 for the adult size and $3.50 for the kids' size. It features peppermint syrup, Oreo cookie crumbles, chocolate syrup and soft serve ice cream.
Otto Cake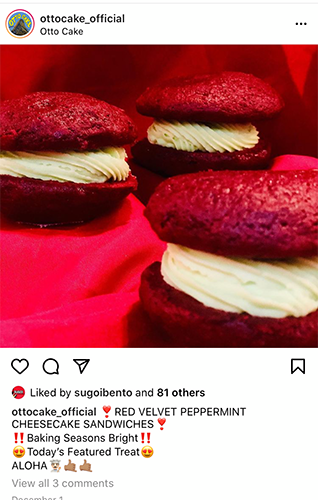 Takeout: Enjoy seasonal cheesecakes like gingerbread, eggnog, candy cane and fruitcake, along with new red velvet peppermint cheesecake sandwiches ($5 each). Call 834-6886 for availability.
Pagoda
Takeout: Enjoy this roast prime rib and seafood for two winter special for $49.95:
1 pound snow crab legs, hot or cold, with butter
A whoel fresh Tai snapper "Chinatown style" that is steamed with shoyu, ginger, green onions, cilantro and hot oil poured over the top
Or Hawaiian style clam bake with snow crab legs, Kauai head-on shrimps, mussels, clams, corn on the cobb and ogo
Served with chocie of rice or mashed potato
Hot vegetables
Chef's choice for salad and dessert
Order online.
Pai Honolulu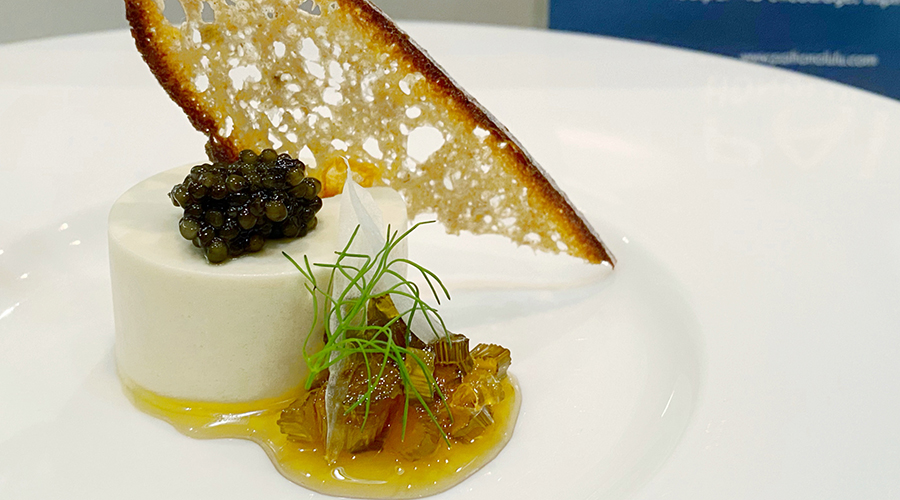 Dine-in: PAI's holiday menu will be available from Dec. 23 to Jan. 3, 2021. This $185 chef's tasting menu features eight courses and wine pairings are available:
Complimentary glass of sparkling wine
Buttermilk cornbread with miso-honey butter, sea salt
Oscietra caviar with fennel panna cotta, fennel stem marmalade and sourdough crisp
Chilled lobster with whipped ricotta, cherry tomato and thai basil
Agedashi XO turnip cake with smoke akule, miso-cured Alii mushroom, daikon oroshi and ti leaf consomme
Escargot with basmati congee, pickled grapes and chive blossom
Seared scallops with parsnip and pear puree, black vinegar and grapefruit
5-spice pork belly "siu yuk" with potato gratin, fermented black bean truffle jus and Chinese mustard
Roasted apple cider sorbet
Foie gras french toast with vanilla custard, Japanese sweet bread, maple shoyu syrup, honey roasted strawberries, coconut powder and mint
A seasonal a la carte menu with special dishes will also be available. The restaurant is closed Dec. 25 and Jan. 1, 2021. Call 744-2531 or go online to make a reservation.
Poke Stop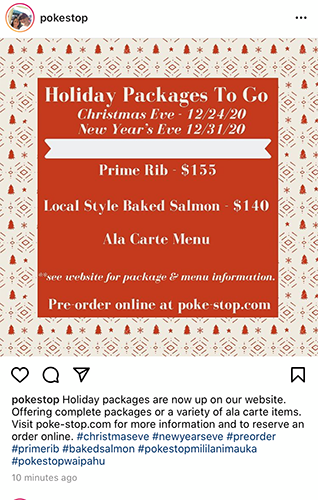 Takeout: The following holiday packages are available:
Prime rib, $155, feeds eight to 10
Slow-roasted rosemary-scented whole prime rib
Au jus, creamy horseradish
Choice of steamed white rice, brown rice or garlic mashed potatoes
12 Hawaiian sweet rolls with whipped butter
Choice of assorted grilled Kunia vegetables or Puna's potato salad
Pumpkin crunch
This package is served hot.
Baked salmon, $140, feeds four to six
4-5 pounds local style baked salmon with garlic aioli, Portuguese sausage, onion and cilantro
Choice of 2 quarts sweet corn chowder or cream kabocha squash
Choice of 1 1/2 pounds shoyu ahi poke, creamy ahi poke or sweet onion ahi poke
12 Hawaiian sweet rolls
Mari's mixed greens with grape tomatoes, garlic croutons, parmesan cheese and papaya seed dressing
Pumpkin crunch
This package can be picked up hot and ready to serve by request for an additional $10.
Pick-up at Mililani Mauka on Dec. 31 from 10 a.m. to 5 p.m. Preorder online.
Quiora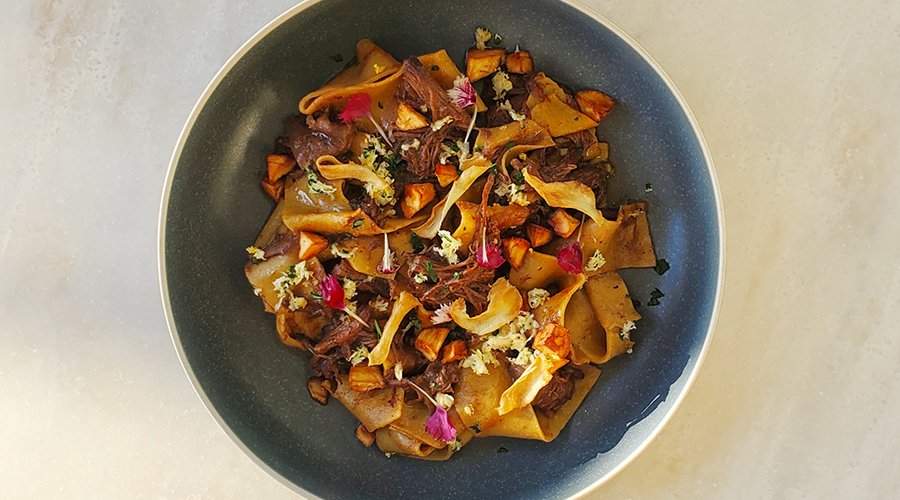 Dine-in: Quiora will have a New Year's Eve menu available on Dec. 31. This five-course prix fixe menu ($125) includes:
First course: Ahi crudo with crispy capers, Kalamata olives, aleppo chili
Second course: Black trumpet lasagna with braised mushrooms, house ricotta and roasted kale
Third course: Truffle farcie stuffed quail served with cannellini beans and chard
Fourth course: Braised oxtail pappardelle with red wine reduction, roasted parsnip and horseradish gremolata
Fifth: Chef's selection for dessert
Rabbit Rabbit Tea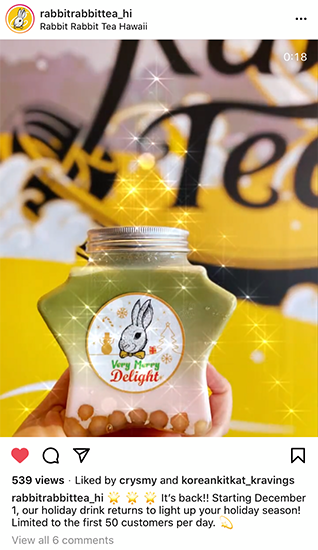 Takeout: Rabbit Rabbit Tea's December special is called "Very Merry Delight" and it features layers of matcha milk tea and strawberry buckwheat milk tea.
Redfish Poke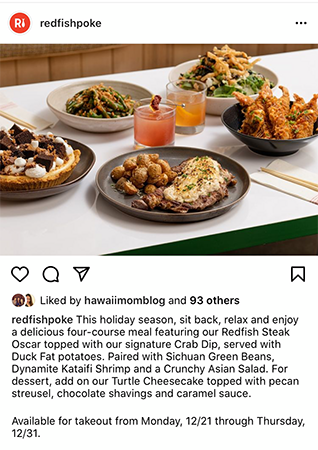 Takeout: Red Fish Poke's holiday four-course meal costs $160 and feeds four:
Crunchy Asian salad: Togarashi spiced almonds, crispy wonton strips, ginger sesame dressing
Dynamite Kataifi shrimp: Kabayaki sauce, bubu arare, green onions
Redfish Steak Oscar: Topped with signature crab dip, duck fat potatoes
Sichuan green beans
Turtle cheesecake ($20 supplement): Pecan streusel, chocolate shavings and caramel sauce
This is available for takeout from Dec. 21 to 31. Order online.
Romano's Macaroni Grill
Takeout: Enjoy the following seasonal specials:
10 ounce ribeye steak served with rosemary lemon butter and garlic mashed potatoes, $35
Take and bake lasagna: Small pan, $50, feeds 4-5 people; large pan, $90, feeds 8-10 people
Macaroni Grill's premium feast for 5, $85: Caesar salad, rosemary bread, choice of pasta and one entree
Call 356-8300 to order or order online.
Ruth's Chris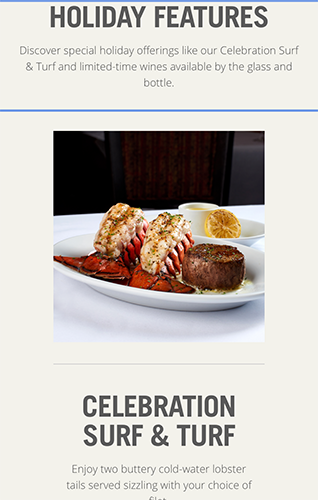 Dine-in: Ruth's Chris Steak House has a holiday celebration surf and turf starting at $54.95. It features a 6-, 8- or 11-ounce filet and two buttery cold-water lobster tails. Make your reservations online.
Stage Restaurant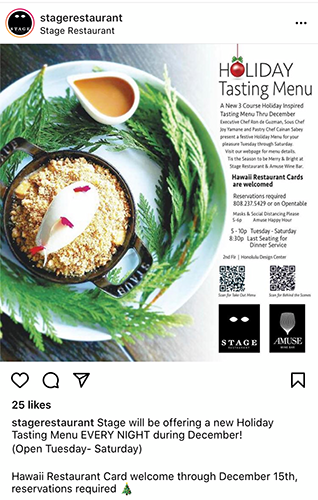 Dine-in: Stage Restaurant's holiday tasting menu ($75 to $90) is available daily:
Sashimi trio: Island ahi, Japanese hamachi, Big Glory Bay King salmon, shaved black truffle, smoked soy, crispy onion, smoked trout roe, lokoea meyer lemon
Surf and turf: Choice of sous vide beef tenderloin ($15 supplement) or red wine braised certified angus beef short rib; paired with Maine lobster tail, pan roasted diver scallop, Hamakua Alii mushroom, asparagus, shiso 'bearnaise' and kabocha puree
Dessert: Valrhona manjari chocolate sticky toffee pudding with cookie butter ice cream, gingerbread crumble and candied pecans
Wine pairings available for an additional $40. Reservations required; reserve online.
Sun Tea Mix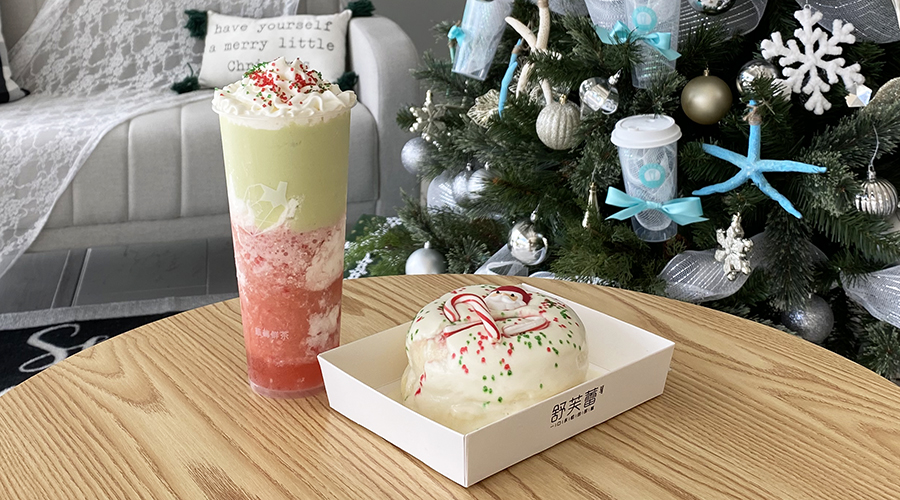 Takeout: Sun Tea Mix is featuring festive souffle pancakes and a Christmas smoothie all month long. The festive souffle pancakes ($10.99) feature a cheese foam souffle pancake, peppermint topping and a Santa decoration.The Christmas smoothie ($7.49) has layers of avocado, strawberry and whipped cream on top.
Tanioka's Seafoods & Catering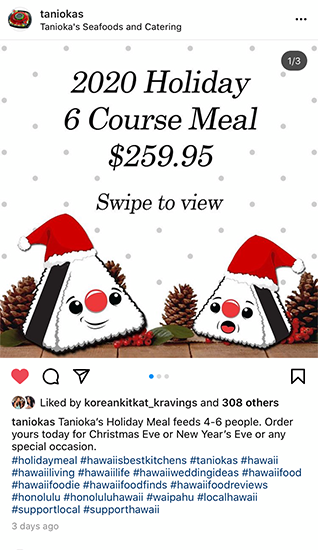 Takeout: Tanioka's holiday meal feeds four to six people ($259.95):
Boneless braised short ribs with red wine reduction sauce (brown gravy) or bacon-wrapped meatloaf with brown gravy
Lemon butter caper hoki, furikake hoki or fried, mochiko or garlic chicken
Nishime or roasted vegetables
Spinach garlic mashed potatoes or steamed white rice
Maki sushi, tossed greens or macaroni salad
Chichidango mochi or sweet potato haupia squares
Spicy ahi on sushi rice, assorted poke, sashimi, shrimp tempura and ahi patties are available as add-ons. Call 671-3779 to pre-order.
Taormina Sicilian Cuisine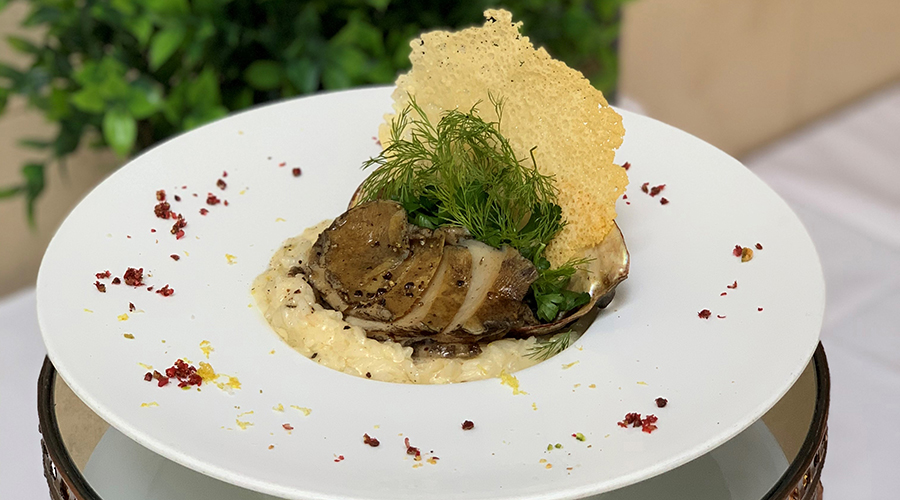 Dine-in and takeout: Taormina Sicilian Cuisine is featuring an a la carte menu called 'Le Festivita' this holiday season. It's available from Dec. 15 to Jan. 15, 2021:
Chef's carpaccio, MP: Seasonal arrangement of fresh local fish
Kona abalone risotto, $42: Butter poached local abalone, pistachio crumble zest served on a bed of classic Parmigiano-Reggiano risotto
Guanciale di manzo, $38: Braised beef cheeks with red wine demi-glaze served with saffron risotto
Creme brulee, $12: Decadent mascarpone creme brulee with passion fruit sorbet and pineapple tuile
Kamaaina can claim their 15% discount during lunch with a valid ID. The half-off truffle carbonara special ends on Dec. 14.
TBD
Dine-in: TBD's New Year's Eve menu has two seatings and costs $165 per person with $75 for the wine pairing:
East Coast seating, 5-5:30 p.m.
Champagne toast with NYC countdown
Osetra caviar with smoked creme fraiche, potato chips
Foie gras torchon with brioche crouton, ananas-ginger confit
Diver scallops with brussels sprouts, winter truffle, sauce a L'Aligote
Fillet of beef with mushroom duxelles, pearl onion and Bordelaise sauce
Lemon tart with marshmallow ice cream, bling
West Coast seating, 7:30-8 p.m.
Champagne toast with California countdown
Seacuterie: Osetra caviar, shrimp, salmon
Maui Onion veloute with Olorosso sherry, smoked paprika
Welsh rarebit with winter truffles, poached egg, prosciutto
Chateaubriand with mushrooms Duxelles, organic carrots and tarragon sauce
Lemon tarte with mushroom ice cream, bling
Call 791-5164 or visit the website to make reservations.
TEX 808 BBQ + BREWS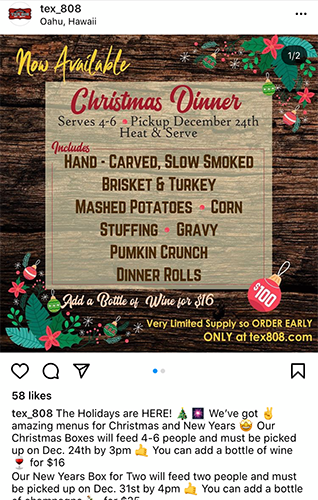 Takeout: Tex 808 BBQ + Brew's New Year's box for two costs $89:
Tomahawk kurobuta pork chops
Shrimp cocktail
Lobster mac and cheese
Smoked brussels sprouts
Strawberry trifle
Dinner rolls
New Year's boxes for two must be picked up by Dec. 31 by 4 p.m. Order online.
The Kahala Hotel & Resort
Dine-in: The Kahala Hotel & Resort has unique holiday buffet menus for brunch and dinner at Plumeria Beach House and Hoku's.
Plumeria Beach House:
New Year's Eve dinner buffet, Dec. 31, 5 to 9 p.m., $105 per adult, $52 for children ages 6 to 12 years, view menu
New Year's Day brunch buffet, Jan. 1, 2021, 10:30 a.m. to 2:30 p.m., $105 per adult, $52 for children ages 6 to 12 years, view menu
New Year's Day dinner buffet, Jan. 1, 2021, 5 to 9 p.m., $105 per adult, $52 for children ages 6 to 12 years, view menu
Hoku's:​
New Year's Eve, $400 per person, additional $80 per person for wine pairing, view menu
Order online.
Thrills Soft Serve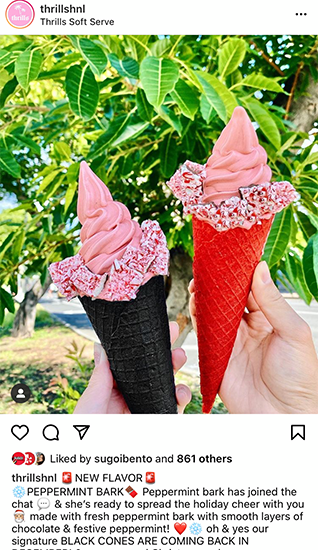 Takeout: Seasonal December flavors include:
Peppermint bark: Made with chocolate and peppermint
Grinch cookie: Chocolate chip cookie dough
Red Santa cones and signature black cones are available through December as well.
Tiny Pyramid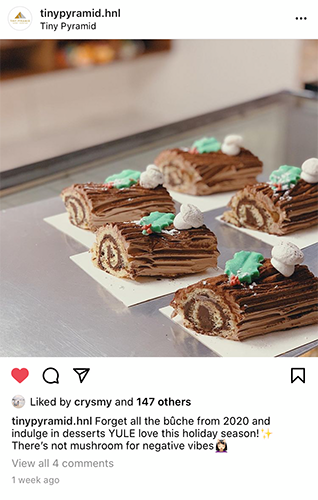 Takeout: Enjoy the following seasonal treats from Tiny Pyramid Honolulu:
Christmas Yule log: Choose from chocolate and chocolate, chocolate and raspberry, chocolate and mocha and chocolate and Nutella
8-inch log: $45
12-inch log: $50
18-inch log: $60
24-inch log: $90
Add white buttercream to the exterior for an additional $10.
Individual sized Nutella buche, $6.50
Marron glace (chestnut), $5.95
Strawberry cheesecake, $5.75
Strawberry shortcake, $5.50
Call 739-0993 to order
Via Gelato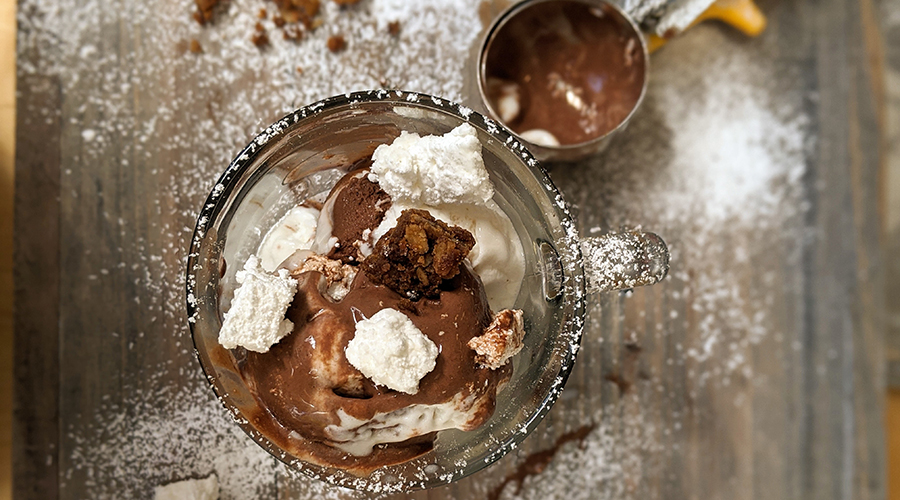 Takeout: The following flavors will be available for all of December:
Santas' Reststop: Hot chocolate gelato with housemade marshmallows marbled with fior di latte gelato and mixed with housemade oatmeal cookies.
Peppermint Flurry: This annual holiday flavor features peppermint gelato, housemade peppermint candy cane glass and dark chocolate stracciatella
Horchata: Rice is ground with cinnamon and soaked overnight in milk to create a gelato that tastes just like the Mexican drink
$1 gingerbread man topping: Top your dessert swith a mini gingerbread man for $1 each. Choose between a mini gingerbread man dusted with raspberry or a mini gingerbread man dusted with raspberry and pistachio
Christmas flights: Includes all three holiday flavors, one free pack of gingerbraed men and one free Via Gelato sticker
Call or text 732-2800 to pre-order Christmas flights or order online.
We Heart Cake Co.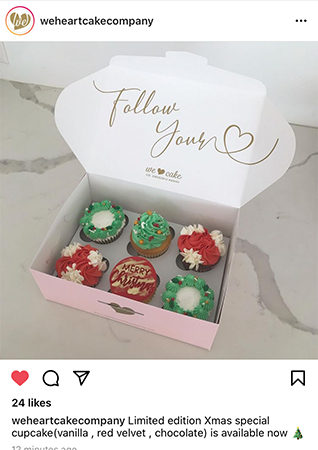 Takeout: Choose from the following seasonal desserts:
Christmas wreath love letter, $58: This love letter cake features 20 mini cupcakes decorated with macarons, meringues and iced cookies
Christmas tree love letter, $48: This love letter cake features 16 mini cupcakes decorated with macarons, meringues and iced cookies
Christmas ice cream parlor set, $40: This set has six iced cookies and meringue cookies in ice cream cones
Christmas cookie A set, $38: This set contains six iced cookies
Christmas cookie B set, $38: This set contains six iced cookies
Christmas message cookie set, $32: Includes a personalized reindeer cookie, tree cookie and a pen
Christmas pops trio, $11.50: Red velvet, vanilla and chocolate cake pops
Christmas honi honi, $5.75 mini, $9.50 large: Mini cookies with colorful meringues in a Christmas package
New Year cookie assortment, $21: This set has four iced cookies
These desserts are available for pickup from 10 a.m. to 3 p.m. Thursday to Saturday. Pre-order online.
Wolfgang's Steakhouse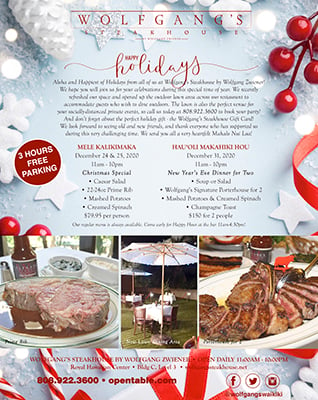 Dine-in: Wolfgang's Steakhouse will also have a New Year's Eve dinner for two on Dec. 31. It costs $150 for two people and includes:
Soup or salad
Wolfgang's signature porterhouse for 2
Mashed potatoes or creamed spinach
Champagne toast
Call 922-3600 for reservations.
Zippy's
Takeout: Enjoy the following New Year's specials:
Sushi platter, $39.50
Deluxe sushi platter, $41.50
Maki sushi roll, $5.95: Uncut, limit 10 rolls
Konbu maki, $14.95 for 6 pack
Namasu, $15.25 for Zip Meal, approximately 2 pounds; $48.95 for barrel, approximately 7 pounds
These specials are available for online ordering until Dec. 28 at 5 p.m.