New: Blue Marlin Tapas and Sushi Bar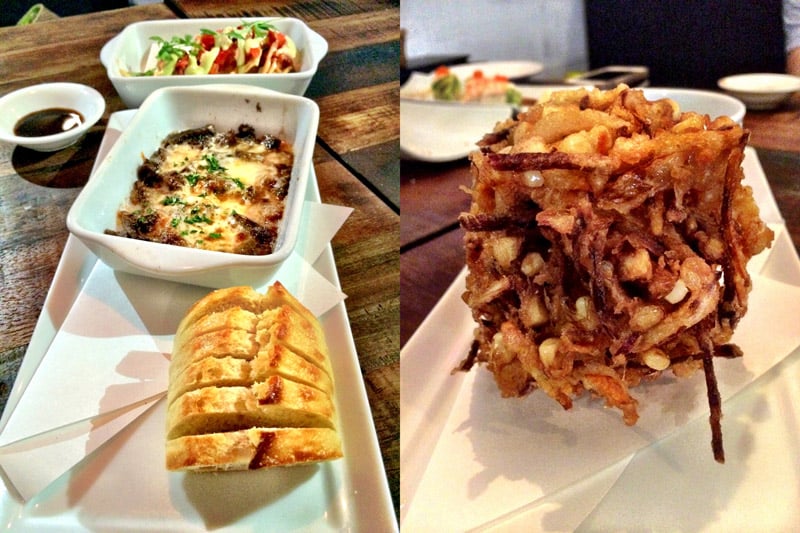 For years, the Matteo's space sat empty. Restaurateurs checked out the interior but couldn't figure out what to do with the dark, cave-like space, walled off to Waikīkī sun. What worked in the era of Matteo's—waiters in tuxes and white tablecloths in dimly-lit dining rooms—has given way to more casual service and open-air, bright spaces.
Enter Blue Marlin, which gave the space a breath of fresh air, literally. Its Japanese owners blew out the lava rock wall to let in the light and set up a dining room lānai perfect for Waikīkī people watching. The restaurant is now all artfully-distressed blonde wood and whitewashed walls, with waiters dressed in chambray shirts (designed by local designer Allison Izu). It's East Coast seafood shack meets Waikīkī luxe. It could hardly be more different than Matteo's.
Blue Marlin is really three eateries in one. There's the casual HI Tide Poke Cafe; the restaurant, which is a proper sit-down sort of place; and sandwiched between the two is the Blue Marlin Tapas and Sushi Bar.
At the bar is where you'll find a menu of cold and hot tapas and draft beers for $5. AND free parking? It's all true.
The tapas are truly small plates. The 'ahi nachos, for example, is a plate of five small tortilla chips, each topped with spicy 'ahi, creamy guacamole and green onions. We're talking five small bites. But they're five really good bites. The braised short rib melt is also an itty bitty portion—a few tablespoons of shredded beef and melted cheese served with tiniest baguette ever—and not nearly as impactful as the nachos, but for five bucks it doesn't feel like a mistake to order it. Skip the sweet potato fries. They're not even worth the $5. Get your fried-food fix from the kakiage tower instead, a big fried tangle of veggie and seafood tempura.
After a few small $5 dishes, it adds up to a pretty decent meal. The $5 pints of Chimay Triple Baileux help.
If you're after a bit of a bigger meal, there's also a full menu of sushi starting at $7.
Blue Marlin Tapas and Sushi Bar, 364 Seaside Ave., free validated parking across the street in the Ross parking lot, 922-5552.