There's a New Natural Wine Bar Inside Mānoa Chocolate
Natural wines pair up with flights of Mānoa Chocolates every Wednesday to Saturday in Kailua.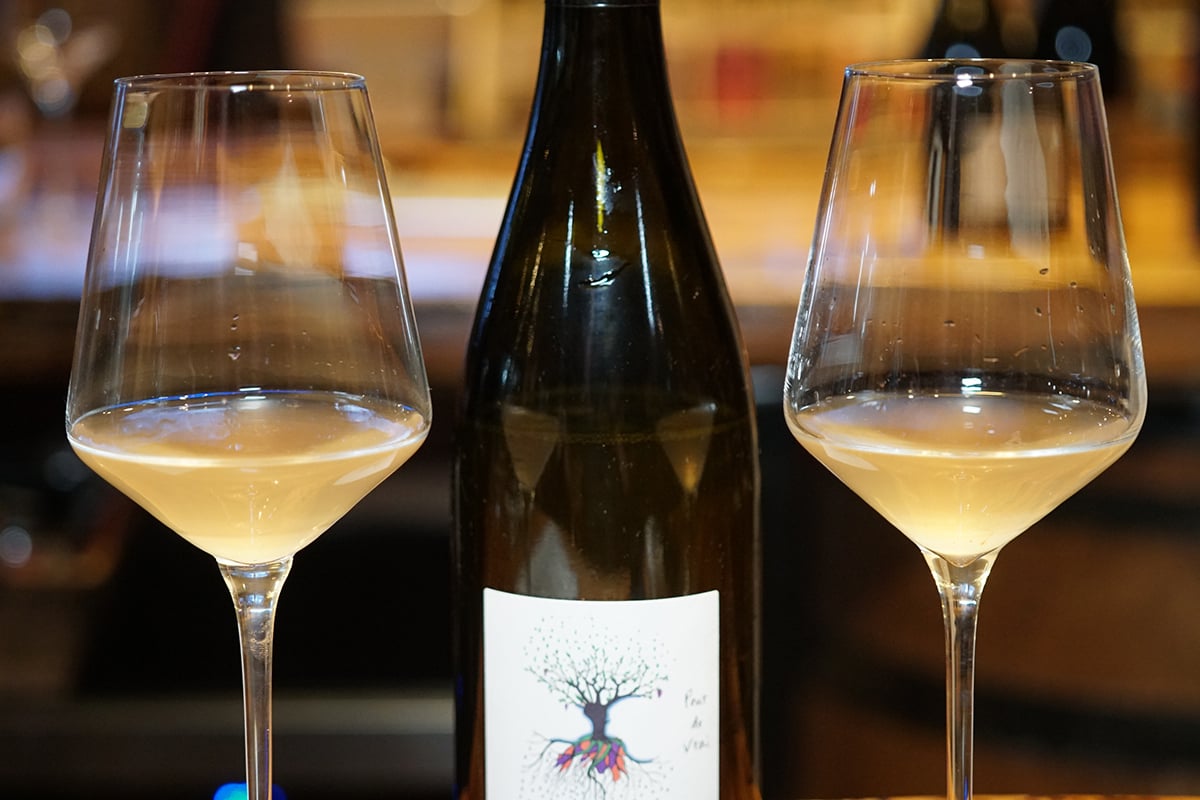 Opening a wine bar at Mānoa Chocolate in Kailua has been a longtime dream of owner and chocolatier Dylan Butterbaugh. A 12-year veteran of Hawaii's farm-to-bar chocolate industry, he started learning about wine six years ago. Like chocolate, wine comes from a fruit and goes through fermentation, and a lot of care, precision and customization go into its crafting. "I wanted to understand wine from the vineyard to the finished bottle, to better understand how genetics and terroir play a role in the end flavor," Butterbaugh says. "This is something well-known in the wine world, but little understood in cacao and chocolate."
In December he opened the Natural Wine Bar in Mānoa Chocolate's factory and tasting room on Uluniu Street, pairing two things that naturally go together. By day, you can drop in for a complimentary chocolate tasting, and after 5 p.m. Wednesday through Saturday, the wine comes out with chocolate pairings. A rotating monthly selection of small-batch, hard-to-find red, white and sparkling wines are on offer, mostly from Europe, at $10 to $18 a glass or $22 for a flight of three 3-ounce pours. The vibe is laid-back, and there are about 20 seats at the bar.
Butterbaugh and his chocolate and wine sommeliers are expert at sharing what goes into a good bar of chocolate or bottle of wine. Some of the wines are exclusive in Hawai'i to the Natural Wine Bar. All are produced without additives through simple or traditional methods, from grapes grown organically. Everything, including the yeast, comes from the vineyard itself. "Natural wines are considered 'living wines' because the yeast is still alive inside the bottles," says wine bar manager John Fujimoto. "In typical wine production, they add sulfites to the bottles to kill off the yeast and keep the flavor consistent. With natural wines, it's not always consistent—they are different even from bottle to bottle."
---
SEE ALSO: New: Kaimukī Storeroom, The Curb's New Wine Shop
---
Come in for a wine tasting, and you'll get a tray of different single-origin chocolates to sample as well. But the pairings aren't exactly traditional, says Fujimoto. "Because everyone has a different palate, we've decided to make it more fun and interactive, where everyone gets to try the different chocolates and wines and determine for themselves which ones pair."
We learn all this over the course of an evening of increasingly fun tastings. Some of our favorites from the sampling of Mānoa Chocolates are its collaboration with local distillery KōHana Rum; the single-origin Mililani 70% dark chocolate, which is super smooth with a fruity touch of banana; and the Ali'i Kula Lavender 60% dark milk chocolate bar, heady with the flavor of from fresh lavender blossoms from Maui. Just like wine, the flavors of single-origin chocolates are unique, a big factor being where the cacao comes from.
Wine, a much older industry, is already well-known for its provincial differentiations. Each small, regional vineyard has a backstory and a personality imparted to the wine that the sommeliers will tell you as they pour. Our favorites were the floral red 2021 Foradori "Lezer" Vigneti delle Dolomiti ($12), the earthy 2016 Domaine Olga Raffault Chinon "Les Picasses ($14), and the NV Quinta do Infantado Tawny Porto.
---
SEE ALSO: Mānoa Monthly's Chocolate Subscription Has Us Drooling Over Exclusive Seasonal Flavors
---
There are a few beers and one cider on the menu as well. While there is no food yet, the owners plan to bring in food trucks, which will park and serve just outside.
We cap off the evening with a signature treat that we highly recommend: the aforementioned port wine ($10) served in a molded chocolate glass that you eat, after finishing the wine.
Natural Wine Bar open Wednesday through Saturday from 5 to 9 p.m., 333 Uluniu St. Suite 203, @manoachocolate