My Top 5 Favorite Restaurants on O'ahu Right Now
A snapshot of where HONOLULU Magazine's Martha Cheng has been eating lately.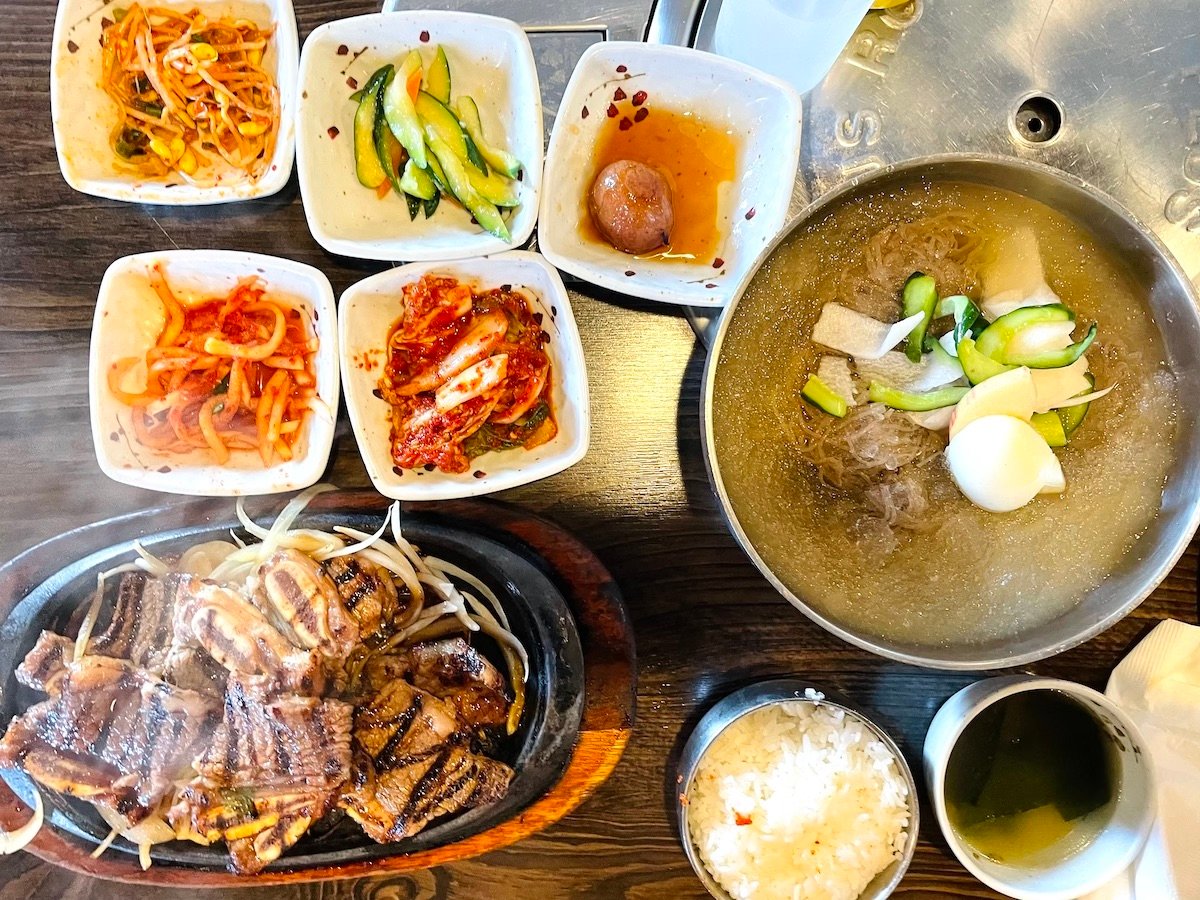 Yakiniku Seoul
Recently, I ate at Yakiniku Seoul four times in two weeks—for lunch, I alternated between the icy naengmyeon and the sizzling kalbi. And then once, unable to decide, I ordered both, prompting the waitress to ask, "Just you?" With both dishes in front of me, it was like being in one of those spas with a sauna and cold plunge. In other words, invigorating. And then I went for grill-your-own Korean barbecue for dinner. What sets Yakiniku Seoul apart is the plentifulness of its banchan and quality of meats, and I always appreciate the efficient service.
1521 S. King St., (808) 944-0110
SEE ALSO: Comfort Food for the Soul: My Top 6 Restaurant Picks on O'ahu Right Now
Asian Mix
This is my favorite place for roast duck noodle soup, which means I end up at this takeaway and Chinese roast meat counter hidden below a Safeway a lot. If I don't get the noodle soup (rare), I'll get the Singapore noodles, stir-fried thin rice vermicelli strands tinged with curry powder, but I'll still get at least a half-order of duck. Asian Mix is almost always busy, so I call in my order before I go.
1234 S. Beretania St., (808) 521-1688, hiasianmix.com

Brick Fire Tavern
Since COVID, it's been hard to find a neighborhood restaurant you can just drop into. But I'm usually able to score a last-minute reservation at Brick Fire Tavern or grab a seat at the bar. I come for the solid Neapolitan-style pizzas, my go-tos being the margherita and prosciutto, paired with one of the most underrated cocktail menus in town. My current favorite: We Salute You!, Brick Fire's take on a gin martini, with Italicus, a bergamot-infused liqueur, and basil, which lends an anise-y finish.
3447 Wai'alae Ave., (808) 379-2430, brickfiretavern.com
SEE ALSO: My Top 5: Favorite Places to Eat and Drink on O'ahu Right Now
Tori Ton
I came here for the first time recently, and I'm already thinking about when I can go back. I love all the yakitori options, including chicken heart valve (like heart, but a little more cartilage), chicken skin, and pork wrapped around mochi and cheese. To finish, any one of the kamameshi options, and to wash it all down, a house-made ginger high ball, with bits of fresh ginger.
2334 S. King St., Suite B, (808) 260-1478, toritonhawaii.com
I-naba
I have a few standbys at I-naba—variations on an uni and ikura theme, like the Hana Soba, and the uni, ikura and hotate bowl with a side of soba—but lately, I've been trying new things, like Inaba's always impeccably fried tempura, in the form of burdock strips or shiso and seaweed wrapped cream cheese. And then there's the seasonal firefly squid, barely bigger than my thumb.
1610 S King St. # A, (808) 953-2070, inabahonolulu.com
And RIP for Mandalay, which less than a year in its Kaimukī location, abruptly closed in March. The owners are looking for a new location, and I hope it happens soon. Before it closed, I was going weekly for the best char siu on the island and luxe Chinese dishes like lobster e-mein and oysters still in their shells cooked with shoyu, ginger and scallion. So I'm putting this out there in the hopes of manifesting Mandalay's re-opening soon.