My New Favorite Soba Spot is an Underground Izakaya in Mō'ili'ili
Shingen Soba Izakaya's fresh moringa soba and ube udon are at the heart of a noodle-centric menu.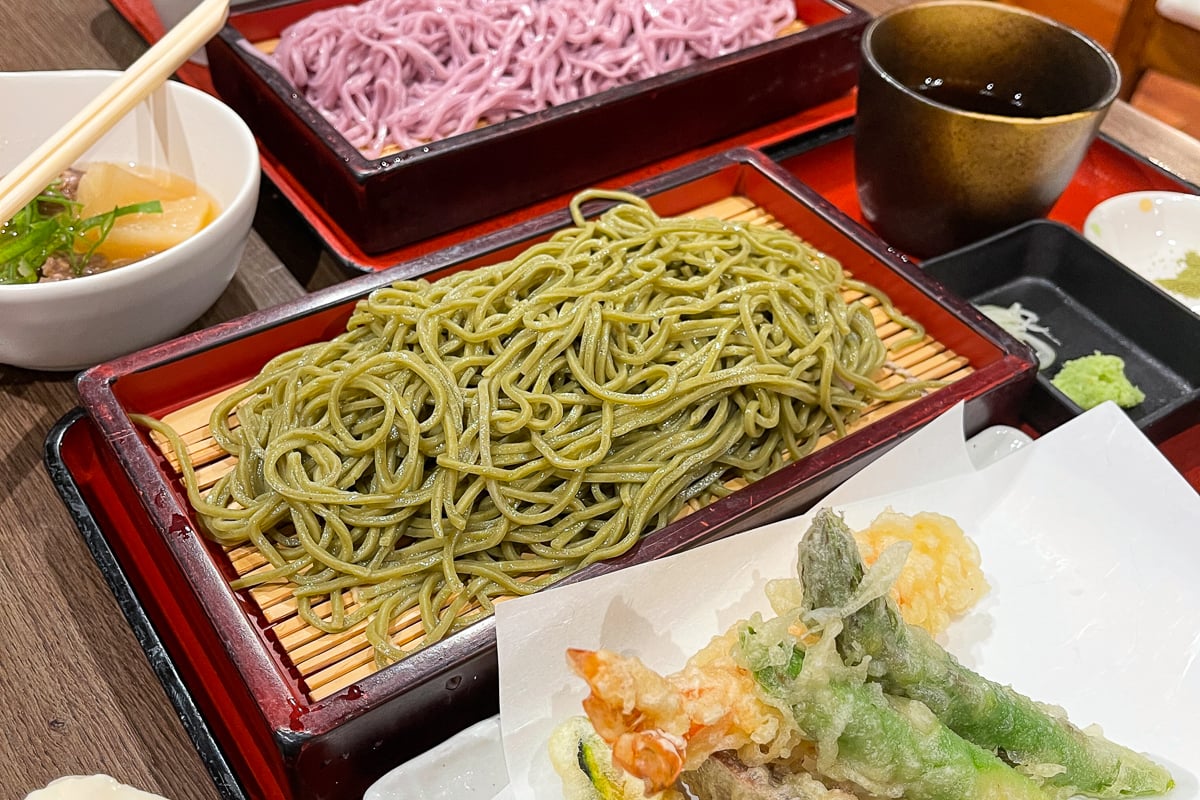 There's nothing like a wrench in plans to make you think differently (and desperately) when you're ravenous for ten-seiro, crispy tempura with a side of cold soba noodles and dipping sauce. A creature of habit, I always head to I-naba for this simple Japanese comfort. But this time, the craving strikes on a Wednesday, when I-naba is closed. Ugh!
SEE ALSO: Comfort Food for the Soul: My Top 6 Restaurant Picks on O'ahu Right Now
Frustrated, I remember that Shingen Soba Izakaya relocated from Waikīkī's Beach Walk to Mō'ili'ili, across from Old Stadium Park. I know of Shingen from an episode of Terrace House Aloha State but have never been. So I readjust my expectations for I-naba's tried and true ten-seiro, reserve a table at Shingen and head over.
Located behind Tori Ton yakitori restaurant, Shingen operates inside the Heart Moon karaoke lounge. The vibe is a little more discotheque than the machiya traditional architectural style you would expect of a soba shop. Think color-changing LED ceiling panels mixed with angel wing murals and you catch my drift. We are one of three parties eating dinner at 6 p.m., and the only folks not conversing in Japanese. The quirk meter rises.
Shingen's menu is exhaustive, with everything from otsumami drinking snacks to grilled kalbi, karaage and sushi. It's obvious the focus is soba—the menu lists 24 ways to enjoy it. I order the prominently featured Aloha Special ($27.80) which includes tofu salad with sesame dressing, stewed beef and daikon, shrimp and veggie tempura and a choice of hot or cold soba noodles. I upgrade to the moringa-infused green soba for $1 more while my dining partner gets the ube-infused purple udon. Did someone say Barney the Dinosaur?
SEE ALSO: Budget on a Stick: Tori Ton
Soba is relatively simple to prepare, so even store-bought noodles with a chilled tsuyu dipping sauce can cure my craving at home. But when they are made exceptionally well, I can't get enough of them. The texture of Shingen's noodles is so satisfyingly chewy and the tsuyu is fortified with umami and depth from a konbu and bonito dashi. The tempura is an afterthought by comparison, but it gets the job done; it comes with moringa-infused salt for dipping. I finish my tray of noodles and immediately order a second round, this time of the ube udon ($8). It has the same qualities as the soba but with a lavender hue and a hint of sweetness from the yam.
Normally udon is much thicker and rounder than soba, but at Shingen, they are virtually the same shape and size. The major difference, other than color and additives, is that soba is made using buckwheat flour while udon is made with wheat flour. Shingen imports buckwheat from Hokkaido and mills it onsite, taking it a step or two beyond most other shops in Hawai'i and making me swoon.
This has been a fateful Wednesday. The next time I'm craving soba, you'll find me in this LED-lit underground izakaya slinging back trays of my new favorite soba noodles.
Open daily from 11:30 a.m. to 2 p.m. and 5 to 8:30 p.m., 2334 S. King St., (808) 926-0255, shingenhawaii.com, @shingen.heartmoon