Budget on a stick: Tori Ton
The new year brings to Honolulu two new yakitori hotspots – one budget and one luxe.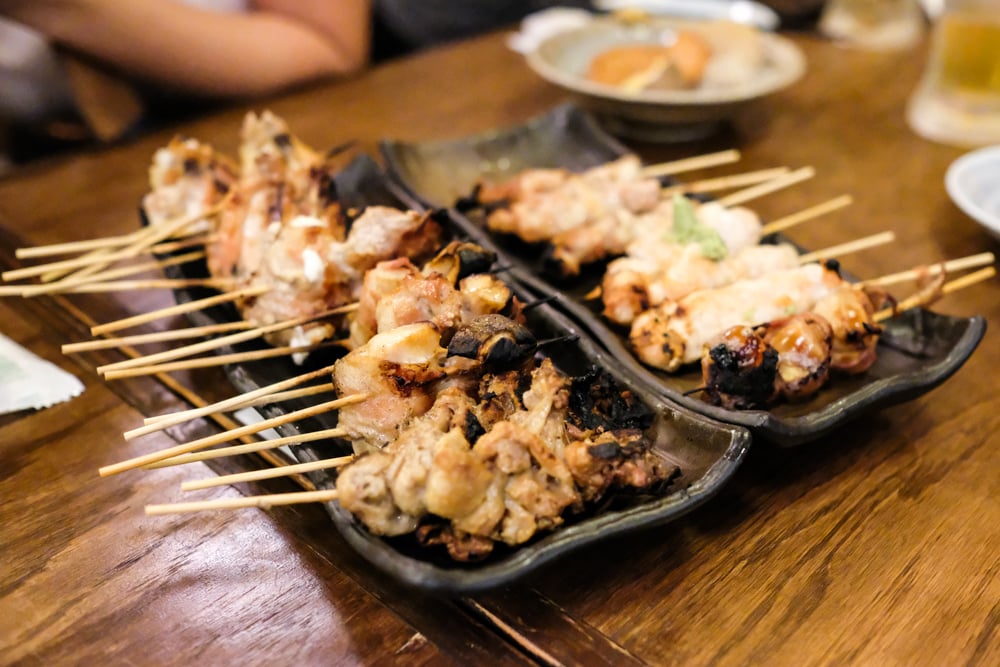 When Japanese chain Yakitori Glad shuttered its doors on Kapahulu in December, sad were its loyal patrons, myself included, who flocked there for the $3.90 grilled chicken skewer plates and izakaya dishes. Well, just like a hydra who grows two heads when one is cut off, the new year brings to Honolulu two new yakitori hotspots – one budget and one luxe.
For months there was speculation about what was coming to the former Korean take-out spot in Old Stadium Mall. Until one day, the lights were on and the sign read Tori Ton. "Bird" and "pig" … I can dig it!
I tried to walk in on a Friday night at 6 and was told to make a reservation even though there were only a few customers. The trick being that Tori Ton doesn't have a phone number or a phone for that matter. You must make a reservation by visiting the restaurant in person. So desu ne!
Tori Ton's selection is exhaustive: Nearly every part of the chicken is on a skewer for just a cluck-ninety ($1.90). Hatsu (heart), bonjiri (tail), momo (thigh) are represented; so are sunagimo (gizzard) and yotsumi (breast). The remaining menu is an additional 11 pages including drinks.
I normally avoid ordering yakitori with bones (more meat, please) but the tebasaki may have just changed my preference. They have a nice char and a fresh-off-the-charcoal-grill taste. Meat-wise, it's skinny but will help pace your meal as you spend some time on them. I also found the bonjiji to be totemo oishii or very delicious, like little juicy oysters of chicken, cooked perfectly and were enhanced with a squeeze of lemon.
One skewer I can't recommend is kawa or skin. This is not the crispy-crackly, almost-fried chicken skin I've come to expect from the likes of Kohnotori and Glad. It's bunched up like extra fabric and grilled so that only half of it gets char, while the rest remains chewy. Cooked, but chewy – not my favorite texture for skin.
One of my favorite parts of the menu is the butamaki-kushi or bacon-wrapped skewers. This is where the "ton" comes into play. I liked the bacon-wrapped enoki and quail eggs, standard fare nowadays, but what caught my eye was the large premium rice ball wrapped in bacon and basted with housemade tare sauce. It's served alongside an egg yolk you're supposed to beat and then dip into. For $3.50, this glorious bacon rice ball on a stick is incredible – heck, at any price it'd be great.
The menu goes deeper than just skewers. There's oden, otsumami (side dishes), fried food and even rice dishes for sharing like the chicken kamameshi, which can feed two or three. I've always been a fan of chicken namban (fried chicken with tartar sauce), and I may have found my new favorite. Moist pieces of fried chicken are smothered in a creamy complex tartar sauce made with bits of boiled egg, chives and a good kick of dijon mustard.
There's a healthy selection of alcohol and cocktails: Draft beer from Suntory runs $5.90 and bottles of domestic beer are $3.90. Whisky and shochu highballs range from $5 to $6.50 while wine runs $4.80 a glass. Oddly enough, you can even pop a bottle of Moet Chandon bubbly for $95. There's a separate sake menu that's worth a look.
Remember what I said about the exhaustive menu? Well, what may be one of Tori Ton's strengths may also be one of its weaknesses (for now at least). Understanding that it's new to the Hawaii market, they're still trying to figure out what customers favor. The results are fewer skewers to go around and diners who get turned away at 8 p.m. on a weekday. Service is spotty, but we learned quickly to "sumimasen" anyone passing by to check on our items or put in a new order.
I'm hoping that Tori Ton can tori turn itself around to handle Honolulu's appetite for grilled skewers. The experience and price are the closest to Yakitori Glad you'll get. Arrive early, order plenty and hope for the best!
Tori Ton
2334 S. King St.
Moiliili
Hungry for more chicken? Here's Luxe on a Stick: Yakitori Hachibei Chinatown.