Mrs. Tanaka's sweet potato haupia squares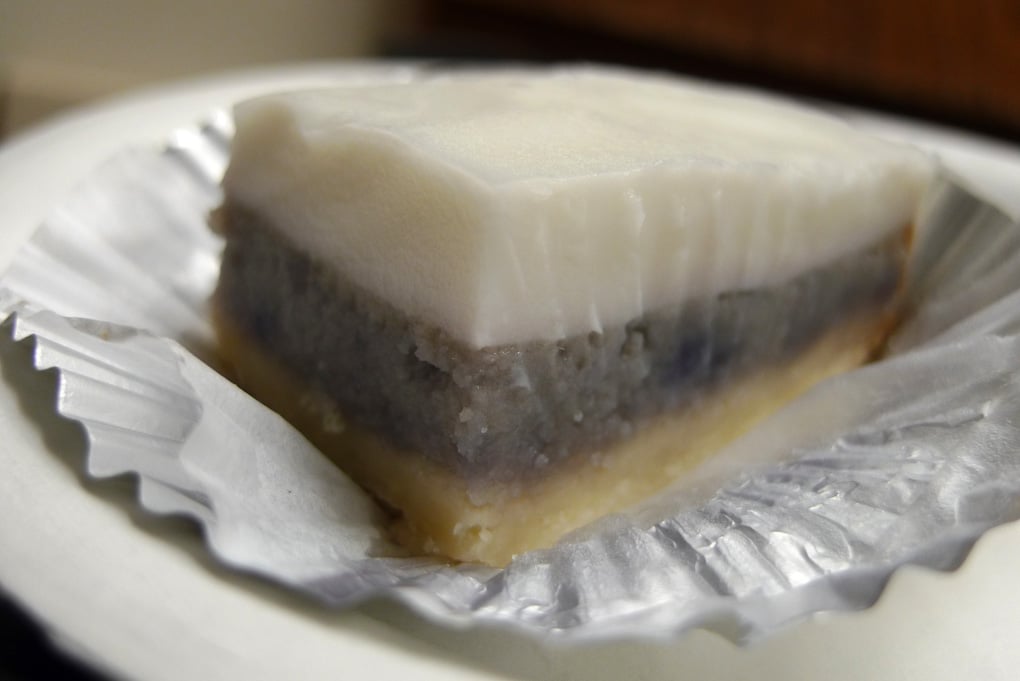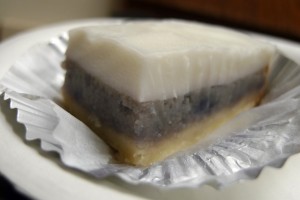 The other night at the Red Cross, I took a photo of these sweet potato haupia squares before I ate them, and it caused such a stir! It tasted even better than it looks, with sweet and rich goodness dissolving in my mouth in every bite. People were demanding to know the recipe.
Well, you're in luck. The woman who made the dessert, Mrs. Tanaka, agreed to share the recipe that she uses. Oh, and if you need a taste tester to let you know if you did it right or not, let me know!
Crust:
Combine 1-1/2 C flour with 4 T sugar
Cut in 1-1/2 block butter
Press in 9×13 pan
Bake 325 degrees for 20-25 minutes
Filling:
Mix 8 T butter with 1 C sugar
Add 2 beaten eggs
Gradually mix in 2 C cooked and mashed sweet potato (purple)
Add ½ c evaporated milk
1 t vanilla
¼ t salt
Mix well. Pour onto crust. Bake 350 degrees for 30-35 minutes. Cool.
Haupia topping:
Combine ½ c sugar and ½ c cornstarch
Stir in 1-1/2 c water
Pour 2 frozen (12oz) Hawaiian Sun coconut milk (thawed) into nonstick pot
Add sugar mixture into pot. Stir over low heat constantly using plastic spoon until thickens. Cool slightly. Pour over pie filling. Refrigerate till firm. Cut into squares and serve.
Warning: this dessert is addicting. Most people had at least two pieces each, that night.