Mongolian-Inspired Barbecue Skewers Stake a Claim in Mō'ili'ili
Khan Skewer Restaurant takes over the Saint Louis Alumni Clubhouse with juicy grilled lamb, pork and seafood on sticks.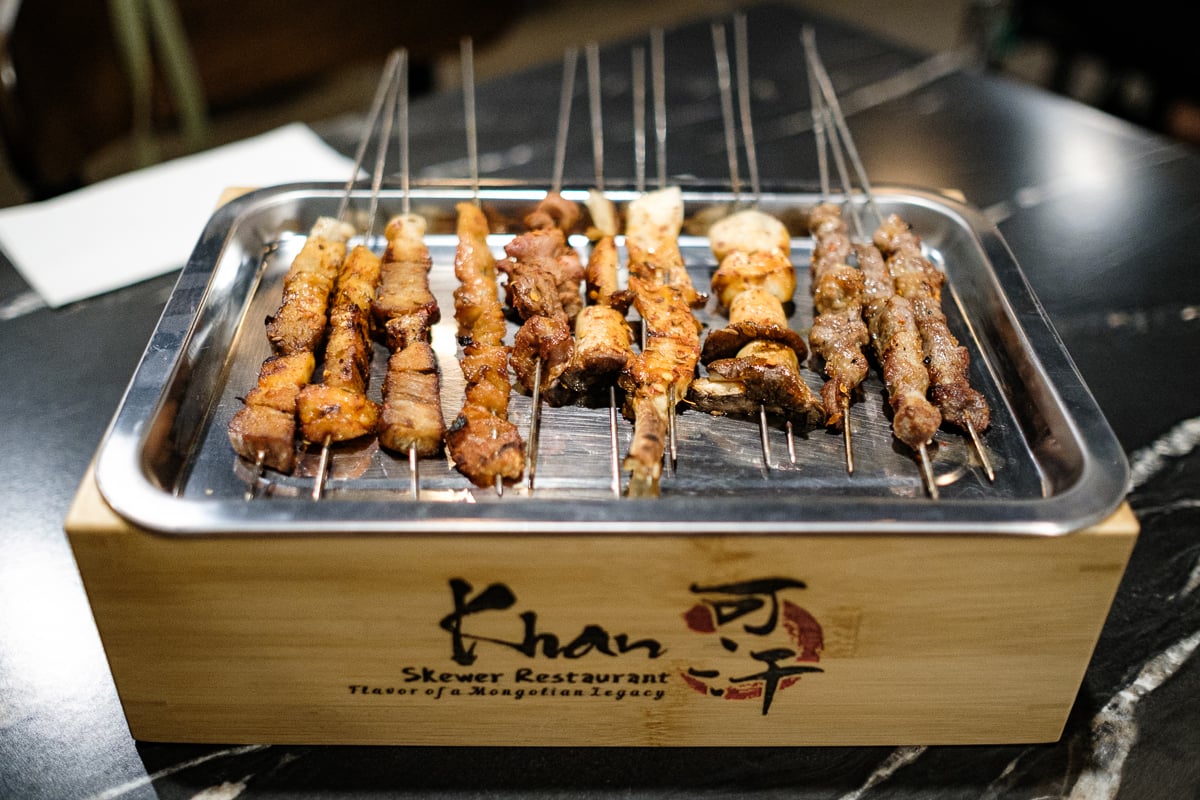 This may be the Year of the Ox, but I think you'd be more accurate to note that in Honolulu at least, 2021 has been the year of northern Chinese cuisine. In a town that's well-versed in Cantonese food, we now have Youpo's spicy hand-pulled noodles at farmers markets, SXY Szechuan's mouth-tingling dishes at Ala Moana Center, Simply Sichuan at Chinese Cultural Plaza, and three Xinjiang-style barbecue restaurants. The latest among these is Khan Skewer Restaurant, which opened Dec. 11 in the Saint Louis Alumni Clubhouse on Isenberg Street.
The menu boasts much of the same items you can find at the other barbecue eateries including beef tendon, pork jowl, lamb, oyster mushrooms and seafood, all on metal skewers. Order them in bundles of three or five (the majority are $7 and $11 a bundle). At Khan, the skewers land on a steel tray that sits on a wooden box warmed by tealight candles. I'll be honest, though, the tealights don't do a great job of warming. A can or two of Sterno would be better. But if you eat fast, it shouldn't matter because these skewers are meant to be eaten in rounds so they're not sitting for long.
The morsels at Khan seem fractionally larger than ones we've had elsewhere, especially on the sticks of tender cumin-spiced lamb, which are a favorite and repeat order. The pork jowl drips with rendered fat yet maintains a nice bite that keeps you interested. The pork belly is marinated in a sweeter char siu-style sauce that gives it an extra Chinese punch, but my friend and I preferred the pork-wrapped enoki mushrooms with their crispy charred edges and juicy centers.
SEE ALSO: Honolulu Skewer House's New Locale Has a New Twist: DIY Tabletop Grilling
There are two dips that offer different takes on heat. The saucier dip is a blend of apples, pineapple and chile, making for a sweet-acidic hit with a mild, lingering spice. The dry spice seasoning is the Xinjiang-style blend with cloves, cumin, fennel and Sichuan peppercorns. Both are dished up by the staff; there are no shakers or bottles that let you season with abandon. Probably a wise move, but we heat fiends will need to ask for extra servings.
The cilantro wrapped in tofu skins ($6 per order) look like stuffed rigatoni pasta, especially because they're painted with a red chile sauce that carries unmistakable palate-cleansing notes. They're perfect between bites of fatty grilled meat. The grilled eggplant ($9) is splayed down the middle, so it's difficult to split into bites. But the reward of punchy garlic and chiles is worth the effort.
SEE ALSO: SXY Szechuan: Spicy Is the New Sexy
Brian Hee, Khan's owner, dropped off a skewer of mantou buns with condensed milk to end the night on a mildly sweet note. The current menu is about 70% of what he plans to roll out, with plans to add more sticks and dishes as business picks up. My hope is for more Mongolian specialties like buuz dumplings and tsuivan noodle stew to help round out the starchy offerings and fill you up. Beer, wine and spirits are also planned for after Khan gets it liquor license, but until then it's BYOB.
Open from 5 to 10 p.m. daily, 925 Isenberg St., (808) 955-8868, @khanskewer