Midnight Dining Hall Brings Skewers and Yurts to Sheridan Street
Follow the scent of grilled meats to the old Meadow Gold parking lot.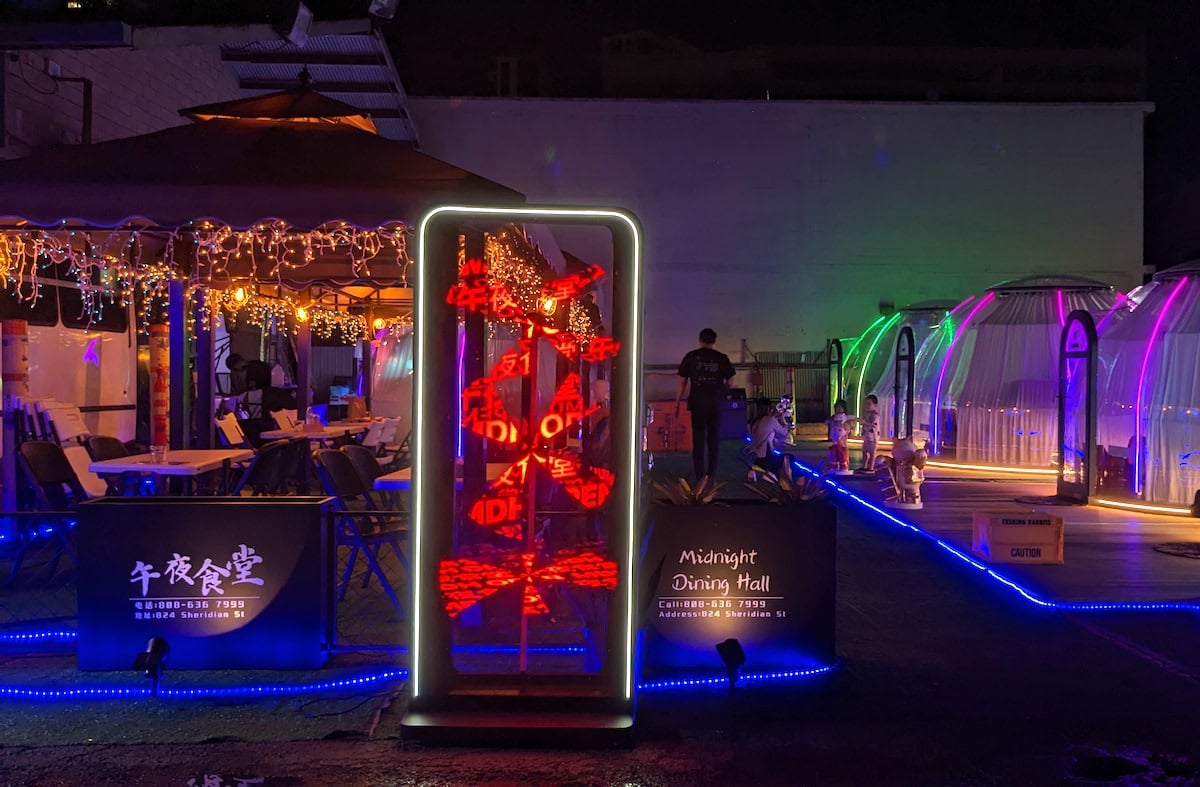 You may wonder if you're in the right place, but once you see the purple and blue neon lights, you'll know that you've arrived. Nestled in a dark corner of the city, Midnight Dining Hall is a newish late-night spot in the old Meadow Gold parking lot at Sheridan and Elm streets. On offer are Northeastern Chinese food and spicy skewers grilled to order. But there's more.
You'll first notice the distinctive private tents, or yurts, a nod to Mongolia that's becoming a trend in outdoor dining on the Mainland. Unlike the real deal in Mongolia, which are made of wool felt, these yurts are clear plastic structures decorated with neon lights and equipped with air conditioning. The first two are free for parties of six or more, while the remaining four can be rented for $79 an hour. Inside the rental yurts are couches and karaoke machines to keep you entertained while you enjoy your skewers. For non-singers, there's an outdoor dining area with folding tables and chairs set up under the stars.
Chef and owner Luis Liu uses recipes from his family's 22-year-old hawker-style restaurant in Jilin, China. Liu says he imports many of his seasonings weekly, including spice- and herb-infused salt from his family's restaurant, cumin from Xinjiang, chile powder from Sichuan and the powder of assorted dried nuts from Hainan or Yunan. These season a menu of standard items like skewers of beef, chicken, pork belly, sausage and shrimp. But look closer and you'll find items that are less standard, at least locally: grilled cold noodles, stinky tofu, beef trachea and—well, have a look for yourself.
We start with the Spicy Beef appetizer ($14.99). The beef is boiled and sliced into bite-size pieces, served cold with a spicy kick that creeps up on you. The green onion and sesame garnish add a nice touch to this dish.
---
SEE ALSO: Mongolian-Inspired Barbecue Skewers Stake a Claim in Mō'ili'ili
---
For our second appetizer, we order enoki mushrooms ($9.99). These mushrooms are served hot and drenched in garlicky butter in their foil pan, reminiscent of a shrimp scampi sauce. Their earthy flavor pairs perfectly with the sauce, and the dish is garnished with sesame and cilantro.
The skewers are the main event and are grilled over charcoal with generous seasoning. We order beef and lamb skewers, both $1.99 apiece. Fresh and hot from the grill, the meats have a hint of smokiness and are seasoned with cumin, paprika, sesame and other spices. The perfect amount of fat keeps them juicy and flavorful. The only thing missing is a cold beer, but Midnight Dining Hall is BYOB.
Last but not least, we try the duck blood ($16.99). This dish features strips of gelatin blood seasoned with cumin and sesame and cooked with rice noodles and enoki mushrooms. The texture is smooth and springy, and the dish has a light flavor and is surprisingly tasty. If I didn't know beforehand, I would never guess that it was made from duck blood.
---
SEE ALSO: Honolulu Skewer House's New Locale Has a New Twist: DIY Tabletop Grilling
---
A unique dining experience that's a mix of traditional and modern can be found at Midnight Dining Hall. The yurts, the skewers and the atmosphere all contribute to an unforgettable experience. Bring your friends, and don't forget to BYOB.
Open Sunday to Thursday from 5 p.m. to midnight, Friday and Saturday from 5 p.m. to 2 a.m., 824 Sheridan St., (808) 636-7999