Manoa Honey Co. is making light, ultra-local meads
Low-alcohol mead in flavors like lilikoi, pineapple and Hawaiian punch? Gimme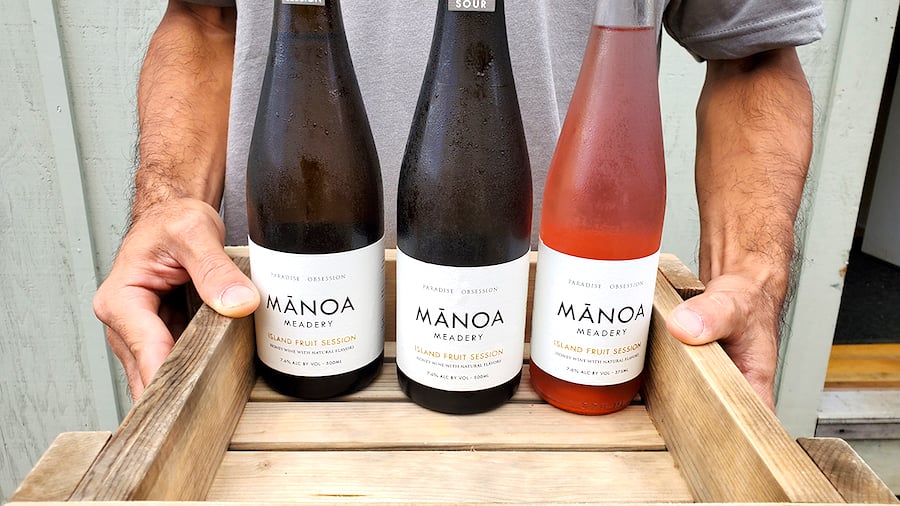 Mead makes people think of a heavy, sweet medieval drink, Yuki Uzuhashi says, but that's not at all what he envisioned when he decided to make the alcoholic beverage. The creator of Mānoa Honey Co. wanted a lighter, refreshing drink with local flavors. After years of experimenting and learning—he took a course from UC Davis' viticulture and enology department—Mānoa Honey debuted its mead.
The timing couldn't have been better. With the pandemic shuttering his three main markets—restaurants, tourism and farmers markets—Uzuhashi was considering taking a break from harvesting honey as the number of unpurchased jars grew (good thing honey never spoils). But once the federal government approved his labels—the mead had been ready to go since February—Mānoa announced its three flavors for sale in April.
Mead is made by fermenting honey, similar to how wine comes from fermented grapes. Uzuhashi adds locally grown fruits, resulting in a liliko'i session mead, pineapple sour and Java plum rosé (note: The rose is sold out, but there's now a Hawaiian fruit punch mead). Each is 7.6% alcohol by volume—stronger than most beer but weaker than most wine—and sparkling, with delicate small bubbles.
See also: Local Honey is Having a Moment: What You Should Know About This Sweet Comeback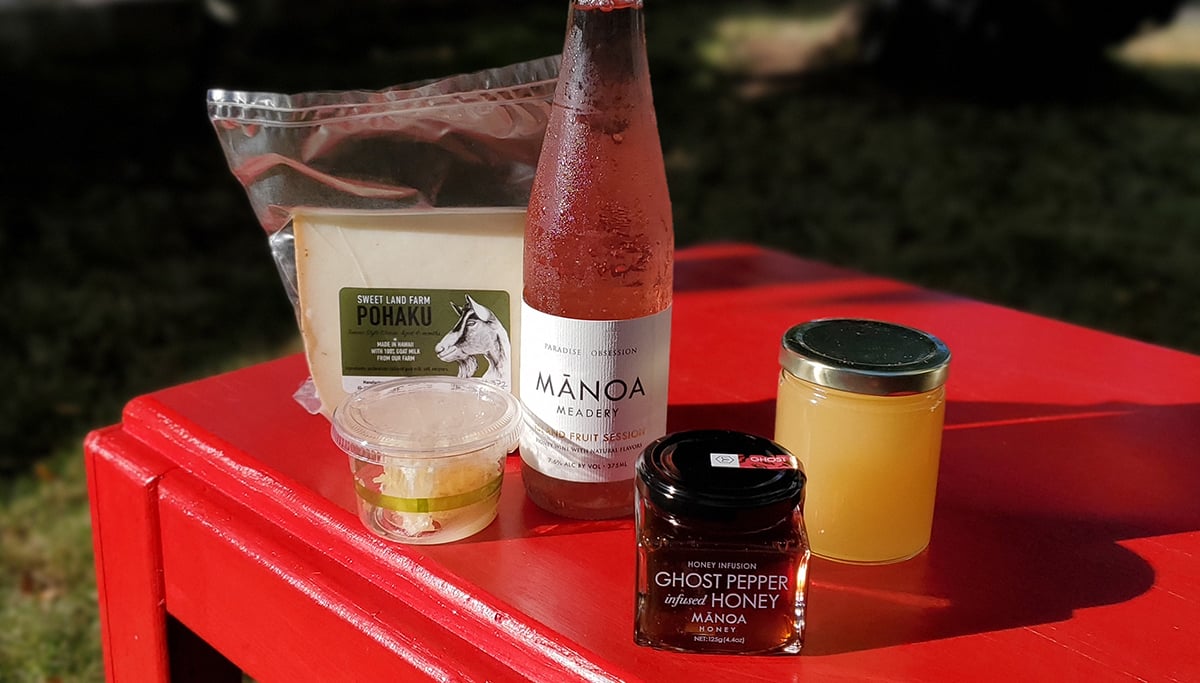 After a few sips of each, I can't pick a favorite. The liliko'i session, with fruit from Kona, is perfect for summertime. The subtle liliko'i flavor isn't as sweet as I was expecting; it drinks like a light beer without any bitterness. The pineapple utilizes fruit from Dole and tastes similar to pineapple wine, with a little more sweetness and acidity than the liliko'i but not nearly as saccharine as fruity wine can be. Each bottle costs $25.
By the time I leave, I'm carrying two bottles of mead, some cheese, two kinds of honey and a small cube of honeycomb. "What I always say about the honey, you see the trees blooming in daily life. Those are the liquid, that's what you're tasting. The alcohol is from flowers that you're living in. The flowers you're looking at, that's your buzz," Uzuhashi says. "It really resonates, what we do from where we're living. That's what I think is the most beautiful part. If I can deliver that, it's beautiful."
See also: There's a cidery and tasting room in Kalihi
930 Palm Place, Wahiawā, (808) 927-0501, manoahoney.com. You can also find Mānoa Honey Co. mead at Village Bottle Shop in Kaka'ako and Hale'iwa Bottle Shop.