Malu pairs quirky kimbap, kawaii dessert in one shop
Taiyaki soft serve, shave ice and Korean sushi rolls with an automatic pink filter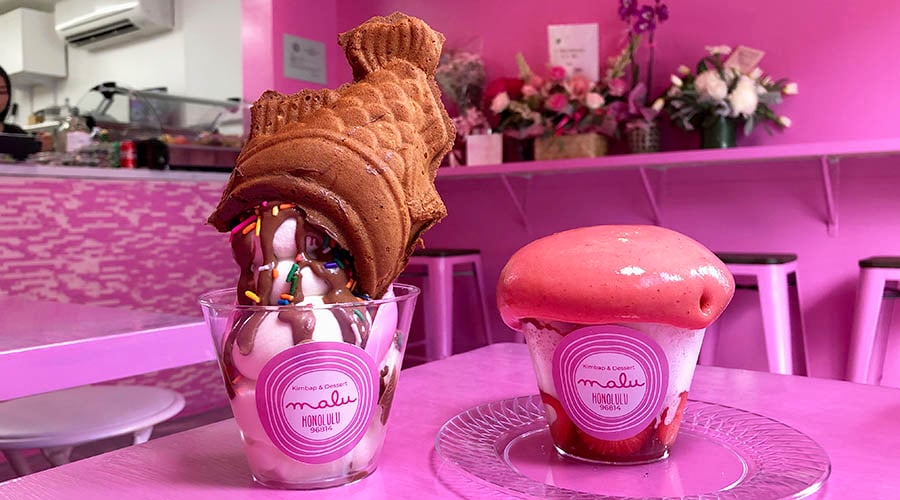 It feels like Frolic associate editor Thomas Obungen and I were just at Samsung Plaza to check out Gimme Chills. It's almost a year later and a new dessert cafe has opened in its place: Malu Kimbap & Dessert. Thomas found it on Instagram and messaged me, "Look, it's all of our favorite things in one place! Soft serve, shave ice, kimbap and coffee." The cafe also offers sweet and savory taiyaki, fresh dorayaki sandwiches, cakes and jelly drinks with a heavy dose of pink and kawaii.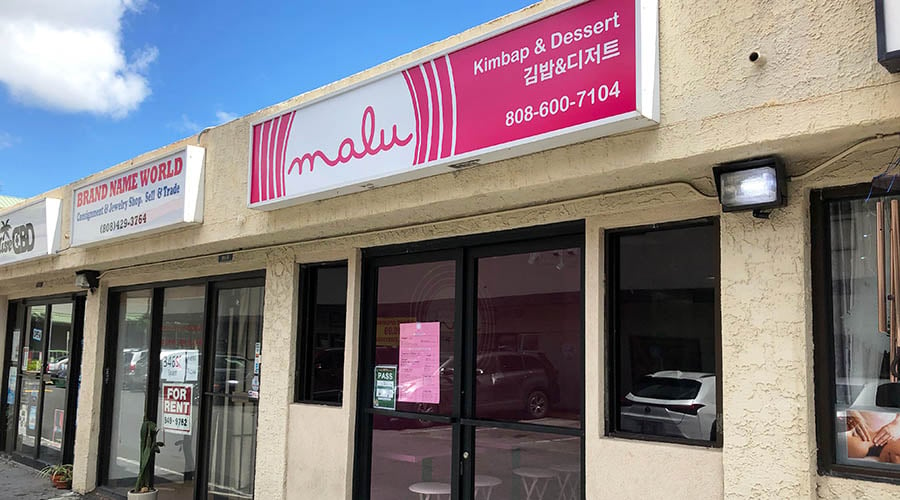 We get a variety of items to try: Beef and tuna mayo kimbap rolls ($5.50 each), strawberry shave ice ($6.50), vanilla soft serve with taiyaki ($6.50) and an iced coffee ($3.50). Kimbap are Korean sushi rolls ideal for snacking or a meal on the go. They might seem a bit out of place in the context of a dessert cafe but with the amount of quirk Malu pumps out, they fit right in.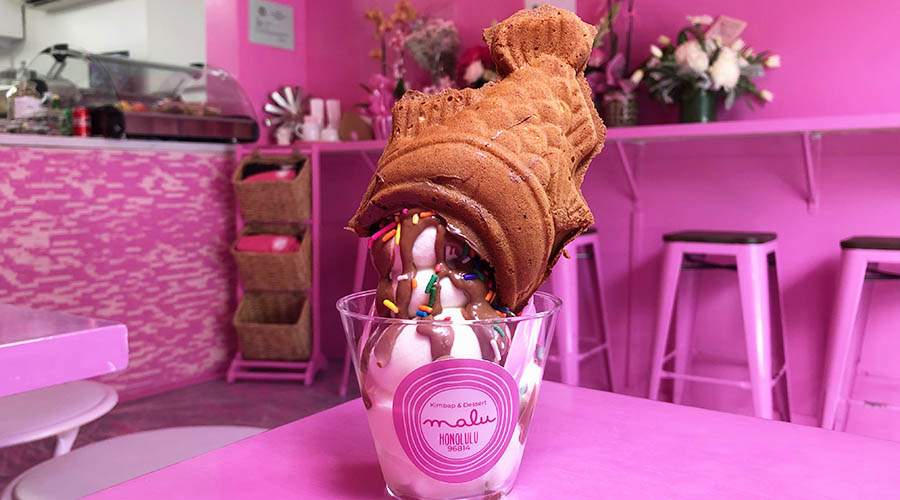 Since SomiSomi opened last fall, I'm always on the lookout for soft-serve ice cream swirled into taiyaki fish cones. Malu offers three flavors including vanilla, a monthly rotating flavor (September's is pineapple), and a swirl of the two. The taiyaki cup also comes with your choice of chocolate, caramel or strawberry sauce topping. If you want the soft-serve without a taiyaki, it's $1 less or $5.50.
The taiyaki fish crowns the generous portion of ice cream in a cup instead of being used as the cone. It's still a bit messy to eat, but at least it doesn't drip down my arm. The soft serve here is icier than I anticipate, however, I can take my time eating because it does not melt as fast.
Malu's taiyaki is noticeably thicker than others. Crispy on the outside and darker in color, its spongy interior is coated with more chocolate sauce. It's really enjoyed best when you break off a piece of the cone and spoon some ice cream onto it for a one-two punch of cold soft serve and warm pastry. I prefer SomiSomi's soft serve but this taiyaki cone is definitely better.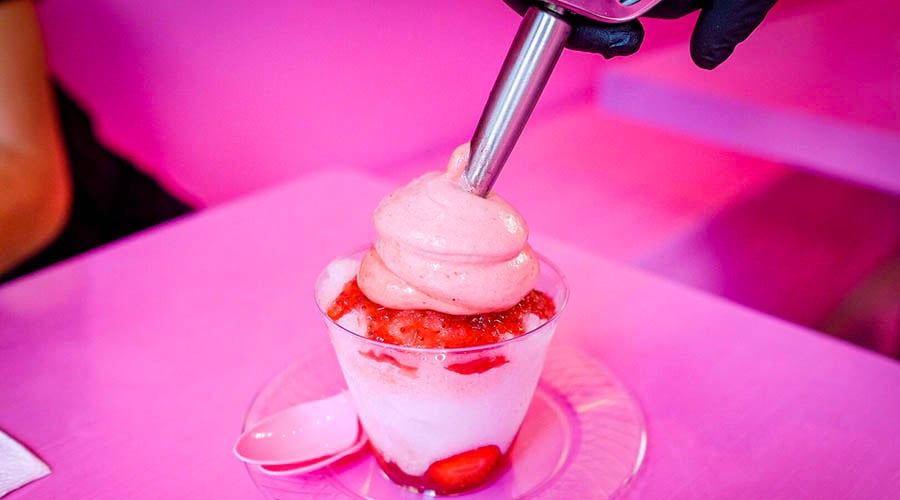 If you want something even more refreshing for dessert, the rather small shave ice is what you want. Prepare your camera for when it arrives – fresh strawberry foam is piped onto your cup of shaved ice topped with strawberry compote for an Insta-worthy moment. Other flavors include green tea with brown sugar jelly and lilikoi mango with fresh fruit.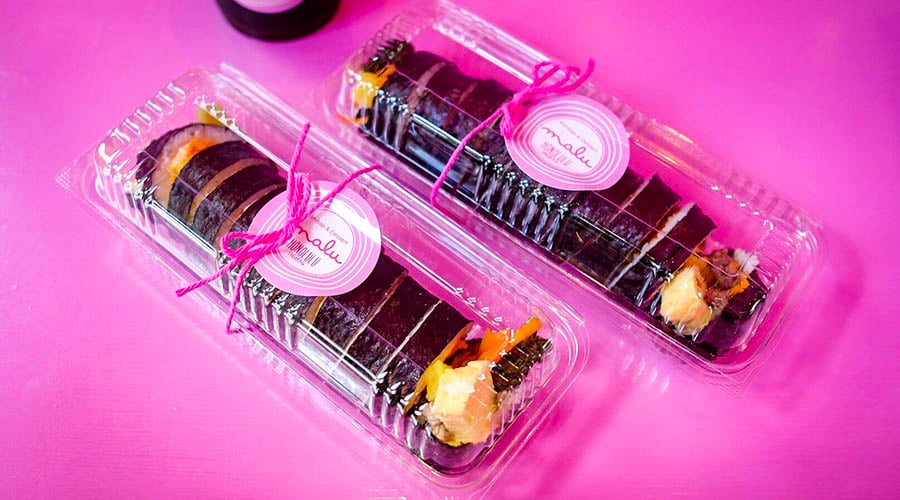 Kimbap rolls come with carrots, spinach, eggs and takuan pickled daikon in addition to seasoned beef or tuna mayo and cheese. While beef is standard, the latter doesn't sound as appetizing yet the combination works. It even comes recommended by the pastry chef who said it's very popular in Korea. Overall, they're tasty and an ok value considering you could get them cheaper at one of the Korean grocers in the area.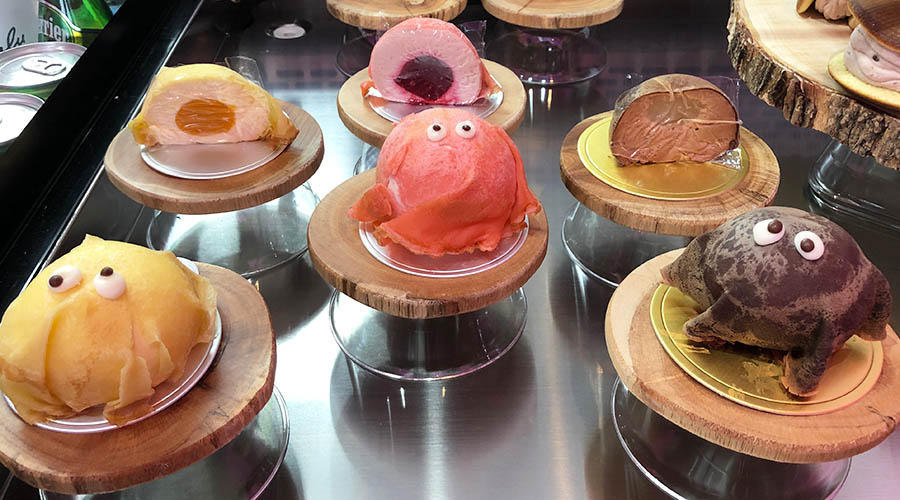 Malu's crepe cakes are very different from the mille crepes that have been gaining popularity this summer. Fillings include cheesecake with lilikoi, chocolate mousse with pear, or white chocolate-strawberry mousse with raspberry that are wrapped in crepes and brought to life with kawaii chocolate eyes.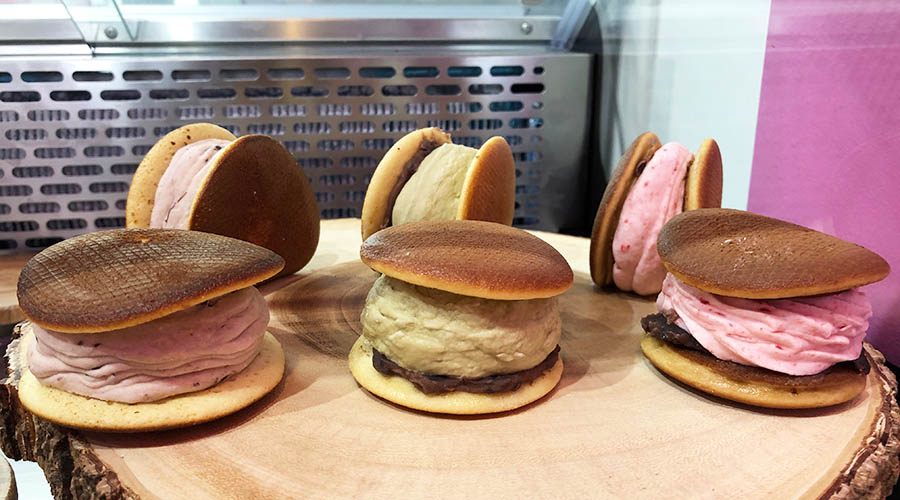 Malu's twist on traditional dorayaki or Japanese pancake sandwiches come with azuki bean, green tea or strawberry cream between two mini, sweet pancakes. We're intrigued and the owner gives us a sample to try. It's not my go-to dessert but it's a good option to satisfy your craving for something light, fluffy and a little sweet.
Malu 
Samsung Plaza
661 Keeaumoku St.
Open Monday to Saturday from 11 a.m. to 8 p.m.
http://maluhonolulu.com/
Metered street parking or validated parking at Samsung Plaza ($2 per hour)
Hungry for more soft serve? 
SomiSomi
Aloha Confectionery
Thrills Soft Serve
Charmy
Best soft serve ice cream: Our top 5