Dinner and Drinks at Chinatown's Hot New Lei Stand Cocktail Lounge
Come for the photo ops, stay for the food. And good luck getting a prime time dinner reservation.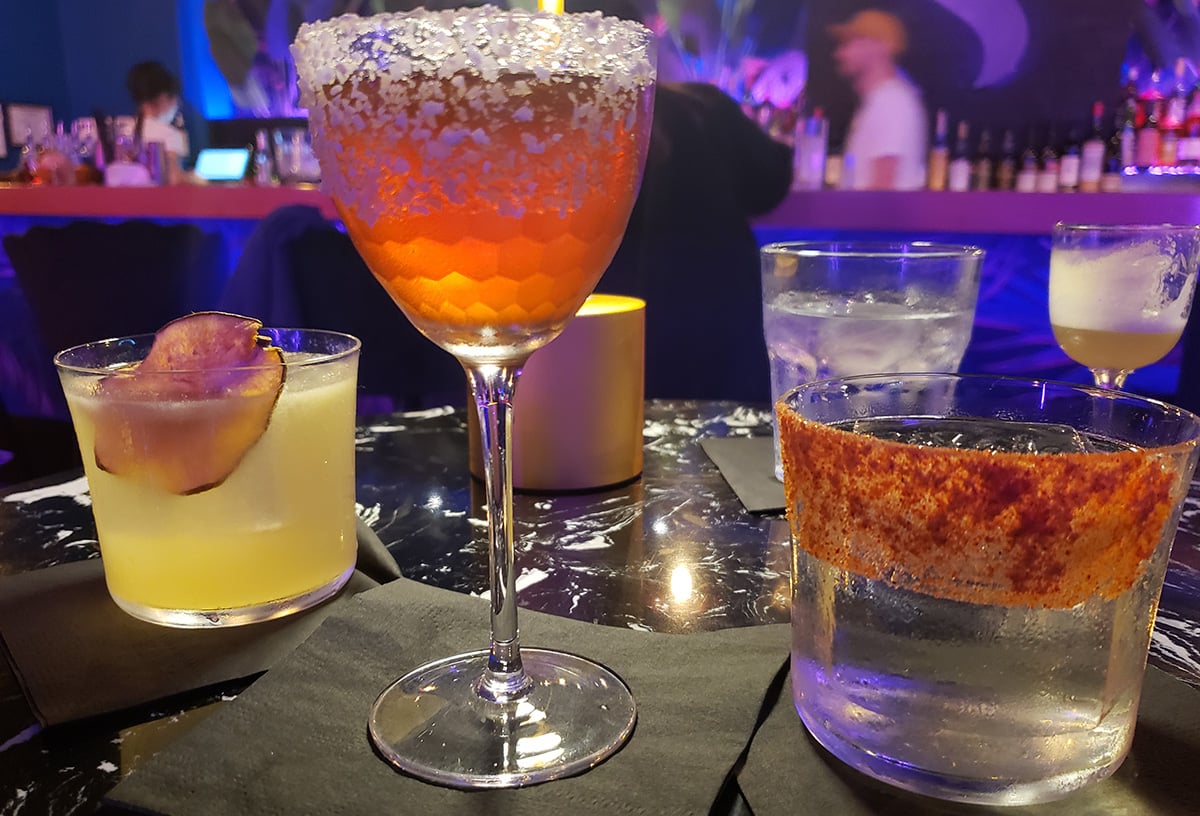 It's been two months since The Lei Stand opened on Bethel Street across from Hawai'i Theatre, and still, from 6 to 8 p.m. for the next two weeks, every table is booked. Now that it's settled into its groove, we snag a dinner reservation to see if it's worth the wait.
If The Lei Stand were an Instagram filter, it would be called Neon Dreams. Groovy isn't the right word to describe the bar. I'm still a little baffled that this spot, formerly occupied by low-key Bethel Union and Brasserie du Vin, could transform with such a hip loungelike atmosphere. But you already know what the décor and ambiance are like. We're here for bites and booze.
---
SEE ALSO: Sneak Peek: The Lei Stand Cocktail Lounge in Chinatown
---
Three of us arrive for a 7:30 p.m. reservation on a Wednesday to find the place busy but not packed (the courtyard is empty). We are seated on stools around a small table that we immediately know will not accommodate what we are about to order, so we plan to stagger our dishes in twos.
But first, of course, drinks. They're divided into Blooms (cocktails), Off Season (zero-proof), Bark (beers paired with shots), Hop Vine (beers and ciders) and Grape Vine (this one's obvious).
As someone who doesn't love coconut, I plan to avoid the recommended Coconut Wireless ($19) at all costs, but it's essentially a coconut-fat-washed Old Fashioned. I'm super intrigued by fat-washing—fat, in this case coconut oil, is mixed with alcohol (Bulleit), then frozen so the fat itself can be skimmed off, leaving behind just the flavor and smoothness. And Old Fashioneds are my go-to. Coconut hits the nose first, but the taste is subtle, hanging around the back of my throat more than assaulting my taste buds. This is my favorite drink and one I will order again.
For my second cocktail I go with Clifton's Curse ($17), an ode to co-owner Ryan Kalei Tsuji's dad. It's meant to be The Lei Stand's take on a mai tai and sounds interesting with its mix of Kuleana Huihui rum, pear cognac and absinthe, but the absinthe overpowers everything, including the bouquet of mint (truly—this is no mere sprig) in the glass. I swap with my licorice-loving drinking partner and am much happier with the Hubba Hubba ($17), a winter-appropriate apple brandy beverage with a dehydrated apple chip garnish. Our other friend delights in the spicy, smoky 41 Fires ($17), highlighting Agave de Cortés mezcal.
As for food, descriptions are spare. If you ever had chef Ricky Goings' James Beard-nominated Sooper Secret Izakaya menu, you're in for a similar experience—seemingly simple dishes and ingredients that are so much more than the words on paper. Having shuttered his izakaya, Goings now heads The Lei Stand's kitchen.
Plates are largely meant to be shared, from small bites (Chex Mix with smoked local honey and furikake, popcorn with Tajín and cotija, both $5) to bigger items that take up most of the menu. Our favorite dish: bacon-wrapped scallops ($19), described as with cabbage purée and roasted Brussels sprouts—not the most innovative-sounding dish, but one we order because we like bacon and scallops. Best decision of the night. The scallops are incredibly soft, almost dissolving in our mouths. The sauce beneath them, puréed squash with curry leaf oil, is so tasty we fight off multiple attempts to clear our table so we can drag our chopsticks through it long after the scallops have been devoured. We order the tsukune sammich ($17) just to have something to mop up the rest with and the sandwich, a chicken patty enrobing gooey melted havarti, is a winner, too.
For us, the seafood is what stands out the most. Textures are on point, especially in the tako karaage ($17), which features a delicate breading and avoids the toughness of poorly cooked octopus. We also enjoy the salty-sweet uni waffle with yuzu maple and umami butter ($19), baked Fat Bastard oysters ($15), and hash brown with tako and chorizo ($15).
---
SEE ALSO: Nami Kaze Debuts New Seafood-Focused Brunch at Pier 38
---
A word of warning: Our server tells us that our favorites may not be the same next time, as Goings loves to experiment. I noticed that the menu differed from the online one I'd looked at earlier in the day. So go with an open mind, and ask questions before you order in case the offerings have been tweaked.
The Lei Stand is run by a media-savvy team who know how to get your attention, and keep it with thoughtful touches here and there. While we peruse the menu, our server brings small welcome glasses of Kuleana rum with pineapple and lime juice. And while two of us are out in the courtyard taking photos, our server brings our friend a small glass of the Wow Lau Lau to keep him company. As we pack up to leave, the check comes with plum candies from the crack seed shop next door.
All in all, The Lei Stand is a super cute spot that has already attracted Justin Bieber and American rock band Young the Giant. Drinks are hit or miss, but we are generally pleased when ordering based on our tastes. The bigger draw for me is the food, so I wish tables could better accommodate multiple plates, especially since each dish shakes out to a few bites per person. Our server has to check on us probably eight times before we are satisfied. If you don't want to spend upward of $80 a person, plan for this to be just a stop, not the main event. But if you're getting dinner, make sure to try the seafood.
1115 Bethel St., open Tuesdays through Saturdays from 5 to 11 p.m., (808) 773-7022, getleid.co, @theleistand