Last Chance in Kalihi for This Beef Stew, Fresh Fish and Hotcakes
After 55 years, Megs Drive-In will serve its last comforting plates on December 17.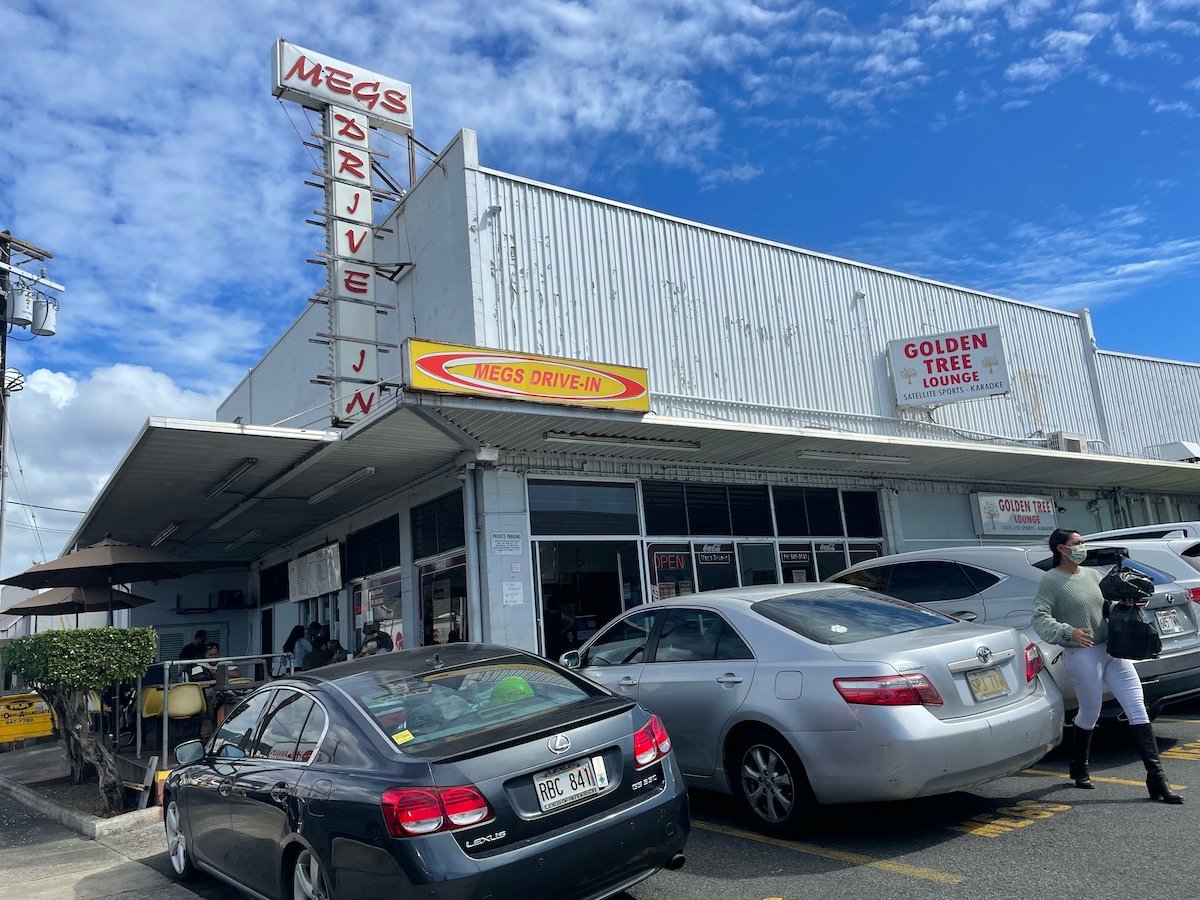 When I picture a beef stew plate lunch, I think of old-school Megs Drive-In's big tender chunks of beef, carrots and potatoes even though it's been years since I ate there often. Megs is memorable for dishing up tasty comfort food you can count on at a reasonable price. And that's why I'm one of many scheduling repeat visits before Megs shuts down in two weeks.
Customers line up daily from 5:30 a.m. to 6:30 p.m. for a variety of lunch and dinner favorites: that award-winning beef stew ($12), chicken katsu ($11.70), teri beef ($12) and roast turkey, maybe with a green river or liliko'i soda. Some swear by the cheeseburger deluxe ($8.25)—someone picks up a dozen as I wait one afternoon. If you go for breakfast, you're probably there for the hotcakes (3 for $5.75) or with bananas (3 for $7), maybe eggs, rice and chorizo ($7.25) or a loco moco ($11.50). The common refrain from customers: they come for the good food that tastes home-cooked and fast friendly service that gets you back to work on time.
Ask customer Ana Lindsey why she's been a regular for the last 10 years and she points to a Thursday-Friday special. "I come nearly every week for the Chinese steamed fish," she says, fresh fish, finished in hot oil, topped with matchsticks of ginger, green onions ($13 this week). But I catch up to her at lunch enjoying a Wednesday special, mushroom chicken ($11.25), with three co-workers from nearby Hawaiian Financial Federal Credit Union. The other three chose hamburger steak ($11.25) and roast pork ($11.25).
---
SEE ALSO: The Best Chicken Katsu on O'ahu: Our Top 5
---
The four eat lunch in the outside dining area with the molded plastic chairs while the radio inside plays "Love Potion No. 9." They agree that the food tastes more homemade and of higher quality than many restaurants manage. And they're sad to see another local restaurant close.
Co-owner Loida Ogihara steps away from the counter for a few minutes to tell me that the decision to shut down the 55-year-old family business doesn't come easy. "I'm sad, too," she says. But the lease was ending, and the pandemic has been a roller coaster for small businesses making it harder than ever to find and keep good workers, she says. She's worked there for 20 years, married to Akira Ogihara, the nephew of the man who started Megs. This year, he'd weathered some surgery and they wondered if they'd ever be able to retire, travel, take a break.
---
SEE ALSO: FUUD: Megs Drive-In in Kalihi
---
Meanwhile, prices for food and supplies spiked across the board, the Ogiharas say. Cooking oil that cost $20 two years ago shot up to $45, then settled at $40; the cost of chicken wings for their signature wing dings more than doubled, going from $40 to $90 per box.
Loida Ogihara greets many of the customers by name: "Tommy! I going miss you." Many eat there daily or weekly, which made her reluctant to keep increasing prices to keep up with the cost. "My customers are like my family. How could I charge them even more?" she asks, shaking her head.
The sad thing about writing a farewell story to a well-loved local business is saying good-bye to owners and workers who've made a big difference by feeding the community and always being there through our daily grind. Even as we celebrate what they accomplished, we worry about where the workers will go, if some anonymous out-of-state chain will swoop in to take over the spot and sell food that lacks local flavor. We mourn the neighborhood connections lost.
But looking back also allows us a chance to learn more. Who knew that in 1967 Megs helped promote KPOI 1380 radio with a treasure hunt: "Buried somewhere on the island of Oahu is Megs' golden hamburger." Clues were broadcast hourly and the winner could collect $1,380 cash (about $11,400 in today's dollars).
---
SEE ALSO: Noodle Tuesday: 8 Old School Saimin Shops
---
Megs also played a starring role in an award-winning short film—an adaptation of author Cedric Yamanaka's short story—"The Sand Island Drive-In Anthem," that featured current City Councilmember Augie Tulba.
My college job as a supermarket cashier introduced me to Megs. Even though I mostly worked for Foodland on the Windward side, I sometimes signed up for temporary shifts at stores in Kalihi and School Street that were closer to my UH Mānoa classes. Meals at Megs, as well as Bob's BBQ and Tamashiro Market proved another incentive.
The Ogiharas will serve their last plates at Megs on Dec. 17. They've already started closing two hours earlier to avoid running out of meals because of the surge of customers.
So if you swing by for an aloha plate, thank them and wish them a happy well-deserved break. They're feeling grateful for the business, the employees and customers, for family and each other especially after all that's gone into navigating the pandemic. They aren't slamming the door on the possibility of a future food business. "I'm not selling the business," says Loida Ogihara. "Maybe," she says, smiling up at her husband, Akira, "maybe just a little place with the two of us."
743 Waiakamilo Road, (808) 845-3943, @MegsDriveIn