Ke'eaumoku's Chicken Factory Finds New Life as Steve's Chicks in Kunia
Come for the fried chicken and stay for the beefy kalbi soup.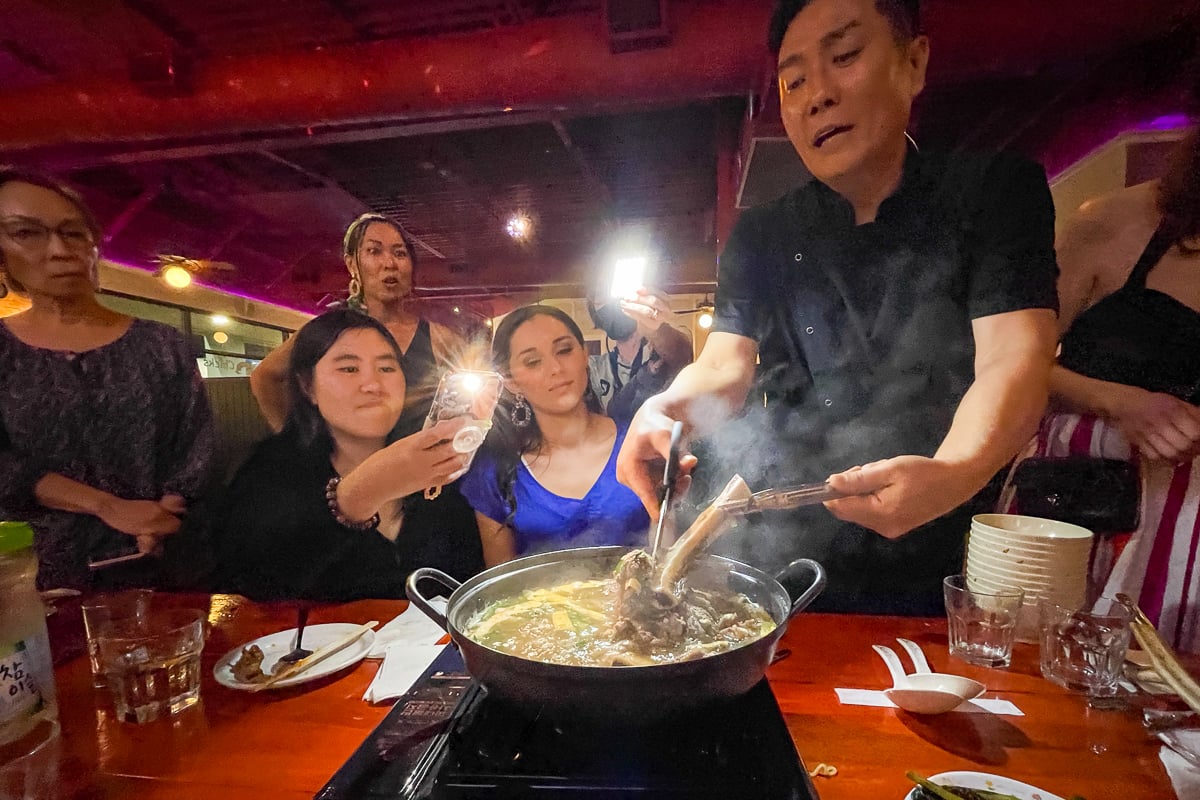 Restaurateur Steve Lee's Chicken Factory was a townie favorite for late-night Korean food. Sadly, it was among the two blocks of Ke'eaumoku Street businesses that were displaced when construction began on a new condo. K-town might not refer to Kunia, but the Korean tradition of late-night fried chicken with beer lives on at Lee's new restaurant, Steve's Chicks.
---
SEE ALSO: Where Are They Now? Restaurants from Ke'eaumoku Street
---
If you couldn't tell by the name, Steve's Chicks specializes in fried chicken, which Lee prefers to call chi-neunim. The slang term combines chicken and haneunim or god, to express how amazing the chicken is. And when serving chicken and beer together, Lee uses the popular portmanteau chi-maek, a combination of chicken and maekju, or beer.
I tried various dishes from the menu during a media event and discovered some new favorites, including Steve's Snow Chicken ($29.95). It lives up to the chineunim monkier with tasty fried wings and legs blanketed with snow-like, three-cheese powder. I like the crispy skin and tender juicy meat covered with a medley of cheesy flavors. It's crunchy, creamy and buttery all in one bite. I love chicken and cheese, so this is a heavenly dish that is truly God-level good.
Although the chicken tastes light and clean, the galbi-tang or kalbi soup ($55) is a delicious change from all the fried food we try. This soup is served on a portable grill with meaty short ribs in a hearty broth garnished with strips of egg crepe. Morsels of short rib are cut off the huge bones with scissors and add even more flavor to the broth simmered for six hours. The meat is tender with a light flavor of salt and herbs accompanying the beefy savoriness of the pot. While I love meat on its own, the quality of the broth surprised me even more. The clean salty flavor, followed by a light sweetness and zest had me slurping from my bowl.
The quality of a buchimgae, or Korean pancake, is how I gauge if I will like a Korean restaurant. I like Steve's Chicks based on the seafood pancake ($24.95) alone. It is generous and fluffy with green onions, chives and a generous amount of succulent shrimp. The firm shrimp contrasts well with the pancake's airy texture and crunchy onions. Lee recommends the traditional pairing of pancake and makgeolli ($19), a Korean unfiltered rice wine, and so do I. The makgeolli is light and refreshing, with a hint of sweetness that cleanses the palate and lightens the spirit.
---
SEE ALSO: Molten Korean Bar Food Is a Theme at Pearl City's New Hangry Mama
---
Walking into Steve's Chicks, you get not-so-subtle reminders of its former life in Koreamoku. Most nights, it's still open until 2 a.m. There's a lot of neon purple lighting, black and red furniture and big TVs looping K-pop music videos. There's even a selfie wall dedicated to BTS. While there's still a lot of love for K-pop at Steve's Chicks, its new home in Kunia is a family-friendly restaurant. I see it in the huge family-sized platters of cheesy french fries and fried chicken to bubbling soups and stews large enough for the table. As a Leeward resident with a family of my own, Steve's Chicks is a welcome addition to our list of Korean food and nightlife options that we no longer need to go to town for.
Open Monday to Saturday, 3 p.m. to 1 a.m., and Sunday, 3 p.m. to 12 a.m., Kunia Shopping Center, 94-673 Kupuohi St, Suite B-109, Kunia, @steveschicks_hawaii