Kalihi's $20 steak and lobster plates are Upscale
The former food truck is now at New Diner's Drive-In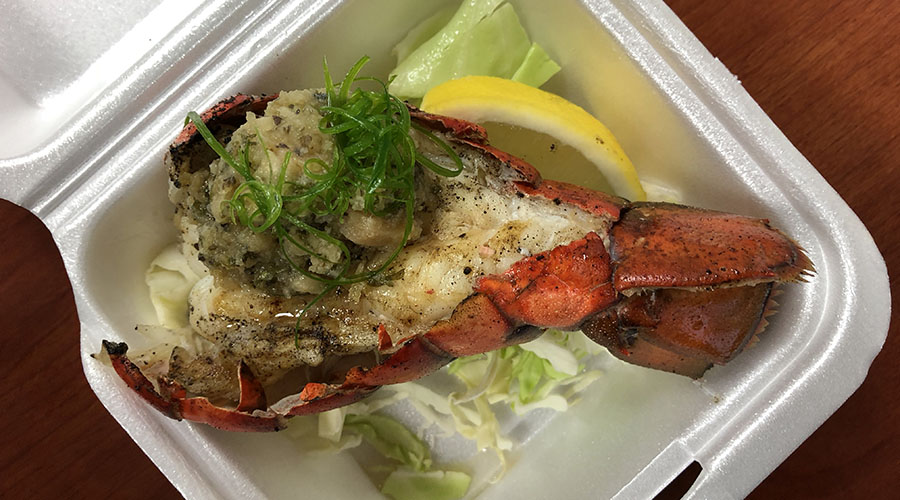 Upscale Hawaii used to be a food truck on Kohou Street, close to Damien High School. I never actually made it to the truck, but I heard lines would stretch down the sidewalk for Upscale's hefty plate lunches, which included ahi katsu rolls (on select days) and steak-and-shrimp combos.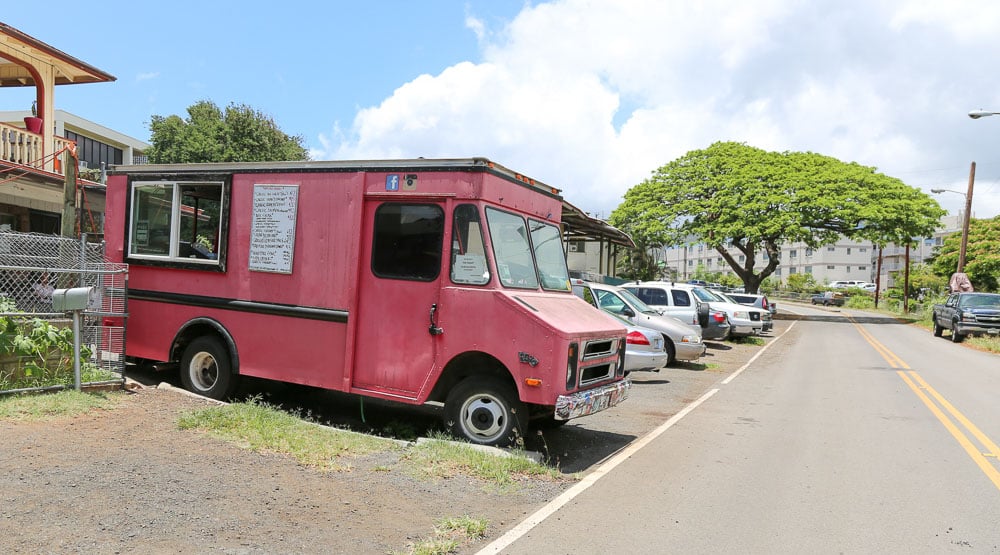 There's been big changes recently for Upscale. Last fall Upscale opened in a brick-and-mortar location not far from its original stomping grounds. But if you're looking for it, "Upscale Hawaii" is nowhere on the restaurant sign. Instead, keep your eyes peeled for New Diners — and that's where you'll find Upscale grub.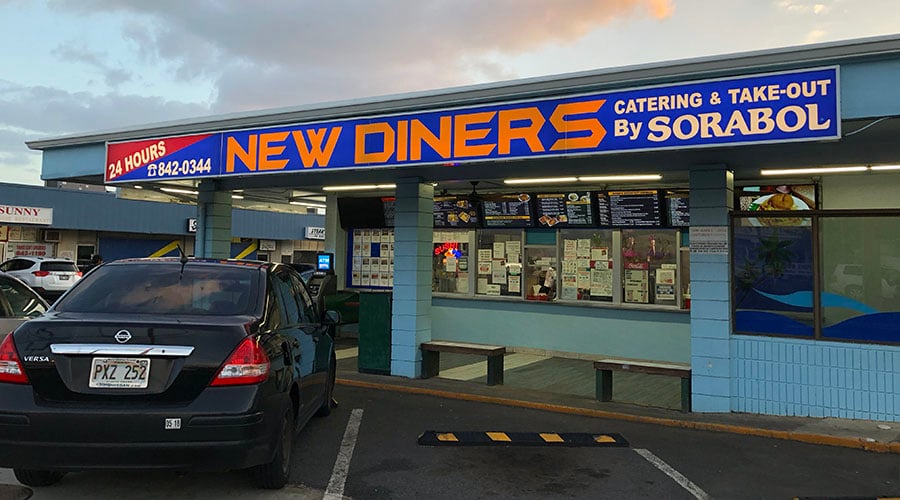 Looking at the menu can be daunting to first-timers. The Diner's menu — a smorgasbord of combo specials, burgers, breakfast plates and more — is still available. If you want Upscale's food, look for the "New Diner's New Menu" signs.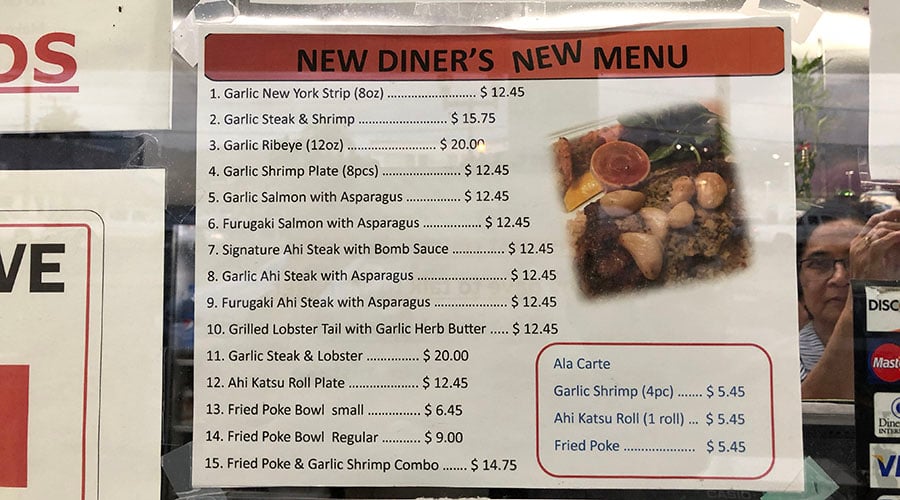 When Upscale first moved here, its entire food truck menu wasn't available, but regular customers will be relieved to know that now it is. The three biggest changes: Those famous ahi katsu rolls are available every (day you no longer have to check on Instagram), credit cards are accepted, and you can dig into your plate lunches on the spot.
My plan is to get some of Upscale's most popular plate lunches:
Ahi katsu rolls ($12.45)
Garlic salmon with asparagus ($12.45)
Signature ahi steak with bomb sauce ($12.45)
Garlic steak and lobster ($20)
Each plate comes with two scoops of rice (one scoop is under your entrée) and mixed greens with your choice of balsamic vinaigrette or papaya seed dressing. The garlic steak and shrimp ($15.75) is Upscale's top seller, but I decide to order the shrimp a la carte (four pieces for $5.45). That way, I can enjoy the lobster and still try the shrimp.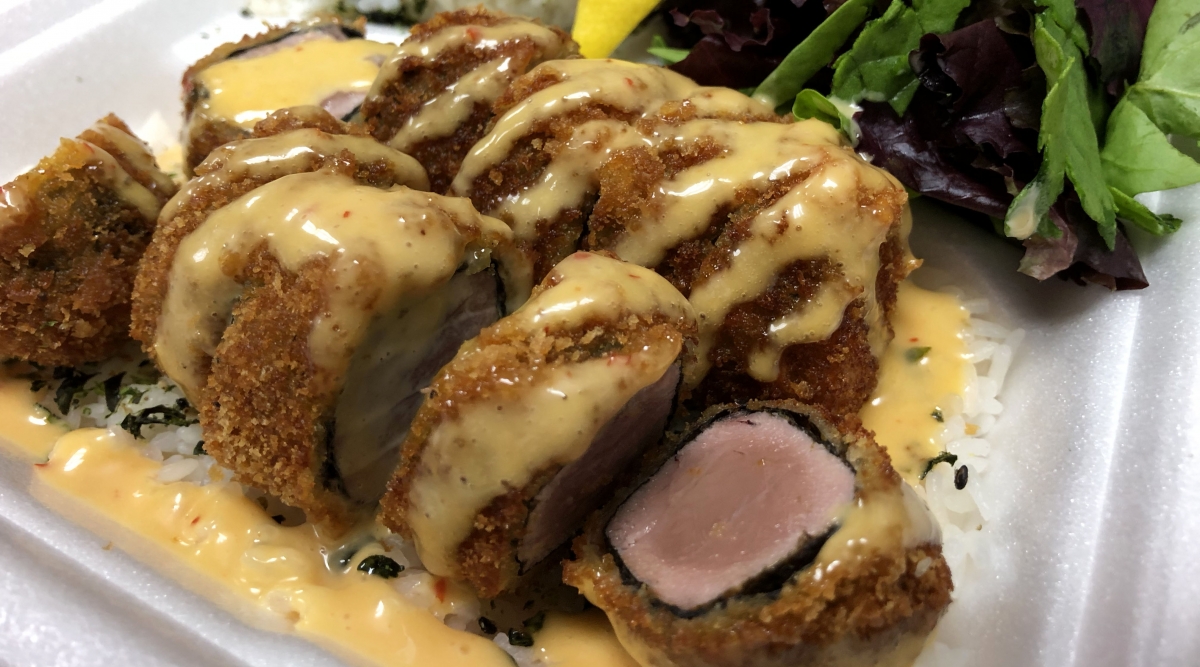 Those famous rolls contain thick pieces of ahi, and they're breaded to perfection. I like how they don't taste heavy or oily, but still boast a satisfying crunch. Rumor has it that these ahi katsu rolls were bigger when Upscale was a truck. I'm not sure if that's true, but the flavor's on point, thanks to the aioli drizzle, so I have no complaints.
Carnivores, you no longer have to go to a fancy steakhouse to get your meaty fix. These plates come with an 8-ounce steak and 4-ounce lobster tail. The steak's delicious — not too tough, not too raw, just right.
Since I love seafood, I prefer the lobster tail — it's not huge, but it's a decent size for the price. The lobster is succulent, buttery and juicy, and leaves me wanting more.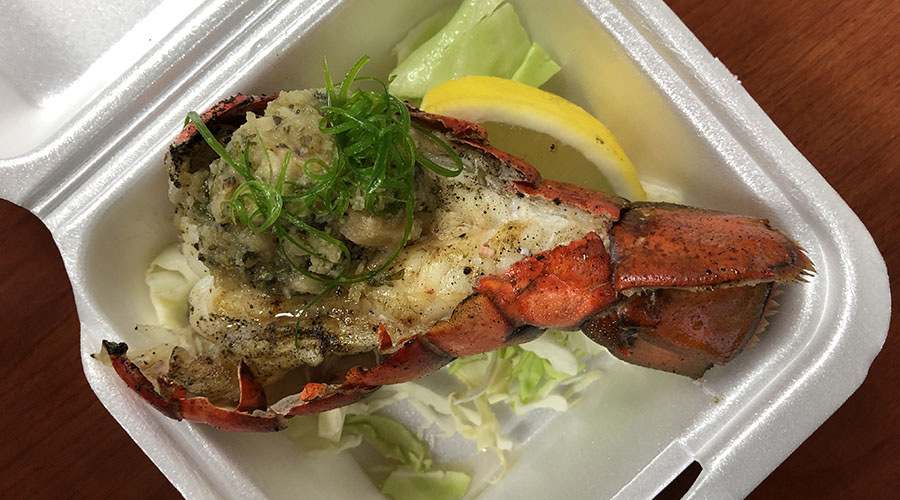 I add shrimp a la carte to the garlic salmon plate. The shrimp are bigger than I expect — fair competition with anything you'll find from the trucks on the North Shore. And they're literally swimming in garlic. The salmon is moist, savory and bursting with flavor. It probably tastes more buttery and garlicky than usual once I pour the shrimp on top.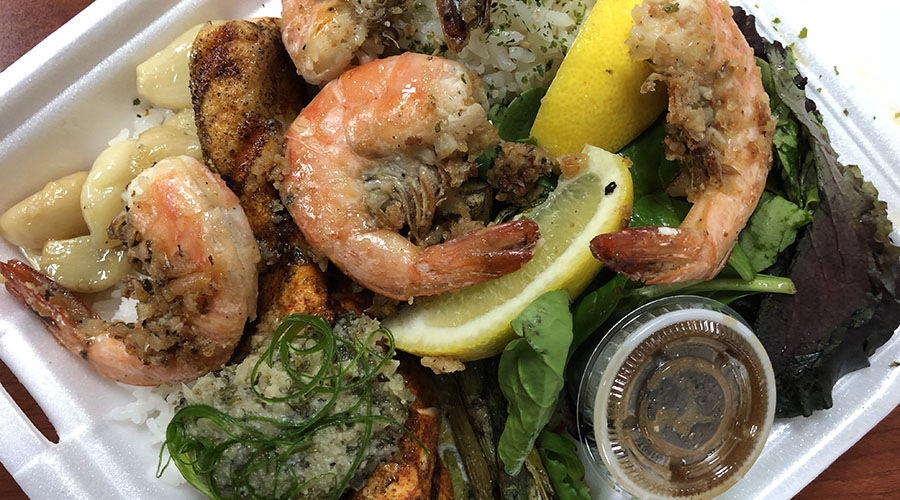 Finally, I get to the ahi steak. Of the plates I get, I can hardly pick a favorite because I thoroughly enjoy all of them. But this one is especially addictive because of that "bomb sauce," which the lady at the counter says is some type of aioli. It looks like the same sauce that tops the ahi katsu rolls. This slab of ahi is dense and soooo umami.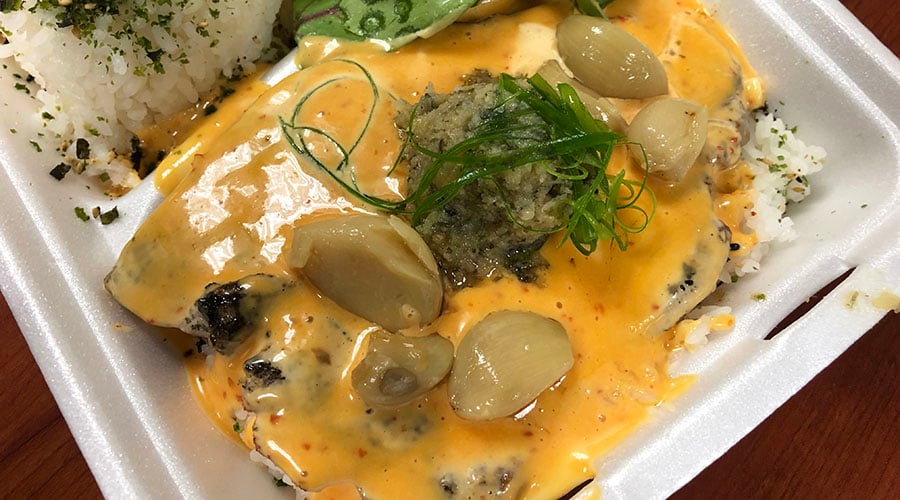 Though most customers still order takeout, there's an adjacent room if you and your gang can't wait to get your grub on. Be sure to have some breath mints on hand — if you can't already tell from the photos, everything here comes loaded with garlic. No matter what you order, you'll keep the vampires away, guaranteed.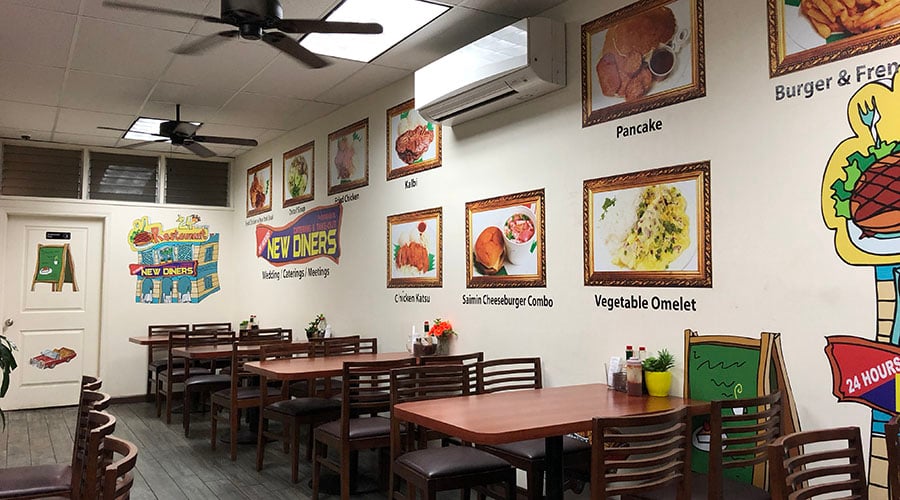 Upscale Hawaii
1333 N. King St.
Kalihi
842-0344
Daily 11 a.m.-11 p.m.