Kaka'ako's Islander Sake Brewery Has Opened Its Sake Bar
Honolulu now has a place to drink fresh, locally made sake with homey food pairings.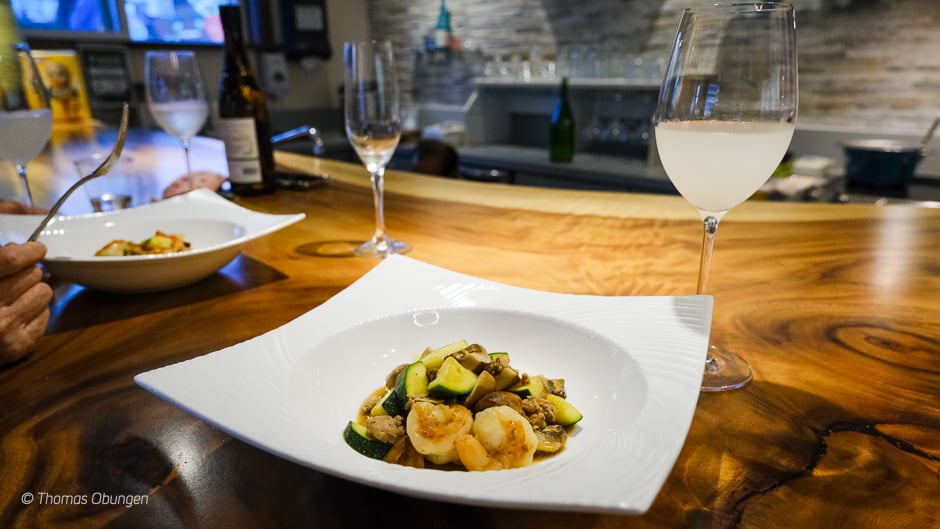 Note: This post was originally published in July 2020; it was updated in March 2021.
It's 6 p.m. and brewer Chiaki Takahashi, her partner Tama Hirose and a volunteer helper have just wrapped up a full day of brewing and bottling their Islander Sake. The second part of their double shift is about to start as we arrive at the gorgeous monkeypod counter of Islander's Kura Kitchen. After several years of work to transform a former auto body shop into a modern brewery, the sake bar originally opened on the day in March that bars in Honolulu were ordered to close. Now it's open again after more than three months on hiatus. This calls for a banzai toast.
---
SEE ALSO: Islander Sake Is Making Hawai'i's First Sake in Three Decades
---
There is just one thing you need to be aware of if you go: There's no menu, so you should be open to anything.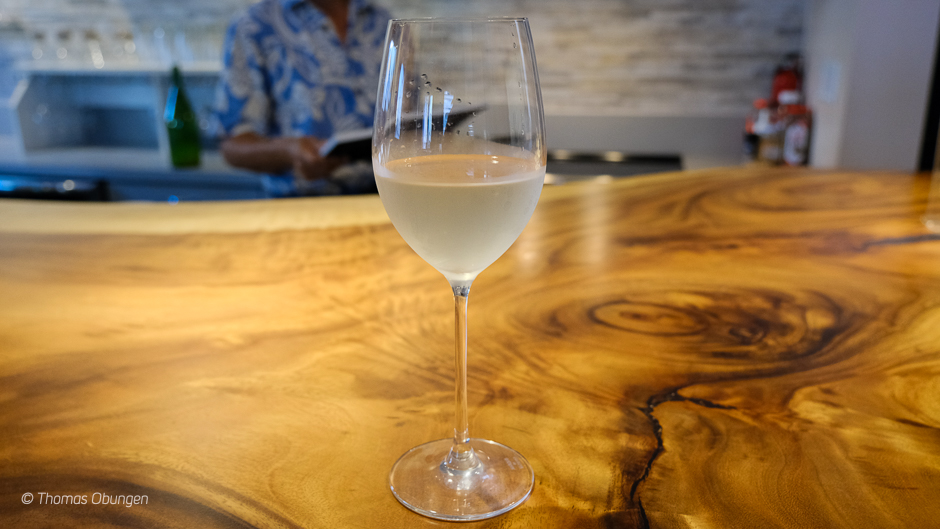 We're here for a sake-paired dinner: That's all we know. Between Tuesday and Saturday you can get this; earlier in the afternoon you can try tasting flights. Dinner is all omakase style, meaning whatever you get is whatever Takahashi decides to prepare. She starts us off with a glass from her fourth batch of sake, an unpasteurized nama junmai ginjo made with naturally farmed Omachi sake rice from Okayama Prefecture, pressed just seven days prior. The nose is sweet like ripe pineapple with a distinct juiciness. We let it temper in the warmth of the tasting room as Takahashi prepares a plate of otsumami drinking snacks. The sake opens up with notes of green apple and pear.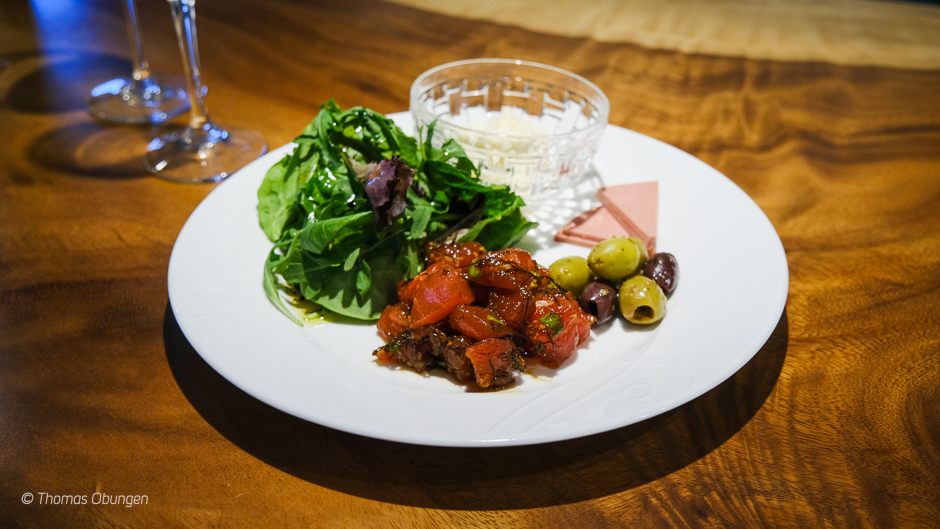 We nibble on ahi limu poke, marinated olives, mesclun greens, sliced ham and sake lees cream cheese. The star is the cup of cream cheese cut with sake kasu, the by-product left behind when sake is pressed and bottled. It has the funkiness of blue cheese with a pinch of salinity. The umami brings out the boldness of the sake and makes you crave grilled meat.
Next, Takahashi pours a flute of her latest experiment, a fresh sake she's blended with fresh pineapple juice and liliko'i. The fruitiness is in the nose; the sake hits your tongue with a sweet acidity while the finish is dry and as tart as liliko'i. It conjures thoughts of a private beach with a bottle of this chilling on ice.
---
SEE ALSO: Kampai! The Sake Shop Is Back in Business
---
Islander's junmai ginjo nigori is served with the next course, which Takahashi describes as modern Japanese homestyle cooking—it's a rustic stir-fry of tender zucchini, mushrooms, tomatoes, pork and shrimp. The gravy has familiar notes of shoyu, sake, butter and chicken bouillon. The dish is oishii and makes you want to hug the cook (but we don't because social distancing).
The nigori, whose cloudiness comes from unfiltered rice particles, is unlike most. Nigori is popular among American sake drinkers; it tends toward sweet and heavy. This one is dry with just a touch of effervescence. Although not a true sparkling sake, it leaves an enjoyable tingly sensation that cuts the fattiness of the pork and gravy.
Both have a homemade touch that you just don't get eating at a restaurant. That's the magic of dining at Kura Kitchen.
Next, a pair of mini Japanese-style hamburger patties arrive with a tangy demi-glace and more greens. The sweetness of the demi is enhanced by Islander's delicately balanced unpasteurized junmai daiginjo, which uses a rice cultivar called Kitashizuku from Hokkaido in Islander's fifth batch of sake. Kitashizuku, which means "northern droplet," describes the shape of the grain and is the newest rice to be bred in Hokkaido exclusively for sake-making.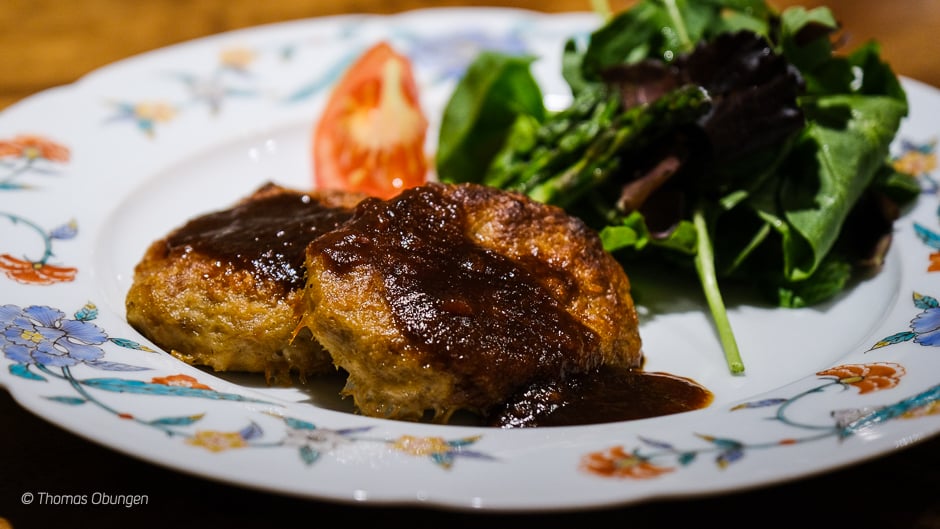 Junmai daiginjo sake is brewed with rice that is polished to at least 50% of its original size; the resulting flavor is delicate and complex. The floral nose is offset by a very round mouthfeel. It's completely different from the first two sakes: This one is refined, elegant and oh so smooth.
The fact that Takahashi pairs it with a bold and humble meat dish speaks to her willingness to bend the rules. It breaks the mold of pairing sake, especially daiginjos, with delicately flavored dishes like sushi, which can seem tired at this point.
Before the final course, Takahashi heads to the brewing room with an empty bottle and comes back with a sneak peek at her sixth batch of Omachi junmai ginjo. This one has only been aged in the tank one day; it was created for her crowdfunding supporters in Japan. When her shipment of new empty bottles arrives from California, she will bottle, pasteurize and ship this sake to Japan.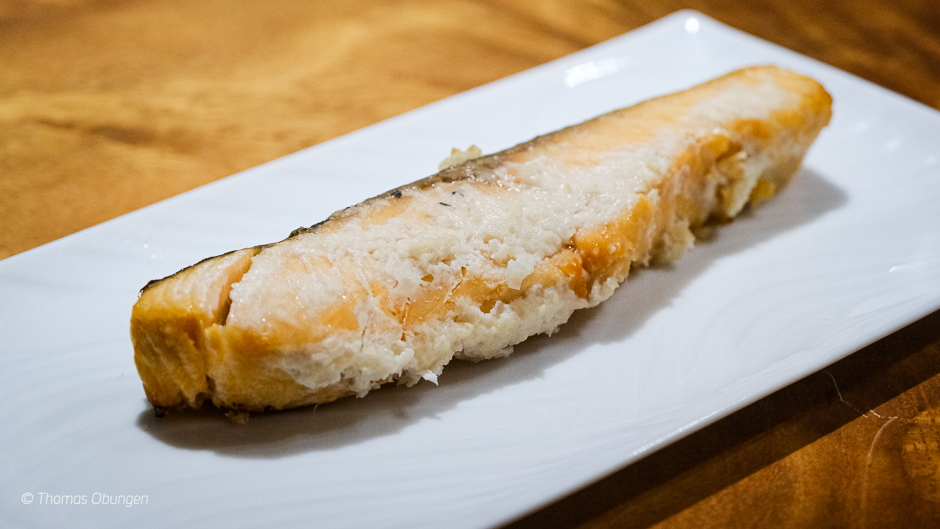 Our last course is a broiled filet of sake kasu marinated salmon that's been lightly salted and dried. The kasu replaces the fattiness of the fish with straight-up umami savoriness.
This is a tasting bar, after all, and we're doing omakase, so Takahashi pours us tasters of a test batch of sake she made with California-grown Tamanishiki rice. Nowhere near the same level of refinement or balance as its Japanese counterparts, this sake is jarring to the palate but fun to try because you won't find it anywhere else.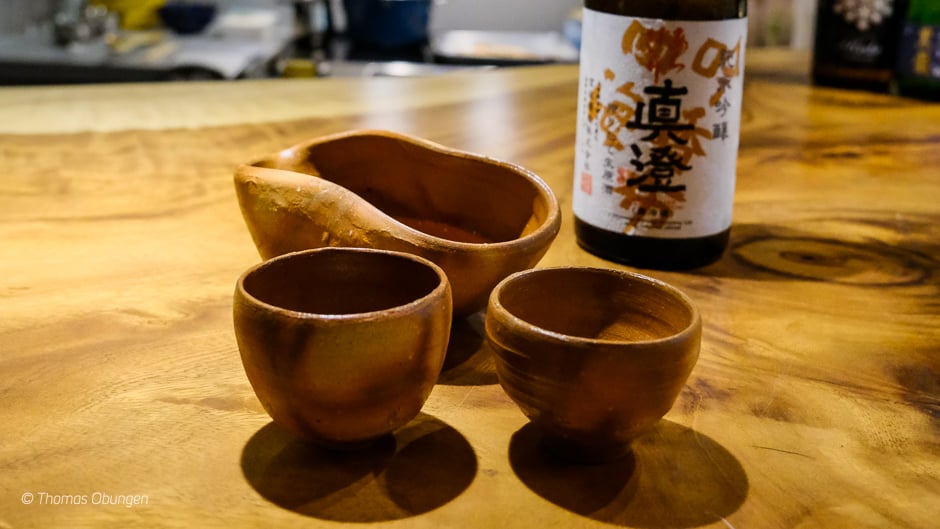 There are other, non-Islander sakes at this bar. Takahashi opens a bottle of Masumi Arabashiri nama junmai ginjo. She warms it on the stove and serves it in matching earthenware bizenyaki cups and vessel, all of which she made, that take inspiration from the rustic label. She pours us two more imported labels I cannot recall, because I've honestly lost track at this point, but they're well known in sake circles.
We end the meal with scoops of another one of Takahashi's experiments: ice cream made with sake kasu. Although it has more of a granita scraped-ice texture, this is a celebration of local ginger and honey, with spicy bursts right up front. A bright cherry garnish just adds to the fun.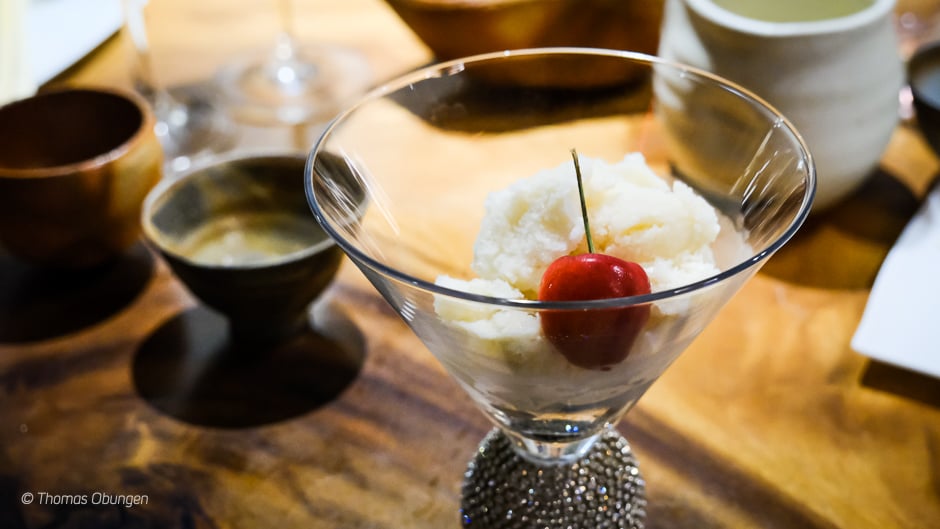 Islander's Kura Kitchen is extremely casual and a good intro for sake novices as well as aficionados. There's no pressure to know anything about sake; the only expectation you should go in with is to have fun. The food is approachable, humble and delicious—something you might enjoy on a regular basis.
It's reservations-only and limited to several parties per night. Our check at the end of the night came out to $75 per person. Judging by our empty glasses and very full bellies, it was worth every penny.
Tastings available from 11 a.m. to 6 p.m. Tuesday through Saturday. Sake by the glass: $12; flight of three sake: $12; bottles range from about $15 to $45. Multi-course dinners with sake pairings available from 6 to 9 p.m. Tuesday through Saturdays for $75.
753 Queen St., Kakaako, (808) 517-8188, islandersake.com, @islandersake