Just opened at Ward: Scratch Kitchen & Meatery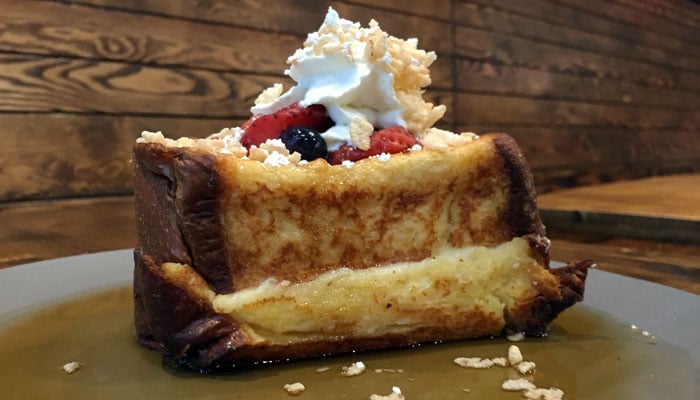 The wait is over. Well, for the most part.
Scratch Kitchen & Meatery, the new sister restaurant of Chinatown's Scratch Kitchen & Bake Shop, soft-opens at Ward Villages' South Shore Market today, April 10. What's different? Unlike Chinatown, which starts with breakfast, Meatery will serve brunch and lunch, with plans for dinner service later on.
Scratch fans will like that the new location's opening menu is almost identical to that of the Bakeshop.
"You'll still find staples like our milk & cereal pancakes, shrimp and grits and pork belly pasta," says chef-owner Brian Chan. "But there will be a few things that are different. We'll do a few more meat-centric daily specials."
One of the dishes you can only find at Meatery is the Strawberries n' cream stuffed French toast ($11). It was featured as a special at the Chinatown location and was a hit.
The toast is billowy, yet dense. It's stuffed generously with delicate marscapone, cream cheese and strawberries.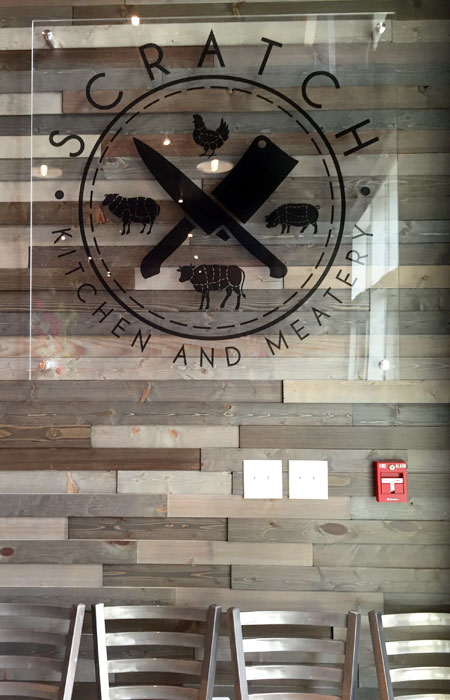 The difference in the look and feel is immediately striking. Bakeshop in Chinatown, a cozier space, is bright with white subway tiles. Meatery's high ceilings and larger size allow for darker colors and more drama. Chan says he designed it that way on purpose.
"I designed the Bakeshop more for female aesthetics — the light colors and airy feel," he says. "For Meatery, I wanted to focus more on dudes. We made a lot of stuff by hand — we tried to keep it as personal as possible."
The biggest difference at Meatery: dinner service, which starts in May. The concept will center around Southern fare and house-cured meats. Chan says the restaurant will eventually have its own butcher and offer charcuterie for sale in a deli case.
"We'll do classic Creole Cajun dishes and traditional southern dishes that someone's grandma would make," Chan says. "I tried to make it authentic Southern as possible, but keep it fun and unique."
The Meatery team is already preparing, since a lot of cured meats take time to age and mature. When it starts in May, dinner will be from 5 to 9 p.m. daily except Sundays.
"We're going to have an extensive bourbon and whiskey list and a bunch of different cocktails," Chan says. "It's something I've never done before, so it's pretty exciting."
Scratch Kitchen & Meatery
South Shore Market
1170 Auahi St. #175
589-1669
Weekdays 9:30 a.m.-3 p.m.
Weekends 7:30 a.m.-3 p.m.