It's about time! 7-Eleven food review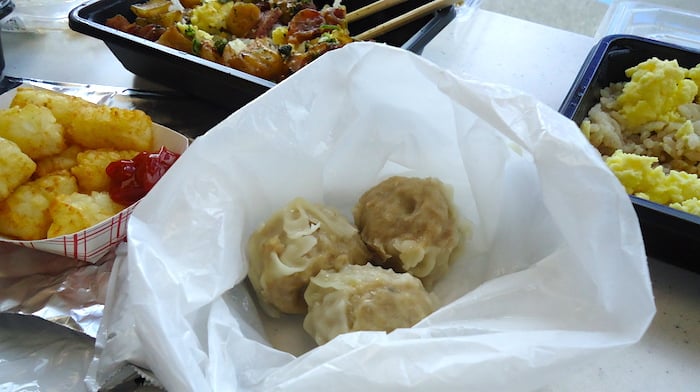 By James Charisma
Special to Frolic
The assignment: 7-Eleven food review. Me: Hung over at noon on a Sunday. The perfect condition for this assignment. But no joke, this is serious business.


Here in Hawaii, we can appreciate good convenience store food. For nearly a decade, 7-Eleven has been voted as having "Hawaii's Best" Spam musubi—which is a huge achievement when you consider how iconic and close to our collective hearts the treat is. Their Spam musubi is pretty perfect. Slightly overcooked soft rice that keeps the musubi together, the perfect third-of-an-inch slice of juicy fried Spam, and the sticky seaweed bandage that holds this happy wad together.
But we're not here for the Spam musubi; today, we're trying everything else. How do the rest of 7-Eleven's food offerings hold up? In a dazed stupor, I buy a bunch of bentos and dive in.
Tater Tots
I'm willing to bet that all of our collective tater tot experiences are more or less the same: We were introduced to them on our lunch trays in elementary school and they were an instant hit. They vanished from the scene as we got older, but now, like the reappearance of an old flame, we've rediscovered tater tots all over again, usually in gastropubs or bars calling themselves gastropubs, either straight up or as nachos, and always in a gigantic heap. They're the bomb—crispy on the outside, soft and warm on the inside, lightly salted and perfect for eating like popcorn.
7-Eleven tater tots are not the bomb. They're the shabby ones from elementary school that were cool when you had never experienced potatoes like this before. Yes, they're only $1 for 12, but they literally taste like nothing and aren't crispy at all. They're flaccid and depressing and make me want to cry. Next.
Verdict: Not Even Once
The Loco Moco Bowl
A classic. 7-Eleven's take on the Godfather of local dishes features a fat hamburger patty and a generous portion of rice covered in thick brown gravy. The bowl seems small but there's a ton of food. The meat is solid, with a texture and flavor akin to a really beefy meatloaf. The gravy is good too; a little salty but authentic, like something your mom would've made.
What's happening with the eggs though? They're real, but flat like a pair of deflated balloons.
Verdict: Hell Yeah
Local Scramble Bowl
This one comes in two forms: a standard "Breakfast Scramble Bowl" with link sausage, potatoes and eggs, and this one, which looks a lot more fun.
There's a lot going on: diced potatoes, Spam, melted cheddar cheese, scrambled egg and Chinese and Portuguese sausage served over white rice topped with a generous amount of furikake. Dense, but tasty.
Verdict: Hell Yeah
Pork Adobo with Fried Rice and Egg Bento
A sauteed mix of pork adobo, bits of grilled onions and chunks of scrambled egg over a bed of fried rice. The egg tastes fine, the adobo is a little vinegary and the pork pieces are big and fatty.
The fried rice is a highlight and the biggest surprise. It's not prepared in the stereotypical style, lightly fried in soy sauce with canned peas and big squares of carrots. Instead, there's a flavor here as if it's been cooked in miso soup. Japanese style? I have no idea, but it's delicious.
Verdict: Hell Yeah
Baked Macaroni and Beef
An intense-looking dish with macaroni curls big enough to beat you up, mixed in a tomato sauce with bits of beef and covered in bright yellow melted cheese.
This one's strange. First off, the tomato sauce is sweet, Filipino style, so if that's your thing, this is probably awesome. If not, you're going to be pretty upset that you bought pasta but got something that tastes like dessert. Either way, once you dig in, you can't taste the cheese at all; it gets overpowered by the sauce. Do you know how heartbreaking it is to see plenty of cheese and then take a bite and taste virtually no cheese? Let me tell you, it sucks big time.
Verdict: Sucks Big Time
Pork and Peas Bowl
Sauteed pieces of pork, peas and red bell peppers in a sort of Spanish sauce over white rice. Great texture here; the sauce is thick and meaty like a stew, and the dish has real personality to it.
The only downside is that the pork's a little too fatty. Sure, it's tasty and maybe the recipe calls for pork pieces that have more, rather than less, fat. But if you're paying for this bento, you want some substance. The dish is also tart from all the vinegar which I'm not thrilled about, but that's a personal preference.
Verdict: If Pork Fat and Vinegar Is Your Bag, Then Absolutely
Fettuccine Alfredo
Cubes of grilled white-meat chicken on a bed of noodles with a thick cream sauce sprinkled with parsley. This is what I'm talking about. The sauce and the chicken are rich and satisfying. Love this dish, it delivers big flavors in a decent sized portion.
My only note is that the name is wrong. Fettuccine is a type of pasta, it doesn't refer to a sauce or style of preparation. The word means "little ribbons" in Italian and refers to a thick, flat noodle. 7-Eleven uses spaghetti, which is cool, but it means this dish ought to be named Spaghetti Alfredo. It's like when you accidentally tell a Ferrari owner that they've got a nice BMW.
Verdict: Oh Mama, Yes
Thai Curry
Awesome. Slices of chicken, red bell peppers, green beans, tomatoes and bamboo shoots in a coconut curry sauce, served over rice. There's an impressive mix of vegetables here, with a crunch which offsets the creamy sauce and rice. The flavor is solid and tastes like a real coconut curry, not just a cream sauce that 7-Eleven added cumin to. This one's well done.
Verdict: Hell Yeah
Chicken Adobo with Pancit Noodles
The chicken is way saltier than necessary, but the vermicelli-style rice noodles are perfect. I could eat a whole bowl of just those. Are they authentic pancit-style noodles? No clue. But they're damn tasty. These noodles appear in other dishes too; scoop them up if you get the chance.
That being said, I'm not a big fan when local places serve noodles (especially pasta) over rice. What is that? Yuck. This bento needs to be reshaped: chicken over rice on the left side, noodles packed in on the right side. Don't just stack chicken on noodles on rice, this isn't a loco moco.
Verdict: Go For It

I'm surprised at the quality I found at 7-Eleven. The bentos are prepared off-site at a fresh food commissary and delivered to stores daily, merchandising manager Edna Ching tells me. Daily is an impressive feat. The food is too; at $3 to $5 for most entrees, 7-Eleven could deliver a lot less.
These bentos are not secretly better than eating at Alan Wong's. But that's not their goal. You're not headed to 7-Eleven for your birthday or a special date. These are the meals that you grab when you're hustling to get to your next destination, or have only a few minutes for lunch, or if you stop for gas and realize you're hungry.
Or when it's noon a Sunday and you're hung over and just really want a pork hash. 7-Eleven understands. It's here for you. And the food's not bad.