Ice picks: Ice Monster's sensational coffee snow
This coffee dessert with brown sugar jelly will have you going 'Ice, Ice Baby'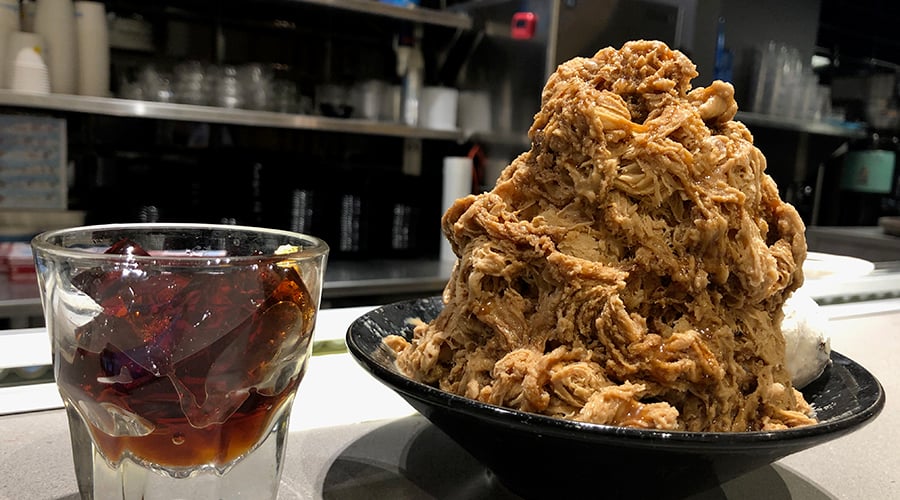 Ice Monster opened its first U.S. location right here in Waikiki this past February. I remember it because I was there for the media event where I fell in love with this fluffy, icy creation.
Prior to the shop's opening, I had gone to the Ice Monster truck which parks at Don Quijote on Kaheka Street, so I knew they were well known for their fluffy mountains of shaved ice snow that are as Instagrammable as they are delicious.
What I didn't expect was my newfound favorite shave ice called the Coffee Sensation ($13.50 regular, $10.50 small).
Soft serve is my go-to icy treat, so the fact that I've been to Ice Monster repeatedly for this is a testament to just how good it is. Breaking it down: it's shaved coffee ice drizzled with caramel and coffee sauces served with panna cotta, brown sugar jelly and cookies and cream gelato on the sde. While their most popular flavor is mango, I'm a fan of the intense coffee flavor.
I make a point to avoid crunchy and coarse shave ice but I never have to worry about that at Ice Monster, whose texture is closer to that of freshly fallen snow and consistently powdery soft and fluffy. Don't let the huge mountain of ice fool you – it's all fluff once you dig in.
Those perfectly cut cubes of brown sugar jelly are made in house and I absolutely love their chewy texture. In contrast to the jiggly jelly, the panna cotta is slippery and silky smooth and the cookies and cream gelato offers the perfect hint of sweetness to balance out the ice's subtle bitterness. My only complaint is that I wish the glelato scoop was bigger.
Ice Monster's shave ice doesn't melt quickly so I take my time to enjoy it without the threat of brain freeze.
In March, Ice Monster added a small, individual sized-portion to its menu for all flavors. Though these bowls are smaller, they still include a decent amount of shave ice – I just don't feel as guilty after I devour the whole thing.
Ice Monster Waikiki
2255 Kuhio Ave. (Hyatt Centric), street level
Waikiki
762-3192
Open daily, 11 a.m.-10 p.m.