Hook'd Pan Roast Is Serving Up the Vegas-Style Bowls on Kapiolani
Well, not entirely Vegas-style: These steamy seafood bowls come with options like Portuguese sausage and lup cheong.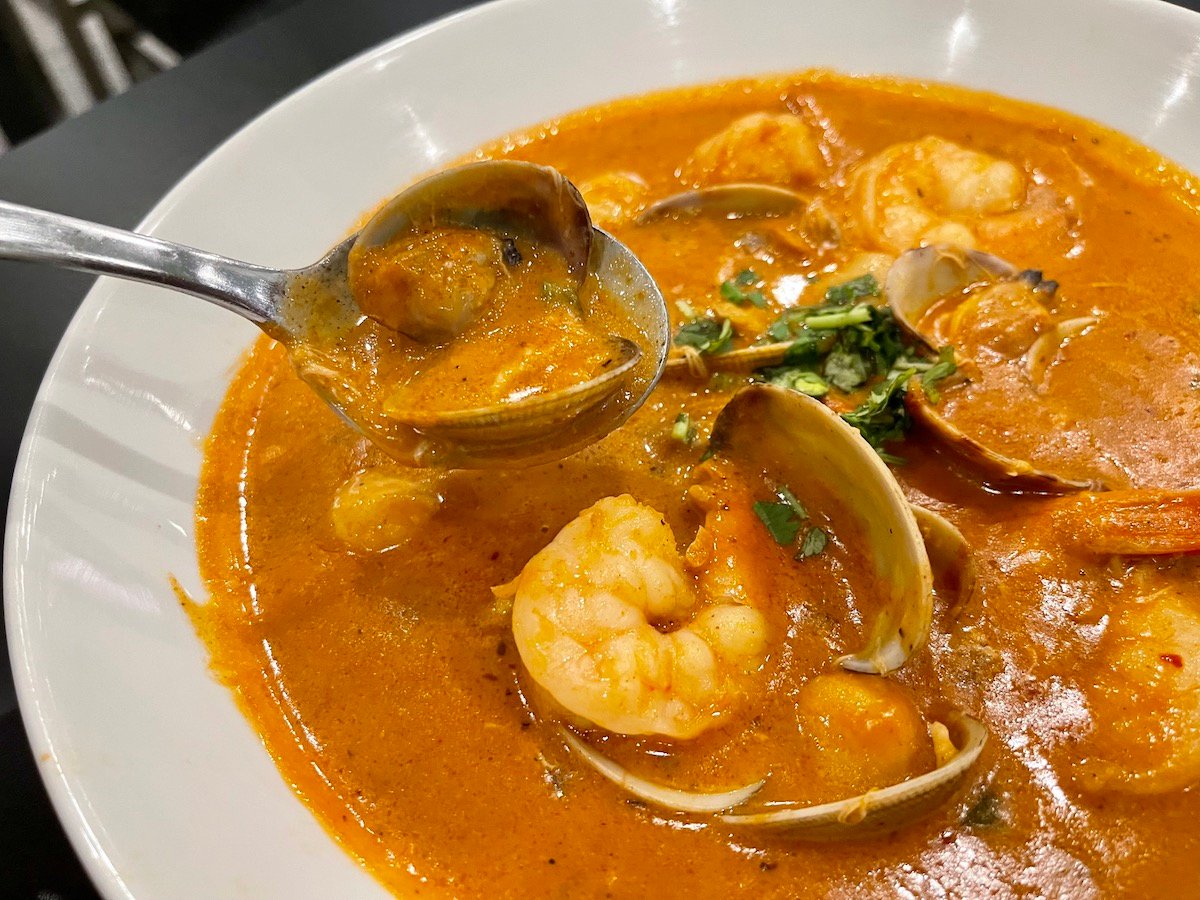 Whenever there's a hot new dish or restaurant on the Las Vegas dining scene, we hear about it in Hawai'i. In the last few years I'd been hearing about the seafood pan roast at the Oyster Bar at Palace Station. The creamy, bisque-like stew is a spinoff of French bouillabaisse or Italian-American cioppino and originated in Louisiana, often mixing sausage and other meats with seafood in a tomato base with traces of brandy. Without even tasting it, I already liked it.
So when a small sign announcing Hook'd Pan Roast appeared at the old Chingu space on Kapiolani Boulevard, I was more than intrigued. The new restaurant opened in late November to crowds of pan roast fans and curious eaters like me.
In addition to different pan roast combos (we'll get to these in a bit), the menu has a short list of appetizers including Caesar salad ($10), steamed clams ($15) and lobster sliders ($25). I immediately gravitate toward more home-style choices. Kamaboko dip ($12) is one of those things that I always hope will show up at a potluck. It feels like a treat, something that always tastes better made by a friend. At Hook'd the dip comes with toast points and is every bit as 'ono as your aunty's famous recipe with Ritz crackers.
SEE ALSO: Our Go-to: Chilly Weather Bowls of Soup in Honolulu that Soothe the Soul
The crab wontons ($10) are good, especially if you're craving something crunchy, but they're not memorable. They're stuffed with a sweet imitation crab filling, fried nicely and served with sweet chile sauce on the side. I would have loved the addition of cream cheese, just to go full on.
Having seen pictures of Hook'd's grilled cheese and pan roast ($12), I had to try it myself. I'm a fan of the burned cheese on the outside technique, but this one has it only on one side, which creates a texture disparity—I want more crunch! As for the dipping sauce, it's the tomato base that goes into the pan roast, not the finished pan roast sauce, which is creamier and more flavorful. The dish is closer to a grilled cheese with tomato soup. A few tweaks and it could tempt grilled-cheese fanatics; either way it's a good option if you have keiki in tow.
My appetite is officially fired up and I'm ready for the main event. The signature Hook'd Pan Roast comes with one seafood (clams, scallop, shrimp or lobster, $22 to $27) or as a combo with either a mix of seafood, seafood and sausage, or an all-sausage combo featuring lup cheong and Portuguese and arabiki sausages ($29). There's even a double-size combo called Wild Ones that basically has everything in it ($65). You can also add on ingredients a la carte to customize your roast, and choose a spice level ranging from mild to wild.
I order the seafood combo ($29) because I want to taste the pan roast base against the additions of shrimp, crab, clams and scallops. I'm not usually a fan of shrimp boils—serial overcooking crimes against seafood have left me traumatized—so I'm super curious to see how the different seafood will turn out. I choose a medium spice level, as I'm told there is some pretty decent heat, and double the taro roll instead of rice.
SEE ALSO: Worth the Splurge: Royal Lobster Rolls in Waikīkī
I had heard that compared to Palace Station's classic pan roast—which has shrimp, crab, chicken and andouille sausage—Hook'd's version is a little looser. The large bowl placed in front of me wafts the scents of Old Bay, tomato, celery seed and seafood stock. My first few sips are rewarded with big tomato and seafood flavors and a satisfying texture that's just creamy enough to coat a spoon. To my relief, the seafood is not overcooked, not even the shrimp. Albeit small, the scallops are barely cooked and bouncy, with a sweetness that provides relief from the creeping spiciness of the stew. Bits of crab are swirled throughout, giving even more body to the dish. I devour the sea creatures one by one, wishing there were more but not disappointed with the quantity. I do wish the clams were a bit bigger, though, since I struggled to get more than a couple of morsels. And there is something very delicious about a soft taro roll slathered with butter and dunked in unctuous pan roast. The whole experience sticks to your ribs in a good way while the cream and spice play warm notes for your soul. And I find out that there's actually no seafood in the base, which means that if you're allergic, you're safe with the sausage-only version.
For someone who's never tried the Vegas version of pan roast, it hit the spot and I'm satisfied. Service is friendly and easy, with food coming quickly even with most tables occupied. While there are only a few parking stalls out front, a short walk around the building usually yields some options. For me, the Sin City comfort dish is a great addition to the local dining scene—especially if you spent too much on presents and can't afford a trip to Vegas anytime soon.
1035 Kapiolani Blvd., (808) 698-7677, hookdpanroast.com, @hookd.panroast