Honolulu Noodle & Co. Brings Taiwanese Noodles and Snacks to Waikīkī
It's one of seven new noodle-focused restaurants open or opening at the Stix Asia food hall.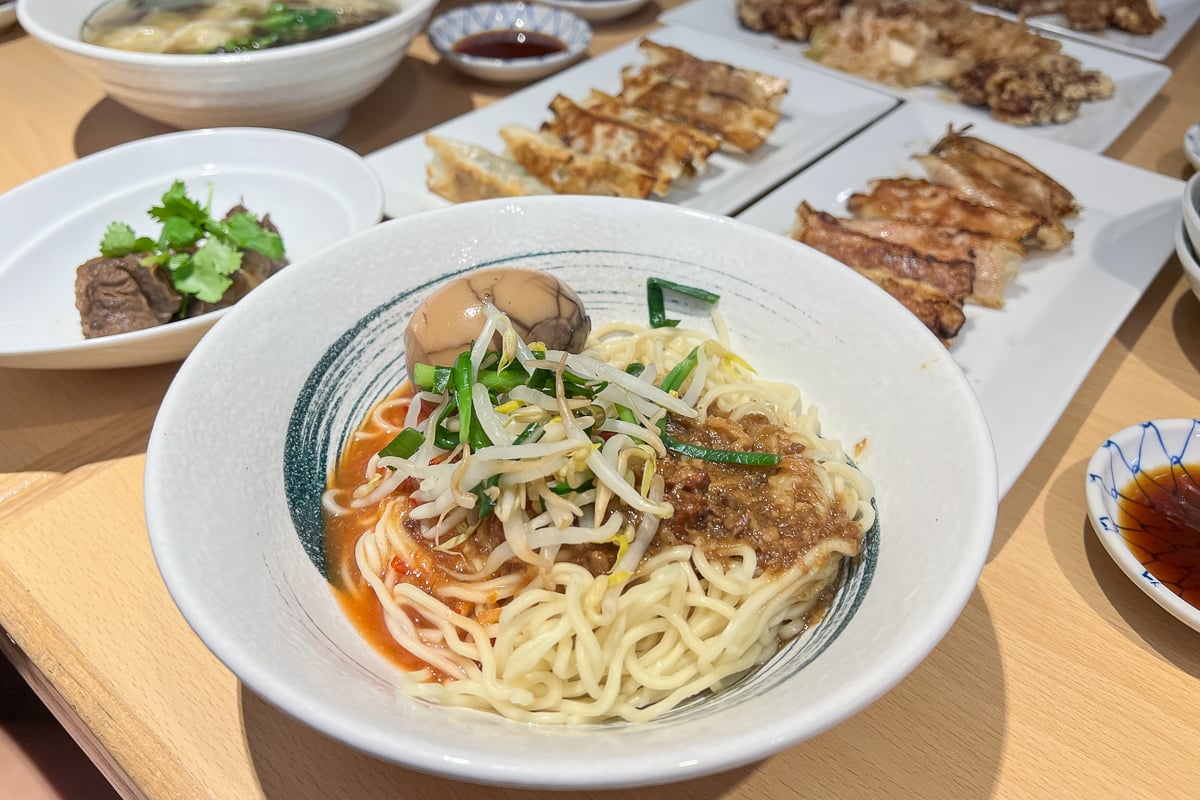 I'm making a conscious effort to stop crying ramen weather the moment temperatures dip below 70 degrees. It's not that I don't want a bowl of noodles in warm broth, but there's more than just ramen out there, and our options are growing. A case in point: Taiwanese noodle specialist Honolulu Noodle & Co. recently opened at Stix Asia, the food hall sequel to Waikīkī Yokocho.
Against the vast selection of ramen in this city, Honolulu Noodle, which traces its roots back to 1967 in Taiwan, brings the island's under-represented subset of soup noodles to the forefront. A 48-hour beef broth forms the base for the deluxe signature bowls. There are three—ranging from $20 for the humble beef noodle soup, niu rou mian—to the $24 bowl that adds beef tendon and tripe to the tender braised beef. The broth itself is worthy of a repeat visit, clean and balanced and refined.
---
SEE ALSO: Fooki Brings Happy Taiwanese Fusion to 'Aiea
---
Dry noodles are also prominently featured if you prefer a soupless experience or want more flavor options. The Signature House Dry Noodles ($13), served with a sauced minced pork, are a happy medium between the heavy, more savory Beef Dry Noodles ($17) and the saltier Old Fashioned Dry Noodles ($13), which are simply seasoned with a combination of soy sauces and scallions. I've tried all of them—the Signature is the best of the bunch for balancing flavor and topping portion. It also comes with a marinated hard-boiled egg, though the addition of bok choy would make it even better.
For the indecisive, combo sets pair dry noodles with either a pork chop ($19.50) or a bowl of wonton soup ($18.50). They also offer potsticker sets with cups of Taiwanese-style corn chowder or hot and sour soup ($14.95).
---
SEE ALSO: Nana's Green Tea and Nana Musubi Are Back in Waikīkī
---
As good as the noodles are, the sides woo us more. When plates of potstickers—six signature pork ($7) and six kim chee ($7)—and two pork chops ($12 each) start to fill in every spare inch of our table, we realize we might have over ordered. Don't make the same mistake—share side dishes if you plan to get your own bowls.
The potstickers are instant winners with crispy edges and distinct fillings, both deliciously suited for the soups you're pairing them with. But really, they're good all on their own, as are the pork chops; deep fried and sliced like those giant Taiwanese chicken cutlets. Flavored primarily with a dusting of five spice powder, they're reminiscent of their street food cousins and go so easily with a beer.
But I caution you with my only gripe: poorly chilled beers and sodas. When you expect an icy cold sip and end up with beer that tastes like you've been nursing it for a hour, it's hard to swallow, not to mention you just paid $7 for a can. It's an issue I hope they're working on.
Looping back to the new noodle options, Stix Asia will eventually have a total of seven noodle restaurants, but Honolulu Noodle stands apart from its Japanese neighbors. Ramen Baikoken's reopening means there are currently four shops open, including the Marukame-esque Udon Yama and Shingen with its house-made fresh soba. Two more ramen shops and a third noodle concept are still under construction. The food hall's official grand opening is on Monday, Feb. 6.
2250 Kalākaua Ave., honolulunoodle.com, @stixasia