HONOLULU Magazine 2021 Holiday Gift Guide: Designed and Made in Hawai'i for Stylish Friends and Family Who Shop Local
Ho ho hooo, das some good kine gifts.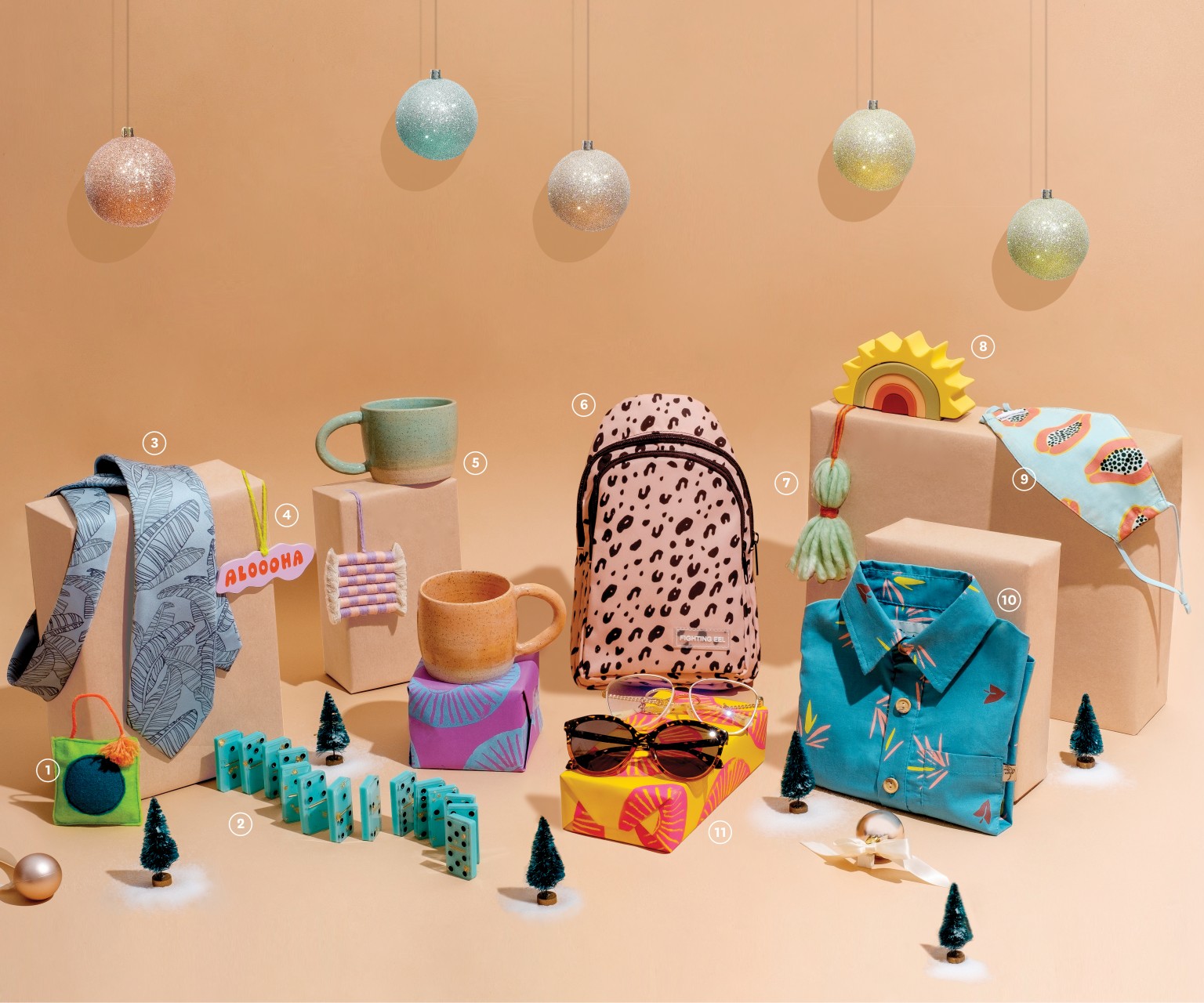 Christmas shopping can be (bah) humbug. Luckily, we found some of the coolest, chicest and most covetable gifts out there. Use these gift guides to shop for him, her and home items that are elf-ing amazing.
1.

Felt and wool square ornament, $12
Love + Monsters Hawai'i
loveandmonstershi.com, @loveandmonstershawaii
2.

Tasha Yee resin deco dominos, $120 for a set of 28
Fishcake
307C Kamani St., (808) 800-6151, fishcake.us, @fishcakehawaii

3.

Pineapple Palaka Mai'a tie, $68
Roberta Oaks
1152 Nu'uanu Ave., (808) 526-1111, robertaoaks.com, @robertaoakshawaii
4.

Aloooha resin ornament, $6, checkerboard yarn ornament, $20
Love + Monsters Hawai'i
loveandmonstershi.com, @loveandmonstershawaii
5.

Tamiko Claire Hobbs stoneware mugs, $48 each, Tamara Moan wrapping paper, $16 per yard
Fishcake
6.

Leopard sling pack, $48
Fighting Eel
1133 Bethel St., (808) 738-9300, fightingeel.com, @fightingeel
7.

Wool tassel ornament, $10
Love + Monsters Hawai'i
loveandmonstershi.com, @loveandmonstershawaii
8.

Silicone sunshine toy, $17.80
SoHa Living
Kāhala Mall, (808) 591-9777, sohaliving.com,  @soholiving
9.

Papaya face mask, $15
Fighting Eel
10.

Heliconia kids aloha shirt, $58
Roberta Oaks
robertaoaks.com, @robertaoakshawaii
11.

Lana polarized sunglasses, $169, Lē'ahi blue light sunglasses, $129
Mohala Eyewear
mohalaeyewear.com, @mohalaeyewear
---
SEE ALSO: Support Hawai'i Brands and Shop for Great Deals on HONOLULU Magazine's 2021 Holiday Marketplace
---