Grinding on a budget: Lunch picks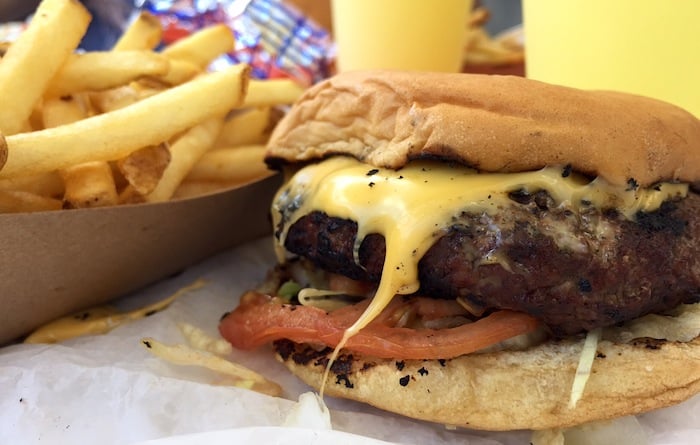 We know the deal. We love to eat well, but living in Hawaii is expensive and dining out adds up all too fast. Thus our new series — Grinding on a Budget — highlighting good food at better-than-good prices. Here's a look at of some of the worthy lunch picks Frolic writers have discovered on our never-ending quest for deliciousness, every one of them under $6.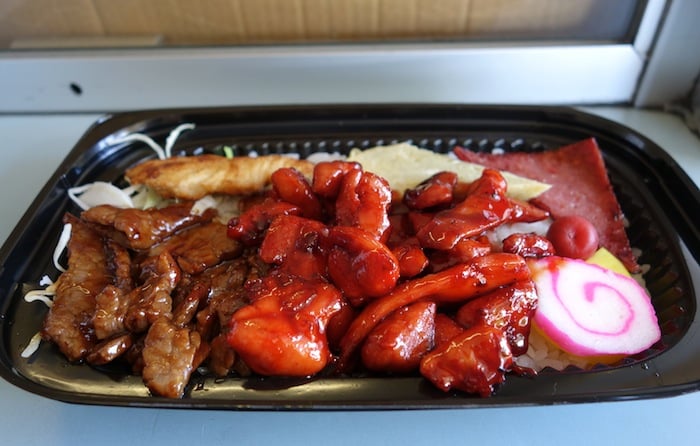 Okata Bento
Okata Bento is a tiny take-out window on Waialae Avenue in Kaimuki. Ideally, you would call ahead to order, park on the street, hop out and pay. If you aren't a regular and need to order at the window, they have signs to warn you to please be patient (double underline) because all the food is made to order. The mini bento is just $5; I was hungry so I cheated on this assignment and ordered a mini mix for $6.25. You don't just get the protein and rice — each bento comes with a slice of luncheon meat, omelette, fishcake, ume, daikon and a piece of fried ahi. — Melissa Chang
3616 Waialae Ave., Kaimuki, 808-737-6063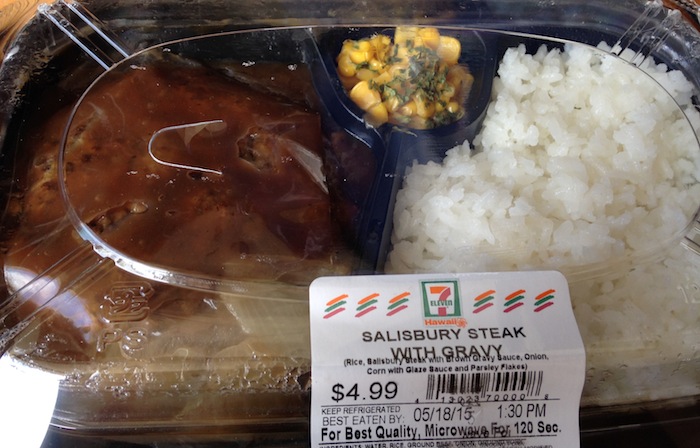 7-Eleven
My husband loves this $4.99 Salisbury steak from 7-Eleven. It's really good for someone on the run — hot, cheap and simple. He likes that it's well seasoned, moist and comes with rice and corn. — Olena Heu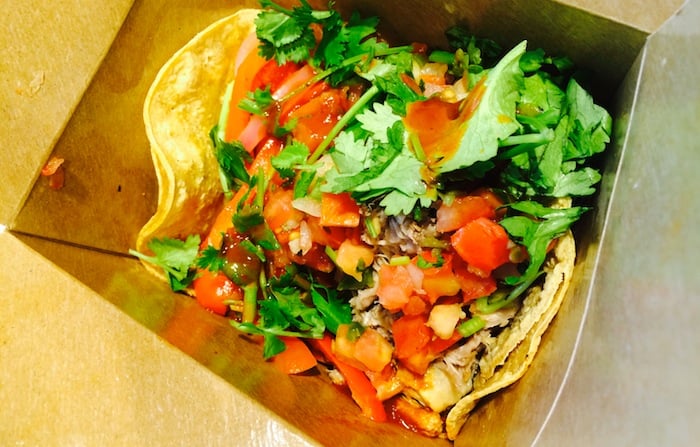 Whole Foods Kahala
The heaping $1 tacos of WFM's Taco Tuesdays are a thing of the past, but today's replacements are still non-GMO, sustainable and hormone- and antibiotic-free. Plus they're available every day — all of which makes them worth my money even though they're half the size and twice the cost now. For $6 you can get three of these (two pictured here) with your choice of kalua pig, shredded chicken, fajita veggies or black beans, or one of these and a $3.99 fish taco with very nice fried cod, plenty of sour cream and an aptly named lava sauce. — Mari Taketa
Kahala Mall, 4211 Waialae Ave., 808-738-0820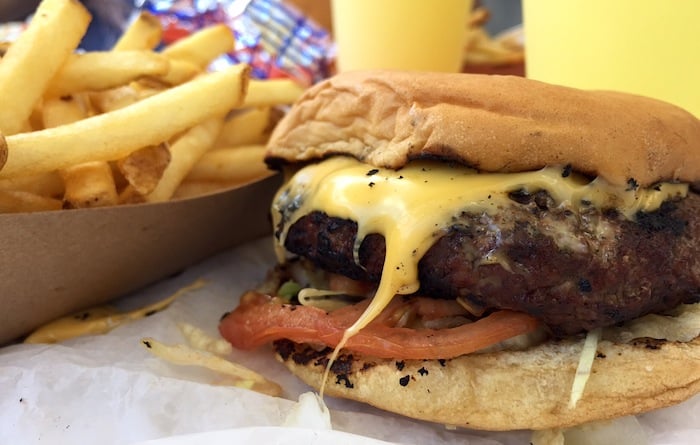 Hank's Haute Dogs
The Hankburger at Hank's Haute Dogs is a new favorite of mine! $5.50 for this half-pound beast that's charred to perfection on the grill on a simple bun.
Meal with fries is extra but when you're on a budget, Hankburger satisfies on its own. — Thomas Obungen
324 Coral St., Kakaako, 808-532-4265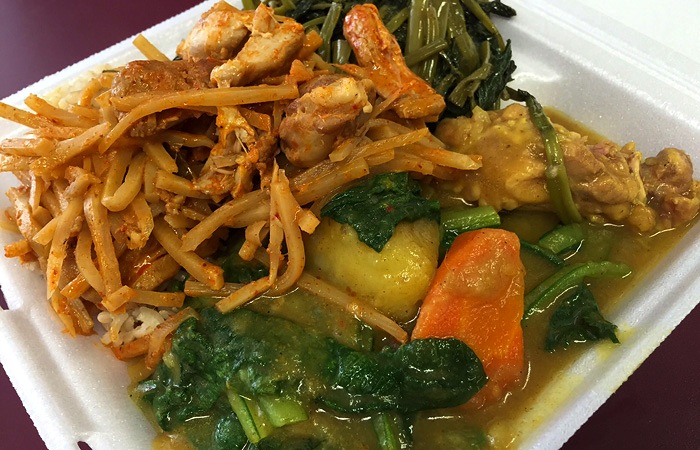 Yum Yum Thai
Stephen, better known as @PHOTOlulu, told me about this bargain Thai take-out place on Pauahi Street, right off Fort Street Mall. I got this heaping plate, three choices with brown rice, for a flat $5. My selections — ong choi, a red curry and a yellow curry, both with chicken — definitely made for a hearty, vegetable-heavy lunch. The yellow curry, with a slight, spicy kick, tasted more like Hawaiian-style curry than a true Thai curry, but I appreciated the tender pieces of chicken. The red curry was mostly bamboo shoots, but with a heaping serving like this, I was hardly hungry for more meat. Other offerings include eggplant with ground pork, roasted chicken, fried chicken and crispy tofu, and if you're even more strapped for cash, you can get two entrees and rice for $4 or one entree and rice for $4.
Yum Yum isn't one of the best Thai places in town, but it could very well be one of the best bangs for your buck downtown. — Diane Seo
73 S. Pauahi St., downtown, cash only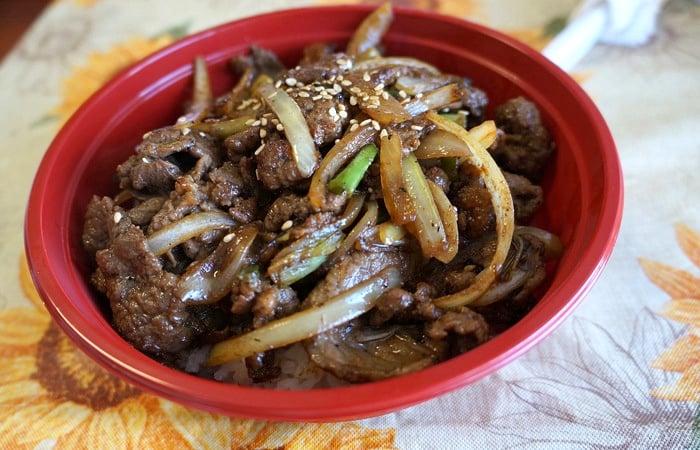 Itchy Butt
Ever since Melissa Chang and I checked out this humorously named Korean take-out spot on Keeaumoku, it's been one of my go-to spots for a quick, inexpensive meal. My favorite thing to order: The bulgogi bowl, which comes with a generous serving of Korean BBQ beef over steamed rice. Itchy Butt's bulgogi — marinated with shoyu and garlic, then stir fried with onions — is much more authentically Korean than your BBQ beef from say, Pearl's or Yummy's. And for $6, it's pretty easy on the wallet. — Diane Seo
1229 Keeaumoku St., 808-942-4845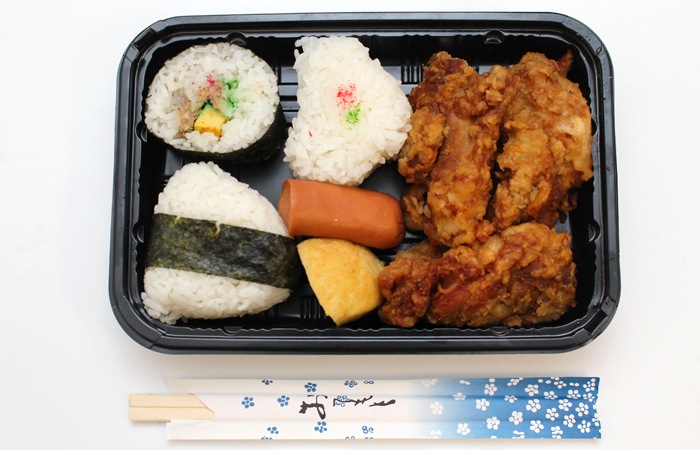 K's Bento-Ya
Growing up in Waipahu, K's bentos were a field trip lunch favorite of mine. The small bento ($6) is loaded with three pieces of fried chicken, half hot dog, egg omelette, musubi, piece of maki sushi and sushi rice. This Waipahu institution has been around for decades and has fed three generations in my family. They open early (5 a.m.) and close when they sell out, which is before noon most days. They are cash only. — Grant Shindo
94-164 Awalau St., Waipahu, 808-671-0160